7 Řádků: Czech Natural Wine
Reading Time: [est_time] Moravia is a hot region right now. It's located in the eastern reaches of the Czech Republic and over 90% of Czech wine is produced there. I'll never forget my first visit there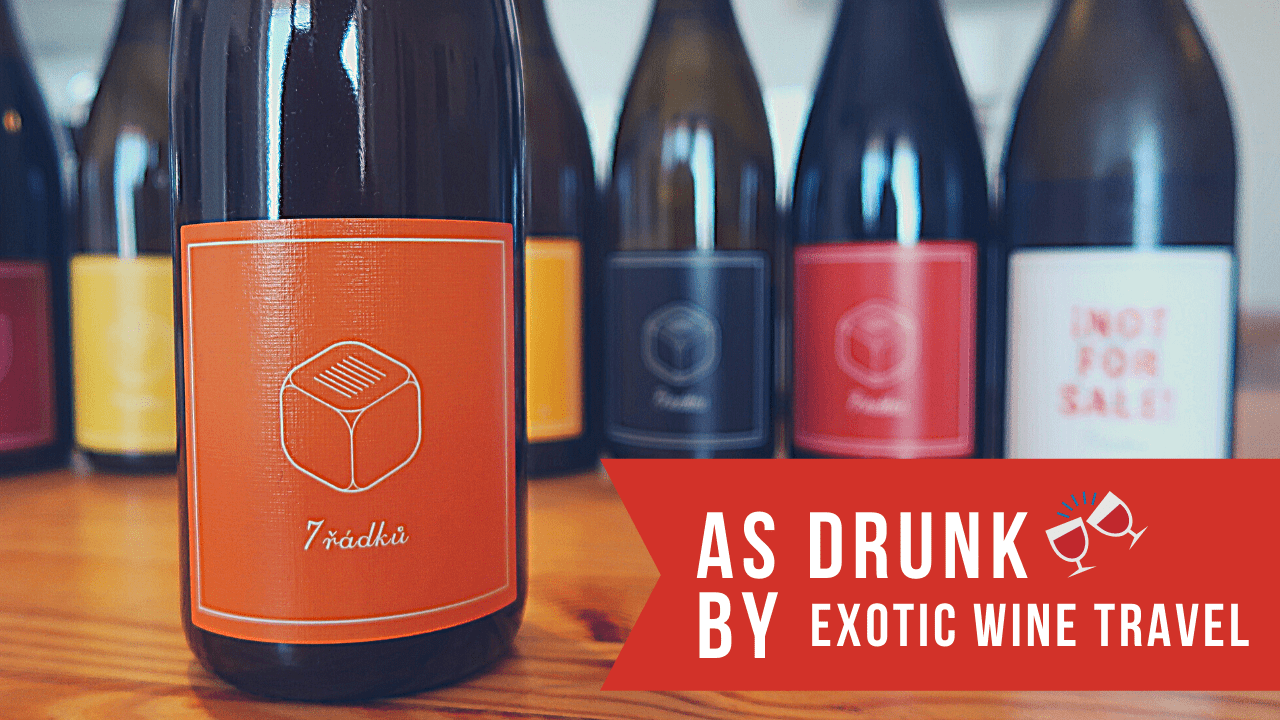 Reading Time: 3 minutes
Moravia is a hot region right now. It's located in the eastern reaches of the Czech Republic and over 90% of Czech wine is produced there. I'll never forget my first visit there in 2018. The rolling hills and endless sea of vines didn't make it seem like a 'new' wine region.
That's because Moravia isn't a new region, the Romans brought vines to the area in the 2nd century. There's a long history of wine production here. A new wave of minimal intervention producers is putting Moravia on the map. Some of the most exciting we've tasted are from 7 Řádků, which translates to 7 Rows.
7 Řádků is a project of Filip Nagy, a Slovak winemaker who also happens to craft exciting Slovak wines under the brand Zlatý Roh – just north of Bratislava. The wines of 7 Řádků/7 Rows primarily use fruit from Moravia. The wines are fermented with native yeasts and Filip uses as little sulfur as possible.
In the past, I preferred Filip's Slovak project Zlatý Roh. The wines from 7 Řádků always seemed a little too wild and extreme for my tastes. The current vintages have me thinking twice. The 7 Řádků wines I remember had a very Laissez-faire feel to them. The current releases taste a bit more reigned in.
Filip insists that the differences are just an expression of the fruit and vintage. "There was no intention to move with our style with 7rows," he says. "We always take the grapes and process them as we feel that would be the best thing."  Deliberate or not, I love the latest vintages from 7 Řádků. These wines will appeal to both the natural wine crowd and those who drink more classically style wines.
7 Řádků, Not For Sale White 2019
7 Řádků, Not For Sale White is pure Welschriesling that saw six hours of skin contact and is aged in new oak. Bright and expressive nose of grass, white flower, baked apple, and starfruit. The nose is intense and the wood is integrated well. The palate has this great medley of fruit, acid, flowers, and minerals. These wines have been a bit too crazy for me in the past but this is clean. Full, rich, and plenty of fun. Score: 90+/100
The 7 Řádků, Dark Ages is a 50/50 blend of Riesling and Grüner Veltliner that is barrel fermented. Fine notes of green mango, dried pineapple, grass, and dried lemon peel. Oak integration is stellar. Chewy and full bodied on the palate. This has a lot of sediment, so you can decant or drink it cloudy. Intense flavors of dried fruit coupled with fine acidity. Long finish. Score: 92/100
7 Řádků, Ryzlink Vlašsky Orange 2019
The 7 Řádků, Ryzlink Vlašsky Orange is Welschriesling macerated for 4 weeks and aged in large oak casks. An extreme orange wine with notes of dried orange peel, apricot, tamarind, and grass. The nose is very exotic. The palate is full and the generous acidity keeps the wine fresh. The tannin level is low here. This feels very much like an Austrian-style orange wine. Another example that shows this much-maligned grape can produce fantastic wine. Score: 91/100
The 7 Řádků, Qvevri is Grüner Veltliner macerated and fermented for 7 months in Georgian qvevri. It's aged in large casks. In this style, it has a brilliant nose. notes of crushed yellow flower, dried mango, dried apricot, and lemon peel. The palate is full and generous while the oak aging adds a touch of seasoning to the wine (but is not over pronounced). Bright acidity. This has the energy and pizazz to introduce people to this style of wine. Score: 89/100
7 Řádků, Bilé Cuvée Black Label 2019
The 7 Řádků, Bilé Cuvée Black Label is a field blend of varieties like Grüner Veltliner, Welshriesling, Pinot Blanc, Sylvaner, Müller Thurgau, and many others. Grapes are foot trodden and barrel fermented. Fine nose of cut grass, banana, green guava, dried pineapple, and white peach with a touch of flintiness. The fruit here is the real highlight, it tastes like a fruit salad with lemon sprinkled on top. The wood adds a touch of sweetness here. This is a lot of fun to drink and should improve with some bottle age. Score: 92/100
TThe 7 Řádků, Rosé is barrel fermented Blaufränkisch that saw 10 months of aging. This has been a long time favorite of ours from this estate. Neon pink color. Notes of strawberry, raspberry, pomegranate, and a touch of white pepper. This is a complex wine that drinks like something in between a rosé and a light red. Plenty of forest fruit flavors dance on the palate. There is a small touch of tannin here that adds to the complexity. For those who want to explore, this is a beauty. Score: 92+/100
The 7 Řádků, Frankovka is Blaufränkisch bottled with a crown-cap. I thought this might be a Pét-nat at first. It's a delicious, fruity red with notes of black raspberry, black cherry, tobacco, and a touch of pepper. This is ripe and full-bodied without being too extracted. It has a peppery finish and chewy tannins. Juicy with some tannins and just enough complexity, it's an outstanding choice to put on the dinner table. Score: 89/100
7 Řádků, Piece of Cake 2019
The The 7 Řádků, Piece of Cake is fortified Alibernet that has 80 g/L of RS and 16.5 % of alcohol. It is foot trodden like Port. The color is pitch black. Notes of dark cherry, dark chocolate, pepper, and tobacco. It really smells like a young ruby Port. Silky and sensual on the palate. The nice thing about this wine is the lower alcohol level for a fortified wine. Chewy tannins and a lengthy finish. This is a pleasant surprise and a wine that all those with a sweet tooth should love. Score: 91/100
You can find out more about our scoring system on the WINE RATING page.
You might also enjoy:
Slovak Wine With Style: Zlatý Roh
Do you like our content?
If you like our articles and videos, we'd love for you to be a part of our community on Patreon. The support from Patreon helps keep the content coming and you access to behind the scenes content. It also gives us the chance to get to know you better. Check out the Exotic Wine Travel Patreon page by clicking the photo below.

---
7 Řádků provided tasting samples. The opinions expressed in this article are unsolicited and have not been paid for in any way by governmental bodies, enterprises, or individuals. We do not sell editorial content as that would destroy the legitimacy of our reviews and the trust between Exotic Wine Travel and its readers. On occasion, we extend the option of purchasing the wines we review or/and the products we spotlight. Some of these product links are set up through affiliate programs, which means Exotic Wine Travel gets referral credits if you choose to purchase these items via the links we provide.