A Night of Natural Wines in Tbilisi, Georgia
Reading Time: [est_time] For a listing of articles and videos on Georgian wines and wine travel in Georgia, check out our page Uncorking the Caucasus. To purchase the Kindle or paperback copy of the book Uncorking the Caucasus: Wines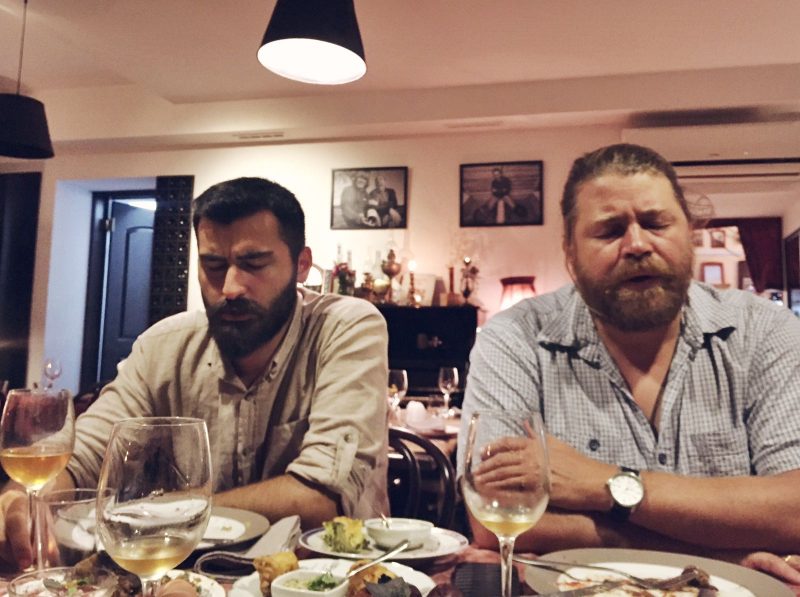 Reading Time: 4 minutes
For a listing of articles and videos on Georgian wines and wine travel in Georgia, check out our page Uncorking the Caucasus. To purchase the Kindle or paperback copy of the book Uncorking the Caucasus: Wines from Turkey, Armenia, and Georgia, please head to this Amazon product page.
We were strolling in the cool, rainy fall night in downtown Tbilisi. After exiting the metro and walking past Liberty Square, we turned the corner down an old street. In the middle of the unlit street, there was a door and a standing blackboard. Those two items didn't fit in with the environment but signaled the entrance to a non-smoking (rare in Georgia) basement restaurant.
We had an appointment with John Wurdeman, owner of the restaurant Azarphesha and the winery Pheasant's Tears. It started out as one of those nights we have seen so often in the last year–the winemakers sit down and share their stories; we drink some of their wines; and new relationships between people, places, and wines are formed. This night was orchestrated slightly differently–perhaps with a poetic and philosophical slant–by dint of John's innate qualities; he's a charming storyteller and a prolific artist of many forms.
The night commenced with just John and us. Over the course of the evening, John's business partner came, then the wife of the business partner, and then one of John's friends. The restaurant started to fill up and John and his gang began to perform the famed Georgian polyphonic singing. Next, the guitar came out, then more wine, and then the drinking horns.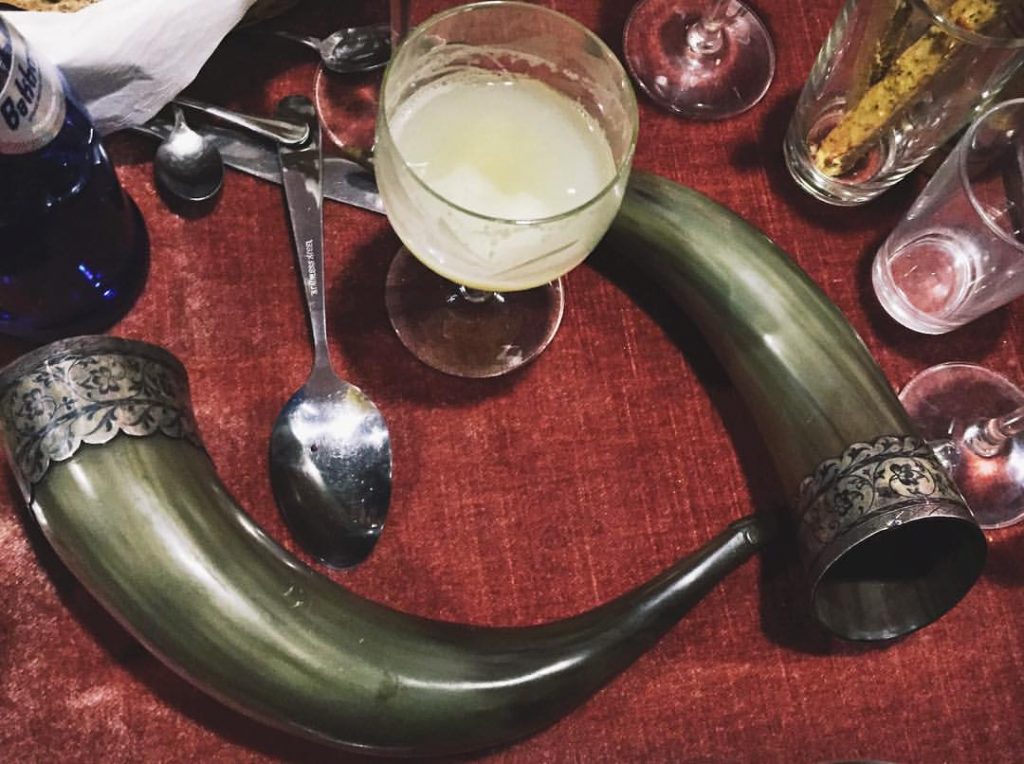 Called "Kantsi" in Georgian,  the drinking horn is a vessel typically made from an animal horn. Once it is filled, one cannot put it down until the content is emptied–preferably done in one continuous series of gulps. When done drinking, the holder turns the horn upside down and proves to everyone that the content has been emptied out. 
By the end of the night, eight hours of delicious natural wines and memorable Georgian dishes were in the books. What was fascinating was that we didn't drink solely wines by Pheasant's Tears; John chose to showcase natural wines by several different producers whom he believed are doing great things in Georgia. We even ended the night with a wonderful bottle from an Italian wine producer.
Natural wines generally have no middle ground; people usually love or hate them.
While we may be partial to amber and natural wines, we believe that several of these wines do have the ability to win conventional wine drinkers over to the natural camp. In this context, when we use the term "natural wines", we are referring to wines that are chemical-free and unfiltered, with little to no sulfites added. Here's a recap of the wines from that night, along with tasting notes (of course).
Kidev erti Tavkveri Pét Nat NV
Tavkveri is a red wine variety from eastern Georgia, native to Kartli but also grown in Kakheti. It is a high-yielding variety and can be made into dry red, dry Rosé, sparkling, and sweet wines. Currently, it isn't a widely used variety for wine production, even though it shows a lot of potential to deliver many types of crowd-pleasing wine.
This is a pétillant naturel which means that the wine is bottled before the first fermentation of the wine is finished. The fermentation finishes in the bottle which gives off the bubbles. This is a technique embraced by many natural wine producers. This wine is made by a Frenchman living in Georgia. It is light and has persistent bubbles that create a frizzante sensation in the mouth. It is clear and pink in color. There are subtle strawberry and cream soda flavors, which have us craving for more intensity from this wine.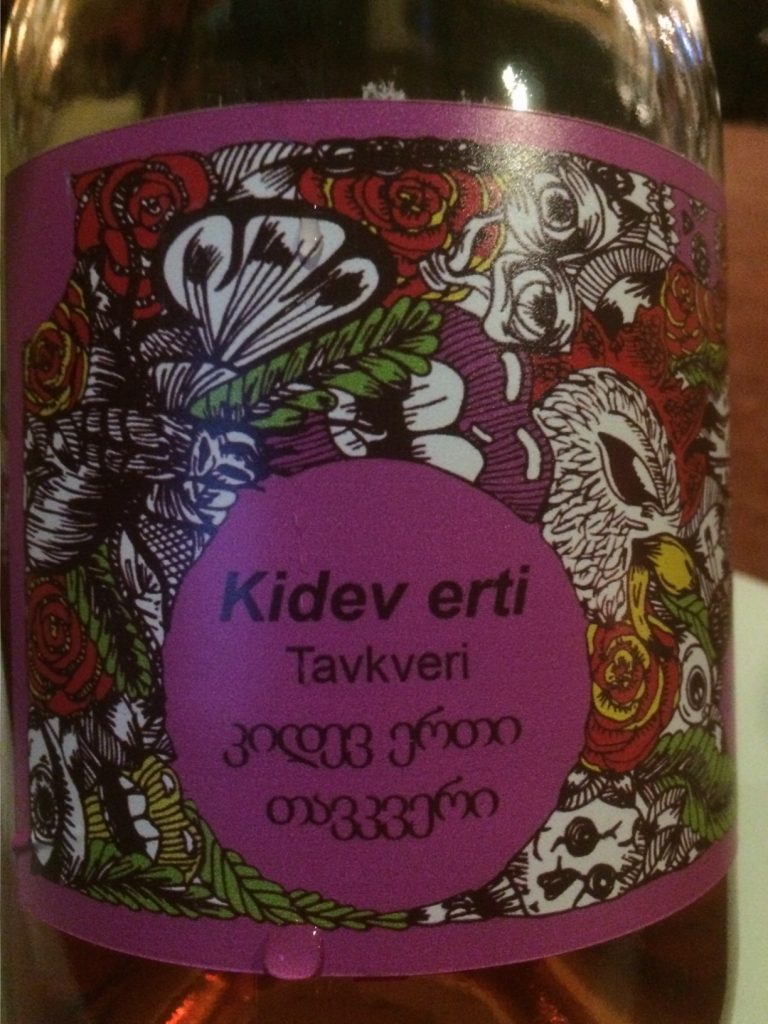 Makaridze Winery Tsitska 2015
Tsitska is a grape variety grown in west Georgia and a variety that we have become very fond of. This traditional qvevri wine is incredibly light, crisp, and delicious. The flavors are dominated by characteristics of peach, pear, melon, and lemon. This wine has obviously received skin contact because of the nice, soft tannins but people might not think it is a qvevri wine because of the lack of nuttiness. A refreshing wine that kickstarts a celebratory evening on the perfect note.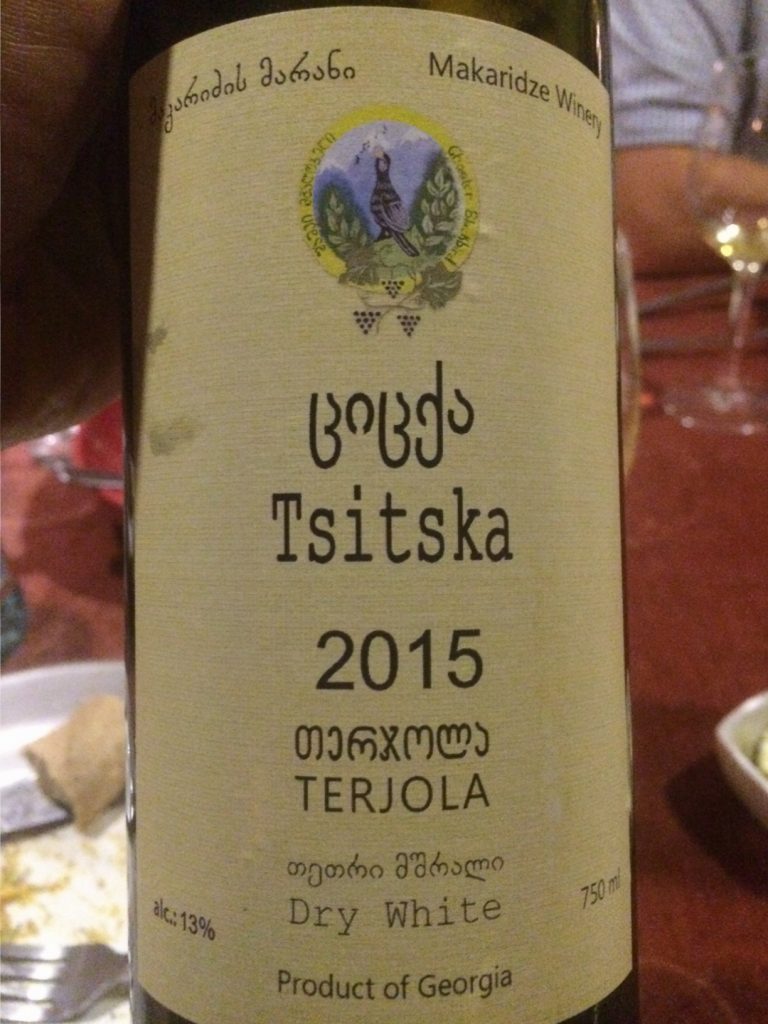 Archil Natsvlishvili Rkatsiteli 2015 
Rkatsiteli is the most ubiquitous white wine variety in Georgia; almost half of the white wine grapes grown in Georgia are Rkatsiteli. It is a hardy variety that is resistant to cold weathers and maintains high acidity and high sugar as it ripens. This variety can be made into dry, semi-sweet, and fortified wines and brandy. Rkatsiteli is relatively quiet in aroma and as such, is often blended with Mtsvane Kakhuri to create a more expressive nose. Such blends of Rkatsiteli-Mtsvane Kakhuri are found in PDOs like Gurjaani, Tsinandali, and Vazisubani.
John is usually a strong proponent of this wine but is disappointed with how it's showing this particular evening. The first aroma that pops out of this amber wine is peeled banana. Flavors of pineapple, peach, and apricot show up afterward and the grippy tannins make this a perfect companion to food. Wonderful and well-made, with not even a trace of muskiness–a common characteristic found in many natural wines–but not the most striking bottle.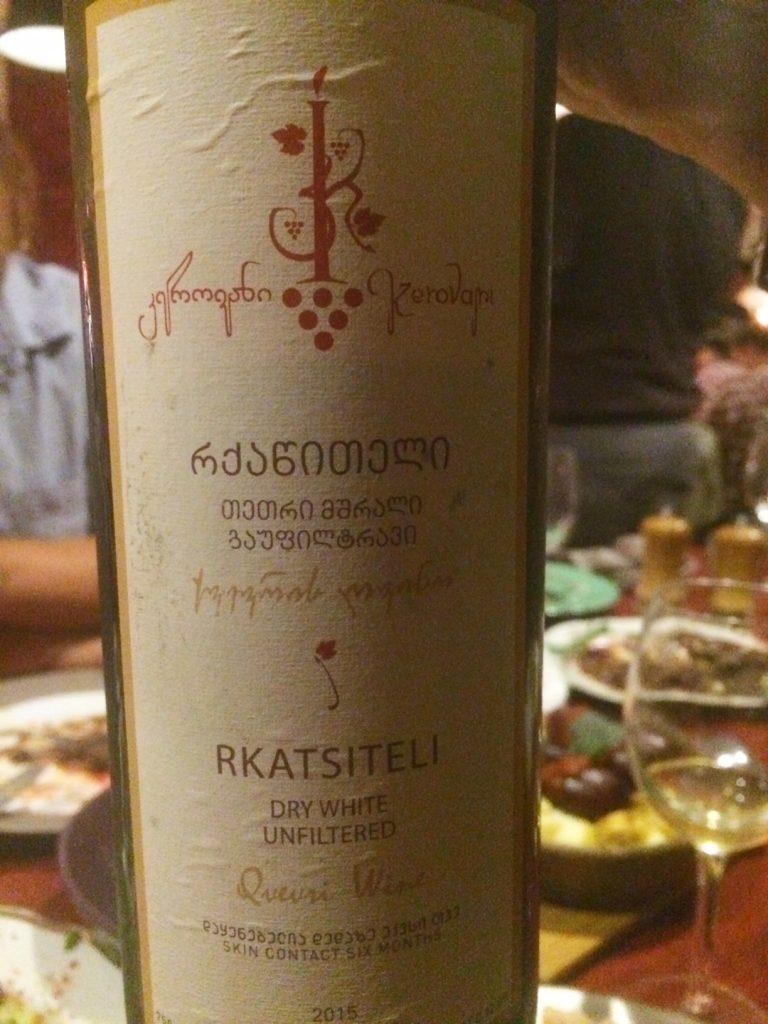 Tsikhelishvili Wines Rkatsiteli 2013
Made by a winemaker who owns two-hectare of vineyards and uses the grapes to produce only this wine and a Mtsvane. This is the star of the night for both of us, Charine and Matthew. It is an amber wine made in Kakhetian qvevri method–a method that is touted to create the fullest, most powerful and most expressive wine in Georgia. Golden in color; on the nose, it has aromas of cherry, strawberry, cilantro, and a touch of straw. On the palate, it shows up immediately with a pronounced yet gentle weight, held together by a directive structure. A wine that shows the typical flavors of a well-made amber wine with characteristics of honey and green tea, yet it drinks like a fresh red wine with its red fruit and dark floral notes and astringent tannins.
Pheasant's Tears Rkatsiteli 2015
A bright color, clean, and fresh qvevri wine. The explosive flavors are reminiscent of pineapple, lemon, and apricot, executed with a gentle weight on the palate. Despite the skin contact, there is no nuttiness present but the tannins may be considered strong by a lot of people. A bodacious wine that does very well with food.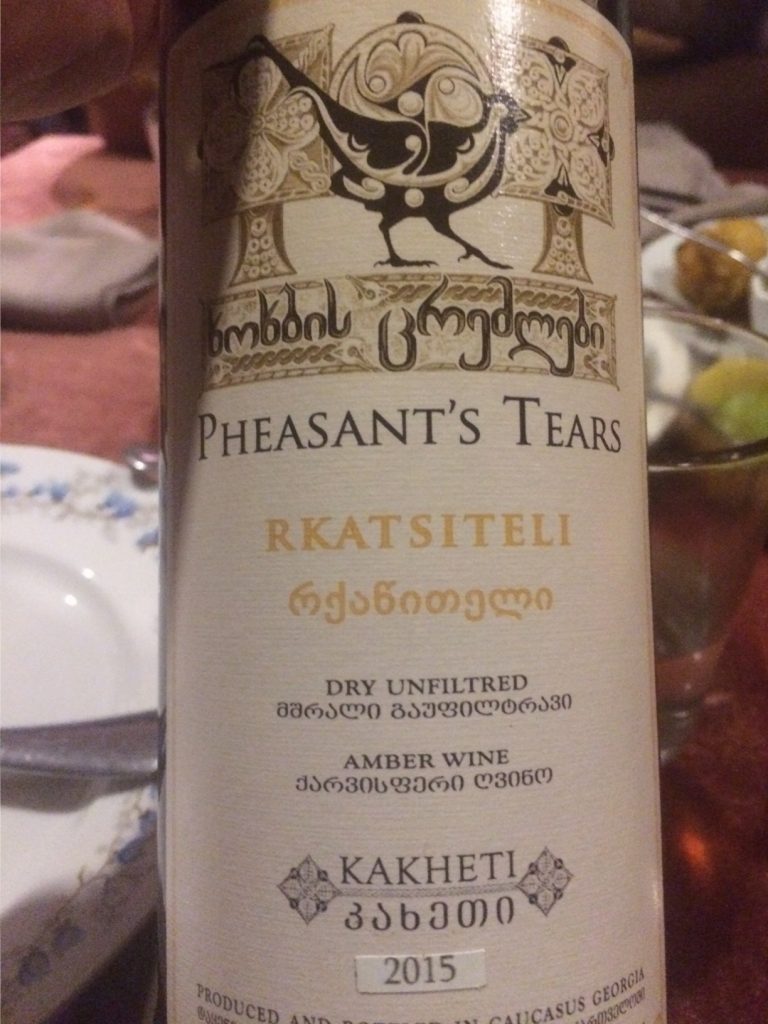 Pheasant's Tears Rosé Rkatsiteli 2015
Made with a rare clone of Rkatsiteli in traditional qvevri style; Rkatsiteli is typically used to make white or amber wine, but this clone departs an alluring bright ruby red pigmentation to this rosé wine. The wine is light on the palate and shows flavors of  strawberry, apricot, and nuts, powered by a subtle but distinct grip. This is the first vintage of a Rosé Rkatsiteli made by Pheasant's Tears and is a very solid offering.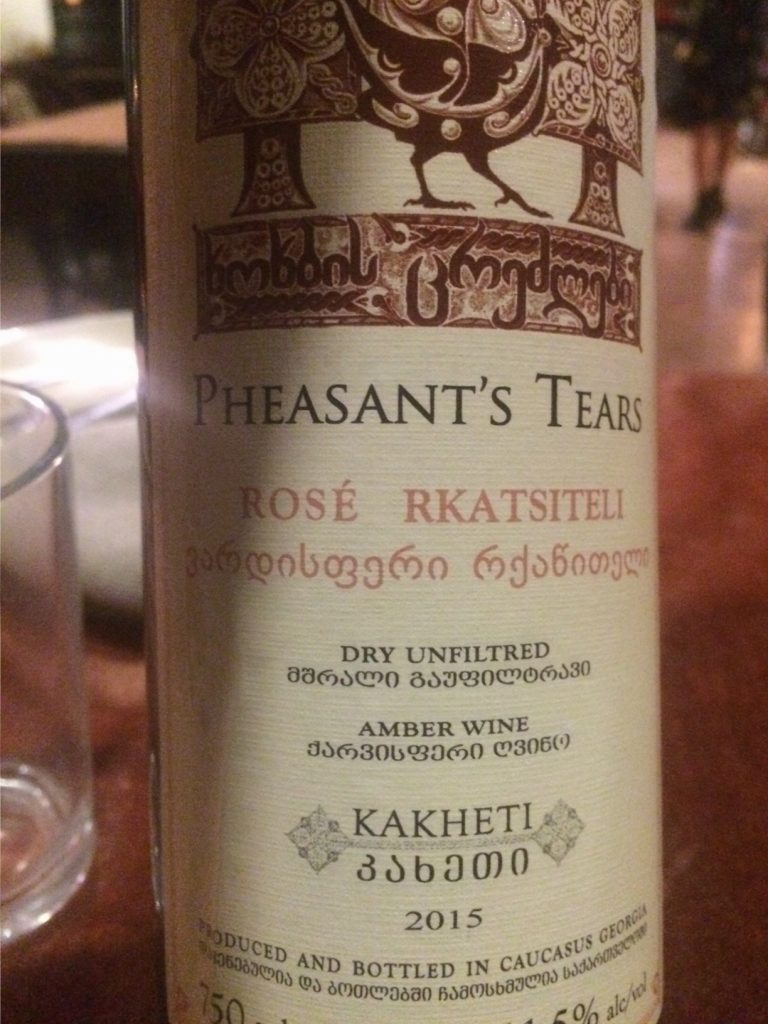 Dario Prinčič Pinot Grigio 2011
We end the night with this wine and it takes about 20 minutes to open up and fully expresses itself. It starts off shy with a pronounced musky aroma. The extended skin contact shows in the color–a light pink hue that can fool people into thinking that it might be a rosé wine. This wine has wonderful flavors of strawberry, pineapple, apricot, nuts, with a hint of rubber and petrol, held together by a tannic spine. Charine doesn't appreciate this wine while Matt finds it tremendous and ties it with the Tsikhelishvili Rkatsiteli as the wine of the evening.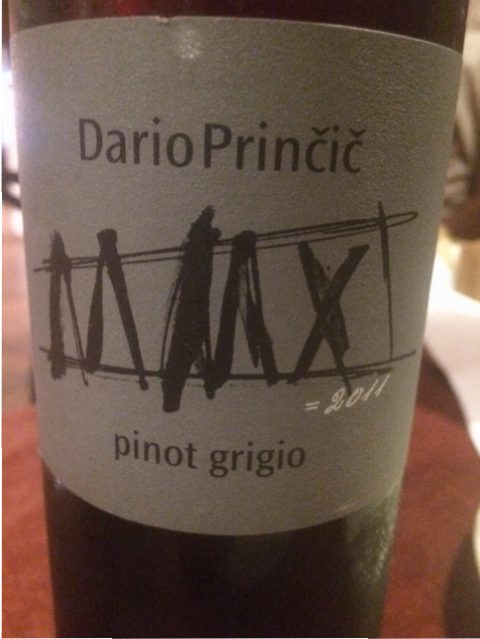 You May Also Enjoy
The Unstoppable Progress in the Georgian Wine Scene
An Introduction to Georgian Qvevri Wine in Zagreb
Trendsetter: Dr Eko Glonti from Lagvinari Winery, Georgia
A Brief History of Wines from the Caucasus
---
Note: The ideas expressed in this article are personal opinions and are not associated with any sponsors or business promotions.