A Night of Worldly Wines
In a wine forum somebody once directed a comment towards us saying, "you probably drink so much plonk traveling through these odd regions that anything decent tastes like a Chateau Latour (famous Bordeaux estate)." We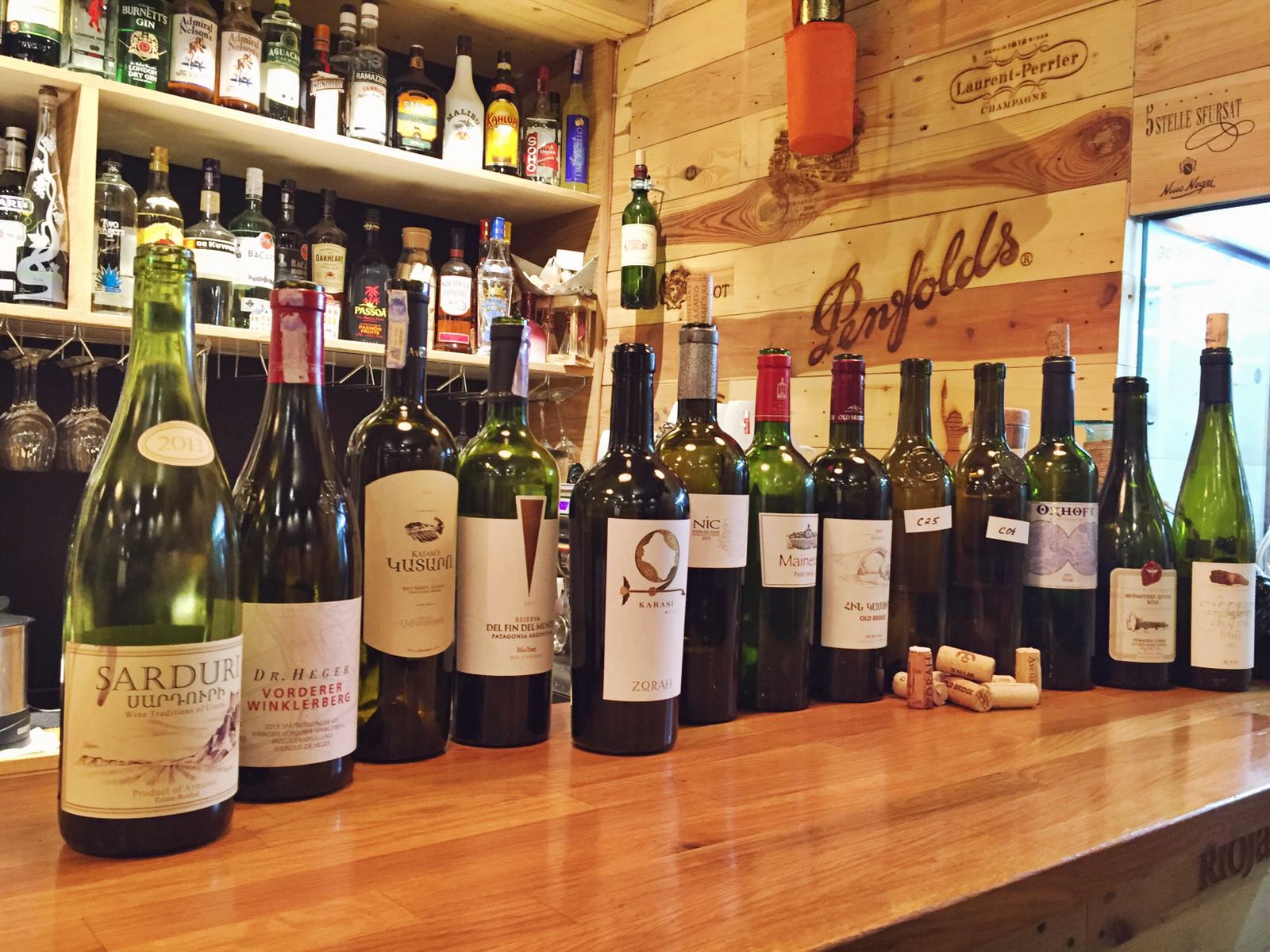 In a wine forum somebody once directed a comment towards us saying, "you probably drink so much plonk traveling through these odd regions that anything decent tastes like a Chateau Latour (famous Bordeaux estate)." We totally disagree with that statement, as there are many excellent, world-class examples found in these far-flung corners of the wine world. From time to time we do like to reset our palate with wines from more conventional regions.
At Wine Republic in Yerevan, eight of us organized a grand tasting of wines. Everybody who participated brought at least one bottle. The group consisted of the head winemaker & marketing team of Armenia Wine Company (the biggest winery in Armenia), the proprietor of the wine bar, and ourselves.
We had the opportunity to sample wines from Argentina, Armenia, France, Georgia, Germany, and Spain. A few of the wines were world class including a Robert Parker darling from Ribera del Duero, a Pinot Noir from Germany, and Zorah from Armenia. Most of the wines showed fairly well with only one bad bottle.
It was a fun evening of tasting, talking, and sharing ideas. A perfect example of what makes sharing wine with people so enjoyable.
M. Chapoutier , Schieferkopf, Sylvaner 2013, Alsace, France
At first, we thought that this was a Riesling but its shy and neutral nose spoke otherwise. Later we found that this was the grape Sylvaner. This white wine is nice enough with some floral notes teaming with lychee and melon flavors. It was very well made by left us wanting for more.
Khareba, Monastery Wine, Otskanuri Sapere 2012, Imereti, Georgia
This is made from a rare red grape Otskhanuri Sapere in West Georgia. It is made by one of the largest companies in Georgia and is fermented in traditional Georgian qvevri (buried terra-cotta vessels.) Our previous experience with this bottle was promising and it showed even better this evening. The wonderful sour raspberry, cherry, earth, and grapefruit flavors are accompanied by dirt, tobacco, and mineral notes. We brought this wine to the group and everyone was very intrigued by the wine. Excellent depth and flavor profile. 
Dalvina, Oxhoft, Syrah 2011, Strumichko-Radovishki, Macedonia
This was brought by the winemaker himself, Mr Josef Watzl, who no longer makes wine in Macedonia. This Syrah has a very complex nose that had dark cherry, spice, earth, and blackcurrant. On the palate, it tasted like a mix between a dirty Rhone Syrah and a fruitier Shiraz from Australia. The wine changes very quickly in the glass and gets your mind going. The body is lighter than one might expect from the nose.
Armenia Wine Company, Kangun, 2016, Aragatsotn, Armenia
A new wine that will be launched soon. This was a sample that Josef brought with him, he is now the head winemaker at Armenia Wine Company. The grape Kangun was used for brandy production by the Soviets in USSR times because of its hardiness and resistance to the cold winters. This is full of explosive pine, pineapple, and melon flavors with rich mineral flavors. A very simple and enjoyable table white wine.
Armenia Wine Company, Kangun Off-Dry 2016, Aragatsotn, Armenia 
This wine was another sample brought by Josef Watzl who is now the head winemaker at Armenia Wine Company. It was made to introduce people into drinking dry wines. It has about 10g/L of sugar and is the type of wine that would make both sweet-wine and dry wine drinkers happy. It has wonderful and explosive flavors that are very similar to well done late harvest Rieslings.
Old Bridge, Reserve Dry Red, 2012, Vayots Dzor, Armenia
The native grape Areni is made is so many different styles but this is the most honest expression of the grape that we have come across. Old Bridge is made in small quantities from a lovely man in Vayots Dzor. The wine has a beautiful ruby color and shows lots of sour cherry, mineral, dirt, and a touch of softwood from the Caucasian oak. This wine is by no means industrial and has lots of energy and life behind it. The flavors are extremely bright on the palate, a very cheerful wine.
Maínetes, Petit Verdot, 2012, Jumilla, Spain
Petit Verdot is becoming very big in Spain now and this wine is from Jumilla which is dominated by plantings of Monastrell (Mourvedre). This wine was the darkest of the evening besides the Ribera del Duero. It smells of herbs, stems, greens, dark berry, and earth. The wine has nice structure and is well made but tastes leaner than you would expect from an area that receives so much sun.
Bodegas JA Calvo Casajús, NIC, 2010, Ribera del Duero, Spain
This wine is 100% Tempranillo and from a small producer in Ribera del Duero. This vintage received 93 points from Robert Parker. This wine is extremely rich yet elegant at the same time. It manages to be fruit forward without being too jammy. The wine has wonderful flavors of black cherry, dirt, minerals, spice, and black pepper. Grace, power, and elegance in one package.
Zorah, Karasi, 2014, Vayots Dzor, Armenia
This is a new vintage of Areni from this wonderful producer in Armenia. Zorah is the most heralded Armenian wine as the 2010 vintage was featured in Bloomberg's "Top Ten Wines of 2012." This smells and feels very much like an Italian wine – Chianti Classico-esque. The wine is fermented in concrete eggs and aged in karas (amphora.) The nose has sour cherry, grass, earth, minerals, tobacco and a touch of smoke – simply wonderful nose. The palate is full of sour cherry, earth, minerals, and smooth tannins – simply beautiful wine
Kataro, Dry Red Wine, 2013, Nagorno-Karabakh
Made from the indigenous grape Khndoghni in the hotly disputed region (or country depending on the source) of Nagorno Karabakh. This is the basic red wine from this family owned and operated producer in the region. Khndoghni has a lot of potential and this wine is a little rough around the edges but shows nice dark color, dark fruit, earth, dirtiness, and firm tannins. We personally love the reserve version of this wine, but on this evening this wine strutted some of its stuff.
Bodega Del Fin Del Mundo, Reserva Malbec 2013, Patagonia, Argentina
This wine tasted overheated, it probably wasn't stored well – after a quick taste the bottle was thrown to the side.
Dr Heger, Vorderer Winklerberg, Spätburgunder, 2013, Badan, Germany
An exceptional Pinot Noir made from a German producer with a big-time reputation near the French border. This nose is wonderful with notes of light red fruit, sand, leaves, caramel, and a touch of wood. This Pinot Noir has beautiful texture and is very soft on the palate, the only gripe is the fact that it has a touch too much wood. It is oh so close to being a transcendent wine.
Sarduri, Dry Red, 2013 , Aragatsotn, Armenia
A very inexpensive wine made from 80% Kakhet and 20% Haghtanak which are both indigenous to Armenia. This wine drinks well past its price point. There are light red fruit, caramel, minerals, and wet sand aromas. The wine has a lot of sour cherries on the palate with a long finish complimented by the soft tannins. This winery has taken huge steps forward with each vintage.
************
If you want to savor the exquisite flavor of Balkan wines, look no further than wineandmore.com. With many options from different winemakers, it's easy to find exactly what your palate desires. Not sure which bottle is best for you? Try out one of their curated wine cases and discover the perfect vintage for any occasion!
************
Want to learn more about wine?
Are you ready to discover the wonderful world of wines? Come join us at wineandmore.com, and let's explore the incredible selection of delicious wines together! We can't wait to share our passion for wine with you!
Disclaimer: The ideas expressed in this article are personal opinions and are not associated with any sponsors or business promotions.