Baga Friends 2015 Releases
Reading Time: [est_time] "Be careful with Bairrada now!" The first time Charine and I visited Portugal, we chose a Bairrada of the wine list. The sommelier's eyes lit up when we asked for the bottle. He gave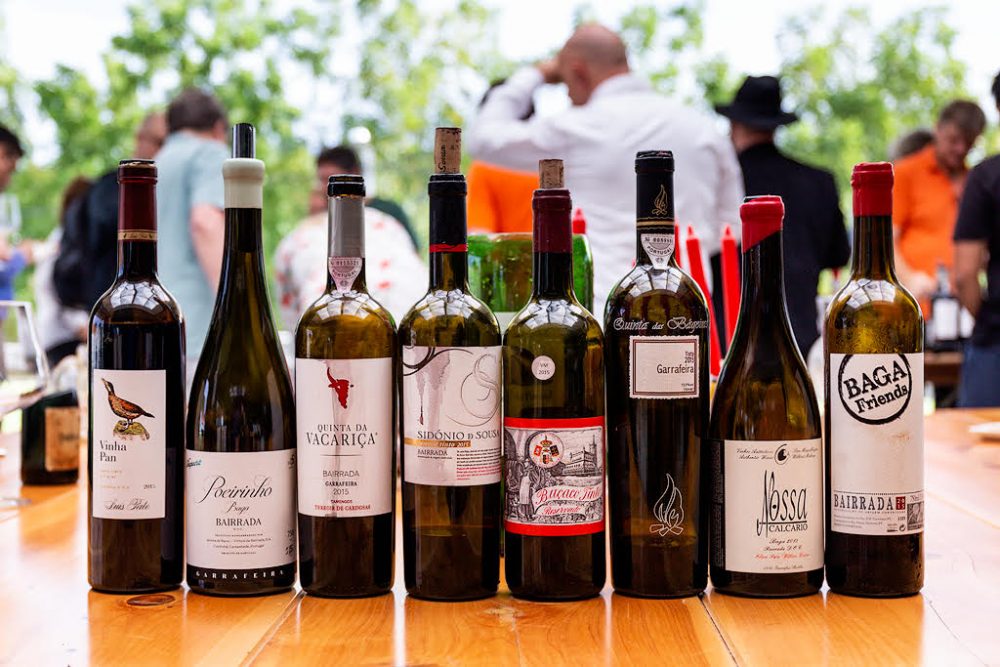 Reading Time: 4 minutes
"Be careful with Bairrada now!"
The first time Charine and I visited Portugal, we chose a Bairrada of the wine list. The sommelier's eyes lit up when we asked for the bottle. He gave us a warning about the wine's fierce tannins as he grinned from ear to ear.
The most age-worthy Bairrada reds are made from Baga, a grape capable of producing great wines in the right vintage. The grape has a thin skin and ripens late. Because of the Atlantic climate of Bairrada, producers often have to battle elements as the rain starts falling in early Autumn. Winemakers have to either pick early, unripe grapes or risk losing their crop to rot.
When the vintage is warm and Baga gets fully ripe, it can produce deep, subtly powerful wines that remind me of Nebbiolo. The wines also age exceptionally well thanks to the high levels of acidity and tannins. These are wines for fans of the old world, where earthy notes and subtle complexities are emphasized, not big fruit and oakiness.
Baga Friends
Five years after first visiting Portugal, I found myself in Bairrada hanging out with the Baga Friends. They are a band of seven producers hails from Bairrada in central Portugal. They have one mission in mind, promoting the fickle grape Baga. They also happen to be some of the finest producers in Portugal.
During a rather hedonistic afternoon, the Baga Friends poured their 2015 releases in addition to archive wines from their cellars. I thought I was simply attending a masterclass. After reaching the Luis Pato winery, a number of friends from the wine world kept randomly appearing. The simple masterclass I showed up for, turned into a long lunch, cellar visits, and a gut-busting feast for dinner.
During a tasting of the 2015 Bairradas from the Baga Friends, I found some wines to have incredible depth and complexity. There were also wines that showed the austere side of the grape. The best examples showed the potential to last a long time in the cellar.
Drinking Bairrada young isn't always easy. The wines can be hard and vegetal in poor vintages and the real magic happens with bottle age as the tannins begin to soften. Luckily it seems that the 2015 vintage is a warm approachable one, so you can drink them on the younger side with confidence.
In cooler vintages, the tannins might be too green and astringent to drink young. In those cases, it might be wise to heed the advice of the sommelier we met during our first visit to the country. Be careful with Bairrada indeed.
Wine Recommendations:
You can find out more about our scoring system on the WINE RATING page.
Luis Pato, Vinha Pan 2015
Find or buy on Wine-Searcher.
The latest Vinha Pan from Luis Pato is gorgeous. Notes of forrest berry, rubber, pepper, red plum, and cedar. It's full-bodied with high acidity. This has an attractive earthy, long finish. There is a lot to like here. Score: 92+/100
Quinta de Baixo, Poeirinho Garrafeira 2015
Quinta de Baixo is a property taken over by Dirk Niepoort. The Poeirinho Garrafeira is the estate's top wine based on Baga. It has notes of red fruit, earth, fall leaves, pepper… really like Red Burgundy. This has 50-60% stem inclusion. A wine to age, it has an earthy and savory note to it. Small, grippy tannins and long finish. Score: 93/100
Quinta da Vacariça, Garrafeira Tinto 2015
Find or buy on Wine-Searcher.
Quinta da Vacariça is a small property owned by Frenchman François Chasans. This Garrafeira Tinto is leathery and savory. Red plum, pine, and sour cherry. Very round and refined, French in style. Savory and long finish guided by firm tannin. Of all the vintages I've had from Quinta da Vacariça, the 2015 is by far the best. Score: 92+/100
Sidónio de Sousa, Reserva 2015
Find or buy on Wine-Searcher.
We've had several vintages of Sidónio de Sousa in the past, so it was nice to finally meet this producer face to face. This wine is stemmy with notes of raspberry, cherry, earth, and pepper. This has searing acidity and a high level of tannin. This is more approachable than previous vintages. Score: 90/100
Buçaco, Tinto Reservado 2015
Find or buy on Wine-Searcher.
The wines from Buçaco are old school in style, which I love. This vintage is stemmy, with raspberry, earth, and pepper notes. It's tight and built to age with some fierce tannins. Please note that these wines become beautiful with age and this may very well shoot up in score. But right now, it needs a lot of time in the bottle. Score: 93/100
Quinta das Bágeiras, Garrafeira Tinto 2015
Find or buy on Wine-Searcher.
The Quinta das Bágeiras Garrafeira Tinto has notes of leather, plum, black cherry, pepper, and earth. Rich and full with an earthy kick. The small tannins and high acidity give the wine a very French feel. Put this one in the cellar for another 10 years to let the tannins soften. Score: 91/100
Filipa Pato, Nossa Calcario 2015
Find or buy on Wine-Searcher.
Filipa Pato is the daughter of Luis Pato. She produces small quantities of minimal intervention wines and this wine is made from vines over 130 years of age. This wine is tight and a bit closed now. Raspberry, stems, earth, pepper, and a touch of leather make up the flavor profile. Old school style of wine and is high in acidity and tannins. When these wines age, they develop lots of complexity, so put this one away for another 5-10 years before opening it. Score: 92/100
Baga Friends, Bairrada 2015
Find or buy on Wine-Searcher.
The Baga Friends Bairrada is a blend of wines from all the producers in the group. There are notes of leather, earth, and spice on the savory side of the spectrum. Notes of black cherry and black raspberry make up the fruit notes. This is rich and full with high tannins and acid. Score: 90+/100
Do you like our content?
If you like our articles and videos, we'd love for you to be a part of our community on Patreon. The support from Patreon helps keep the content coming and you access to behind the scenes content. It also gives us the chance to get to know you better. Check out the Exotic Wine Travel Patreon page by clicking the photo below.

---
Thanks to the Baga Friends for having me at their annual tasting and the cover photo for this article. Please note that the opinions expressed in this article are unsolicited and have not been paid for in any way by governmental bodies, enterprises, or individuals. We do not sell editorial content as that would destroy the legitimacy of our reviews and the trust between Exotic Wine Travel and its readers. On occasion, we extend the option of purchasing the wines we review or/and the products we spotlight. Some of these product links are set up through affiliate programs, which means Exotic Wine Travel gets referral credits if you choose to purchase these items via the links we provide.