Best Dinner Experiences In Buenos Aires
[vc_row][vc_column][vc_column_text] Buenos Aires is a city known for many things, but one of the most underrated aspects of the city is its food! Being a cultural hub, Buenos Aires' cuisine is as diverse and unique as the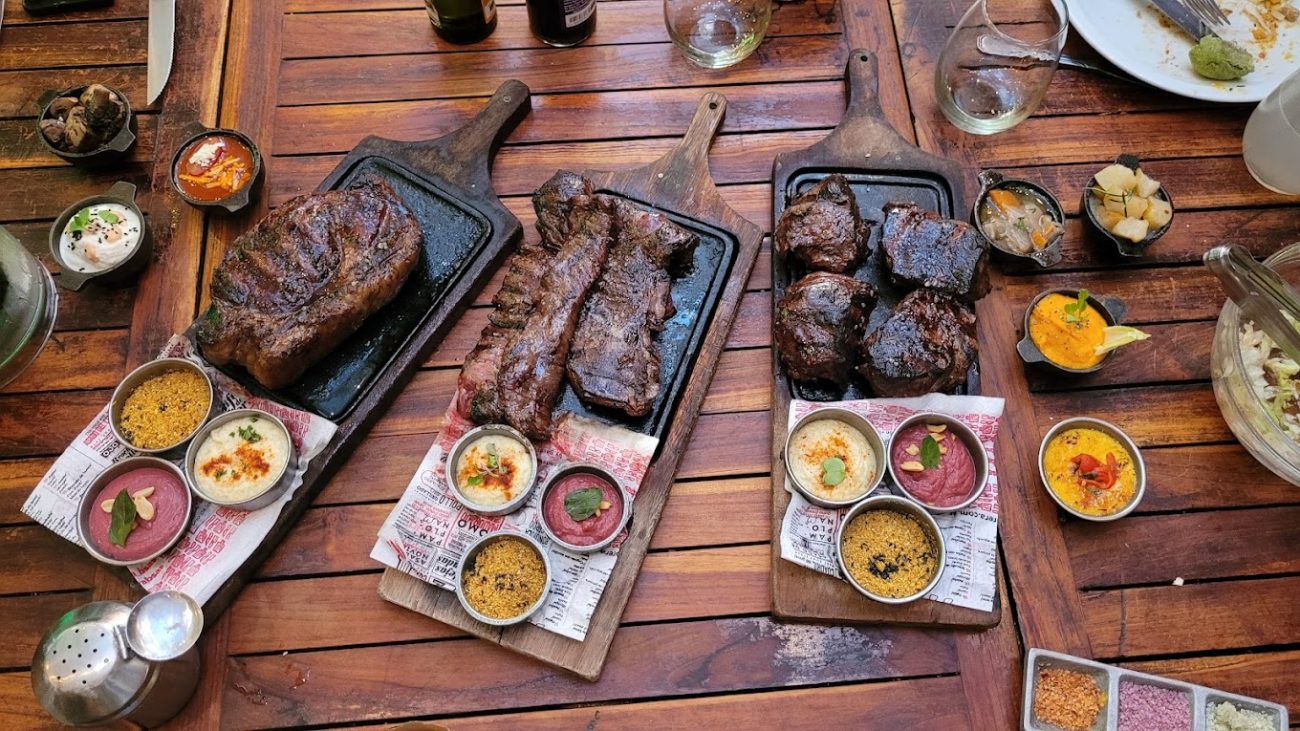 Buenos Aires is a city known for many things, but one of the most underrated aspects of the city is its food!
Being a cultural hub, Buenos Aires' cuisine is as diverse and unique as the city itself. The city has a wide range of restaurants that cater to different culinary preferences. Buenos Aires is the top destination in Latin America for fine dining. It is home to several world-renowned restaurants such as Don Julio, El Baqueano, and La Cabrera. These restaurants have been successful in attracting food connoisseurs from across the globe.
But the culinary scene in Buenos Aires is a melting pot of flavors, offering an array of dining options to suit every palate and budget. Whether you're a food enthusiast seeking Michelin-starred excellence or a traveler on a budget looking to indulge in traditional Argentinian cuisine, this vibrant city has something to offer. Here are some of the best restaurants in Buenos Aires, divided by categories, to satisfy your dinner cravings.
Foodies Guide to Buenos Aires
One of the most iconic foods associated with Buenos Aires is steak. The city has a rich history of producing high-quality beef thanks to its fertile land and the abundance of cattle ranches in the surrounding provinces. The beef is usually cooked in the traditional Argentinean way – on a parrilla grill – and seasoned with chimichurri, a blend of herbs, garlic, and oil. Restaurants specializing in steak can be found throughout the city, and most serve large portions at a reasonable price.
Another delicious dish that is popular in Buenos Aires is empanadas. Empanadas are a pastry filled with various ingredients such as meat, cheese, or vegetables. They are usually deep-fried or baked and are the perfect quick snack to grab or take away. Many bakeries in the city offer empanadas as part of their menu, and they are also available in most restaurants.
Buenos Aires is also home to a vast selection of street food. One of the most popular options is choripán, a type of sandwich containing chorizo, spicy sausage, and chimichurri sauce. It is usually served at street stalls and food fairs and is the perfect dish to sample while walking around the city.
For those looking for something sweet, dulce de leche is a must-try in Buenos Aires. Dulce de leche is a caramel-like sauce made from condensed milk, and it is used as a topping for many desserts. It is the perfect addition to crepes, pancakes, and cakes.
Aside from the food, one of the unique aspects of dining in Buenos Aires is the city's café culture. The city has an old-world charm and is famous for its grandiose architecture and Parisian-style cafes. Many cafes in the city offer medialunas, a traditional Argentinian pastry and a type of croissant, with café con leche, a coffee made with steamed milk.
Best traditional Argentinean cuisine
Don Julio, once a humble neighborhood parrilla, or steakhouse, has evolved into a culinary institution renowned for its commitment to regenerative Argentine cattle farming, an impressive cellar showcasing Argentina's wine heritage.
At first glance, Don Julio may appear to be a tourist hotspot, given the queues that often snake around its entrance. However, this restaurant retains a substantial local clientele, drawn back time and again for its delectable steaks and exceptional selection of wines. The secret to its enduring success lies in its ability to strike a harmonious balance between precision service and a laid-back atmosphere.
Start with a tantalizing appetizer like the gooey provoleta goat's cheese or the succulent mollejas, a delicacy made from sweetbreads. These dishes are a perfect prelude to the main attractions. The hallmark of Don Julio's menu is its specialty cuts, carefully sourced from regeneratively farmed Aberdeen Angus and Hereford cattle.
With meticulous attention to quality and flavor, the restaurant showcases prized cuts such as the asado de tira, featuring succulent short ribs, and the entraña, a tender skirt steak.  With signature cuts such as chinchulins, morcilla (a blood sausage), and beef heart, the restaurant is well worth a visit for any steak lover.
While the food at Don Julio is undeniably remarkable, their wine cellar is an oenophile's dream come true. The extensive collection showcases the best of Argentina's rich viticultural history, offering a comprehensive selection of exceptional wines. From robust Malbecs to elegant Torrontés, Don Julio's cellar is a testament to the restaurant's commitment to telling Argentina's wine story and providing an unforgettable dining experience.
Uncover Best Buenos Aires Tours.
Best Fusion Cuisine in Buenos Aires
Buenos Aires, the vibrant capital city of Argentina, is renowned for its rich culinary heritage and diverse gastronomic offerings. Amidst the bustling food scene, Mishiguene stands as a shining gem, captivating locals and tourists with its unique fusion of Jewish Sephardic, Ashkenazi, and Middle Eastern and Argentine flavors.
Situated in the charming neighborhood of Villa Crespo, Mishiguene artfully merges the culinary traditions of Jewish immigrants with the robust flavors of Argentine cuisine. The name itself, derived from the Yiddish word "mishugene," meaning crazy or insane, reflects the restaurant's bold and creative approach to cooking.
Start your meal with traditional Jewish classics such as house-cured pastrami, tender gefilte fish, or savory matzo ball soup. These iconic dishes are lovingly prepared with authentic recipes passed down through generations, ensuring an authentic taste that transports you to the streets of Eastern Europe. Mishiguene's menu also features a selection of mouthwatering Argentine-inspired dishes.
Try their perfectly grilled Argentine beef, paired with a rich chimichurri sauce, or savor the delicate flavors of their smoked salmon, expertly prepared in-house. Combining Argentine ingredients and Jewish culinary techniques results in an extraordinary dining experience that showcases the best of both worlds.
Mishiguene is also known for its inventive cocktail menu, featuring unique concoctions that blend Jewish flavors with Argentine spirits. Whether you choose to sip on a Manischewitz-infused cocktail or explore the bold flavors of an Argentine Malbec, Mishiguene's bar perfectly complements the exceptional cuisine.
Discover Best Ways To Tour Buenos Aires.
Best Fine Dining in Buenos Aires
Aramburu is a renowned restaurant known for offering a high-end dining experience and has gained locally and internationally recognition. The restaurant is situated in the upscale neighborhood of Recoleta and is owned by Chef Gonzalo Aramburu. Aramburu is celebrated for its creative use of local ingredients and 17-course tasting menu, which is expertly paired with wines.
With its intimate and cozy atmosphere, Aramburu provides a unique and memorable dining experience. The restaurant is divided into two floors, with the second floor dedicated to desserts. The dedication to sourcing the finest ingredients is evident in every dish at Aramburu. Locally sourced produce, artisanal meats, and fresh seafood are transformed into culinary masterpieces that honor Argentine culinary traditions while embracing modern techniques.
Beyond the impeccable taste, Aramburu takes great pride in presenting each dish as a work of art. The chef's meticulous attention to detail is evident in the stunning plating and the harmonious combination of colors, textures, and aromas. The visual appeal of each course elevates the dining experience, creating a feast for the eyes and the palate.
Check These Experiences For A Close-Up Look At Buenos Aires.
Best Upscale Restaurant in Buenos Aires
Roux Buenos Aires is an intimate and upscale restaurant located in Buenos Aires, Argentina. The restaurant specializes in reimagined Latin-Mediterranean cuisine and offers a fusion of Spanish and Argentinian flavors. With its cozy atmosphere and focus on locally sourced ingredients, Roux provides a unique dining experience for visitors and locals alike.
Located in the Recoleta neighborhood of Buenos Aires, Roux is known for its elegant and welcoming ambiance. The restaurant offers three different spaces, including a main dining room, where guests can enjoy their meals.
The menu at Roux features a variety of dishes, with a particular emphasis on fresh seafood sourced from the region. Some popular menu items include Patagonian king crab ravioli and perfectly cooked ojo de calamar (squid eye).
Check These Tours And Experience The Best Of Buenos Aires.
Best Urban Meets Authentic Cuisine in Buenos Aires
Ronconcon – Cocina Latina is a restaurant located in Caballito, Buenos Aires, Argentina. Specializing in Latin and Caribbean cuisine, this culinary gem offers a delectable menu inspired by the rich culinary traditions of Central America. With its diverse range of dishes, Ronconcon has become a go-to destination for those seeking an authentic Latin American dining experience.
The restaurant is known for its vibrant and flavorful menu, including brunch, lunch, and dinner options. Some popular dishes you can find include Latin and Caribbean favorites like empanadas, arepas, ceviche, and traditional rice and beans.
One cannot talk about Ronconcon without mentioning their delectable empanadas. These savory pastries, filled with a variety of ingredients such as beef, chicken, cheese, and vegetables, are a staple in Latin American cuisine. Ronconcon takes pride in their perfectly golden empanadas, offering a delightful bite of flavor with each bite.
Ronconcon's arepas are not to be missed for those craving a taste of Venezuela. These cornmeal pockets, stuffed with various fillings like shredded beef, black beans, and cheese, are a true delight. Each bite reveals a harmonious blend of textures and flavors, transporting you straight to the streets of Caracas.
Seafood enthusiasts will find themselves in paradise with Ronconcon's ceviche. Made with fresh fish or seafood marinated in citrus juices and served with a medley of herbs and spices, ceviche is a refreshing and zesty dish that showcases the restaurant's commitment to quality and authenticity. Vegetarians and vegans will find various options, such as plantain dishes, yuca fries, and hearty vegetable stews. The restaurant also offers gluten-free alternatives, ensuring that everyone can indulge in the flavors of Latin America.
Discover Best Buenos Aires Tours.
Budget-Friendly Traditional Argentinian Restaurant
If you're traveling on a budget, Buenos Aires has a wide range of options that you can explore without breaking the bank. You can find affordable restaurants that serve traditional Argentinean cuisine. The city also has numerous street food vendors where you can enjoy choripán and empanadas reasonably priced.
But don't miss out on La Cabrera, a renowned Argentinean steakhouse situated in Palermo, a vibrant neighborhood in Buenos Aires. It offers a unique experience centered around Argentinean grill cuisine and is considered one of the best restaurants in the city. At La Cabrera, the star of the show is undoubtedly the meat. Argentina is renowned for its beef, and La Cabrera takes pride in sourcing the finest cuts available.
One of the highlights of the menu at La Cabrera is the Chorizo Criollo de Rueda, a traditional Argentinean sausage bursting with flavors. Made from high-quality beef and a delicate blend of spices, each bite offers a perfect balance of smokiness and tenderness. This dish serves as a delightful introduction to the gastronomic wonders that await.
For those seeking the ultimate steak experience, La Cabrera offers the Bife Dry Aged, a prime example of their commitment to excellence. Dry aging is a process that enhances the tenderness and flavor of the meat by allowing it to mature in controlled conditions. The result is a steak that melts in your mouth, revealing rich, concentrated flavors that will leave you craving more.
Another star of the menu is the Entraña, a succulent and juicy cut of skirt steak. La Cabrera's expertise in grilling shines through in this dish, as they skillfully cook the meat to perfection, preserving its natural juiciness while infusing it with a delightful smoky char. With each bite, you'll experience a harmonious blend of textures and flavors that will transport you to a meat lover's paradise.
Experience Buenos Aires Like A Local.
Best Vegetarian Cuisine in Buenos Aires
Buenos Aires is renowned for steak, but vegetarians have options too! The city has seen an increase in vegetarian and vegan restaurants in recent years. These restaurants offer plant-based dishes such as lentil burgers, tempeh skewers, and vegan pizzas. But one of the most popular restaurants with vegetarian dining offers in the city is Gran Dabbang.
Gran Dabbang is a small pan-Asian-inspired restaurant in Palermo that offers exciting and unique vegetarian dishes. Situated on Av. Raúl Scalabrini Ortíz, is known for its unique and creative fusion of Argentine, Latin American, and South Asian flavors. Despite its small storefront, Gran Dabbang offers a burst of taste and culinary innovation.
The chef has a talent for spicing up traditional Indian dishes to make them more interesting, and the result is delicious. The restaurant often fills up quickly, so arrive early if you want to try it out. The menu at Gran Dabbang showcases a blend of Indian cuisine with global influences.
Dishes are prepared by Chef Mariano Ramón, who is known for his ability to create distinct flavor combinations. Some of the notable offerings include Tamil food, Peach cider, and a variety of other dishes that have received praise for their superb taste. The restaurant has become a popular choice among food enthusiasts in Buenos Aires. If you're planning to visit Gran Dabbang, making a reservation in advance to secure a table is advisable.
Find Out Best Ways To Tour Buenos Aires.
Buenos Aires' Wine Scene
Buenos Aires is not only famous for its food but also for its wine. Argentina is one of the largest wine producers in the world, and Buenos Aires has a thriving wine scene. The city has several wine bars that offer a vast selection of Argentinean wines, and many restaurants also have an extensive wine list. Some popular wine bars in the city include
Naranjo Bar,
Diviiino,
Vini Bar
Casa Cavia,
Vico.
Conclusion
Buenos Aires is renowned for its rich culture, tango music, and vibrant street life. But the city's food scene truly captivates locals and visitors alike. From succulent steaks to mouthwatering pastries, Buenos Aires offers diverse culinary delights that reflect the country's unique blend of European and Latin American influences.
Regarding Argentine cuisine, one cannot ignore the famous asado, or Argentine barbecue. Asado is an art form, a ritual that brings friends and family together around a sizzling grill. The city is dotted with parrillas (steakhouses) where you can indulge in juicy cuts of beef, cooked to perfection. Tender, flavorful, and often accompanied by chimichurri sauce, these steaks are a carnivore's dream. Don't miss the opportunity to try other grilled specialties such as chorizo (sausage) and morcilla (blood sausage), adding an extra dimension to the meaty feast.
While meat dominates Argentine cuisine, Buenos Aires offers various dining options to suit every palate. The city's pizza and pasta joints are a must-visit for those seeking a taste of Italian influence. Influenced by the large Italian immigrant population, Buenos Aires has perfected the art of thin-crust pizza with a plethora of toppings, from classic margherita to inventive combinations that push the boundaries of flavor.
Another Argentine staple that can't be missed is empanadas. These savory pastries with various delicious fillings, such as beef, chicken, cheese, and vegetables are perfect for a quick snack or a light meal. Whether you prefer them baked or fried, empanadas can be found on almost every street corner, and each bite is a delightful explosion of flavors.
When it comes to sweets, Buenos Aires does not disappoint. The city boasts an array of bakeries and cafes that offer delectable pastries and desserts. The most iconic treat is the medialuna, Argentina's version of the croissant. These buttery, flaky pastries are often enjoyed for breakfast or with a cup of coffee during the afternoon merienda. Dulce de leche, a creamy caramel sauce, is another culinary gem found in many Argentine desserts. Indulge in alfajores, delicate sandwich cookies filled with dulce de leche, or try a slice of torta Rogel, a decadent cake layered with dulce de leche and covered in meringue.
Beyond traditional Argentine cuisine, Buenos Aires also embraces international flavors. The city is a melting pot of cultures, and you can find a wide range of international restaurants offering cuisines worldwide. From sushi to Thai, Mexican to Middle Eastern, Buenos Aires caters to diverse tastes and guarantees a culinary adventure for every food lover.
To truly immerse yourself in Buenos Aires' food scene, consider exploring the city's bustling food markets. Mercado de San Telmo and Mercado de Belgrano are just a few examples where you can experience the vibrant atmosphere while sampling local delicacies. These markets offer fresh produce and feature small stalls selling empanadas, grilled meats, and regional specialties that give you a taste of Argentina's rich culinary heritage.
*Please note that some links are set up through affiliate programs, meaning Wine travel gets referral credits if you purchase these items via our links.