Must-Visit Food Markets In Rome
[vc_row][vc_column][vc_column_text] Rome, the eternal city, is famous for its art, architecture, landmarks, and its food markets, which can provide an authentic culinary experience. When it comes to culinary delights, few cities can rival the vibrant food scene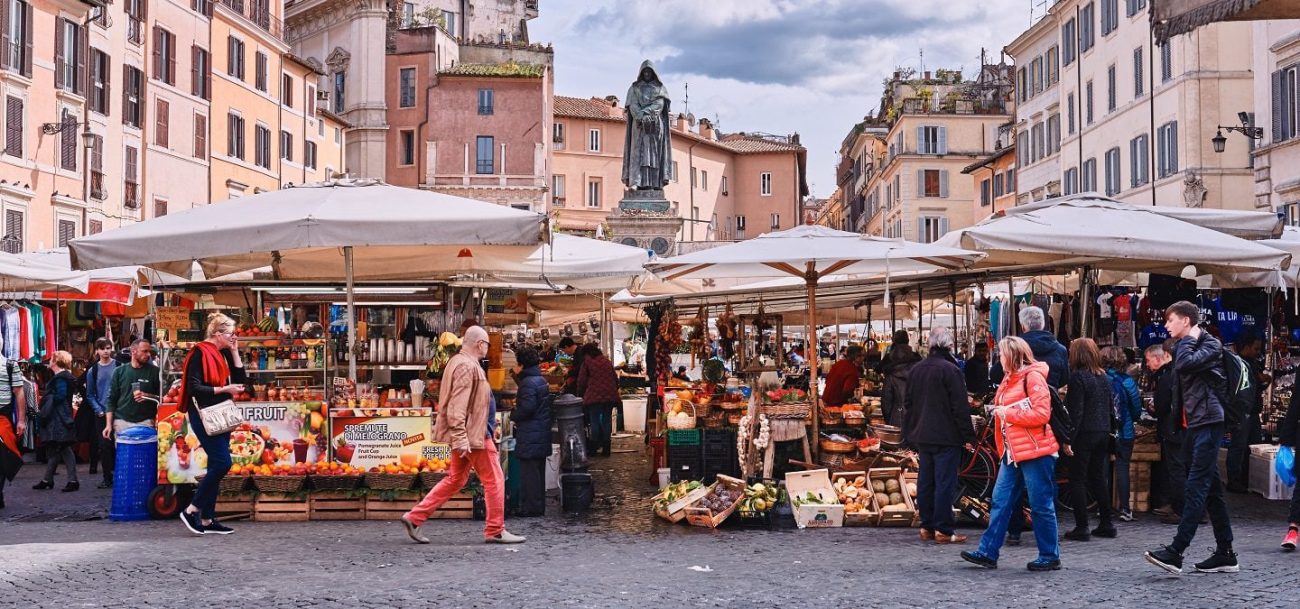 Rome, the eternal city, is famous for its art, architecture, landmarks, and its food markets, which can provide an authentic culinary experience.
When it comes to culinary delights, few cities can rival the vibrant food scene of Rome. Renowned for its rich gastronomic heritage and the use of fresh, high-quality ingredients, the Eternal City is a paradise for food lovers. While Rome is famous for its trattorias and restaurants, one should not overlook the enchanting food markets that offer a truly authentic and immersive experience. From bustling stalls to colorful displays of seasonal produce, the food markets in Rome are a feast for the senses.
A food market called Mercati in Italian, offers fresh produce, specialty foods, and a wide variety of local and ethnic dishes for locals and tourists alike. This article will explore the best food markets in Rome and what they offer.
1. Mercato Trionfale
If you're searching for an authentic local experience, Mercato Trionfale, situated near the Vatican, is a must-visit destination. This bustling indoor market is a treasure trove of fresh produce, local cheeses, cured meats, and seafood.
Be sure to explore the gourmet delicatessens, where you can find a variety of truffles, olive oils, and artisanal preserves. Don't forget to sample the mouthwatering porchetta, a traditional Roman pork roast, or try the freshly prepared supplì, fried and filled with gooey mozzarella.
The market is housed in a modern building and boasts 273 stalls, making it one of the biggest markets in Rome and Italy. It provides a genuine local experience, as it is frequented by Romans rather than being overly touristy. Mercato Trionfale is open from Monday to Saturday, typically from 8:30 AM to 1:30 PM.
2. Campo de' Fiori
Located in the heart of Rome, Campo de' Fiori Market is one of the city's most popular and historic markets. Dating back to the 19th century, it has long been a meeting point for locals and visitors alike. Its lively atmosphere characterizes the market, with vendors passionately selling diverse products.
Campo de' Fiori Market offers many tantalizing options, from vibrant fruits and vegetables to fragrant spices, fresh pasta, and local cheeses. The market also features stands selling flowers, herbs, and kitchenware, making it a one-stop destination for food and household needs.
The market is also home to specialty stores offering local wines, olive oils, and balsamic vinegar. As you explore the market, take a moment to sip an espresso or enjoy a slice of pizza at a nearby café and soak in the lively atmosphere.
Explore different ways to experience Campo de' Fiori.
3. Mercato Centrale
Mercato Centrale Roma is a food market at Via Giolitti 36, near the iconic Termini train station. Mercato Centrale Roma is a place where food is celebrated, prepared, and presented by artisans who have a deep respect and knowledge of their products. The market offers a variety of culinary delights, and visitors can explore different stalls and shops to indulge in a wide range of flavors. It is a vibrant space where food becomes a cultural and social experience.
The market features various artisans who showcase their products and share the stories behind them. From fresh produce to artisanal bread, pastries, cheeses, meats, seafood and more, Mercato Centrale Roma offers diverse food options.
This gourmet food market showcases the best Italian gastronomy, with a curated selection of vendors offering everything from artisanal cheeses and freshly baked bread to gourmet pastries and regional wines.
Whether you're looking for a quick bite or a leisurely meal, you'll find a diverse range of options here, including street food stalls, seafood bars, and upscale trattorias. Pro tip: try the freshly prepared pasta at the Pasta Fresca bar.
Uncover Things to Do in Rome and create unforgettable memories.
4. Testaccio market
For a more authentic and off-the-beaten-path experience, head to the Mercato di Testaccio. Situated in the vibrant Testaccio neighborhood, this market is cherished by locals for its unpretentious charm and focus on traditional
Mercato di Testaccio is one of Rome's oldest and most beloved food markets. This lively market offers many fresh fruits, vegetables, meats, and fish. Stroll through the bustling aisles and indulge in an incredible selection of cheeses, cured meats, and homemade pasta.
Don't miss the chance to indulge in a quick bite at one of the market's food stalls, where you can savor mouthwatering supplì (fried rice balls) or grab a panino filled with delicious Italian cured meats.
Uncover the best ways to experience: Mercato di Testaccio!
5. Nuovo Mercato Esquilino (ex Piazza Vittorio)
Situated in the multiethnic Esquilino neighborhood, Nuovo Mercato Esquilino offers a diverse culinary experience. This market stands out for its multicultural atmosphere and a wide range of international flavors. From Italian delicacies to Middle Eastern spices, African ingredients, and Asian specialties, you can find a world of culinary delights here.
This market has become a melting pot of cultures, flavors, and traditions, attracting locals and tourists alike. Enjoy the vibrant energy of the market as you explore the stalls and indulge in exotic street food like falafel, samosas, and kebabs.
Check out the best ways to discover Nuovo Mercato Esquilino and the attractions nearby!
The Best Time to Visit Food Markets in Rome
Visiting food markets at the best of times can enhance your experience. Here are some tips to help you choose the best time to visit the markets:
Most of the markets are open every day except Sunday. However, the busiest days are usually Saturday and Sunday. For fresh seafood, the best time to visit is early in the morning when the fishmongers are at their busiest. The most popular time to visit Piazza Vittorio Market is usually in the evening as it transforms into a lively nightlife spot with street musicians and performers.
We recommend visiting the markets during weekdays for fewer crowds and a more peaceful atmosphere.
The Best Street Stands in Food Markets in Rome
When visiting food markets, it is hard to ignore the aroma of freshly made street food. Here are some of the best street food stands you can find in Roman food markets:
The Sicilian Cannoli from Cannoleria Siciliana at Mercato Centrale offers a wide range of flavors for this traditional Italian dessert, from pistachio to Nutella;
Try the sushi from Sushi Man at Mercato Centrale to taste the Orient. It is prepared by real Japanese chefs using fresh local ingredients;
If you want to try innovative street food, go to Mordi e Vai at Testaccio Market. They offer some unique flavors such as Parma ham with figs, and tripe sandwiches;
For wine and cheese lovers, visit Trapizzino at Testaccio Market. They offer artisanal cheeses paired with a variety of local and international wines;
The Cacio e Pepe recipe from Flavio al Velavevodetto at Nuovo Mercato di Testaccio is a must-try. It is a traditional Roman dish with an innovative twist.
The Most Traditional Products in Food Markets in Rome
Food markets are the best place to find traditional and authentic Italian products. The following is a selection of the best traditional products in Roman food markets.
At Piazza Vittorio Market, you will find a wide range of ethnic products, the most popular being fresh pasta like gnocchi and ravioli. One of the best-loved products at Mercato Centrale is the mozzarella di bufala from Casa Del Gusto. This local cheese is made using buffalo milk and is a key ingredient in many Italian dishes.
Mercato di Campagna Amica del Circo Massimo is known for its organic vegetables and fruits, especially tomatoes, artichokes, and peppers. These are harvested in the surrounding farms of Rome and brought straight to the market.
At Testaccio Market, you can find a variety of products, including tripe, a traditional Roman ingredient used in many dishes.
Finally, at Nuovo Mercato di Testaccio, you will find a variety of artisanal products such as bread, wine, and pastries, made with traditional recipes and techniques.
Conclusion
Visiting the food markets in Rome is not only about shopping for ingredients; it's an opportunity to immerse yourself in the city's culinary culture, interact with passionate vendors, and sample the flavors that define Roman cuisine.
Being in Rome and not visiting a market is like being at the beach and not taking a dip. The markets offer much more than just food; they include culture, people, flavors, and a window into Italian life that cannot be missed.
If you plan to visit Rome, we recommend visiting at least one of these markets to enjoy an authentic gastronomical experience. So get lost in the alleys, try some new food, and enjoy the beauty of these markets.
*Please note that some links are set up through affiliate programs, meaning Wine travel gets referral credits if you purchase these items via our links.