Top 7 Traditional Milanese Restaurants in Milan
[vc_row][vc_column][vc_column_text][/vc_column_text][vc_column_text] Milan is not only known for its fashion and design but also for its cuisine! Milanese cuisine is a blend of traditional Italian dishes with influences from Lombardy, where Milan is located. Although many restaurants in Milan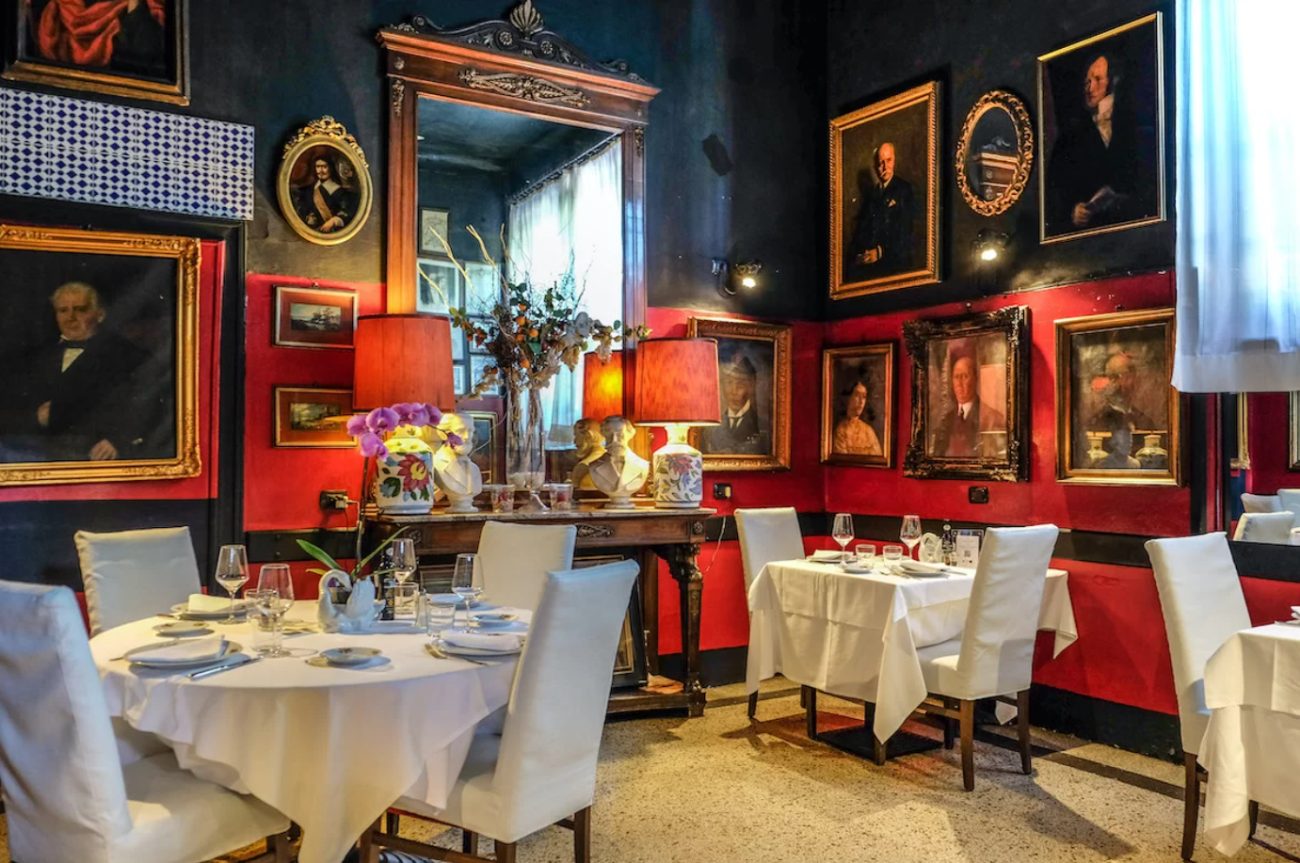 Milan is not only known for its fashion and design but also for its cuisine!
Milanese cuisine is a blend of traditional Italian dishes with influences from Lombardy, where Milan is located.
Although many restaurants in Milan serve a wide-ranging menu that covers the entire Italian peninsula, there are still some places in town where you can savor true Milanese cuisine, including dishes like risotto, cotoletta (veal cutlet), mondeghili (Milanese meatballs), and braised meats.
This article will guide you through the best traditional, old-fashioned trattorias and Milanese restaurants, where you can experience classic Milanese dishes at its finest!
1. Trattoria Arlati
Milan has long been renowned for its rich gastronomic heritage and Trattoria Arlati, located in via Alberto Nota, stands as a testament to Milan's culinary heritage since 1936. This historic restaurant, steeped in tradition, continues to enchant patrons with its authentic Milanese cuisine, lovingly prepared and served by the same family for generations.
Originally established as a humble trattoria catering to the hardworking employees of the Pirelli factory, Trattoria Arlati has flourished into a beloved dining destination, attracting locals and visitors alike. The restaurant's unwavering commitment to delivering exceptional flavors and uncompromising quality has earned it a well-deserved reputation.
Step inside Trattoria Arlati, and you will be transported to a bygone era where Milanese traditions come alive. The menu pays homage to the city's culinary heritage, showcasing an array of delectable dishes that capture the essence of Milanese cuisine. From the tender nervetti, a tantalizing tendon salad, to the creamy risotti and succulent stracotti, every bite celebrates authentic flavors.
Discover Swiss Alps, Bernina Red train and St.Moritz Tour From Milan.
And who could resist the renowned ossobuco, braised veal shanks that melt in your mouth, offering a symphony of tastes. The restaurant's ambiance exudes a rustic and cozy charm, creating an inviting dining atmosphere. Whether you're seeking a romantic evening or a lively gathering with friends and family, Trattoria Arlati offers the perfect setting to savor the delights of Milanese cuisine.
Trattoria Arlati holds a place of great significance in Milan's culinary landscape. It possesses the oldest food family license in the city. This cherished establishment has remained true to its roots for over eight decades, preserving the essence of traditional Milanese cuisine and the art of hospitality. In addition to tantalizing taste buds, Trattoria Arlati has also been a hub for cabaret and live music, further enriching the city's cultural fabric.
Whether you are seeking a taste of the past or a voyage of culinary discovery, a visit to Trattoria Arlati promises to transport you to a world of flavors where time-honored traditions are celebrated and savored.
2. Al Garghet
Situated in a building dating back to the 13th century in the ancient Gratum Solum, now known as Gratosoglio, Al Garghet emanates a sense of nostalgia. Since its establishment in 1991, Al Garghet has remained a timeless gem in Milan, admired for its unwavering authenticity.
This rustic and countryside establishment is celebrated for its delectable pasta and rice dishes, hailing from the Lombardy region. Its serene garden terrace provide a peaceful and idyllic ambiance for diners. With its authentic Milanese cuisine, warm and welcoming staff, and delightful decor, Al Garghet has captured the hearts of locals and visitors alike.
Emanuela Cipolla, the soul and proprietor of Al Garghet, was born in Milan, blending Tuscan and Sicilian heritage. With a dream of opening her own restaurant, she fell in love with a farmhouse in the Milanese countryside in the early 90s.
This farmhouse, which once housed an old tavern with a dance hall, became the foundation for her culinary venture. Starting as a pizzeria with a kitchen, Emanuela embarked on a journey to create her culinary oasis.
Whether it's the enchanting holiday decorations, the crackling fireplace, piano music in the background, or the serene garden setting with its stone tables during the summer, Al Garghet remains an everlasting gem that transcends time.
Join Private Tour of the Cinque Terre from Milan.
The restaurant's name originates from the croaking of the frogs that once inhabited the southern outskirts of Milan. Despite the region's changing landscape, Al Garghet has managed to preserve its originality and distinct character.
At Al Garghet, the menu proudly showcases the essence of Milanese cuisine, expressed through the elegant lens of the local dialect. The culinary tradition comes alive from the beginning, as the starters take center stage. Prepare your taste buds for a tantalizing journey with offerings such as homemade pasta dishes, mushroom risotto, nervetti (boiled beef sinew), lard on toasted bread, and liver pâté.
For a true taste of the region, indulge in gnocco fritto (fried bread dumplings) and an array of cured meats, or savor the delicate flavors of fried pumpkin flowers. The menu further entices with options like wheat dumplings, chestnut flour tagliatelle, and fluffy potato gnocchi, each meticulously crafted to elevate your dining experience.
At Al Garghet, dining is not merely a culinary experience but a journey into the heart and soul of Milan. From the charming garden ambiance to the meticulously crafted menu, every aspect of your visit is designed to transport you to a bygone era, where tradition and innovation coexist.
So, whether you're a local seeking nostalgia or a visitor eager to explore Milanese cuisine, Al Garghet awaits, ready to offer you a memorable and authentic gastronomic adventure.
3. Osteria alla Grande
Tucked away on the outskirts of Milan, there lies a culinary treasure that is worth venturing beyond the city center. Osteria alla Grande, located in the heart of the Baggio district, is a small, unassuming restaurant with a well-deserved reputation for its timeless Milanese classics.
Renowned for its delectable risotto, authentic Milanese tripe, and mouthwatering cotoletta, this old-school eatery offers an unforgettable dining experience.
Adorned with vibrant murals, vintage movie posters, and an eclectic collection of quirky artifacts, the restaurant exudes a nostalgic charm that transports patrons back in time. The warm and inviting atmosphere sets the stage for an extraordinary culinary journey. One of the key draws of Osteria alla Grande is its affordability.
The menu showcases an array of traditional Milanese dishes, expertly prepared with a commitment to preserving the rich flavors of the region. Both locals and tourists flock to this establishment in search of an authentic taste of Milan, immersing themselves in the genuine atmosphere and savoring the delectable creations.
As with any renowned culinary destination, it is wise to plan accordingly, as Osteria alla Grande tends to attract a steady stream of patrons, particularly during peak hours. Reserving a table in advance is highly recommended!
Discover Piedmont and Barolo Wine Tour from Milan.
In conclusion, Osteria alla Grande stands as a testament to Milan's rich gastronomic heritage. From its humble location on the city's outskirts, this unassuming restaurant offers a culinary journey that delights the senses.
Whether indulging in the velvety risotto, savoring the authentic Milanese tripe, or sinking teeth into a perfectly cooked cotoletta, diners at Osteria alla Grande are treated to a taste of Milan's past and present.
With its cozy ambiance, affordable prices, and commitment to authenticity, this hidden gem promises an unforgettable dining experience for all who venture through its doors.
4. Trattoria La Madonnina
Trattoria Madonnina beckons visitors with its rustic charm and delectable Lombardian cuisine. Situated at Via Gentilino 6, this historic trattoria has been a beloved culinary destination for over two centuries.
Stepping into its time-honored premises is like entering a bygone era, where tradition, comfort, and mouthwatering flavors converge.
As you approach Trattoria Madonnina, your eyes are drawn to the peculiar window display adorned with vintage sunglasses, old radios, and fading photographs of a Milan long gone. Guests are instantly transported to another world that resonates with nostalgia and authenticity.
Trattoria Madonnina is renowned for its Milanese stews, where succulent cutlets and comforting gnocchi with zola take center stage. The saffron risotto, a true gem of Lombardian cuisine, is also a crowd favorite.
Join Private Lake Como and the Surrounding Region Tour with Luca.
These dishes represent the timeless classics, prepared with a touch of culinary mastery that has stood the test of time. Trattoria Madonnina cuisine is a testament to its commitment to using seasonal ingredients.
Uncover the hearty flavors of cassoeula, savor the richness of ossobuco, or delight in the aromatic yellow saffron rice. And, of course, there's the iconic Cotoletta alla Milanese, the traditional veal cutlet that can be prepared either fried with oil or, upon request, cooked on the butter.
The enduring allure of Trattoria Madonnina lies in its delightful dishes and the experience it offers. It is a place where time stands still, where the heritage of Milan is cherished and preserved. With each bite, you are transported to a different era, savoring the flavors of history.
Whether you seek a culinary adventure, a glimpse into the past, or simply an unforgettable dining experience, Trattoria Madonnina welcomes you with open arms. Prepare to be captivated by its timeless charm and the irresistible allure of Lombardian gastronomy.
5. Risoelatte
In the city's heart, near Duomo, lies Risoelatte, an enchanting 60s-themed restaurant. Stepping inside this culinary haven is like traveling back in time, as every detail, from the furniture to the plates, cups, and glasses, is meticulously designed to capture the era's essence.
Authenticity is the hallmark of Risoelatte, which proudly serves traditional Italian cuisine with a particular focus on Milanese dishes. The restaurant takes great pride in its simple and genuine homemade cooking, using only the freshest seasonal ingredients. Each dish is crafted with care and passion, ensuring that every bite is a delightful homage to the flavors of yesteryear.
Among the restaurant's specialties is the renowned Riso e Latte, a Milanese dish that takes center stage in various interpretations on the menu. This classic creation has been reimagined and elevated.
Experience a Food and Wine Tour on Como Lake.
From creamy risotto infused with aromatic herbs to delectable rice puddings adorned with delicate toppings, Risoelatte invites guests to savor the essence of Milanese culinary heritage.
Beyond the culinary delights, Risoelatte provides a warm and inviting atmosphere that transports visitors to a bygone era. Its meticulous attention to detail and commitment to authenticity create an immersive experience that is both captivating and enchanting.
As one crosses the threshold of Risoelatte, the flavors, sights, and even scents of the past come alive, providing guests with a taste of classic Italian comfort food and a memorable glimpse into a bygone era.
In a world where chefs strive to create dishes that tap into our collective nostalgia, Risoelatte stands out as a true testament to the power of culinary memory.
By resurrecting the flavors and ambiance of the past, it offers a unique and immersive dining experience that will undoubtedly leave a lasting impression on all who venture through its doors.
6. Damm-atrà Ristorante Milanese
Damm-atrà is a renowned restaurant in the heart of Milan, in the Navigli district, celebrated for its delectable Lombardian cuisine. With its warm and inviting ambiance and charming terrace, this establishment has become a favorite among locals and tourists alike.
The restaurant prides itself on serving traditional dishes that embody the rich culinary heritage of Milan. Standout offerings include the iconic Milanese risotto, succulent breaded veal cutlets, and flavorful potato skins.
Explore Lake Como Day Trip from Milan: Varenna, Bellagio, and Tremezzo.
An authentic Milanese restaurant can often be identified by its name, and Damm-atrà is no exception. For those wondering, "Damm a trà" (or alternatively, "damm de trà") is a dialect phrase that roughly translates to "Pay attention to me."
It is a typically used interjection to captivate someone's attention. Established in 1991, the name Damm-atrà was also associated with a sports organization that organized running and cycling events.
One of the key reasons behind Damm-atrà's popularity is its dedication to providing exceptional service and mouthwatering food. Customers consistently laud the friendly, attentive staff who go above and beyond to ensure a memorable dining experience.
Embracing the concept of a warm and intimate gathering, Damm-atrà has earned a place as one of the must-visit restaurants in Milan.
7. Ratanà
Ratanà is known for its modern interpretation of traditional Milanese and Lombard cuisine. Situated in the heart of Isola-Porta Nuova, Ratanà offers a blend of classic and contemporary flavors.
The name "Ratanà" originates from "Retenate," which refers to a small locality. The restaurant aims to create a sustainable gastronomic culture by following seasonal menus and promoting high-quality ingredients.
Step into this vibrant and energetic restaurant within a converted building that once housed a cinema and later served as part of the railways. This establishment takes great pride in utilizing top-quality ingredients, ensuring that every dish served is a testament to culinary excellence.
Moreover, the delightful outdoor seating area, which offers a charming view of a small park, adds to the overall appeal of this remarkable dining experience.
Despite being in the city of Milan, many still have yet to indulge in the exquisite mondeghili (fried beef meatballs) served here, accompanied by the renowned breadsticks from Grissinificio Edelweiss. Chef Cesare Battisti, a true native of Milan, possesses a warm smile, a profound passion for his craft, and an insatiable thirst for knowledge.
Join a Food-Tour Among the Old Crafts and Market Places in Milan.
Chef Battisti continuously pays homage to Lombard tradition through his culinary creations while debunking the notion that all Milanese dishes are heavy, laden with fat and butter. He skillfully demonstrates that even the slightest modifications can produce lighter yet equally delicious renditions.
With its rich history and captivating ambiance, this restaurant invites diners to embark on a gastronomic journey that celebrates Milan's cultural heritage.
From the tantalizing meatballs to the artfully crafted dishes, each bite encapsulates the essence of Lombard cuisine, showcasing the harmonious blend of tradition and innovation.
For those seeking an exceptional dining experience, marked by exceptional flavors and a genuine appreciation for culinary artistry, this restaurant is an absolute must-visit.
Conclusion
Milan, renowned worldwide for its fashion and design, has more to offer than just style. Nestled in the Lombardy region of Italy, this vibrant city is also a culinary haven.
Milanese cuisine, a fusion of traditional Italian flavors with a distinct Lombardian influence, is a testament to the city's rich cultural heritage.
While numerous osterias and restaurants in Milan showcase a diverse range of Italian gastronomy, hidden gems epitomize the essence of authentic Milanese dishes. Prepare to tantalize your taste buds with renowned delicacies such as velvety risotto, succulent cotoletta (veal cutlet), flavorsome mondeghili (Milanese meatballs), and tantalizing braised meats.
Immerse yourself in the vibrant tapestry of Milanese flavors as you explore these exceptional culinary destinations. Whether you're a food enthusiast or a curious traveler, Milan's gastronomic landscape promises a memorable experience for all.
In Milan, fashion and design may reign supreme, but the city's cuisine truly captures the essence of its soul. So, venture forth and indulge in the flavors that define Milanese culinary excellence!
*Please note that some links are set up through affiliate programs, meaning Wine travel gets referral credits if you purchase these items via our links at no additional cost for you.