7 Best Napa Valley Organic Wineries
[vc_row][vc_column][vc_column_text] Winemaking is an ancient tradition dating back thousands of years. Conventionally, it used herbicides, pesticides, and synthetic fertilizers. However, over time, the negative impact of these chemicals on soil, water, and other natural resources became apparent,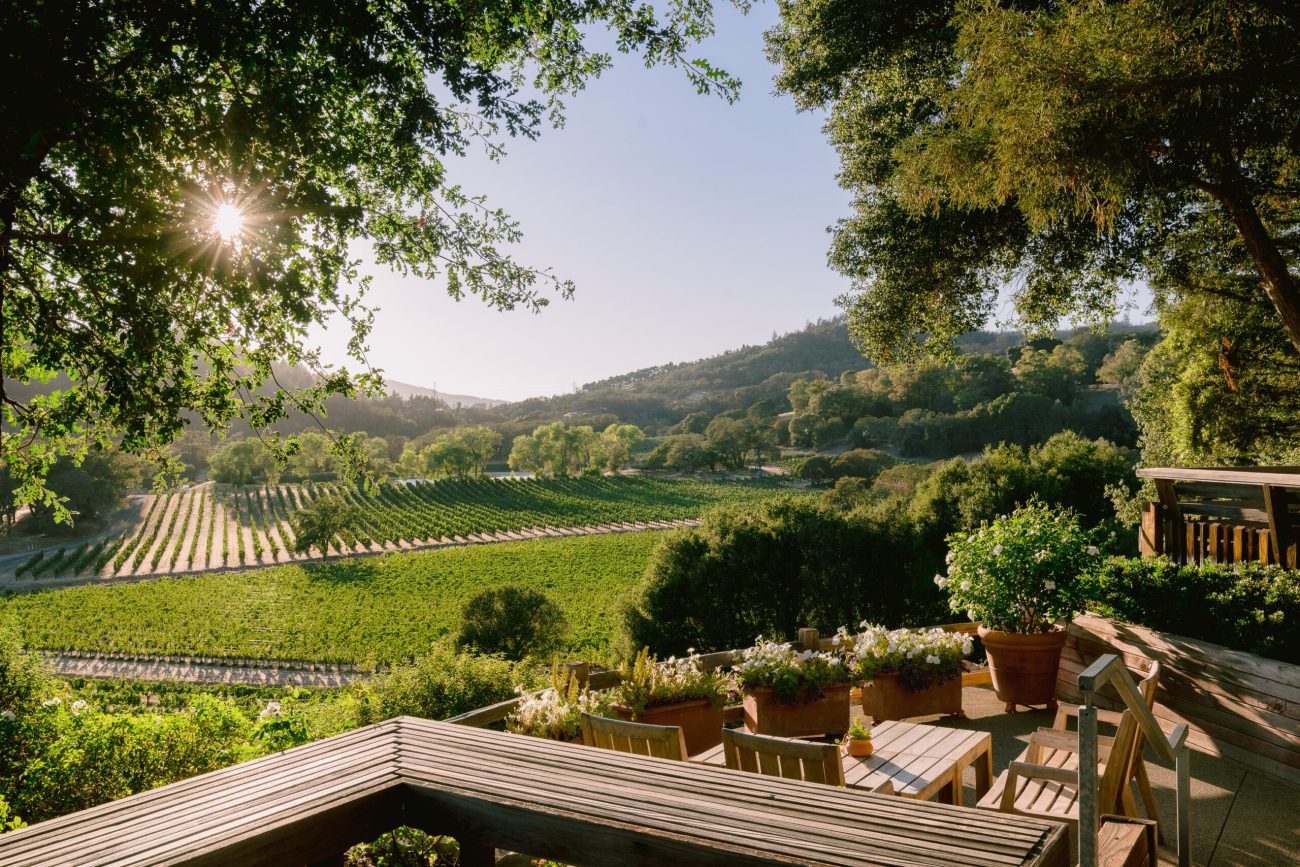 Winemaking is an ancient tradition dating back thousands of years. Conventionally, it used herbicides, pesticides, and synthetic fertilizers.
However, over time, the negative impact of these chemicals on soil, water, and other natural resources became apparent, leading to increased interest in organic winemaking.
What is organic wine?
Organic wine, a meticulous and sustainable viticulture product, has gained considerable traction recently. By eschewing synthetic herbicides, pesticides, and fertilizers, organic wineries prioritize natural techniques like cover cropping, composting, and introducing predator insects to foster a harmonious balance and optimal soil health within their vineyards. This rise in organic wine consumption is anticipated to propel the global organic wine market to a staggering $15 billion by 2023.
Experts assert that organic wine exhibits enhanced flavors and aromas due to employing natural methodologies in vineyard management. Furthermore, the absence of chemical additives in organic wine results in lower sulfite levels, making it a healthier choice for individuals prone to sulfite allergies. Nestled within the confines of Napa Valley, a region measuring a mere 35 miles in length and 5 miles in width, lies a rich history of championing sustainability and environmental preservation. This commitment to conservation was solidified in 1968 when Napa Valley was designated as the first agricultural preserve in the United States, ensuring its safeguarding for future generations.
To provide clarity amidst the widespread pursuit of sustainability, the Napa Valley Vintners established the Napa Green program, encompassing certifications for vineyards and wineries. Through this initiative, grape growers and winemakers who have wholeheartedly invested in diverse sustainability practices, including energy and water efficiency, social equity, and climate action, can be easily identified and recognized. In addition to the Napa Green certification, there are several other terms associated with environmentally conscious winemaking that one might encounter:
Natural Wine: This term generally refers to wines produced with minimal intervention, devoid of herbicides, pesticides, and additives during the winemaking process. Natural wines are often unfiltered and possess low or no sulfite content to preserve the integrity of the product in its bottled form;
Organic Wine: Wines labeled as organic can indicate one of two possibilities. It may either signify that the wine is crafted from organically grown grapes without the addition of sulfites, or it may indicate that the wine is produced from grapes certified as organically grown, thereby ensuring the avoidance of synthetic pesticides.
Biodynamic Wine: Biodynamic farming shares similarities with organic practices as it shuns synthetic chemicals. However, it takes a holistic approach by considering the vineyard as an interconnected ecosystem, considering factors such as astrological influences and lunar cycles. Biodynamic winemaking also eschews common manipulations like yeast additions or acidity adjustments;
LEED Certification: A winery bearing LEED certification signifies that its construction and operation adhere to ecologically sound principles. LEED (Leadership in Energy and Environmental Design) is the globally recognized green building rating system that evaluates sustainable site development, water savings, energy efficiency, material selection, and indoor environmental quality across five key human and environmental well-being areas.
As the organic wine movement becomes increasingly important globally, it continues redefining the viticultural landscape by promoting sustainable practices and fostering a deeper connection between nature and the enjoyment of wine.
1. Bennett Lane Winery
As the northernmost winery in this renowned wine region, Bennett Lane Winery has emerged as a frontrunner in pursuing sustainable winemaking practices. With a steadfast commitment to the land and an unwavering dedication to quality, the winery's vineyard team has implemented various initiatives prioritizing the ecosystem's well-being and fostering a true 360-degree approach to sustainable farming.
At the heart of Bennett Lane Winery's sustainability ethos lies the concept of circularity. Every step of their winemaking process is carefully designed to minimize waste and maximize the use of natural resources. One of the cornerstones of their approach is the cultivation of cover crops. These carefully selected plant species are strategically sown between the vine rows, acting as a protective shield against erosion and promoting soil fertility. These cover crops also provide habitat for beneficial insects, aiding in natural pest control and reducing the need for chemical interventions.
In their pursuit of sustainability, Bennett Lane Winery understands the importance of closing the loop and recycling the byproducts of winemaking. Composting plays a pivotal role in this process. Grape skins, seeds, and other organic waste from the winery are meticulously collected and transformed into nutrient-rich compost. This compost is reintroduced into the vineyard, enriching the soil and providing essential nutrients for the vines. By harnessing the power of nature's own recycling system, the winery ensures that every component of its winemaking process contributes to the vitality of the land.
As Napa Valley's northernmost winery, Bennett Lane Winery continues to pave the way for sustainable winemaking practices. Through their holistic approach to farming, the winery proves that sustainability and excellence can go hand in hand. Their dedication to environmental stewardship sets a standard for the industry and reminds us of conscientious winemaking's profound impacts on the world we share.
Find Out Top Ways to Experience Calistoga.
2. Ehlers Estate
St. Helena is also home to another renowned winery that's practicing certified organic farming. Ehlers Estate Vineyard comprises 42 organically farmed acres surrounding the winery's original stone barn, built in 1886. Ehlers Estate Vineyard spans an impressive 42 acres of meticulously cultivated organic farmland, which envelops the winery's original stone barn, a structure steeped in tradition and charm. From the moment you set foot on the property, it becomes evident that this vineyard cherishes its Old World roots. The layout, a rarity in the Napa Valley region, keeps all the vineyards within close proximity, allowing the vineyard crew to tend to the vines with unwavering care and genuine appreciation for the craft.
A visit to Ehlers Estate Vineyard is an experience that transcends the ordinary. Appointments are required to fully savor the fruits of their labor, ensuring an intimate and personalized tasting of their exclusive small-production estate wines. This thoughtful approach allows visitors to explore a carefully curated selection tailored to showcase the essence and character of the vineyard's offerings.
As a certified organic winery, every aspect of their viticulture is meticulously planned and executed to protect the land, preserve biodiversity, and create wines that reflect the true terroir of the region. By embracing sustainable and environmentally friendly methods, they produce exceptional wines and contribute to the vineyard's long-term health and surrounding ecosystem.
The wines produced at Ehlers Estate Vineyard are a testament to the passion and expertise of the winemaking team. Crafted with meticulous attention to detail, each bottle showcases the unique characteristics of the grapes grown on the estate. From elegant and refined Cabernet Sauvignon to vibrant and expressive Sauvignon Blanc, their portfolio reflects the diversity of the terroir and the winemaker's commitment to excellence.
Discover Top Ways To Experience Neatby Attractions. 
3. Frog's Leap Winery
Located in Rutherford, lies Frog's Leap Winery. Established by owner and renowned winemaker John Williams in 1981, this iconic vineyard has been producing exceptional wines while championing sustainable practices. With a steadfast commitment to the environment, Frog's Leap has become a symbol of organic viticulture and responsible winemaking.
Over the years, Frog's Leap Vineyards has undergone a remarkable transformation. Today, the vineyards boast a fully organic and dry farming approach, eschewing conventional irrigation methods. By harnessing the natural resources provided by the land, Frog's Leap has eliminated the need for added irrigation, promoting water conservation and preserving the vitality of the surrounding ecosystem.
Taking their environmental efforts further, the winery operates solely on 100 percent solar energy, demonstrating an unwavering dedication to renewable resources. This commitment has not only reduced the winery's carbon footprint but also earned Frog's Leap the prestigious Silver LEED certification. Frog's Leap has set a new standard for eco-friendly wine production by merging traditional winemaking techniques with innovative sustainability practices.
To truly experience the essence of Frog's Leap, wine lovers are encouraged to schedule a tasting appointment. Among the winery's stellar collection, the estate-grown Cabernet Sauvignon is a testament to their unwavering pursuit of excellence. A visit to Frog's Leap Winery not only offers a delightful tasting experience but also provides an opportunity to witness the harmonious relationship between nature and winemaking. Amidst the breathtaking surroundings of Rutherford, guests can witness the vineyard's vibrant ecosystem, where healthy soils, thriving vines, and rich biodiversity coexist in perfect harmony.
Find Out Best Ways To Tour Rutherford.
4. Joseph Phelps Vineyards
In sustainable winemaking, few have achieved as much success and recognition as Joseph Phelps Vineyards. With a steadfast commitment to environmental stewardship and community support, this iconic winery has been at the forefront of sustainability for decades, setting a shining example for the industry as a whole.
One of the key pillars of Joseph Phelps Vineyards' sustainability efforts lies in their investment in sustainable farming practices. Understanding the importance of preserving the land and its resources, the vineyard has implemented innovative techniques that minimize its environmental impact. From employing cover crops to reduce erosion and increase soil health to utilizing natural pest management methods, Joseph Phelps Vineyards strives to maintain a harmonious balance between vineyard productivity and ecological preservation.
Moreover, Joseph Phelps Vineyards is dedicated to fostering biodiversity within their vineyard. Recognizing the invaluable role played by diverse plant and animal species in maintaining a healthy ecosystem, they actively promote the preservation of native habitats and the restoration of natural corridors. By cultivating a diverse range of flora and fauna, the vineyard not only enhances the resilience of its ecosystem but also contributes to the overall biodiversity of the region.
However, Joseph Phelps Vineyards' commitment to sustainability extends beyond their own operations. The Phelps Foundation, an integral part of the vineyard's philanthropic endeavors, has donated land for farmworker housing in Napa Valley. The foundation ensures their well-being by providing a safe and secure place for the crucial members of the local community to live. It recognizes their invaluable contribution to the region's winemaking industry.
Joseph Phelps Vineyards is a beacon of sustainable practices and community engagement, showcasing the transformative power of a commitment to environmental responsibility. Their tireless efforts in sustainable farming, biodiversity preservation, renewable energy, and community support have earned them widespread acclaim and inspired others within the industry to follow suit.
Uncover These Experiences For A Close-Up Look At St. Helena.
5. Cakebread Cellars
Cakebread Cellars has long been recognized as a pioneer in environmentally responsible practices. Since its inception, the winery has remained committed to sustainability, earning the prestigious Napa Green Certification in 2008, making it only the second winery ever to achieve this distinction.
Cakebread Cellars understands the importance of preserving and protecting the natural beauty of the Napa Valley region. That's why all its vineyards have received certification through the Napa Green Land program. This prestigious program promotes sustainable farming practices, focusing on vital aspects such as water conservation, wildlife habitat restoration, and water quality enhancement in local streams. By adhering to these rigorous standards, Cakebread Cellars ensures that its vineyards produce exceptional wines and contribute positively to the surrounding ecosystem.
Cakebread Cellars continues to push the boundaries of sustainable winemaking, striving for excellence in every aspect of its operations. By setting high standards for environmental stewardship, the winery inspires the wine industry and beyond.
Uncover Top Ways To Experience St. Helena And Nearby Attractions.
6. Long Meadow Ranch
Since its establishment in 1989, Long Meadow Ranch has pioneered full-circle organic farming. Spanning over 150 acres of lush vineyards, this renowned estate offers visitors an unparalleled opportunity to immerse themselves in farming and winemaking. Whether you have a few hours to spare or a fleeting moment, Long Meadow Ranch has something to satisfy your palate and leave you with an unforgettable experience.
The two-hour Mayacamas Estate Experience is an absolute must for those seeking a comprehensive adventure. This immersive journey takes you on a captivating tour of the vineyards nestled in the breathtaking mountain landscape. Discover the secrets of winemaking as you explore the intricate wine caves and witness the meticulous craftsmanship that goes into every bottle. But the experience doesn't stop there—indulge in tastings of the estate's exceptional extra-virgin olive oil, an embodiment of their commitment to quality, and their limited-production estate wines that showcase the essence of the land.
If time is of the essence, fear not, for Long Meadow Ranch has you covered. Drop by their inviting General Store, where you can savor their delectable wines at your leisure. Alternatively, venture next door and find yourself in the welcoming embrace of the Farmstead Restaurant. Inspired by the seasons, this culinary gem offers an array of dishes.
Long Meadow Ranch is more than just a vineyard—it is a sanctuary where nature and craftsmanship converge to create an unparalleled wine experience. Whether you are a wine enthusiast, a food lover, or simply seeking a moment of tranquility amidst the beauty of nature, Long Meadow Ranch promises an extraordinary journey that will leave you with memories to cherish for a lifetime.
Uncover Most Popular Ways To Tour Napa Valley.
7. Tres Sabores
Step into a world of warmth and charm at Tres Sabores, a delightful boutique winery nestled among the picturesque slopes of the renowned Rutherford Bench. This hidden gem takes pride in crafting exquisite wines using organically grown grapes, ensuring a harmonious relationship with nature. After indulging in a delightful doggy encounter, be sure to sample their exceptional wines, such as the elegant Ingrid & Julia Rosé with its distinct Provencal flair, or the bold and luscious Rutherford Perspective Zinfandel, boasting an abundance of rich berry flavors.
One of the standout events on Tres Sabores' calendar is the highly anticipated 9th annual Pomegranate and Paella harvest party, held in October. This vibrant celebration brings together wine enthusiasts and food lovers, offering a unique blend of flavors and festivities. If you plan to attend, make your tasting reservations in advance to secure your spot at this remarkable gathering.
Recognized as a winner of the prestigious Great Wine Capitals Sustainable Wine Tourism Practices award in 2023, Tres Sabores is led by owner and winemaker Julie Johnson, a true pioneer in the realm of sustainability. For over three decades, Julie has resided on a certified organic farm, embodying the principles she holds dear. Tres Sabores cultivates dry-farmed, organically certified grapes, reflecting their commitment to environmentally friendly practices.
To maintain a balanced ecosystem, the winery employs Guinea fowl and sheep as "mobile fertilization teams" and expert lawnmowers, demonstrating their dedication to preserving the harmony between agriculture and nature. Come and savor the essence of this extraordinary winery, where passion, sustainability, and a love for nature converge to create wines that truly captivate the senses.
Find Out Ways To Tour Rutherford.
Benefits of organic wine
Organic wine has emerged as a captivating alternative for enthusiasts and eco-conscious consumers. With its growing popularity, organic wine offers many benefits beyond just a delightful experience for the palate. From lower sulfite content to sustainable agricultural practices, embracing organic wine extends a hand to our well-being and the environment.
There are several benefits to drinking organic wine, including:
Reduced Sulfite Content: One of the key advantages of organic wine lies in its lower sulfite content. Sulfites are naturally occurring compounds that act as preservatives, preventing oxidation and maintaining the freshness of the wine. However, excessive sulfite levels can trigger allergic reactions in some individuals. Organic winemakers employ natural methods to limit sulfite usage, resulting in wines with significantly lower sulfite levels than conventional counterparts. This reduction makes organic wine a favorable choice for those seeking a naturally vibrant and health-conscious beverage.
Enhanced Taste and Aroma: Organic winemakers cherish the essence of nature in their craft, utilizing natural and traditional methods to nurture their vineyards. By abstaining from the use of synthetic pesticides, herbicides, and fertilizers, organic grapes thrive in a healthier and balanced environment. This cultivation approach promotes the growth of strong and robust grapevines, which, in turn, yields higher-quality grapes. The result is a remarkable transformation in taste and aroma, with organic wines often exhibiting a distinctive and authentic character that reflects the terroir from which they originate.
Protecting the Environment: Choosing organic wine supports the preservation of our fragile ecosystems. Conventional vineyards frequently employ chemical fertilizers, pesticides, and herbicides, which can seep into the soil and water, posing threats to local flora and fauna. On the other hand, organic winemaking practices prioritize natural solutions and foster biodiversity by embracing companion planting, soil management techniques, and integrated pest management systems. This eco-conscious approach prevents harmful chemicals from entering the environment and promotes the long-term health of ecosystems surrounding vineyards.
Championing Sustainable Agriculture: Organic wine is a product of sustainable agricultural practices prioritizing harmony between the vineyard and the environment. By employing organic farming methods, winemakers strive to minimize their ecological footprint and conserve natural resources. This includes using cover crops, composting, and water conservation techniques. By supporting organic wine production, consumers actively encourage sustainable farming practices that promote soil fertility, water conservation, and overall ecosystem resilience.
Empowering Independent Wineries: The choice to savor organic wine is also an opportunity to support independent, family-owned wineries. Organic winemaking often requires more intensive labor and meticulous attention to detail, reflecting the dedication and passion of these smaller-scale producers. By choosing their wines, consumers contribute to the preservation of diversity within the wine industry, fostering a vibrant landscape of unique flavors and experiences.
Challenges for Organic Wineries
Organic wineries have gained significant attention in recent years due to their commitment to sustainable practices and producing high-quality wines. However, amidst their numerous advantages, these wineries also encounter challenges that pose hurdles to their success.
Higher Costs Associated with Natural Methods: One of the primary challenges organic wineries face is the higher costs associated with implementing natural farming methods. While these methods may enhance the long-term sustainability of vineyards, they often demand increased labor, time, and financial resources. Additionally, organic wineries may experience reduced crop yields during the transition phase, further impacting their profitability. To address this challenge, wineries can explore innovative cost-saving measures. Adopting efficient irrigation systems, utilizing advanced technologies to monitor vine health, and implementing precision agriculture techniques can help optimize resource allocation and reduce expenses.
Weed and Pest Control Without Chemical Additives: Conventional wineries rely on chemical additives for weed and pest control, providing a quick and effective solution. However, organic wineries must seek alternative methods to combat these challenges without synthetic chemicals. Weed management becomes more labor-intensive, requiring manual cultivation, mulching, or animal-controlled grazing. Organic wineries often utilize beneficial insects, natural predators, and biological controls to mitigate pest issues.
Difficulty Obtaining Certification due to Bureaucratic and Financial Obstacles: Obtaining organic certification can be a complex and time-consuming process, often hindered by bureaucratic and financial obstacles. Wineries must comply with strict guidelines and maintain detailed records to ensure their practices align with organic standards. These requirements, coupled with the costs associated with certification, pose a significant challenge, especially for small and medium-sized wineries with limited resources.
Limited Consumer Education and Awareness: While consumer interest in organic products continues to grow, there remains a need for increased education and awareness about organic wineries. Engaging in transparent communication about their sustainable practices, emphasizing organic wines' environmental and health benefits, and participating in local events and wine tastings can help raise consumer awareness. Collaborative efforts within the industry, such as organizing organic wine festivals or establishing educational programs, can also play a pivotal role in increasing consumer knowledge and appreciation for organic wineries.
The future of organic winemaking
In an era marked by heightened environmental consciousness, the conventional methods employed in winemaking are facing mounting scrutiny due to their detrimental effects. As awareness grows about the negative impacts associated with conventional wine production, an undeniable shift toward organic winemaking is taking shape.
The allure of organic winemaking lies in its dedication to sustainable practices and the reduction of harmful chemicals in the winemaking process. As consumers become more conscious of their environmental footprint, the demand for organic wine is rising. Organic viticulture prioritizes soil health, biodiversity preservation, and natural alternatives to pesticides and fertilizers. This approach resonates strongly with eco-conscious consumers who prioritize the quality and provenance of their beverages.
Besides the environmental advantages, organic wines offer health benefits that further bolster their appeal. The absence of synthetic pesticides and chemical additives contributes to a purer and more natural product, fostering a sense of well-being among consumers. The rising trend of health-conscious lifestyles, coupled with the desire for cleaner and more transparent production methods, has cemented the appeal of organic wines in the market.
Winemakers embracing organic practices drive innovation within the industry, seeking novel ways to cultivate vineyards while minimizing their ecological impact. Cutting-edge technologies and techniques are employed to optimize resource efficiency, water management, and biodiversity preservation. Some wineries integrate permaculture principles, cover cropping, and biodynamic practices to create holistic and self-sustaining vineyard ecosystems.
Various countries have implemented regulations and certifications for organic winemaking to meet the surging demand for organic wine and facilitate transparency. These standards help ensure that wines labeled as organic adhere to specific guidelines throughout the production process. 
While the future of organic winemaking holds immense promise, it is not without its challenges. Transitioning from conventional to organic practices often requires significant time, investment, and expertise. Furthermore, organic viticulture may be more susceptible to certain pests and diseases, necessitating diligent monitoring and alternative control methods. However, the increasing demand for organic wines provides ample opportunities for winemakers to tap into a growing market, differentiate their offerings, and establish a reputation for sustainability and excellence.
Embracing organic wine offers a multitude of benefits, ranging from a reduced sulfite content and enhanced taste to the promotion of sustainable agricultural practices. By consciously opting for organic wines, we not only prioritize our own well-being but also contribute to the protection of the environment and the empowerment of independent wineries. So raise your glass to the delightful journey of organic wine, where sustainability, flavor, and conscientious choices beautifully intertwine.
*Please note that some links are set up through affiliate programs, meaning Wine travel gets referral credits if you purchase these items via our links.