7 Best Napa Valley Organic Wineries
[vc_row][vc_column][vc_column_text] Winemaking is an ancient tradition dating back thousands of years. Conventionally, it used herbicides, pesticides, and synthetic fertilizers. However, over time, the negative impact of these chemicals on soil, water, and other natural resources became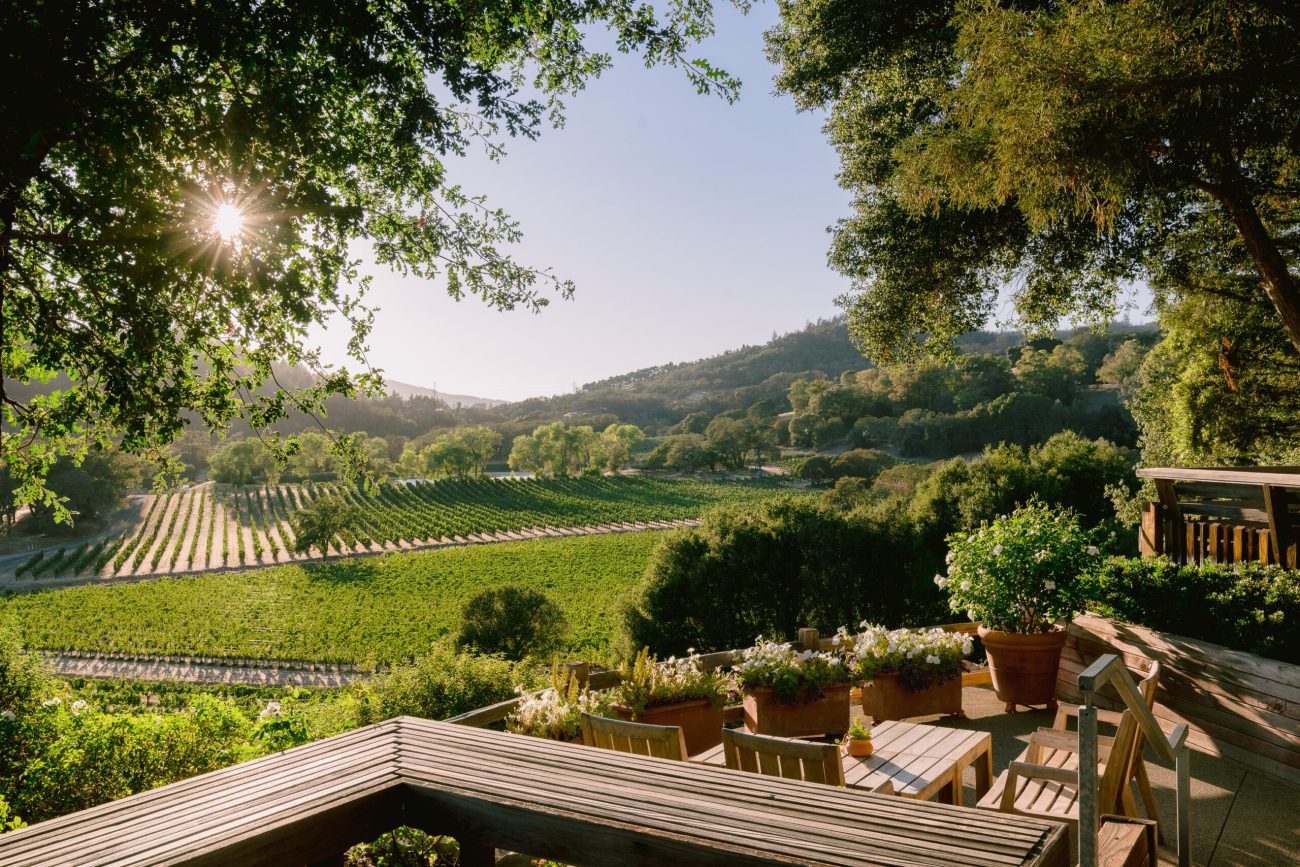 Winemaking is an ancient tradition dating back thousands of years. Conventionally, it used herbicides, pesticides, and synthetic fertilizers. However, over time, the negative impact of these chemicals on soil, water, and other natural resources became apparent, leading to increased interest in organic winemaking.
What is organic wine?
Organic wine, a meticulous and sustainable viticulture product, has gained considerable traction recently. By eschewing synthetic herbicides, pesticides, and fertilizers, organic wineries prioritize natural techniques like cover cropping, composting, and introducing predator insects to foster a harmonious balance and optimal soil health within their vineyards.
This rise in organic wine consumption is anticipated to propel the global organic wine market to a staggering $15 billion by 2023.
Experts assert that organic wine exhibits enhanced flavors and aromas due to employing natural methodologies in vineyard management. Furthermore, the absence of chemical additives in organic wine results in lower sulfite levels, making it a healthier choice for individuals prone to sulfite allergies.
Nestled within the confines of Napa Valley, a region measuring a mere 35 miles in length and 5 miles in width, lies a rich history of championing sustainability and environmental preservation.
This commitment to conservation was solidified in 1968 when Napa Valley was designated as the first agricultural preserve in the United States, ensuring its safeguarding for future generations.
To provide clarity amidst the widespread pursuit of sustainability, the Napa Valley Vintners established the Napa Green program, encompassing certifications for vineyards and wineries.
Through this initiative, grape growers and winemakers who have wholeheartedly invested in diverse sustainability practices, including energy and water efficiency, social equity, and climate action, can be easily identified and recognized. In addition to the Napa Green certification, there are several other terms associated with environmentally conscious winemaking that one might encounter:
Natural Wine: This term generally refers to wines produced with minimal intervention, devoid of herbicides, pesticides, and additives during the winemaking process. Natural wines are often unfiltered and possess low or no sulfite content to preserve the integrity of the product in its bottled form;
Organic Wine: Wines labeled as organic can indicate one of two possibilities. It may either signify that the wine is crafted from organically grown grapes without the addition of sulfites, or it may indicate that the wine is produced from grapes certified as organically grown, thereby ensuring the avoidance of synthetic pesticides.
Biodynamic Wine: Biodynamic farming shares similarities with organic practices as it shuns synthetic chemicals. However, it takes a holistic approach by considering the vineyard as an interconnected ecosystem, considering factors such as astrological influences and lunar cycles. Biodynamic winemaking also eschews common manipulations like yeast additions or acidity adjustments;
LEED Certification: A winery bearing LEED certification signifies that its construction and operation adhere to ecologically sound principles. LEED (Leadership in Energy and Environmental Design) is the globally recognized green building rating system that evaluates sustainable site development, water savings, energy efficiency, material selection, and indoor environmental quality across five key human and environmental well-being areas.
As the organic wine movement becomes increasingly important globally, it continues redefining the viticultural landscape by promoting sustainable practices and fostering a deeper connection between nature and the enjoyment of wine.
7 best Napa Valley organic wineries
Napa Valley is renowned for its world-class wineries, and organic wineries have been gaining popularity among wine enthusiasts looking for sustainably produced and top-quality wines. These seven best Napa Valley organic wineries follow strict organic farming practices, avoiding synthetic pesticides, herbicides, and chemical fertilizers, which leads to wines that are more in harmony with nature.
Benefits of organic wine
Organic wine has emerged as a captivating alternative for enthusiasts and eco-conscious consumers. With its growing popularity, organic wine offers many benefits beyond just a delightful experience for the palate. From lower sulfite content to sustainable agricultural practices, embracing organic wine extends a hand to our well-being and the environment. There are several benefits to drinking organic wine, including:
Reduced Sulfite Content: One of the key advantages of organic wine lies in its lower sulfite content. Sulfites are naturally occurring compounds that act as preservatives, preventing oxidation and maintaining the freshness of the wine. However, excessive sulfite levels can trigger allergic reactions in some individuals. Organic winemakers employ natural methods to limit sulfite usage, resulting in wines with significantly lower sulfite levels than conventional counterparts. This reduction makes organic wine a favorable choice for those seeking a naturally vibrant and health-conscious beverage.
Enhanced Taste and Aroma: Organic winemakers cherish the essence of nature in their craft, utilizing natural and traditional methods to nurture their vineyards. By abstaining from the use of synthetic pesticides, herbicides, and fertilizers, organic grapes thrive in a healthier and balanced environment. This cultivation approach promotes the growth of strong and robust grapevines, which, in turn, yields higher-quality grapes. The result is a remarkable transformation in taste and aroma, with organic wines often exhibiting a distinctive and authentic character that reflects the terroir from which they originate.
Protecting the Environment: Choosing organic wine supports the preservation of our fragile ecosystems. Conventional vineyards frequently employ chemical fertilizers, pesticides, and herbicides, which can seep into the soil and water, posing threats to local flora and fauna. On the other hand, organic winemaking practices prioritize natural solutions and foster biodiversity by embracing companion planting, soil management techniques, and integrated pest management systems. This eco-conscious approach prevents harmful chemicals from entering the environment and promotes the long-term health of ecosystems surrounding vineyards.
Championing Sustainable Agriculture: Organic wine is a product of sustainable agricultural practices prioritizing harmony between the vineyard and the environment. By employing organic farming methods, winemakers strive to minimize their ecological footprint and conserve natural resources. This includes using cover crops, composting, and water conservation techniques. By supporting organic wine production, consumers actively encourage sustainable farming practices that promote soil fertility, water conservation, and overall ecosystem resilience.
Empowering Independent Wineries: The choice to savor organic wine is also an opportunity to support independent, family-owned wineries. Organic winemaking often requires more intensive labor and meticulous attention to detail, reflecting the dedication and passion of these smaller-scale producers. By choosing their wines, consumers contribute to the preservation of diversity within the wine industry, fostering a vibrant landscape of unique flavors and experiences.
Challenges for organic wineries
Organic wineries have gained significant attention in recent years due to their commitment to sustainable practices and producing high-quality wines. However, amidst their numerous advantages, these wineries also encounter challenges that pose hurdles to their success.
Higher Costs Associated with Natural Methods: One of the primary challenges organic wineries face is the higher costs associated with implementing natural farming methods. While these methods may enhance the long-term sustainability of vineyards, they often demand increased labor, time, and financial resources. Additionally, organic wineries may experience reduced crop yields during the transition phase, further impacting their profitability. To address this challenge, wineries can explore innovative cost-saving measures. Adopting efficient irrigation systems, utilizing advanced technologies to monitor vine health, and implementing precision agriculture techniques can help optimize resource allocation and reduce expenses.
Weed and Pest Control Without Chemical Additives: Conventional wineries rely on chemical additives for weed and pest control, providing a quick and effective solution. However, organic wineries must seek alternative methods to combat these challenges without synthetic chemicals. Weed management becomes more labor-intensive, requiring manual cultivation, mulching, or animal-controlled grazing. Organic wineries often utilize beneficial insects, natural predators, and biological controls to mitigate pest issues.
Difficulty Obtaining Certification due to Bureaucratic and Financial Obstacles: Obtaining organic certification can be a complex and time-consuming process, often hindered by bureaucratic and financial obstacles. Wineries must comply with strict guidelines and maintain detailed records to ensure their practices align with organic standards. These requirements, coupled with the costs associated with certification, pose a significant challenge, especially for small and medium-sized wineries with limited resources.
Limited Consumer Education and Awareness: While consumer interest in organic products continues to grow, there remains a need for increased education and awareness about organic wineries. Engaging in transparent communication about their sustainable practices, emphasizing organic wines' environmental and health benefits, and participating in local events and wine tastings can help raise consumer awareness. Collaborative efforts within the industry, such as organizing organic wine festivals or establishing educational programs, can also play a pivotal role in increasing consumer knowledge and appreciation for organic wineries.
Is organic wine healthier than regular wine?
Organic wine is often considered a healthier option compared to regular wine due to the way it is produced. Organic wine is made from grapes that are cultivated using organic farming practices. This means that the vineyards steer clear of synthetic pesticides, herbicides, and chemical fertilizers.
Instead, they rely on natural methods to nurture the grapevines and protect the environment. The idea behind organic winemaking is to minimize the presence of harmful chemicals in the final product and promote sustainable agriculture.
One of the key health benefits associated with organic wine is the lower risk of exposure to potentially toxic pesticides and chemicals. Drinking organic wine may reduce the intake of these harmful substances, which can be beneficial for your overall health. Some studies suggest that organic wine grapes may also have higher concentrations of antioxidants and beneficial compounds, which can contribute to the wine's potential health benefits.
Organic winemakers often use fewer additives and preservatives compared to conventional winemaking practices. This may be beneficial for individuals sensitive to sulfites, a common preservative used in wines that can cause allergic reactions in some people.
It's important to note that while organic wine has potential health advantages, moderate and responsible wine consumption is the key to reaping any potential benefits. Drinking any type of alcoholic beverage, including wine, in excessive amounts can have negative effects on health.
Do all organic wines have no sulfites?
No, not all organic wines are completely free of sulfites. Sulfites are naturally occurring compounds that form during the fermentation process of wine, and they act as a preservative to help prevent spoilage and oxidation. While some winemakers choose to add additional sulfites to their wines for preservation purposes, there are organic winemakers who use minimal or no added sulfites in their products.
Sulfites, which are naturally occurring compounds or added as preservatives, have been a point of contention in the organic wine debate. Organic wines in the United States cannot contain added sulfites, which can affect their shelf life and stability. However, sulfites can also occur naturally during fermentation, meaning all wines, both organic and regular, contain some level of sulfites.
Under the USDA National Organic Program, wines labeled as "Organic Wine" can have no added sulfites. These wines can display the USDA Organic Seal. However, it's essential to note that this applies only to wines labeled as "Organic Wine." However, it's essential to note that this label applies only to wines with no added sulfites and not necessarily to wines that are completely sulfite-free.
Wines labeled as "Made with Organic Grapes" or simply "Organic" may still contain added sulfites, although their overall sulfite levels are likely to be lower compared to conventional wines.
The levels of sulfites in organic wines can vary depending on the winemaking practices, location, and regulations of the country. In the U.S., organic wines can have added sulfites up to 100 parts per million (ppm), while in Europe and Canada, the limit is set at 150 ppm. Therefore, organic wines may contain sulfites, but they are generally lower in sulfite content compared to non-organic wines.
If you are looking for wines with the lowest sulfite content, you might want to search for terms like
low-sulfite organic wines or
minimal sulfite organic wines.
Additionally, you can explore specific wine brands or wineries known for producing sulfite-free or low-sulfite wines.
Sulfites, scientifically known as sulfur dioxide (SO2), are naturally occurring compounds that have been used in winemaking for centuries. They serve as a preservative to prevent spoilage and oxidation, helping wines maintain their freshness and quality over time. Sulfites are produced during the fermentation process and can also be added in small amounts during winemaking to ensure stability and prevent bacterial growth.
Conventional wines often contain higher levels of added sulfites compared to organic wines. The use of synthetic chemicals, pesticides, and herbicides in conventional vineyards may contribute to higher sulfite levels in the resulting wines. On the other hand, organic wines are made from grapes grown without the use of synthetic chemicals, and their sulfite levels are typically lower.
Contrary to popular belief, sulfite-free organic wines do not technically exist. Sulfites are a natural byproduct of fermentation, and even wines made with organic grapes will have some sulfite content due to this process. However, organic winemakers follow guidelines to keep sulfite levels as low as possible, providing consumers with a more natural and potentially less sulfite-sensitive option.
For individuals sensitive to sulfites or seeking wines with minimal sulfite content, low-sulfite organic wines are a great choice. Many wineries now produce organic wines with lower sulfite levels to cater to health-conscious consumers. These wines offer an excellent compromise between enjoying the health benefits of organic wine and reducing potential sulfite-related reactions.
Does it matter if wine is organic?
The short answer is yes, it does matter if wine is organic. Organic wine is made from grapes that are grown in accordance with organic farming principles, free from synthetic pesticides, herbicides, and chemical fertilizers. This environmentally conscious approach to winemaking offers several benefits, making it an appealing choice for wine enthusiasts.
Organic wine grapes are cultivated in healthier vineyards, leading to heartier skins and higher concentrations of beneficial compounds. Anthocyanins and antioxidants, such as polyphenols and resveratrol, are found in abundance in organic wines.
These compounds have been associated with various health benefits, including cardiovascular protection and anti-aging properties. While it's important to remember that wine should be consumed in moderation, choosing organic wine may offer an additional health advantage compared to conventionally produced wines. 
One of the primary reasons for the growing popularity of organic wine is its positive impact on the environment. Organic vineyards use sustainable practices to maintain soil health and biodiversity. By avoiding synthetic chemicals, organic wine production reduces water pollution, preserves wildlife habitats, and promotes healthier ecosystems. Choosing organic wine supports environmentally responsible farming practices and encourages a more sustainable future for the wine industry.
Organic winemaking prioritizes the health of the grapes and the natural expression of the terroir, the unique characteristics of the vineyard's location. As a result, many organic wines are known for their distinct and authentic flavors. However, it's essential to note that the quality and taste of wine can vary significantly among different producers, regions, and grape varieties. Therefore, exploring various organic wines is an exciting journey for wine enthusiasts seeking new and distinct taste experiences.
The benefits of organic wine extend beyond environmental considerations. Organic grape cultivation tends to produce healthier grapes with heartier skins and higher concentrations of beneficial compounds like anthocyanins, antioxidants, polyphenols, and cardio-friendly resveratrol. As a result, organic wines may have additional health benefits when compared to conventionally produced wines.
To ensure the authenticity of organic wines, various countries have established certification programs and labeling standards. Common certifications include "USDA Organic" in the United States, "EU Organic" in the European Union, and "Bio" in France. These labels guarantee that the wine complies with specific organic farming standards. When shopping for organic wine, look for these certifications to make informed and confident choices.
It's worth noting that organic wines may be slightly more expensive than non-organic options. Organic vineyards often have lower yields due to their commitment to natural farming methods, which can affect production costs. Additionally, organic wines may be more limited in availability, especially in certain regions or smaller wineries. However, as consumer demand for organic products grows, more wineries are embracing organic practices, leading to increased accessibility and potentially more competitive pricing.
In conclusion, choosing organic wine goes beyond just a trend; it represents a conscious decision to support environmentally sustainable practices and potentially enjoy additional health benefits. The organic approach to winemaking fosters healthier vineyards, which, in turn, produce grapes with higher concentrations of beneficial compounds.
While organic wines may have a slightly higher price point and varying availability, the quality, taste, and positive impact on the environment make them an appealing choice for wine enthusiasts seeking a more conscious and authentic experience.
How do you know if wine is organic?
To determine if wine is organic, there are certain characteristics and certifications to look for. With increasing awareness of sustainable and healthy food choices, organic products, including wine, have gained popularity among consumers. Organic wine is produced using environmentally friendly farming practices, making it a preferred choice for those who seek wines free from synthetic chemicals and genetically modified organisms (GMOs).
Grapes grown organically: The first and most crucial factor in identifying organic wine is the source of the grapes. Organic wines must be made from grapes grown organically, which means no chemical fertilizers, herbicides, or systemic pesticides are used during the cultivation process. Instead, natural fertilizers and organic treatments are employed to nourish and protect the vines. Look for certifications such as USDA organic or EU organic, which confirm that the wine meets specific organic standards.
No synthetic additives: organic winemaking extends beyond the vineyard. To maintain the organic integrity of the wine, no synthetic additives or chemicals should be used during the winemaking process. This includes additives like yeast, egg whites, and artificial fining agents. As a result, organic wines may have a more authentic and unadulterated taste, reflecting the unique characteristics of the grape varietal and the terroir.
Research the winery: to ensure the authenticity of organic wine claims, it is essential to research the winery itself. Reputable organic wineries are proud of their sustainable practices and often provide detailed information on their websites or labels about their organic viticulture. Look for wineries that prioritize environmentally friendly practices and prioritize organic farming principles.
Organic wine vs. Natural wine: it is essential to differentiate between organic wine and natural wine. While both emphasize minimal intervention in winemaking, natural wine does not necessarily have organic certification. Natural wine focuses on using native yeasts, minimal sulfur, and little to no additives, but the grapes may not come from certified organic vineyards. If you specifically seek organic wine, make sure to verify the certification label on the bottle.
Biodynamic wines: Biodynamic wines are another category worth mentioning. Biodynamic farming goes beyond organic practices and follows a holistic approach, considering cosmic and lunar influences on viticulture. Biodynamic wines are made using grapes grown in accordance with biodynamic principles. If you are interested in wines produced with the highest level of natural farming, explore the world of biodynamic wines.
The future of organic winemaking
In an era marked by heightened environmental consciousness, the conventional methods employed in winemaking are facing mounting scrutiny due to their detrimental effects. As awareness grows about the negative impacts associated with conventional wine production, an undeniable shift toward organic winemaking is taking shape.
The allure of organic winemaking lies in its dedication to sustainable practices and the reduction of harmful chemicals in the winemaking process. As consumers become more conscious of their environmental footprint, the demand for organic wine is rising.
Organic viticulture prioritizes soil health, biodiversity preservation, and natural alternatives to pesticides and fertilizers. This approach resonates strongly with eco-conscious consumers who prioritize the quality and provenance of their beverages.
Besides the environmental advantages, organic wines offer health benefits that further bolster their appeal. The absence of synthetic pesticides and chemical additives contributes to a purer and more natural product, fostering a sense of well-being among consumers. The rising trend of health-conscious lifestyles, coupled with the desire for cleaner and more transparent production methods, has cemented the appeal of organic wines in the market.
Winemakers embracing organic practices drive innovation within the industry, seeking novel ways to cultivate vineyards while minimizing their ecological impact. Cutting-edge technologies and techniques are employed to optimize resource efficiency, water management, and biodiversity preservation. Some wineries integrate permaculture principles, cover cropping, and biodynamic practices to create holistic and self-sustaining vineyard ecosystems.
Various countries have implemented regulations and certifications for organic winemaking to meet the surging demand for organic wine and facilitate transparency. These standards help ensure that wines labeled as organic adhere to specific guidelines throughout the production process. 
While the future of organic winemaking holds immense promise, it is not without its challenges. Transitioning from conventional to organic practices often requires significant time, investment, and expertise.
Furthermore, organic viticulture may be more susceptible to certain pests and diseases, necessitating diligent monitoring and alternative control methods. However, the increasing demand for organic wines provides ample opportunities for winemakers to tap into a growing market, differentiate their offerings, and establish a reputation for sustainability and excellence.
Conclusion
Embracing organic wine offers a multitude of benefits, ranging from a reduced sulfite content and enhanced taste to the promotion of sustainable agricultural practices. By consciously opting for organic wines, we not only prioritize our own well-being but also contribute to the protection of the environment and the empowerment of independent wineries. So raise your glass to the delightful journey of organic wine, where sustainability, flavor, and conscientious choices beautifully intertwine.
*Please note that some links are set up through affiliate programs, meaning Wine travel gets referral credits if you purchase these items via our links.