Best Seneca Lake Wineries
[vc_row][vc_column][vc_column_text]Seneca Lake, located in upstate New York's Finger Lakes region, is home to some of the most beautiful wineries in the country! If you think Napa Valley or Sonoma County are the only American wine regions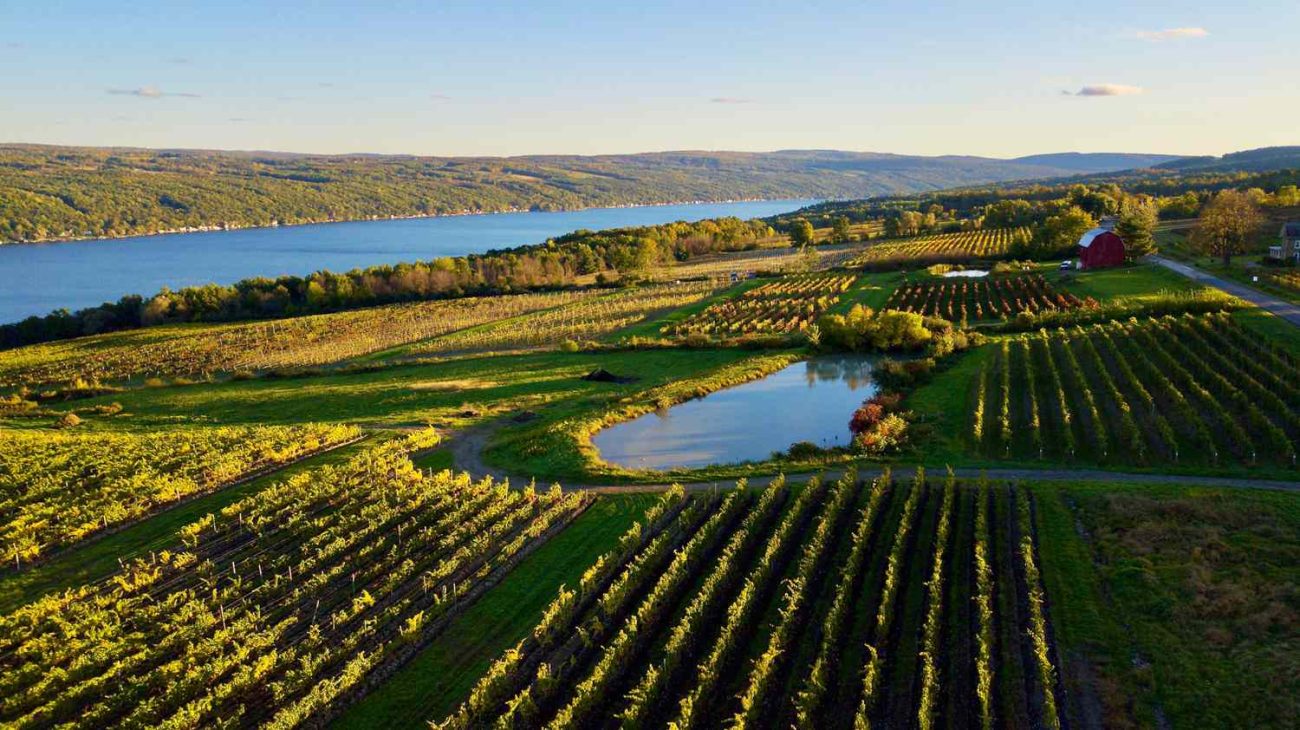 Seneca Lake, located in upstate New York's Finger Lakes region, is home to some of the most beautiful wineries in the country!
If you think Napa Valley or Sonoma County are the only American wine regions worth visiting, think again. Upstate New York is home to the Finger Lakes Region, a picturesque winemaking paradise with stunning waterfalls and long blue lakes that make it a must-visit destination, even if you're not a wine lover.
Unlike other famous wine regions, the Finger Lakes wineries are not widely known, but they offer some of the most scenic views from their hilltop locations, especially on Seneca Lake. Wine tasting in the Finger Lakes isn't just about the wine; it's about the entire experience, from the serene natural setting to the charming local towns.
These wineries are renowned for their fantastic wine tastings, incredible views, and expert wine ambassadors who make every visit a memorable experience.
1. Fox Run Vineyards
In the heart of the Finger Lakes wine country, Fox Run Vineyards is a family-owned winery on the west side of Seneca Lake. Since 1989, they have been producing estate wines that showcase the region's unique terroir. The vineyard spans 50 acres and has earned recognition for its commitment to sustainability.
Fox Run Vineyards offers a variety of wine tastings for visitors to enjoy. Guests can savor five wines of their choice, ranging from sweet to dry, red to Rieslings. Seated tastings occur at the indoor tasting bar, or guests can opt for a self-guided wine flight to enjoy at their own pace. Taste Buds Flights are also available for a more unique experience. The flight features a selection of wines paired with bites that awaken the senses and challenge the palate.
In addition to tastings, Fox Run Vineyards offers guided tours that give visitors an inside look at viticulture and winemaking. The 45-minute walking tour explores the vineyards and winemaking facility, offering a comprehensive understanding of the wine production process. No reservations are required.
Experience 3-Day Tour: Finger Lakes, Niagara Falls, Toronto and 1000 Islands from NYC.
For those interested in a more specialized experience, Fox Run Vineyards offers a variety of specialty tastings and events. The Food and Wine Experience provides visitors a unique, personalized tour with a light lunch focused on food and wine pairing.
Hosted by owners Scott and Ruth, lunch is served in the historic barrel room, a restored dairy barn from the 1800s. VIP tours with owner Scott Osborn are also available, providing guests with an intimate tasting of the entire Fox Run portfolio and a special cheese and charcuterie board.
After a day of tasting and touring, visitors can relax at the Fox Run Cafe, where locally sourced, house-made lunch is served daily. Guests can also enjoy a glass of wine or a self-guided flight on the front deck overlooking Seneca Lake or the back patio/lawn under a cozy fire pit. The Cafe is open seasonally from April to December.
Fox Run Vineyards also offer a wine club, providing members exclusive access to wines and discounts on purchases. With its commitment to sustainability and dedication to producing quality wines that reflect the unique terroir of the Finger Lakes, Fox Run Vineyards is a must-visit destination for wine lovers.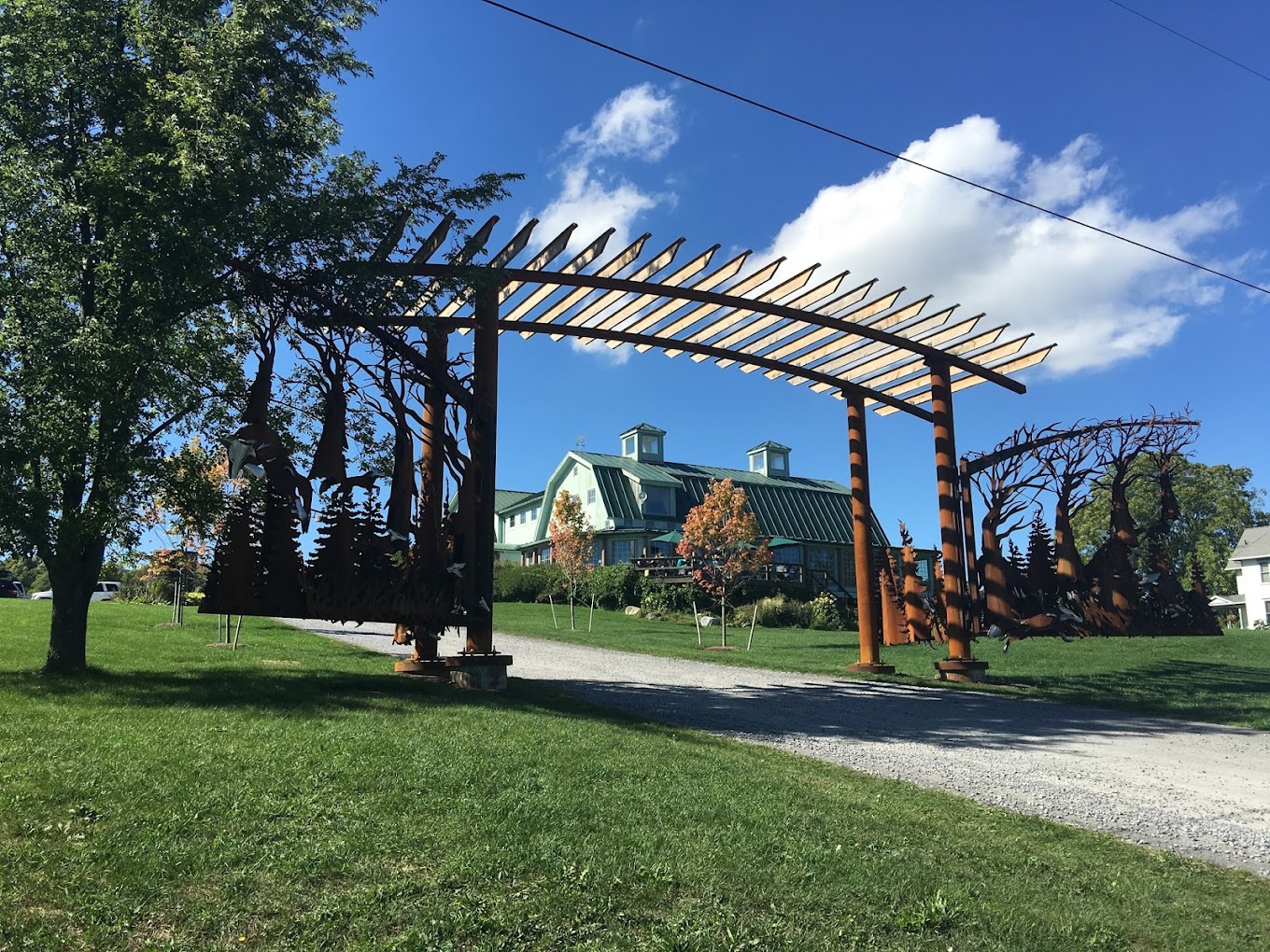 2. Wagner Vineyards Estate Winery
In the Finger Lakes region of upstate New York lies Wagner Vineyards Estate Winery, one of the area's oldest and most beloved wineries in the areas. Since its establishment in 1979, Wagner Vineyards has been a central hub for wine lovers and visitors alike, with its prime location on the eastern shore of Seneca Lake and a reputation for producing exceptional Finger Lakes wines.
With over 250 acres of grapevines, Wagner Vineyards has an extensive vineyard and produces a myriad of Finger Lakes wines. Visitors to the winery can enjoy a range of wines from dry to dessert, with over 30 award-winning wines. But wine is not the only attraction at Wagner Vineyards.
The Wagner family has also opened a brewery on site, the Wagner Valley Brewing Company, which offers a selection of craft beers ranging from light to dark, bitter to sweet.
Visitors can enjoy a beer tasting and pair it with a meal at the Ginny Lee Café, which offers locally sourced and delicious food. The café's menu features original recipes specially crafted to complement the wines and beers produced at the winery.
Discover Finger Lakes in a 3-Day Tour from NYC.
Aside from wine, beer, and food, Wagner Vineyards also offers guided tours, tasting sessions, and live music events throughout the year. It's the perfect place to unwind, relax, and enjoy the beauty of the Finger Lakes region while sipping on a glass of exquisite wine or beer. The Wagner family's passion for winemaking and brewing has been passed down through generations, and it shows in the exceptional quality of their products.
In conclusion, Wagner Vineyards Estate Winery is a gem in the Finger Lakes region of upstate New York. With its central location on the eastern shore of Seneca Lake, exceptional wines, craft beers, locally sourced food, guided tours, and live music events, Wagner Vineyards offers visitors an unforgettable experience in the heart of wine country.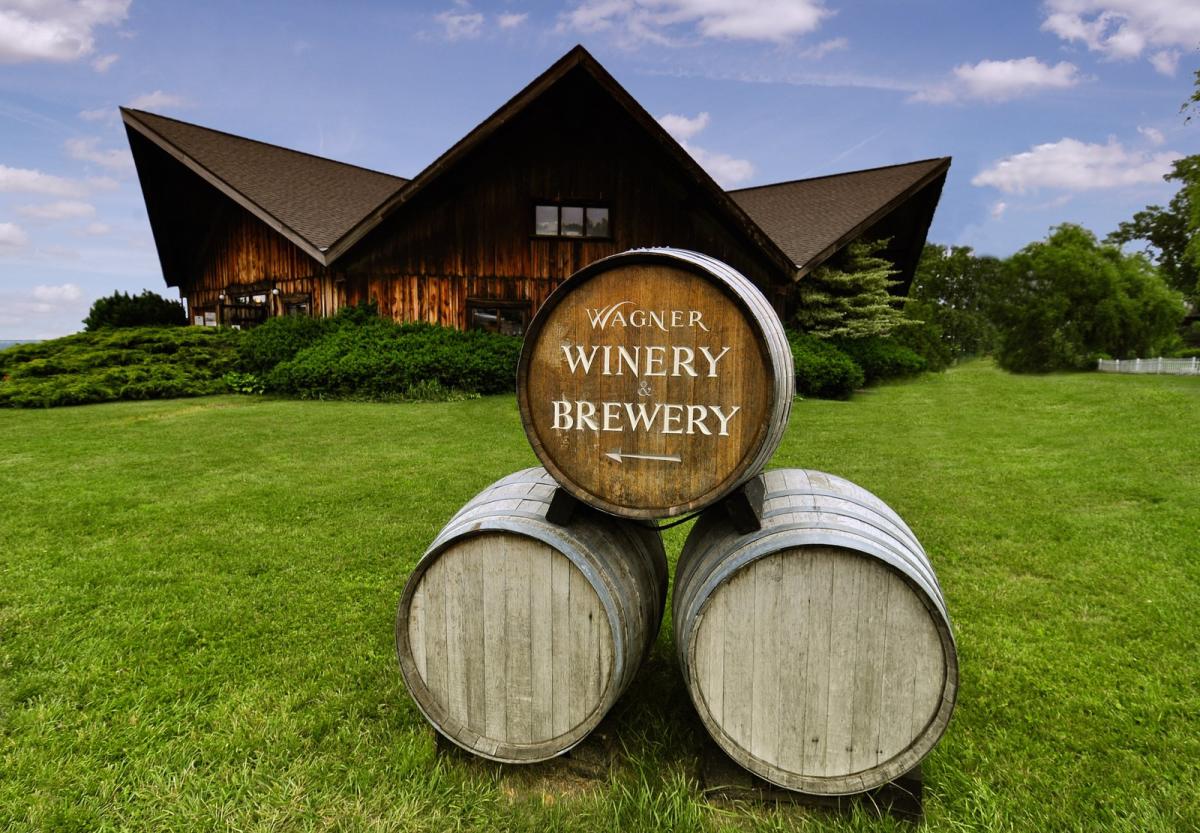 3. Lakewood Vineyards
Lakewood Vineyards is a family-owned winery in beautiful Watkins Glen, the heart of the Finger Lakes wine region, a renowned wine-making area producing some of the world's finest wines. The winery was established in 1988 by the Stamp family, a working farm since 1951.
Lakewood Vineyards has gained a reputation for producing award-winning wines, including red, white, and dessert. The winery has been open to the public since 1989 and is now owned and operated by three generations of the Stamp family.
When visitors enter the property, they are greeted with a warm, friendly atmosphere that feels like family. Lakewood Vineyards offers visitors an educational and enjoyable wine-tasting experience, with knowledgeable staff that can guide them through the winery's history, winemaking process, and the distinct flavors of their wines.
Uncover Seneca Lake South Wine Tastings Tour.
Aside from wine tastings, visitors can also take tours of the winery, visit the wine shop, and enjoy a picnic on the property's lush grounds. Lakewood Vineyards hosts various events throughout the year, including seasonal wine festivals, live music events, and food and wine pairing classes.
In conclusion, Lakewood Vineyards is a must-visit destination for wine lovers visiting the Finger Lakes wine region. With its rich history, commitment to sustainability, and award-winning wines, visitors will surely have an enjoyable and memorable experience.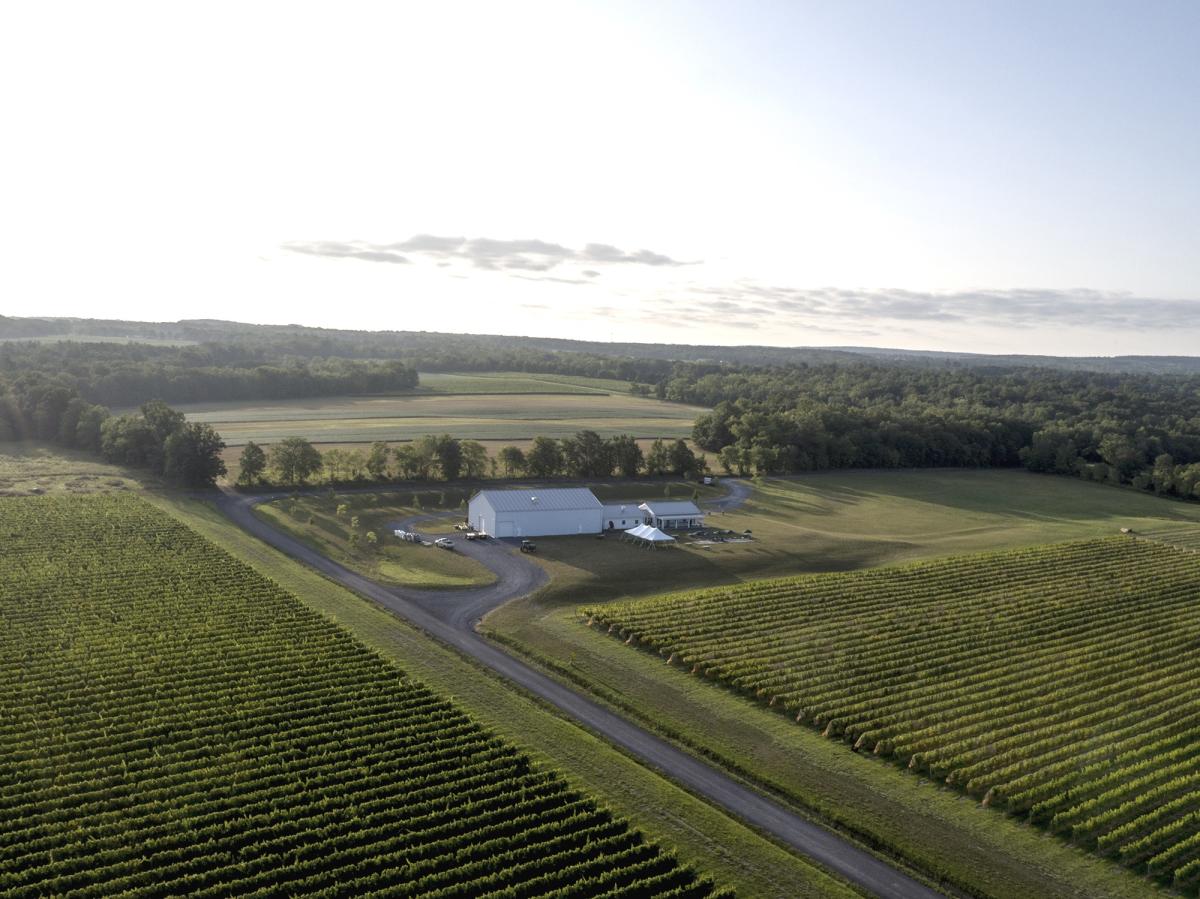 4. Three Brothers Wineries and Estates
Located in Geneva, Three Brothers Wineries and Estates is a family-run winery that has delighted visitors since its inception in 2006. Founded by three brothers – Dave, Eric, and Luanne Mansfield – the winery has evolved into a multifaceted destination that offers a range of hand-crafted wines, beers, hard ciders, and sodas. Additionally, it houses a café and microbrewery that cater to diverse palates.
What sets Three Brothers Wineries and Estates apart is its breathtaking views of Seneca Lake and its unique tasting rooms. The estate features three themed tasting rooms, each with its own distinct personality.
The first is the Stony Lonesome Wine Cellars, which exudes a rustic and cozy atmosphere. The second is the Passion Feet Wine Barn, where a bright and whimsical ambiance reigns supreme. The third is the Bagg Dare Wine Company, housed in a renovated barn with a more sophisticated feel.
Experience Seneca Lake Wine Tasting & Tour.
Three Brothers Wineries and Estates has garnered numerous accolades for its wines, including gold medals for its Chardonnay and Riesling and a double gold medal for its Cabernet Franc. The winery's success can be attributed to its dedication to producing high-quality wines that leave an indelible impression.
Apart from its exceptional wines, Three Brothers Wineries and Estates hosts various events throughout the year, including live music, food and wine pairings, and holiday-themed events. The winery's calendar is always packed with exciting activities that will keep visitors entertained.
The estate is home to four unique tasting experiences that share a common attitude – they're all fun (in their own way), and they're all staffed by friendly and knowledgeable people who agree that working at a place like this is just as much fun as visiting. Whether you're a wine lover, a beer aficionado, or a soda lover, Three Brothers Wineries and Estates has something for everyone.
Visitors can tour the full estate or taste in the building of their choice, and with the expansive selection of hand-crafted wines, microbrews, hard ciders, and craft sodas, there's bound to be something that will pique your interest.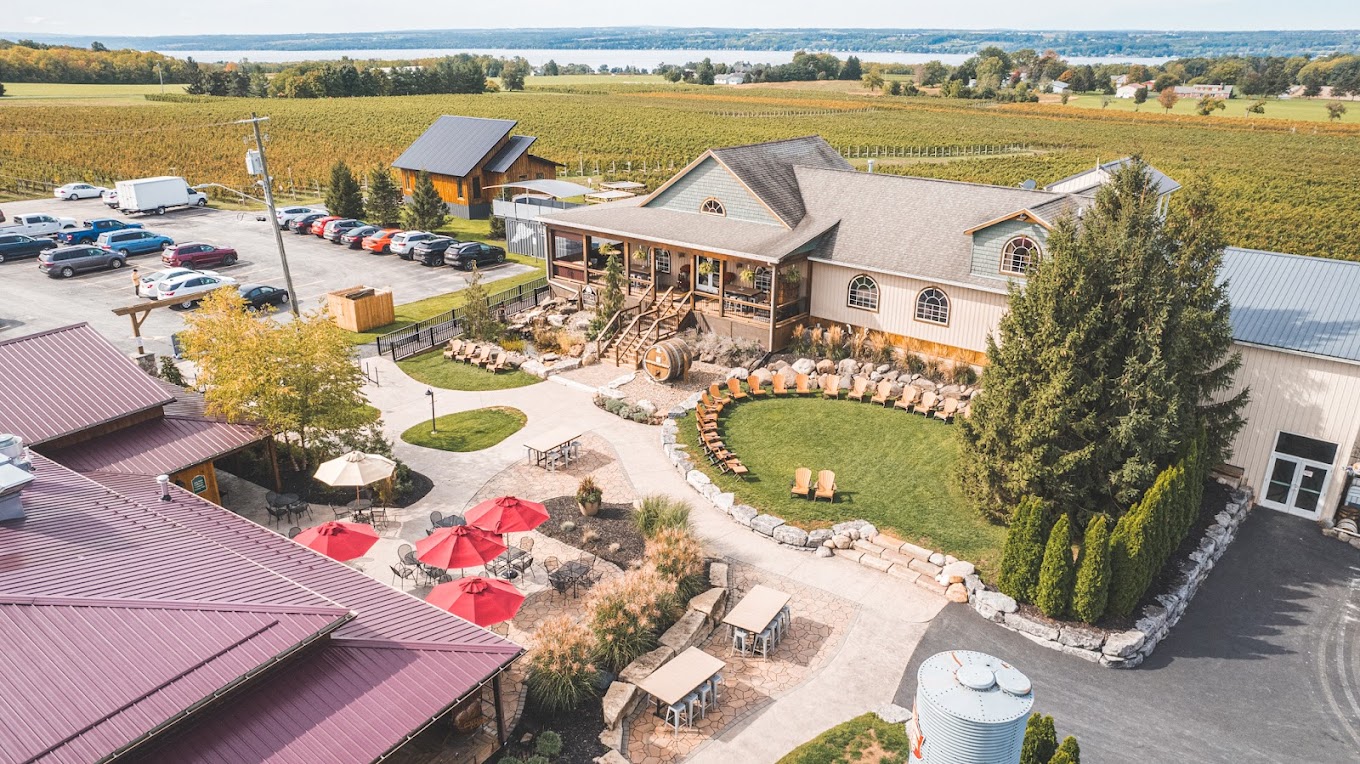 5. Glenora Wine Cellars
Glenora Wine Cellars is the oldest winery in the heart of Finger Lakes Wine Country in Seneca Lake. Founded in 1977, this picturesque winery has been a beloved destination for wine lovers for over four decades.
Glenora's sprawling estate includes a vineyard, a production facility, a restaurant, and an inn. But the real star of the show is the wine. Glenora produces a wide range of award-winning wines that cater to every palate.
The winery's signature grape is Riesling, and it's easy to see why. The Finger Lakes region's cool climate and mineral-rich soil create the perfect environment for this grape variety. Glenora's Rieslings are crisp, refreshing, and bursting with fruity flavors. But that's not all Glenora has to offer. They also produce a range of red and white wines, including Cabernet Franc, Pinot Noir, and Chardonnay.
Visitors can enjoy tastings of five wines from Glenora's complete catalog. Tastings are on a first-come, first-served basis, and groups are limited to eight people. You can also purchase wine by the glass or bottle to enjoy on-site or take home as a souvenir.
Discover The Best of Finger Lakes in a 3-Day Tour from NYC.
If you're looking for a unique experience, make a reservation for Glenora's chocolate and wine pairing. This guided tasting features five wines paired with artisanal chocolates, a heavenly match.
But it's not just about the wine at Glenora. The winery's stunning location on the shores of Seneca Lake offers breathtaking views. And if you want to make your visit even more memorable, book a room at the inn and wake up to the lake's serene beauty.
In conclusion, Glenora Wine Cellars is a must-visit destination for wine lovers and anyone looking for a relaxing escape. With its award-winning wines, stunning views, and cozy inn, Glenora is the perfect place to unwind and indulge in the finer things in life.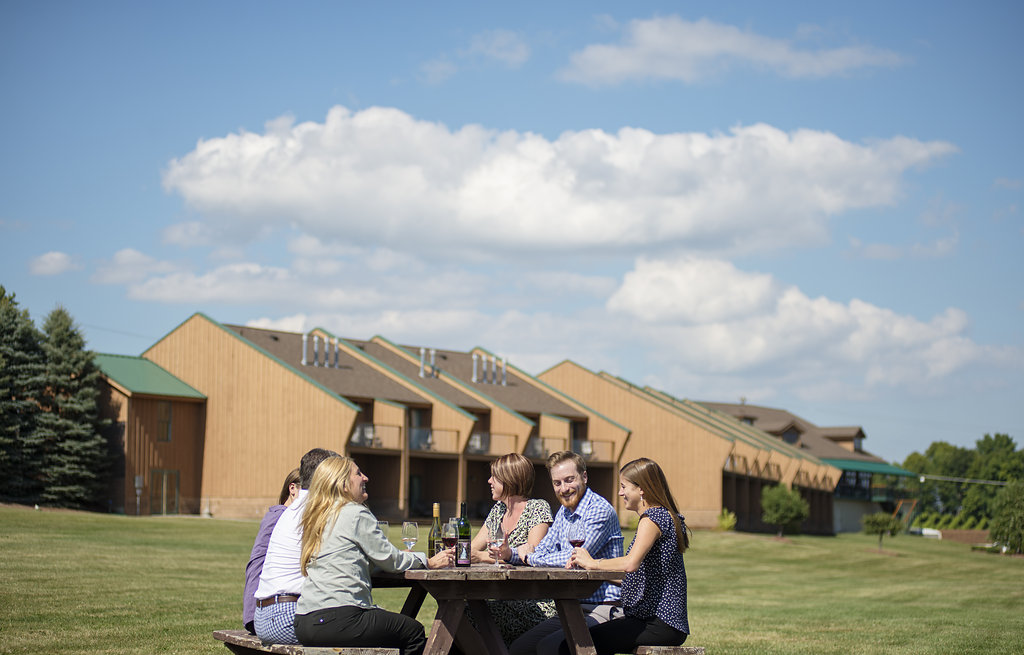 6. Hermann J. Wiemer Vineyard
Located in the picturesque Finger Lakes region, Hermann J. Wiemer Vineyard has gained a reputation as a leading producer of top-quality wines. Founded in 1979 by Hermann J. Wiemer, a German-born winemaker, the vineyard has been passed down through three generations of the Wiemer family.
One of Hermann J. Wiemer's most significant contributions to the Finger Lakes wine industry was cultivating Riesling grapes, which had previously been considered unsuitable for the region's climate.
Wiemer's success in growing Riesling grapes has made the varietal synonymous with the Finger Lakes, and the winery's dry Riesling has received critical acclaim from wine experts.
The winery produces a range of other white wines, including Chardonnay, Gewürztraminer, and Grüner Veltliner, as well as a rosé and sparkling wine. The winery's commitment to sustainable winemaking practices is reflected in its use of solar power and the cultivation of cover crops to reduce its environmental impact.
Uncover Seneca Lake with Wine Tasting & Tour.
Visitors to the winery can enjoy a tasting experience in the main tasting area, located in the production facilities and offers a glimpse into the winemaking process. Housed in a 19th-century scissor-truss barn, the tasting room evokes the agricultural legacy of the area and the estate.
In addition, a winter tasting room with views of the press pad and HJW vineyard has recently been added. Groups of seven or more must make a reservation on most days of the week.
As a family-owned winery with a rich history and commitment to sustainability, Hermann J. Wiemer Vineyard continues to be a pioneer of viticulture and winemaking in the Finger Lakes.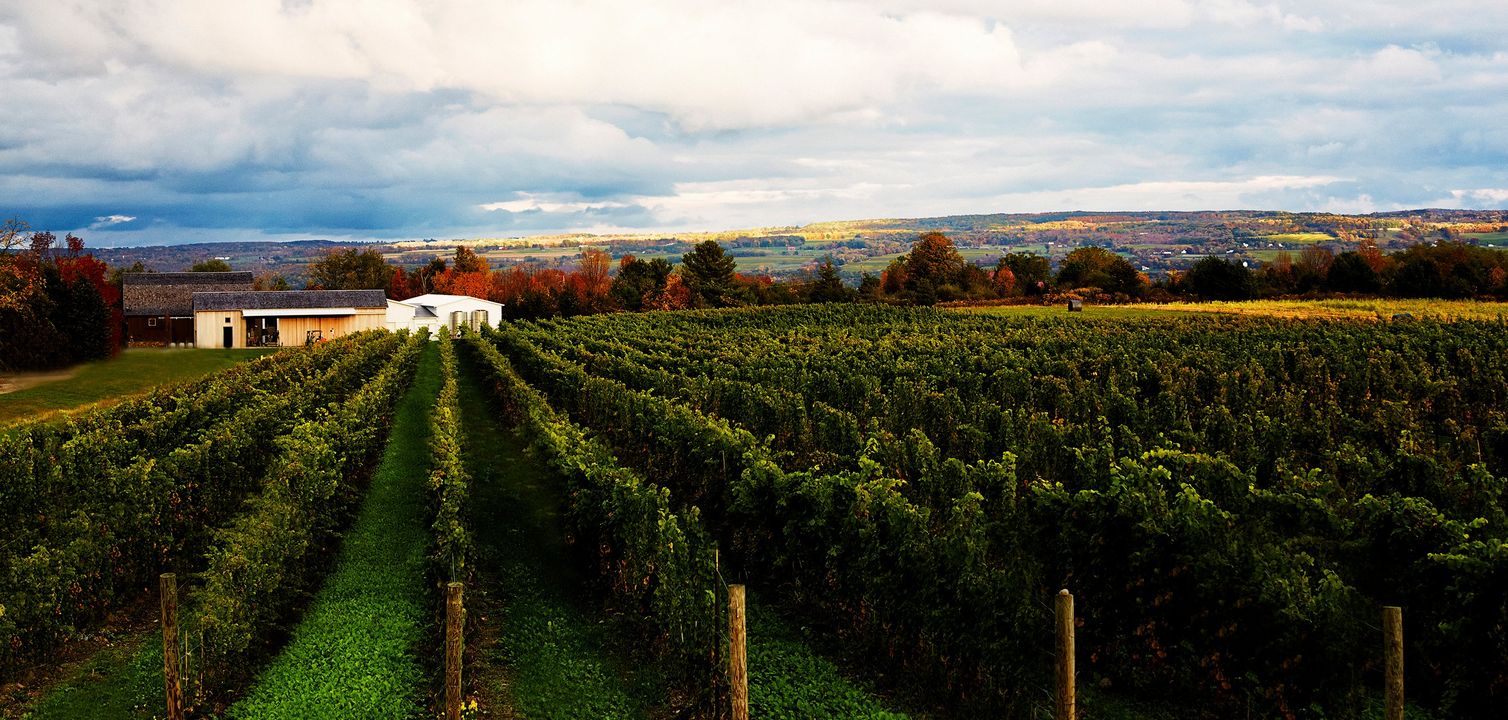 7. Ventosa Vineyards
In the Finger Lakes region, Ventosa Vineyards has become a top destination winery, known for its exceptional dry, old-world style red wines and an assortment of other wines to please any palate.
As a 100% estate-grown winery, Ventosa Vineyards takes great pride in producing quality dry red wines such as their award-winning Cabernet Franc, Cabernet Sauvignon, Pinot Noir, and the popular Italian varietal Sangiovese. In fact, Ventosa is one of the few New York State wineries that grow and produce Tocai Friulano, a white Italian varietal.
Discover Best Seneca Lake Wine Tasting and Tour.
When visiting the winery, guests can expect to learn about the specific grapes grown on the estate and enjoy a warm setting with a terrace and cafe overlooking the vineyard and Seneca Lake.
Cafe Toscana is open daily and serves food. The winery offers a variety of events and activities, including vineyard and cellar tours, live music during the summer months, and private events such as weddings.
Ventosa Vineyards has become a world-class destination for those looking for a fun and relaxed experience. With its 5-star rated wedding and event venue, exceptional wines, and beautiful setting, Ventosa Vineyards is a must-visit for wine lovers and anyone looking for a memorable experience in the Finger Lakes region.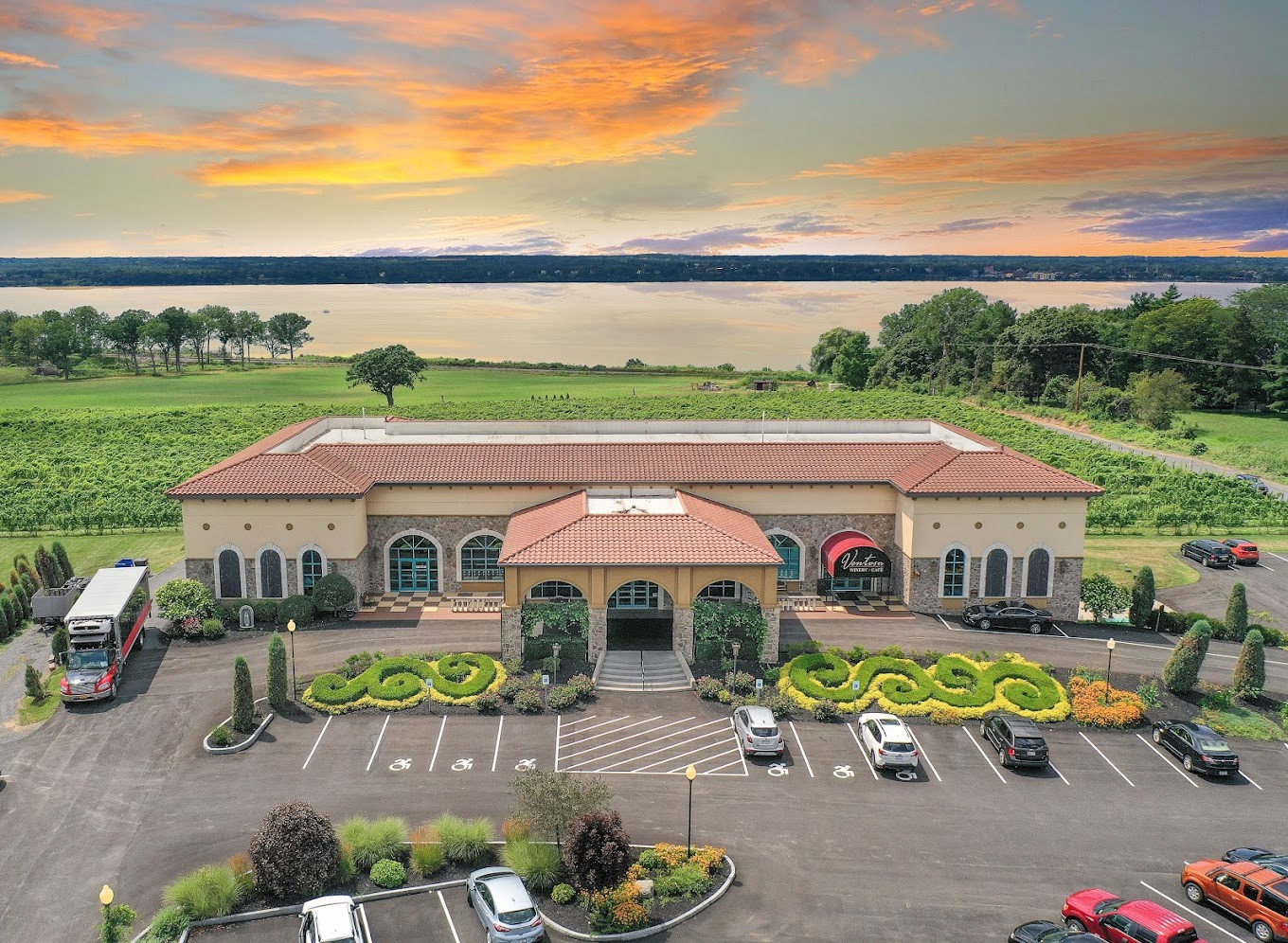 Tips for planning a visit to Seneca Lake Wineries
Your first step in planning a wine-tasting trip to Finger Lakes is to choose which lake to focus on. Seneca Lake is a great starting point since it's located in the heart of the region.
With the Seneca Lake Wine Trail near Watkins Glen, you'll have plenty of options to explore the many wineries in the area. You can also easily access Keuka Lake's eastern side and Cayuga Lake's western side from Seneca Lake.
Ask your local wine shop for recommendations when selecting which wineries to visit. Don't assume that only well-known names produce the best wines. One of the best experiences in Finger Lakes is visiting one of the top wineries on Seneca Lake.
The lake's size and depth create a unique microclimate, ideal for growing excellent wine grapes. Seneca Lake is renowned for producing white wines like Riesling and Chardonnay and reds like Cabernet Franc and Blaufränkisch.
Uncover All-day Guided Seneca Lake Winery Transport for Six.
Seneca Lake is the deepest of the Finger Lakes, with a maximum depth of 618 feet. It's also the largest by volume, making it the perfect environment for winemaking. The lake's stunning scenery provides opportunities for watersports like boating, fishing, paddle boarding, canoeing, and kayaking, and it's especially popular for trout fishing.
The Finger Lakes Region may be America's best-kept wine secret, but it's one you won't want to miss. The combination of natural beauty, charming local towns, and delicious wines makes it a must-visit destination for any traveler looking for a unique experience.
Conclusion
Seneca Lake's wineries' main attractions are their exceptional wine tastings. Visitors can sample various wines, including white, red, and dessert wines and unique blends that are only available in the Finger Lakes region. Whether you're a seasoned wine lover or a newbie looking to learn more about wine, the wineries on Seneca Lake have something to offer everyone.
Another highlight of these wineries is their stunning views. Seneca Lake is known for its picturesque beauty, with rolling hills, serene waters, and vineyards stretching as far as the eye can see. Many wineries offer outdoor seating areas, allowing visitors to soak in the breathtaking scenery while sipping wine.
The wineries at Seneca Lake's wineries are a major draw for visitors. The winemakers are passionate about wine and are eager to share their knowledge with visitors. They can provide insights into the winemaking process, offer recommendations on which wines to try and answer any questions you may have.
Finally, the yearly events held by Seneca Lake's wineries are not to be missed. From wine festivals to grape stomping parties, there is always something going on at these wineries. These events are great opportunities to try new wines, meet other wine lovers, and experience the Finger Lakes region's unique culture.
In conclusion, the wineries on Seneca Lake are a must-visit destination for anyone interested in wine and natural beauty. With their exceptional wine tastings, stunning views, knowledgeable wine ambassadors, and exciting yearly events, these wineries offer an unforgettable experience for visitors.
*Please note that some links are set up through affiliate programs, meaning Wine travel gets referral credits if you purchase these items via our links at no additional cost for you.