Best of Vinart Grand Tasting 2017: Part 1
Reading Time: [est_time] The second annual Vinart Grand Tasting wine event was held at Lauba, a private-owned contemporary art gallery in Zagreb, at the end of February 2017. The event is the brainchild of renowned Croatian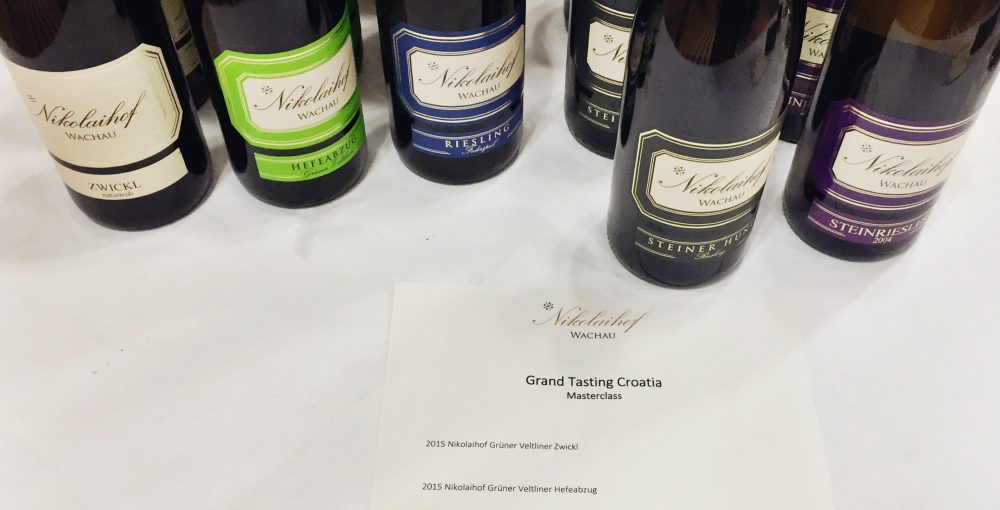 Reading Time: 5 minutes
The second annual Vinart Grand Tasting wine event was held at Lauba, a private-owned contemporary art gallery in Zagreb, at the end of February 2017. The event is the brainchild of renowned Croatian wine writer, Saša Špiranec. During the two weeks prior to the two-day public event, there was a series of masterclasses leading up to the main show. We attended nearly every class, which featured both Croatian and international wines. Here are a few highlights from the sessions.
Weingut Nikolaihof Wachau
There are some wines that surprise you, challenge you, and make you feel so joyful that you'll remember them forever. You know, like that perfect date. For us, the wines from Nikolaihof are exactly that. In fact, we would rather drink a bottle of Nikolaihof wine now than try to create another perfect date for ourselves.
Established in 985 AD, Nikolaihof is the oldest winery in Austria and perhaps in Central Europe too. It is also possibly the first winery to engage in biodynamic farming, which they started out of economic necessity in the '70s. The estate owns 22 hectares of vineyards on the banks of the Danube in Wachau, Austria. Their property also includes a guesthouse and restaurant. This winery is not an undiscovered gem; Robert Parker gave the Nikolaihof Riesling Vinothek 1995 a perfect score of 100 points in 2014.

Nikolaihof produces both fresh and aged wines. In this workshop, we had the opportunity to taste a Riesling that was aged for 16 years before bottling and a young Grüner Veltliner from 2015 among other delicious gems. Tasting through the wines, we noticed that Nikolaihof possesses a consistent and distinct house style: subtlety in aroma and energy in taste. There's a climax to the wine and a fluent narrative wrapping up the entire journey. The delicate layers of intense flavors wait to be peeled open as the wines sit in the glass. If we could use just one word to describe all of Nikolaihof wines, it'd be "duality".
Austrian wine continues to impress us. We hope to make a research or press trip up that way in the near future.
EXOTIC WINE TRAVEL'S PICKS
Nikolaihof Grüner Veltliner Hefeabzug 2015
The word Hefeabzug means to age on the lees. The wine is taken from the same vat as the Gruner Veltliner Zwicki label, but this is the unfiltered version of Zwicki. Flavors of yogurt, brioche, apple, kerosene, and lime. A strong backbone of mineral on both the nose and palate. An oily, full, and smooth texture that makes the wine appears like a pudding sliding through the mouth. Acidity is high and tingling, carrying the intensity of flavors and depth of the wine appropriately. This wine sings!
Nikolaihof Steinriesler Riesling 2004
Aged for 13 years in 5,000-liter oak cask. Golden in color and very viscous. Aromas of chestnut, mushroom, hay, apricot kernel, and white flower. Rich, oily and almost chewy for a white wine. The nose is subtle but inviting. The taste is gentle, yet persistent. The layers of flavors continue to develop with every sip.
Nikolaihof Vinothek Riesling 2000
Aged for 16 years in 3,500-liter oak cask and bottled in 2016. The 1995 vintage of this wine was the first Austrian wine to receive 100 points from Robert Parker. The aroma is geared toward mineral and earth than fruit, yet characteristics of apple and pear linger endlessly. This is a wine that you have to really concentrate to understand its harmonious complexity. On the palate, it oozes the flavors of the purest stone fruit and fresh green herbs. High acidity and a long, spicy finish. Matt thinks this may be the greatest white wine he's ever tasted.
Grgić Winery: Plavac Mali Vertical 1998-2013
Find Grgić wines at wineandmore.com
At the "Judgement of Paris" held in 1976, a 1973 Chateau Montelena Chardonnay from California won the championship, beating out several top-notch white Burgundies. That wine was crafted by Croatian-born Miljenko "Mike" Grgić. Mike went on to become a legend in Napa Valley and started his own winery there named Grgich Hills in 1977.
In 1996, he started a second winery under his name, taking him back to his motherland. Located in Southern Dalmatia, Grgić Vina makes only two wines, one red from Plavac Mali and one white from Pošip. The winery sits high on a cliff, on the southern end of the beautiful Pelješac Peninsula. You can check out the winery in the video below.

Grgić Plavac Mali is a classic interpretation of a rich, powerful, and fruity wine, yet special in its own way as it captures the distinct personality of Plavac Mali perfectly. Grgić Plavac Mali wines have tannins that are under control, which is something that escapes many of the producers in Dalmatia. Every single wine in the vertical tasting was fantastic with high drinkability, regardless of its age. [Though the 2011 vintage seemed like a rare case of rebellion.]
EXOTIC WINE TRAVEL'S PICKS
This spent 15 months in 225-liter French oak. A nice balance of tertiary and fruit notes. A perfumed, musky aroma sets the first impression. A second, deep sniff unveils notes of chocolate, redcurrant, red cherry, forest floor, and sweet tobacco. Very harmonized aroma that appears younger than its true age of 19 years. Tangy, intensely fruity, slightly earthy and balanced in the mouth, ending with a juniper taste which is quite typical of Plavac Mali. This has everything you'd want in a well-aged red wine and it still has the stuffing to go further.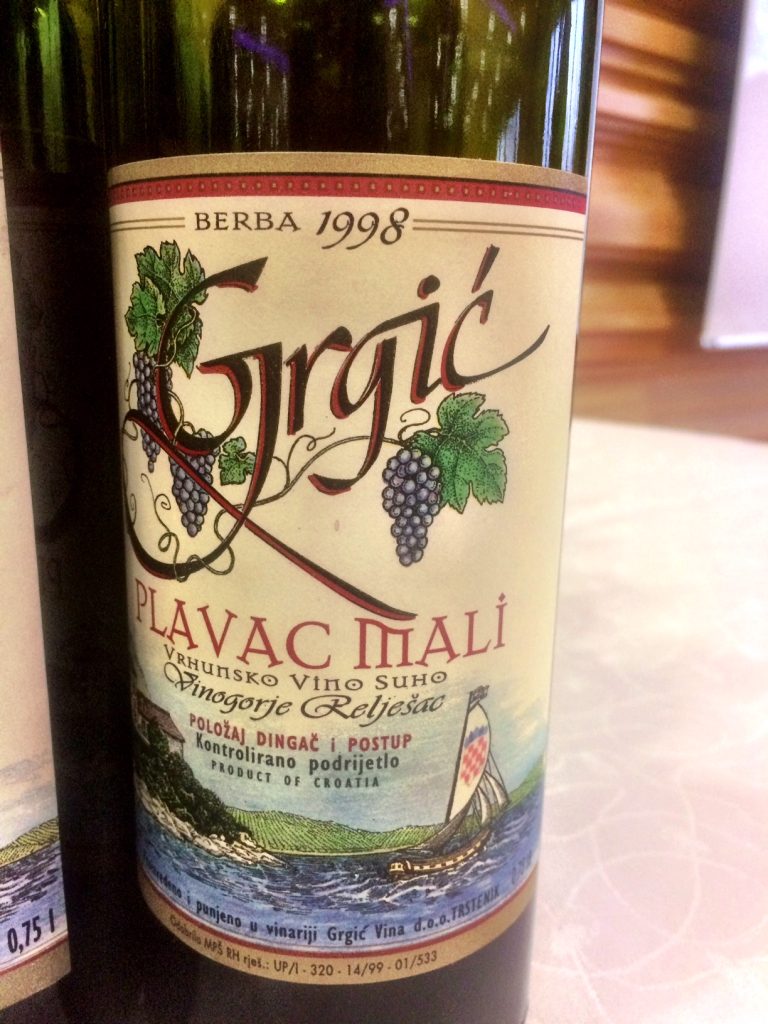 This spends 15 months in French barriques. Aroma is redolent of a spa, with notes of incense and brown spice, plus a hint of black pepper and cherry. Significant aging notes appear on the palate, filling the mouth with flavors of tomato, sweet tobacco leaf, dried bay leaf, and blackberry. A long end palate of intense sweet fruit and dried herbs. A Plavac Mali that is aging beautifully and still has a few more years of performance ahead of it.
This spends 15 months in French barriques. It has a perfumed nose, supported by flavors of roasted coffee bean, juniper, red fruit, tobacco leaf, and smoked cheese. Intense flavors that fill the mouth with texture. This wine is still young, slightly hot in the mouth, and tannins are appearing on the front palate. It has the stuffing to go the distance.
Grgić Plavac Mali  | €29.99 | Shop Here
A Walk through History with Kutjevo Cellars
Find out Kutjevo Cellars wines at wineandmore.com
The Kutjevo Cellars was set up by Cistercian monks who came from France in 1232. Kutjevo is located in the Slavonia region—in the eastern, continental part of Croatia. The monks recognized the beauty of the valley and planted vines there. In our opinion, Slavonia is crafting some of the best value-for-money Croatian wines.
Graševina, also known as Welschriesling, is the most commonly planted wine grape in Croatia. The vineyards surrounding Kutjevo contain 85% of Croatia's Graševina vines. 20 years ago, the grape had the reputation of making "poor man's white wine" with bland flavors. Nothing could be further from the truth as today, a well-made Graševina wine can offer some of the most explosive flavors and savory characteristics. To top it all off, Graševina is also versatile and food-friendly; we've tasted excellent examples of fresh, late-harvest, and dessert wines made from this singular grape.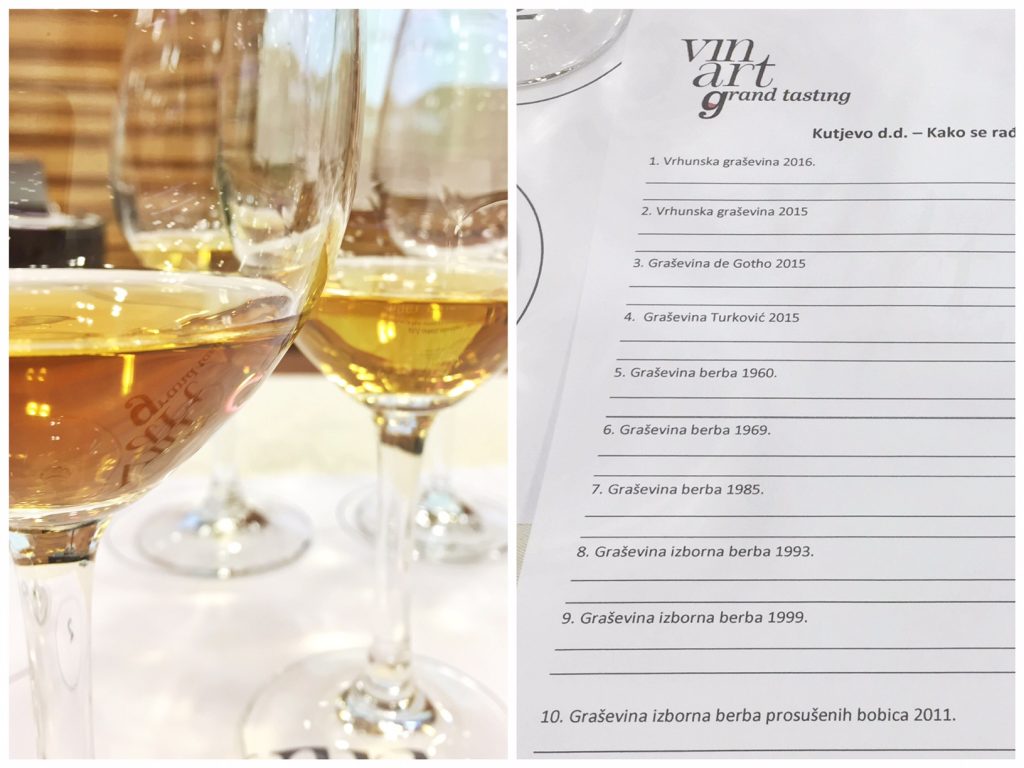 It is not every day that one gets the chance to drink wines that are over 50 years old. First of all, there aren't many out there. Secondly, because of the limited supply, they tend to be expensive and that's why collectors love them. In this workshop, we tasted 12 Graševina wines going as far back as 1960! The older wines were made during Yugoslavian times. Everyone in the room was taken aback by how well the wines held together after all these years.
EXOTIC WINE TRAVEL'S PICKS
12.2% ABV, 6.6 g/l total acidity, 50 g/l residual sugar. Bright golden hue with a slightly muted aroma. The flavors gradually show up: forest floor, honey, petrol, dried peach, and dried apple. Rich and full of life with a saline finish. Impressive for a white wine that has almost reached 50 years of age.
10.3% ABV, 5.7 g/l total acidity, 39 g/l residual sugar. A cheerful nose of pumpkin spice, forest leaf, cinnamon spice, and dried date. The taste takes a twist with flavors of toffee, cantaloupe, and peach compote. Another wine that has held up well at age 31.
Kutjevo Graševina izborna berba prosušenih bobica (TBA) 2011
This is the current release on the market. The many words in the name translate to late-harvest, selected dried berries or what the Germans call Trockenbeerenauslese (TBA). It has 162 g/l of residual sugar. Notes of dried peach, cotton candy, fall leaf, and yellow flower. Great purity of fruit with enough acidity to lighten up the sweetness.
*This is Part 1 of our report on Vinart Grand Tasting. Check out Part 2 of our report here.
The finest selection of
Croatian wines
available at:

Shipping is available EU-wide and to the UK.
************
    Do you want to try Croatian wines?    
If you're looking to savor the exquisite flavor of Croatian wines, look no further than wineandmore.com. With an abundance of options from different winemakers, it's easy to find exactly what your palate desires. Not sure which bottle is best for you? Try out one of their curated wine cases and discover the perfect vintage for any occasion!
************
Want to learn more about wine?
Are you ready to discover the wonderful world of wines? Come join us at wineandmore.com and let's explore the incredible selection of delicious wines together! We can't wait to share our passion for wine with you!
You May Also Enjoy
Zagreb VINOcom: Gems from Croatia's Largest Wine Show
Understanding Croatian Wine with Cliff Rames
The Original Zinfandel from Croatia
---
Disclosure: Please note that the opinions expressed in this article are unsolicited and have not been paid for in any way by governmental bodies, enterprises, or individuals. We do not sell editorial content as that would destroy the legitimacy of our reviews and the trust between Exotic Wine Travel and its readers. On occasion, we extend the option of purchasing the wines we review. Some of these product links are set up through affiliate programs, which means Exotic Wine Travel gets referral credits if you choose to purchase the items via the links we provide.