Best Wine And Cheese Bars in NYC
[vc_row][vc_column][vc_column_text] There is something so decadent and luxurious about savoring the perfect pairing of wine and cheese. For food lovers, it doesn't get much better than enjoying these two culinary classics together in one place. Fortunately, New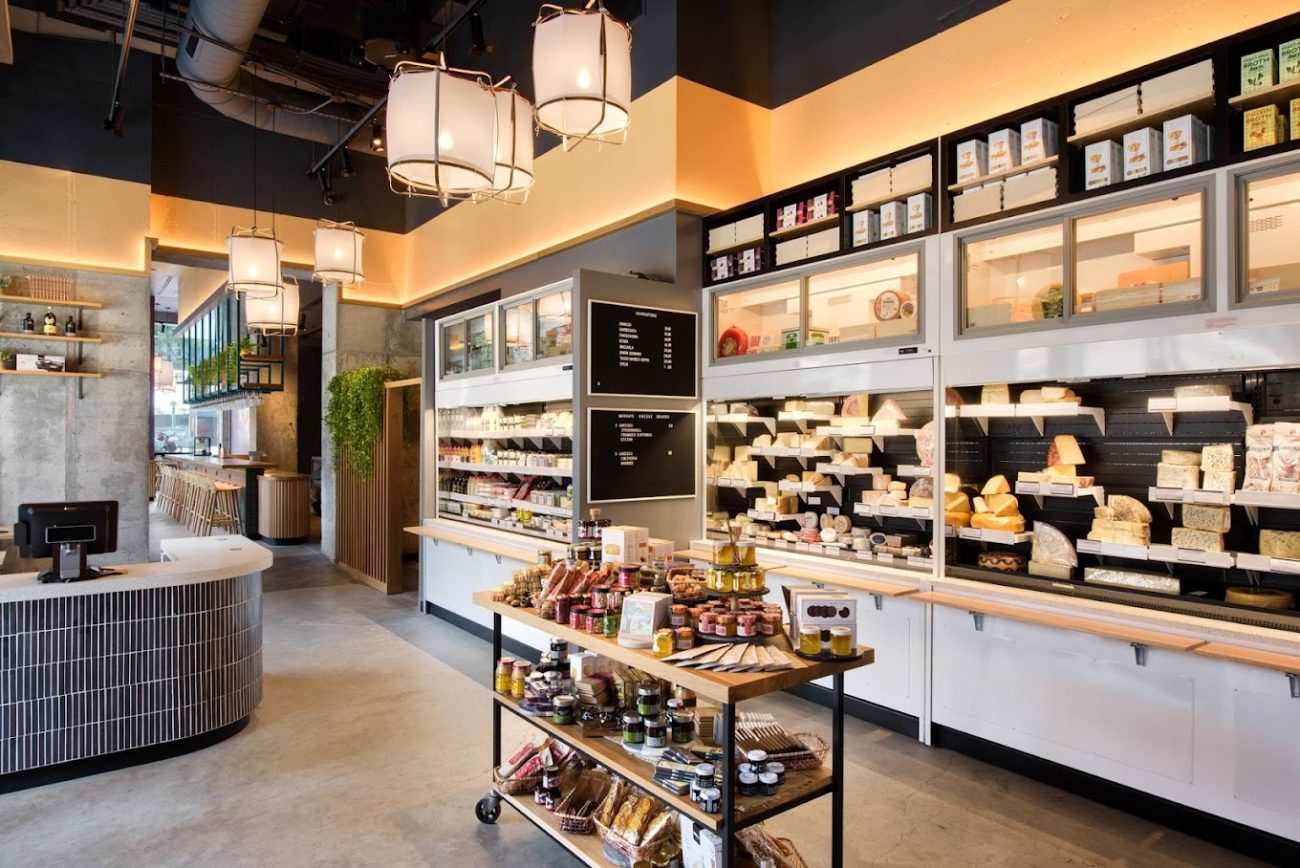 There is something so decadent and luxurious about savoring the perfect pairing of wine and cheese.
For food lovers, it doesn't get much better than enjoying these two culinary classics together in one place. Fortunately, New York City boasts some of the world's finest wine and cheese bars. Here are just a few of the best.
1. Murray's Cheese Bar
One standout spot is Murray's Cheese Bar, located in Greenwich Village. This cozy eatery offers a vast selection of cheese from around the world and an impressive wine list. Their knowledgeable staff is happy to suggest pairings and provide a little education about each item's origin and flavor profile.
Murray's Cheese Bar is an exceptional establishment that takes the appreciation of this dairy delicacy to new heights. Located in the heart of New York City, Murray's Cheese Bar is a destination that invites visitors to embark on a delightful journey of cheese discovery. Murray's Cheese Bar is a paradise for cheese enthusiasts and culinary adventurers with an extensive selection of artisanal cheeses, thoughtfully curated pairings, and a cozy ambiance.
2. Cork & Fork
If you wander through the vibrant streets of the East Village in New York City, your culinary adventure is incomplete without a visit to Cork 'n Fork Restaurant. Nestled in the heart of this bustling neighborhood, Cork 'n Fork is an international tapas and wine bar that promises a delightful experience for food and wine enthusiasts.
At Cork 'n Fork, the menu boasts an impressive selection of international tapas, carefully crafted to showcase the diverse flavors of different cuisines. Whether you're craving Spanish-inspired Patatas Bravas, mouthwatering Italian bruschetta, or tangy Mexican ceviche, this culinary gem has something to satisfy every craving. The talented chefs at Cork 'n Fork take pride in using fresh, locally sourced ingredients to ensure each dish's highest quality and authenticity.
Now, let's delve into wine and cheese pairing, a Cork 'n Fork specialty. The restaurant takes great care in creating harmonious combinations that enhance the wine and cheese flavors. Each cheese selection is thoughtfully chosen to complement and accentuate the nuances of the accompanying wine, creating a symphony of flavors on your palate.
3. The Ten Bells
If you're looking for a wine bar with something extra, head over to The Ten Bells in the Lower East Side. This trendy spot boasts a wonderful selection of natural wines and a rotating menu of delectable small plates, many of which feature unique cheeses from around the world.
It has been quietly serving customers since 2008, offering a laid-back and unpretentious atmosphere. They also have a $1 Happy Hour oysters special available every day. The Ten Bells is a popular spot for those looking to enjoy a romantic and casual evening with great wine and small plates.
4. Amelie Wine Bar
New York City is renowned for its vibrant food scene, and when it comes to the perfect combination of wine and cheese, Amelie Wine Bar stands out as a must-visit destination. Located in the heart of Manhattan, Amelie Wine Bar offers an exceptional selection of wines from around the world, accompanied by a thoughtfully curated cheese menu. Prepare to embark on a delectable journey of cheese pairing as we explore the exceptional offerings at Amelie Wine Bar.
Amelie Wine Bar prides itself on its extensive cheese selection, featuring an array of artisanal cheeses from both local and international producers. The expertly trained staff at Amelie are passionate about cheese and can guide you through the menu, helping you discover new flavors and combinations.
Amelie Wine Bar in NYC offers a cheese pairing experience that is second to none. With a diverse selection of artisanal cheeses and an extensive wine list, the bar provides an opportunity to embark on a delightful journey of flavors.
5. Aldo Sohm Wine Bar
When it comes to indulging in the finer things in life, few experiences can match the elegant combination of cheese and wine. Aldo Sohm Wine Bar, located in the heart of New York City, has become a renowned destination for wine enthusiasts and food lovers alike. Under the guidance of its esteemed sommelier, Aldo Sohm, the bar offers an exquisite selection of cheeses that perfectly complement their extensive wine list.
The art of pairing cheese and wine at Aldo Sohm Wine Bar is taken to new heights. Each cheese is carefully selected to enhance and harmonize with the characteristics of the wines on offer. The guiding principle is to create a synergy between the flavors, textures, and aromas of the cheese and wine, resulting in a truly unforgettable taste experience.
The cheese selection at Aldo Sohm Wine Bar is a testament to the bar's commitment to excellence. With a range of artisanal cheeses from around the world, the menu is thoughtfully curated to cater to a variety of palates. Here are some of the standout cheeses that grace the menu:
Parmigiano-Reggiano: Aldo Sohm Wine Bar pays homage to the king of Italian cheeses with a selection of aged Parmigiano-Reggiano. The intense nuttiness and crystalline texture of this cheese pair beautifully with medium to full-bodied red wines, such as Barolo or Brunello di Montalcino. The combination of the cheese's umami richness and the wine's structured tannins creates a remarkable balance.
Comté: Originating from the Jura Mountains in France, Comté is a semi-hard cheese with a rich and complex flavor profile. Its fruity, nutty, and slightly sweet taste pairs wonderfully with white Burgundy wines or medium-bodied reds like Côtes du Rhône. The creamy texture of the cheese complements the wines' acidity, creating a harmonious balance on the palate.
Gorgonzola: Aldo Sohm Wine Bar offers a luscious Gorgonzola selection for lovers of blue cheese. This Italian blue cheese is known for its creamy texture and piquant flavor. Paired with sweet dessert wines like Sauternes or Port, the cheese's boldness is beautifully counterbalanced by the wine's sweetness, resulting in a delightful combination of contrasting flavors.
Manchego: Hailing from Spain, Manchego is a traditional sheep's milk cheese with a firm texture and a buttery, nutty taste. Its mild yet distinctive flavor pairs wonderfully with Spanish red wines like Rioja or Priorat. The wine's earthy notes and the cheese's slight saltiness create a captivating interplay on the palate.
Chèvre: For those who prefer goat cheese, Aldo Sohm Wine Bar offers an array of Chèvre options. These fresh and tangy cheeses can be paired with crisp white wines like Sauvignon Blanc or Chenin Blanc. The wine's acidity cuts through the cheese's creaminess, creating a refreshing and palate-cleansing combination.
Cocktails and Cheese
While wine may be the traditional pairing for cheese, many bars are now experimenting with cocktails as the perfect complement. At The Binc, located in Park Slope, mixologists have created a number of signature cocktails that pair perfectly with their cheese offerings. Try the "Cheese & Honey," which features bourbon, honey syrup, lemon juice, and balsamic vinegar – the perfect match for a nutty and rich cheddar.
Similarly, the team at Cheesemonger's Table in Williamsburg have created a number of cheese-forward cocktails that are as unique as they are delectable. Try the "Garden Variety," which features elderflower liqueur, fresh cucumber, and an herbed goat cheese garnish.
Pizza and Cheese
It's no secret that cheese and pizza are a match made in culinary heaven. But some places take this pairing to the next level. One such spot is Speedy Romeo in Brooklyn. Not only do they make some of the best pizza in town, but they also offer an impressive selection of cheeses from around the world, all of which pair perfectly with their wood-fired pies.
Cheese and Chocolate
Pairing cheese and chocolate can be a revelatory experience for those with a sweet tooth. At The Chocolate Room in Brooklyn, guests can indulge in a thoughtful selection of artisanal cheeses alongside a wide variety of hand-crafted chocolates. The staff is happy to suggest pairings that will delight even the most discerning palate.
Cheese and Beer
While wine may be the most traditional pairing for cheese, many bars are now exploring the world of beer as a perfect complement. At the Blind Tiger Ale House in the West Village, guests can choose from a carefully curated selection of craft beers from around the world, each of which is perfectly suited to be enjoyed alongside a cheese plate. The highly knowledgeable staff is happy to help guide guests through the myriad options.
Whether you're a fan of wine, cocktails, pizza, chocolate, or beer, a perfect cheese pairing awaits you in New York City. From cozy and intimate spots to lively and trendy bars, the city has something to offer every cheese and wine lover.
No matter which wine and cheese bar you choose, there are a few tips to keep in mind. First, always start with the mildest cheese and work your way up to the strongest. This will help prevent the stronger cheeses from overpowering your palate. Second, don't be afraid to try something new. The staff at these establishments are passionate about their offerings and are always happy to help guide you through the selection process. Lastly, take your time and savor every bite and sip. This is an experience to be savored, not rushed through.