Top 7 Wine Bars in London
[vc_row][vc_column][vc_column_text] London's vibrant scene offers an array of exquisite experiences for wine lovers! With a rich tapestry of cultures and a thriving wine culture, the city boasts numerous wine bars that showcase exceptional vintages from around the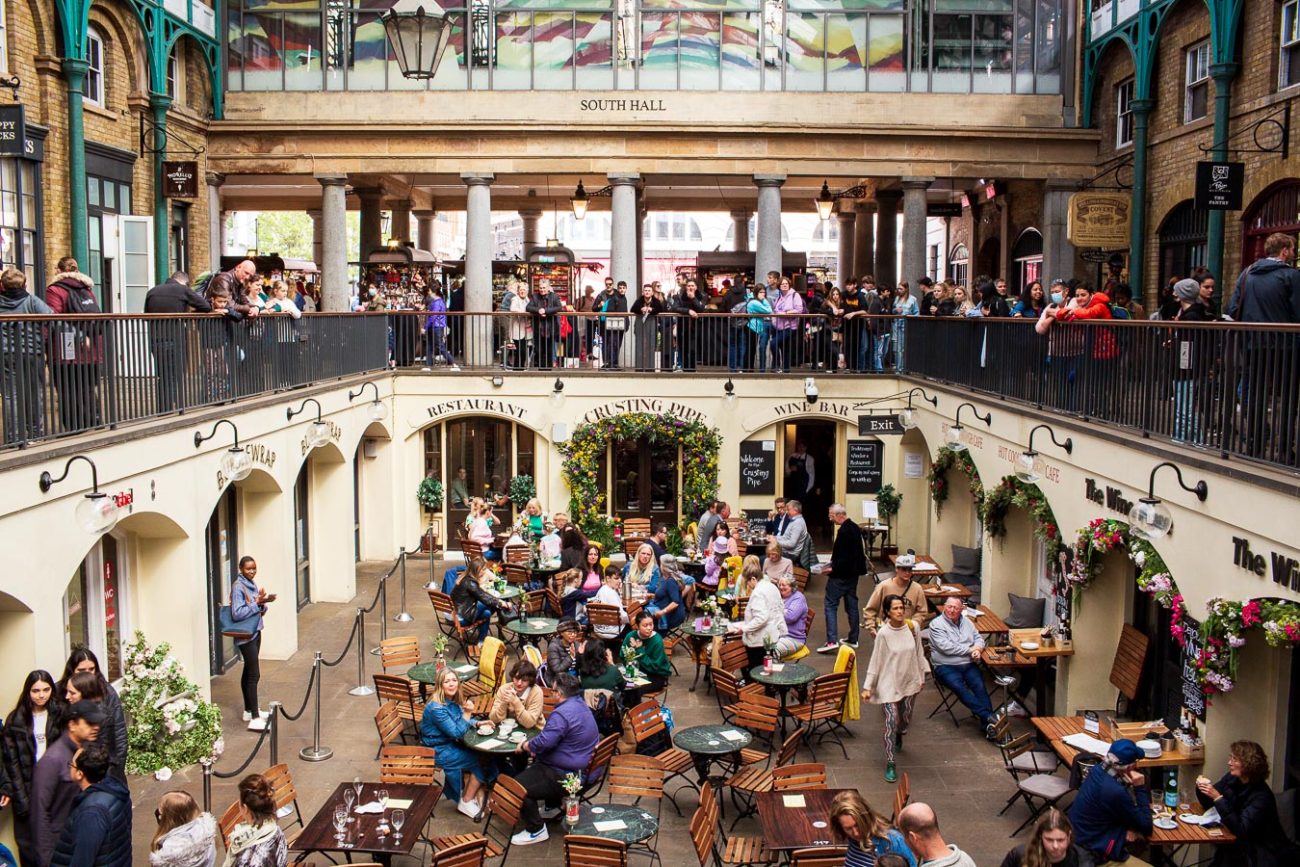 London's vibrant scene offers an array of exquisite experiences for wine lovers!
With a rich tapestry of cultures and a thriving wine culture, the city boasts numerous wine bars that showcase exceptional vintages from around the world.
Whether you're a connoisseur or a casual wine lover, these top 7 wine bars in London have become the hub for enthusiasts to indulge in their passion for great wine. Whether it's a light afternoon with friends or a romantic night out, wine bars offer the perfect ambiance with a classy touch. From tried and true classics to exciting new ventures, we have compiled a list of the best wine bars in London for you to sip and savor.
1. Humble Grape, Battersea
The Humble Grape, Battersea, located in South London known for its extensive wine list. The bar is all about sustainable wines, which aligns with its philosophy of supporting small, family-run vineyards that use sustainable farming practices. The bar's expert staff is present to guide customers through their wine choices based on their preferences.
Like their sister sites in Liverpool Street, Fleet Street, the Battersea branch is a charming spot, perfect for food and drink. With a cozy and spacious dining area, it's the ideal setting for a bottomless brunch or a relaxed evening dinner, with 30 wines by the glass, 400+ biodynamic, natural & sustainable bottles to drink in or take away, and an incredible menu of seasonal British food designed to complement the wines they offer.
Like its counterparts branch exudes an undeniable charm, beckoning food and wine lovers alike to indulge in a delightful experience. Step inside, and you'll be greeted by a warm, inviting atmosphere boasting a cozy yet spacious dining area. Humble Grape is the perfect setting for any occasion, whether seeking a leisurely bottomless brunch or a relaxed evening dinner.
And let's not forget the culinary delights accompanying the exceptional wine offerings. Humble Grape presents an incredible menu of seasonal British food, expertly crafted to complement the diverse range of wines. From delectable small plates to satisfying main courses, each dish is thoughtfully prepared using the finest locally sourced ingredients, producing a harmonious marriage of flavors.
Check the available table at The Humble Grape Battersea, and uncork a world of fine wines.
2. 28-50 Marylebone Lane
28-50 Marylebone, an enchanting bar and restaurant, invites you to embark on a remarkable culinary journey centered around the world of wine. With a focus on creating a relaxed and inviting atmosphere, this establishment offers a seasonally changing modern French and European menu paired with an extensive selection of over thirty wines.
Situated across two floors, 28-50 Marylebone boasts two charming dining rooms and a cozy 12-seater bar. The venue's primary focus is on providing guests with a diverse range of wines, available by the glass, carafe, or bottle, all at exceptional prices. Discover the extensive wine list, carefully curated to cater to various tastes and preferences.
To further enhance the dining experience, 28-50 Marylebone offers 'al fresco' dining, allowing guests to enjoy their meals amidst the vibrant atmosphere of the outdoors. Additionally, the venue provides a private room, perfect for hosting events, celebrations, or corporate gatherings. Immerse yourself in an intimate setting as you celebrate special occasions or create lasting memories with colleagues and loved ones.
For those passionate about wine and eager to expand their knowledge, 28-50 Marylebone offers a year-round program of wine-tasting events, workshops, and themed dinners. Delve deeper into the intricacies of wine production, discover new flavors, and gain insights from industry experts. Each event is meticulously designed to provide a captivating experience satisfying both novices and seasoned connoisseurs.
Check the available table at 28-50 Marylebone Lane, and embark on a wine adventure.
3. Crusting Pipe
In the heart of London's Covent Garden, The Crusting Pipe stands as a charming and welcoming restaurant. It's rustic decor and inviting atmosphere offer the perfect retreat from the bustling city streets, providing a delightful setting for a delectable meal. This gem invites you to unwind in its covered courtyard or explore its cozy corners within the bar and dining rooms. Watch for impromptu performances from local musicians and actors, which often grace the outdoor terrace.
The restaurant derives its name from the crusting pipe, a device historically used to scrape the crust from the inner surfaces of wine barrels. This connection to wine is apt, as The Crusting Pipe boasts an extensive wine list featuring selections from various regions around the globe. The knowledgeable staff can always assist and recommend the perfect wine pairing to enhance your dining experience.
The menu at The Crusting Pipe showcases a fusion of classic British dishes with a contemporary twist. For starters, indulge in mouthwatering options such as smoked salmon with horseradish cream. As for main courses, there is a diverse range of choices, including the ever-popular fish and chips, succulent steaks, and flavorful burgers. Vegetarians need not fret, as the menu caters to their needs with roasted vegetable risotto and butternut squash curry.
With a heritage spanning four decades, The Crusting Pipe holds a significant place in the history of Covent Garden. As part of Davy's, one of London's oldest family wine merchants and operators of wine bars, The Crusting Pipe proudly upholds the values of exceptional wine, quality food, and outstanding service that have defined the brand for over 150 years.
Check the available table at Crusting Pipe, and uncover a charming wine & food gem.
4. Plume Wine Bar
As part of the esteemed Grays & Feather family, renowned for their sparkling and English wine expertise, Plume Wine Bar in Covent Garden promises a truly exceptional outing. With an ever-changing list featuring approximately 70 wines, this venue caters to the discerning palates of wine connoisseurs, offering a diverse and thrilling selection.
As London's premier global sparkling wine bar, this enchanting spot on Wellington Street is an absolute must-visit for those with a taste for the effervescent elixir. Grays & Feather, in collaboration with small, independent, and lesser-known producers, present an impressive array of bottled and by-the-glass wines guaranteed to expand your sparkling horizons. Prepare to discover hidden gems and unearth new favorites as you embark on a sparkling adventure.
Whether you seek a relaxing after-work drink, a romantic date night, or a joyous celebration, Plume Wine Bar is the ideal setting. Step into a world where the interiors blend a botanical theme with the enchantment of a magical Victorian garden. Allow the stylish and comfortable furnishings to transport you far away from the mundane, providing an escape from the daily grind and immersing you in refined indulgence.
In addition to their superb offerings, they present an enticing array of cocktails and small plates, ensuring a delightful culinary experience to accompany your drinks. Inspired by seasonal and sustainable produce, their sharing plates celebrate gastronomic artistry, perfectly complementing the diverse flavors of the wines on offer. Moreover, as the seasons change, so do the cocktails, specials, and events, ensuring that you and the establishment remain thoroughly entertained.
This bar is poised to enchant even the most discerning guests with its meticulously selected wines, captivating ambiance, and delectable culinary offerings. Indulge in the world of fine wines and allow Plume Wine Bar to transport you to a realm of sophistication and pleasure that will leave an indelible mark on your senses.
Check the available table at Plume Wine Bar, and embark on a truly remarkable wine bar experience.
5. Gordon's Wine Bar
Amidst the bustling streets and modern establishments, a hidden gem takes you back in time! Gordon's Wine Bar, established in 1890, is considered the oldest wine bar in London. Located at 47 Villiers Street, near Embankment and Trafalgar Square, this charming establishment has become a beloved destination for locals and tourists alike.
Stepping into Gordon's Wine Bar feels like entering a time capsule. Its historic ambiance and candlelit vaulted cellars create an enchanting atmosphere that transports visitors to a bygone era. The decor, reminiscent of Dickensian-style elegance, adds to the bar's unique charm. Wendy Gordon, the wife of the late owner, continues to uphold the legacy of this family-owned establishment.
One of the main draws of Gordon's Wine Bar is its extensive wine selection. Wine enthusiasts will delight in the wide variety of red and white wines from different regions. The bar's carefully curated wine list ensures that every palate is catered to, allowing visitors to explore and indulge in a rich selection of flavors. In addition to its impressive wine collection, Gordon's Wine Bar offers a delectable food menu. From tapas to meat and cheese platters and more than 15 different cheeses, a selection of charcuterie and vegetarian and vegan options are available.
It's worth noting that Gordon's Wine Bar operates on a first-come, first-served basis and does not accept reservations. To secure a spot, especially during peak hours, it is advisable to arrive early. The popularity of this historic establishment is a testament to its enduring appeal. Gordon's Wine Bar also offers outdoor seating under heated awnings, allowing visitors to enjoy an al fresco experience all year round.
Whether you choose to relax at one of the many tables outside or prefer a more intimate setting in the cellar, Gordon's provides a welcoming space for wine lovers to unwind and savor their chosen beverages. For over 130 years, Gordon's Wine Bar has quenched the thirst of wine lovers and provided a haven of tranquility amidst the bustling city. Its proximity to Covent Garden and London's Theatreland makes it a convenient destination for those exploring the city's vibrant heart. Whether seeking a romantic evening or simply a place to unwind with friends, Gordon's Wine Bar promises an experience like no other.
---
6. Bar Douro London Bridge
If you're searching for an enchanting escape to Lisbon, without leaving the vibrant city of London, look no further than Bar Douro. Nestled beneath the railway arch in the bustling Flat Iron Square, this hidden gem invites you to immerse yourself in the captivating ambiance of the Portuguese capital. Bar Douro effortlessly transports its patrons to a world of Portuguese delights, from its stunning blue and white tiled interiors to its elegant marble countertop.
Upon entering Bar Douro, the authentic atmosphere will immediately awaken your senses. The carefully curated décor pays homage to the rich heritage of Lisbon, reflecting the city's distinctive architecture and design. 
While the visual experience alone is enough to transport you to Lisbon, the exquisite Portuguese wines and cuisine truly make Bar Douro a standout destination. The cellar list boasts an impressive array of options, ensuring that wine enthusiasts will find their perfect match. Whether you prefer a crisp sparkling wine, a delicate rosé, a refreshing white, a robust red, or a luscious sweet wine, Bar Douro has something to satisfy every palate.
But it's not just the wines that steal the show at Bar Douro. The food menu is a culinary journey through the flavors of Portugal, with each dish thoughtfully crafted to showcase the country's gastronomic treasures. Indulge in traditional Portuguese delicacies such as petiscos (small plates), fresh seafood, hearty meat dishes, and decadent desserts.
Whether you're a wine or a food lover or simply seeking a unique and memorable dining experience, Bar Douro is the place to be. It effortlessly combines the best Portuguese hospitality, culture, and gastronomy within the vibrant setting of London Bridge.
7. Champagne + Fromage – Greenwich
Champagne + Fromage, a charming bistro and shop nestled in the vibrant neighborhood of Greenwich, invites guests to embark on a culinary journey to France. With its focus on delivering an authentic French experience, this establishment has become a beloved destination for food enthusiasts and wine lovers. Step inside Champagne + Fromage, and you'll find yourself in a chic and quirky ambiance that perfectly complements the delectable offerings. The bistro and shop take pride in their expertise in serving rustic French cuisine, emphasizing the finest ingredients and traditional preparation methods.
One of the highlights of Champagne + Fromage is their extensive selection of Champagne sparkling wines. With an array of options, wine lovers will delight in exploring the bubbly world. From elegant and crisp varieties to rich and indulgent blends, there's a Champagne to suit every palate and occasion. The menu features a tantalizing array of tartines, cheese, and charcuterie to accompany the Champagne. Champagne + Fromage sources over 50 soft and hard French cheeses, carefully curated from Une Normande à Londres. Each cheese is a testament to the craftsmanship and passion of French cheesemakers, ensuring an authentic and unforgettable taste experience.
In addition to the cheese selection, guests can savor an enticing range of fresh tartines, along with terrine, rillettes, cassoulets, confits, soups, jams, saucisses, and more. The menu is a treasure trove of traditional French delicacies, expertly prepared to transport diners to the enchanting streets of Paris. For those looking to bring the experience home, Champagne + Fromage offers a secret cellar brimming with 25 bottles of bubbly from French Bubbles. This gem provides the perfect opportunity to select a bottle of Champagne to enjoy in the bistro or to take away and savor at your leisure.
Champagne + Fromage has quickly become a go-to destination for anyone seeking an authentic taste of France in the heart of Greenwich. Whether you're a lover of fine wines, a connoisseur of French cuisine, or simply someone searching for a delightful dining experience, this bistro and shop will leave a lasting impression.
Check the available table at Champagne + Fromage – Greenwich, and pop a cork at your next favorite bistro.
Conclusion
London has long been known for its rich cultural heritage and diverse culinary offerings. However, another element has seamlessly woven itself into the fabric of British culture – wine. The city now boasts a thriving wine scene, with many wine bars catering to the tastes and preferences of both novices and seasoned connoisseurs. These establishments offer an extensive collection of wines and an inviting ambiance for sipping and socializing.
Their diverse selections ensure that every wine enthusiast can discover something remarkable to savor and appreciate. London's wine bars present a haven of renowned vintages for those who appreciate the classics. From the prestigious Bordeaux blends to the elegant Burgundies, these establishments proudly showcase a selection of wines that have stood the test of time.
Yet, London's wine bars are not bound by tradition alone. Embracing the spirit of adventure and innovation, they also offer a platform for more unconventional and lesser-known wines. Here, you can embark on a journey of discovery, exploring unique grape varietals and avant-garde winemaking techniques.
From cozy and intimate settings to chic and contemporary designs, each wine bar has its distinctive character, ensuring that every visit is memorable. Prepare to delight your senses and create unforgettable memories as you immerse yourself in the vibrant wine scene of the capital. With their exceptional collections, inviting atmospheres, and dedicated staff, these wine bars are poised to elevate your wine-tasting experiences to new heights.