10 Best Wineries In Franschhoek
[vc_row][vc_column][vc_column_text]Franschhoek, a small town in South Africa's Western Cape province, has been long known for its rich history and picturesque scenery. But what sets it apart from other wine-growing regions is its unique combination of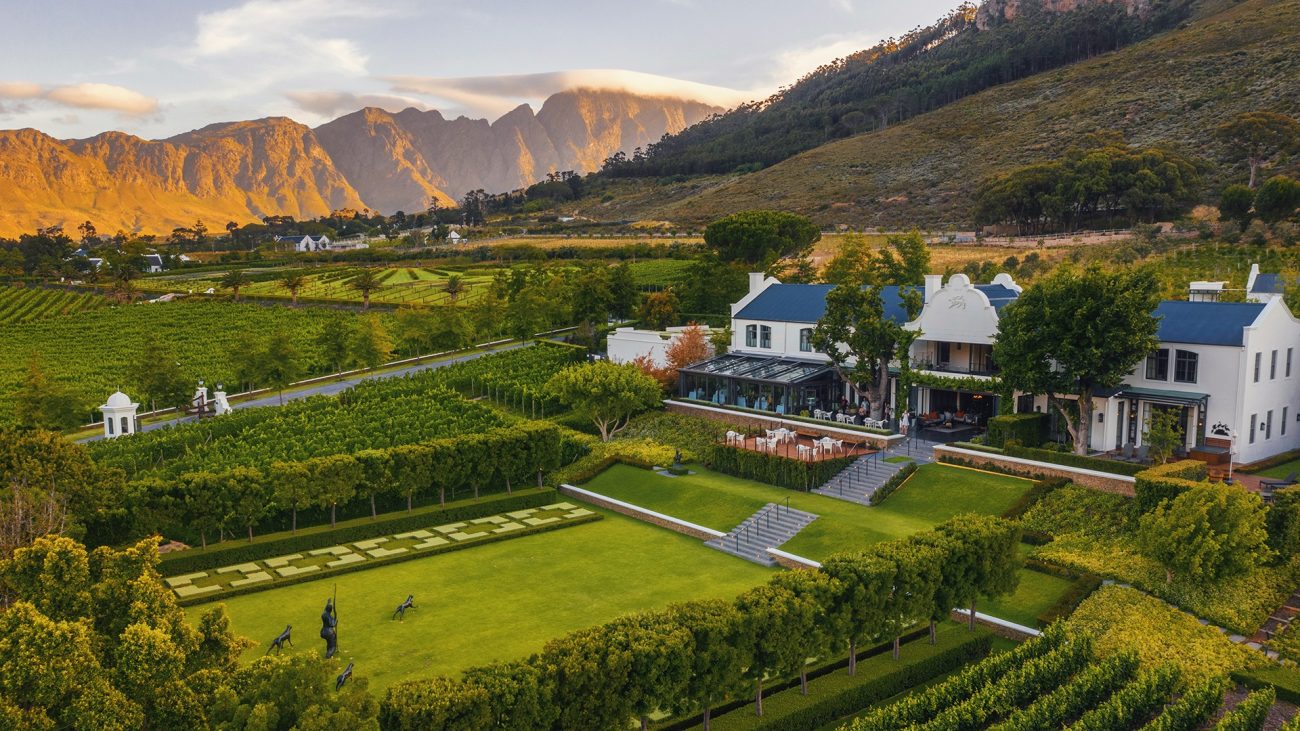 Franschhoek, a small town in South Africa's Western Cape province, has been long known for its rich history and picturesque scenery. But what sets it apart from other wine-growing regions is its unique combination of old-world charm and innovation in winemaking. In this article, we will take you on a journey through some of the best wineries in Franschhoek that embody this ethos.
La Bri Wine Estate
La Bri Wine Estate, situated in the picturesque Franschhoek Valley, is renowned for its signature-styled wines created with passion and commitment to quality.
The estate spans approximately 15 hectares of vineyards and boasts an original homestead and outbuildings set against the backdrop of the Franschhoek mountains.
La Bri holds historical significance as it was one of the first nine farms granted to Huguenots seeking sanctuary in the Cape in 1688.
The name 'La Bri' likely originates from the French word for 'refuge,' perfectly reflecting the property's idyllic location in the imposing amphitheater of the Franschhoek valley.
Owned by Robin Hamilton since 1997, the winery offers visitors a unique cellar-door experience, including wine tastings, wine pairings, cheese platters, and picnics.
The estate features a state-of-the-art gravity-fed wine cellar. It invites guests to take self-walk tours through its facilities, providing an immersive insight into the winemaking process.
Key takeaway: La Bri Winery is known for its friendly staff, beautiful gardens, and a range of wines. The tasting room is decorated in a warm and cozy style, which makes it an excellent place to relax and enjoy a glass of wine.
Leeu Estates
Leeu Estates, located in the picturesque Franschhoek Valley in South Africa, is a premium five-star hotel and part of the Leeu Collection, a portfolio of luxury boutique hotels.
Nestled amidst 100 hectares of vineyards, this elegant retreat and winery offers unrivaled escapes to the heart of the Cape Winelands. Surrounded by mountains and a river, the estate provides a tranquil atmosphere for guests seeking relaxation and rural tranquility.
The property features a state-of-the-art multipurpose event and meeting venue named Indaba – The Meeting Place, catering to all in-house Leeu Collection guests.
The estate offers a range of experiences, including wine tastings in their vineyards, gourmet dining, cycling, hiking, and leisure activities amidst the stunning natural landscapes.
Leeu Estates also boasts a spa, The Wine Studio, Manor House Suite, and The Dining Room,providing a luxurious and immersive stay experience. For those interested in exploring the vibrant Franschhoek village, a complimentary three-minute shuttle service is available.
Môreson
Moving on, let's talk about Moreson (or Môreson) is situated on the famous Happy Valley Road and has been producing wine since 1994.
Home to Miss Molly and Môreson Wines, this vineyard is celebrated for its exceptional wine offerings. The winery specializes in Chardonnay and Cabernet Sauvignon, and it has gained recognition for its outstanding Pinotage, considered some of the best in South Africa.
Additionally, Môreson produces a notable gin, adding to its diverse range of products.
Moreson's Miss Molly range is excellent, with The Chocolate Block wine being a fan favorite. The winery also has a restaurant and bakery, which offers excellent artisan bread and pastries that perfectly complement their wines.
Key takeaway: For wine enthusiasts, Môreson provides an opportunity to explore and indulge in premium South African wines, representing the rich winemaking heritage of the region.
Haut Espoir
If you're looking for something a little different and the eco-friendliest winery in South Africa, check out Haut Espoir. The winery produces organic and biodiverse wines and is committed to using sustainable practices in everything they do.
Haut Espoir, a boutique wine estate and cellar has been established and operated by the Armstrong Family since 1999, Haut Espoir is renowned for producing distinctive, handcrafted wines in harmony with nature.
The winery's philosophy revolves around biodynamic farming practices, emphasizing a close connection to the land. One of their notable wines is the "Gentle Giant," a red blend made from Shiraz/Syrah, Cabernet Sauvignon, Cabernet Franc, and Merlot grapes.
The winery operates by appointment, offering visitors a unique experience in a corner of the picturesque Franschhoek Valley. Haut Espoir's dedication to quality and sustainable viticulture has earned them a favorable reputation among wine enthusiasts.
Key takeaway: Haut Espoir is first and foremost a family farmstead where the community is the focus — all the grapes are hand-harvested and sorted with the utmost care. Their wines are pure, unaltered expressions of the local terroir with no added chemicals, sulfites or stabilizers.
Lynx Wine Estate
For those who like a minimalist decor and intense wine, the Lynx Wines farm, founded in 2002, is the perfect choice. The minimalist tasting room allows visitors to focus on the wine and the stunning view of the valley. Lynx Wines only makes three varietals – Syrah, Cabernet Sauvignon, and Merlot – but it's incredibly devoted to them, vineyard by vineyard.
Boschendal Wine Estate
At the Boschendal Wine Estate, one of the oldest farms in the region, history is brought back to life—the farm and its homestead date back to the late 1600s.
They've become a sustainable pioneer by adopting ecologically sustainable farming practices that enhance biodiversity while maintaining their legacy.
The Estate offers a range of wines, of which the Boschendal Classics Chardonnay is a standout for the area, earning plaudits and attention from locals and foreigners.
GlenWood Vineyards
Next, we have GlenWood Vineyards, which has a beautiful view of the Franschhoek valley. This winery is unique in the region because it produces wines of pure and true origin.
GlenWood is known for its innovative use of viticulture techniques, which brings out complex and refined flavors in all their wines.
The winery's tasting room has a comfortable and rustic ambiance that adds to the experience of enjoying their award-winning wines while overlooking the valley.
Boekenhoutskloof Winery
Boekenhoutskloof Winery, established in 1776, is one of the oldest farms in the picturesque Franschhoek Valley in South Africa. The name "Boekenhoutskloof" translates to "ravine of the Cape Beech tree," a native tree valued for its use in furniture making.
The farm and homestead were bought and restored in 1993. Today, the winery is renowned for its exceptional wines, particularly its Syrah-based range, including the highly sought-after Boekenhoutskloof and The Chocolate Block wines.
Key takeaway: Boekenhoutskloof Winery is a historic South African vineyard renowned for its exceptional Syrah-based wines, including the highly sought-after Boekenhoutskloof and The Chocolate Block.
Anthonij Rupert Wine Farm
Anthonij Rupert Wyne is a renowned wine estate located in the picturesque Franschhoek Wine Valley of South Africa. Founded on the farm L'Ormarins, the estate offers a range of terroir-driven wines showcased in their two Tasting Rooms.
The estate's portfolio includes wines like Anthonij Rupert Blend and Protea Cabernet Sauvignon.
La Motte Wine Farm
La Motte is a renowned wine estate situated in the picturesque Franschhoek Valley of South Africa. The estate is internationally recognized for producing exceptional quality wines.
La Motte's vineyards are known for their natural acidity and acute texture, particularly notable in their Sauvignon Blanc wines. The estate offers wine tasting experiences in its historic red wine cellar and is home to the La Motte Collection, featuring wines like Syrah, which express the unique terroir of the Franschhoek Valley.
Owned by Hanneli Rupert-Koegelenberg, La Motte has a rich heritage dating back to 1695 when a piece of land in the Franschhoek Valley was granted to German immigrant Hans Hendrik Hattingh.
The estate's name, La Motte, originates from a village in Provence called La Motte d'Aigues. Besides its exceptional wines, La Motte also hosts Classical Music Concerts presented from the Historic Cellar on the estate.
Winery tours in Franschhoek
If you're traveling through Franschhoek and want to experience the best wineries in the area, there are several wine tour operators to choose from.
If you prefer a more intimate experience, try out the bespoke tour operators, such as La Moinerie or Perfect Hideaways, that cater to smaller groups and can customize your trip depending on your preferences.
Alternatively, the well-established Cape Excursions or Wine Flies will take visitors to a variety of wineries, each with their unique marks, and will usually incorporate some kind of food element to the trip.
Franschhoek's Silvermine Reserve
If you're looking to take a break from the wineries, a visit to the Silvermine Reserve in Franschhoek is a must.
The reserve is home to beautiful trails, rock formations, and panoramic views of the valley. You can choose from several hiking routes that suit your fitness level, and the guided hikes are excellent for those who choose to learn more about the region.
Franschhoek's restaurants
Franschhoek food is legendary, with numerous world-class restaurants in the region. The cuisine here is a mix of Cape Dutch, French and traditional South African flavors.
For an excellent dining experience, we suggest heading to Foliage, which boasts an ever-changing menu that uses seasonal produce from their gardens.
Alternatively, Chefs Warehouse at Maison is the perfect spot for tapas and wine, showcasing some of the region's best flavors in one of the most distinguished settings.
Franschhoek's chocolates
Franschhoek is not just about wine and food; chocolate lovers can indulge in some of the best-handcrafted chocolates in the region. The Huguenot Chocolate Factory is one of the best places to visit, with its chocolate museum, factory, and tasting rooms.
The factory produces handmade chocolates, truffles, and other confectionery delights using Belgian Callebaut chocolate. A visit to the factory may also inspire you to create your own chocolate truffles in their workshops.
Other notable chocolatiers include De Villiers Artisan Chocolate, which provides organic chocolate made with locally sourced ingredients, and the Franschhoek Chocolate Shop, which has a variety of chocolates and nougats.
Conclusion
In conclusion, Franschhoek is a destination that offers a unique blend of history, culture, and breathtaking scenery.
The wineries highlighted in this article are just a few of the gems that this region has to offer, and every visitor will find something that suits their palate, along with excellent food options, chocolates, art, and nature.
Franschhoek is undoubtedly the perfect getaway for wine enthusiasts and those who love natural beauty and history — it is, without a doubt, a must-visit destination.
Franschhoek's art galleries
Franschhoek is known for its thriving arts scene, and there are many art galleries to visit for art lovers.
The Ebony and Ivory Gallery focuses mainly on contemporary African Art, while the IS Art is a premier art gallery that exhibits and sells contemporary works by South African artists.
There's more to Franschhoek's art scene than galleries. It's worth exploring the streets and admiring the street murals.