Big Macedonian Wines from Chateau Kamnik
Reading Time: [est_time] Macedonia, the country, is not the same as the Macedonia region in Northern Greece. This independent country has a long history of winemaking dating back to the 13th century BC. It sits in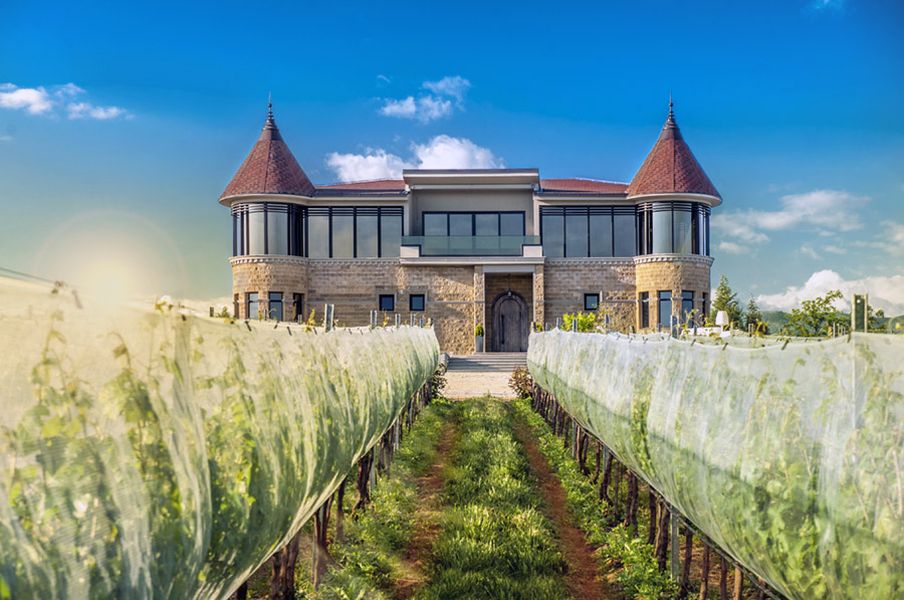 Reading Time: 6 minutes
Macedonia, the country, is not the same as the Macedonia region in Northern Greece. This independent country has a long history of winemaking dating back to the 13th century BC. It sits in a magical area for viticulture. The country's location is at the confluence of Mediterranean and Continental climates. When Macedonia was part of the former Yugoslavia, it produced more than half of the Yugoslavian wine. Today, almost all of the production in Macedonia is dedicated to red wine.
Macedonia was on our checklist for the three-month tasting trip through the ex-Yugoslavian countries. We began the trip in Serbia, which is dominated by small wine producers—the opposite of Macedonia. Many Serbs still have the impression that most Macedonian wine is bulk, inexpensive, industrial wine. However, when we started making our way south in Serbia, several Serbian winemakers said, "You must try Chateau Kamnik." 
Most of Macedonia's wineries are huge. A medium sized winery in the country pumps out 4.5 million liters (6 million bottles of 0.75L) of wine per year. The largest winery, Tikveś, produces 20 million liters of wine per year. Chateau Kamnik is nowhere near that range. It is considered a boutique winery producing under 100,000 liters per year. They are concerned with making high- quality wine. Chateau Kamnik is just outside Skopje, nestled high on a hill overlooking the city. The property features the winery, a hotel, and a wonderful game meat restaurant named The Hunter's Lodge Kamnik. The restaurant has a diverse range of meats from hedgehog to venison. We stayed one night on our own dime and enjoyed both the hotel and the restaurant, which serves many of Kamnik's wines by the glass.
Now onto the wines, which are wonderful. The Skopje wine-growing region of Macedonia has what is considered as a continental climate. However, the summers are long and hot with a low amount of rain. The region also receives anywhere from 270 to 300 sunny days per year –  a common theme in Macedonia. They are big, rich, flavorful wines. They are Robert Parker's darling wines: big fruit, rich texture, and high alcohol.
The tasting room is beautiful, with 360-degree views over Skopje and the surrounding mountains. The archive wines are held in a large, all-glass enclosed room. The owner really invested in the presentation of the wines and the tasting room. The room is very comfortable and can accommodate large groups. The bottles are heavy, high-quality glass. Chateau Kamnik uses American and French oak barrels.
We tasted a selection of white wines from the tanks including Pinot Grigio and Sauvignon Blanc, but it was at the start of our visit so we didn't get to take notes on them. The following wines were tasted from freshly opened bottles.
Chateau Kamnik wines available for purchase at wineandmore.com
EXOTIC WINE TRAVEL'S TASTING NOTES
(Wines Tasted on April 5, 2016)
Chateau Kamnik Temjanika 2013
Temjanika is a type of Muscat that Serbia claims as its own. The grape grows abundantly in Macedonia and produces much bigger wines than in Serbia because of the high number of sunny days. This has a nose of sweet white flower, lemon, and stone. On the palate, it's full-bodied with an off-dry feel showing flavors of lemon, wet stone, and mineral. The Chateau Kamnik Temjanika 2013 almost has a lemon spritzer feel in the mouth. A very interesting white wine.
Chateau Kamnik Chardonnay 2013
Barrel fermented and matured for 9 months in oak. The Chateau Kamnik Chardonnay 2013 is incredibly rich, buttery, and viscous. The nose has melon, graham cracker, pear, and vanilla notes. The mouth is full of creamy butter, vanilla, and oak. It is not a fruit-forward white. This is very similar to a big, oaky Chardonnay from California.
Chateau Kamnik Winemaker's Selection 2014 
A blend of 50% Vranec, 40% Merlot, and 20% Carmenere. Chateau Kamnik Winemaker's Selection is the basic red wine in the portfolio. It doesn't skimp on quality but also doesn't hold a candle to the reserve and grand reserve red wines. It is not aged in oak. Vranac is indigenous to Montenegro and produces wines of high alcohol and acidity. It has become the flagship of grape of Macedonia, where they spell it as "Vranac" with an "a", and not "Vranec" with an "e". This wine has a nose of chocolate, plum, raspberry, and mushroom. The palate is fruity, full of plum & raspberry. The wine ends with a minty finish and is guided by the soft tannins. The Winemaker's Selection is much leaner than the other red wines by Kamnik.
Chateau Kamnik Cuvee Prestige 2013 
A blend of 69% Merlot, 18% Cabernet Sauvignon, and 13% Vranec. This is the point in the portfolio where the wines start to become really serious. It is aged for seven months in new and used oak. The nose is full of blackberry, concord jam, and dirt. The palate has black fruit, pepper, and bell pepper with ripe, chewy tannins. Chateau Kamnik Cuvee Prestige 2013  is an absolutely delicious wine that toes the delicate line of keeping Old and New World fans happy.
Chateau Kamnik Ten Barrels Syrah 2011
This is a reserve wine that took home a plethora of gold medals from various international competitions. It is aged for over 20 months in new oak and has a brick red color. The nose is full of rubber, black olive, leather, red fruit, white pepper, and cotton candy. The palate is full of rich blackberry, mint, white pepper. It's very drinkable with soft tannins. Chateau Kamnik Ten Barrels Syrah 2011 is an absolute beauty of a wine.
Chateau Kamnik Ten Barrels Syrah 2013
This wine was aged for 23 months in new oak barrels. The nose has blackberry, coconut, pepper, rubber, and black olive notes. The palate is fruit-forward without being too jammy. There is black fruit, pepper, and round tannins. We prefer the 2011 vintage, but this wine has the stuffing to be just as great.
Chateau Kamnik Ten Barrels Cabernet Sauvignon 2011
This is another reserve wine that spends a whopping 31 months in new oak. It is high in alcohol at 15.3%. The red-brown color is absolutely beautiful. The nose has tons of rubber, violet, clove, blackberry, and licorice. The aromas carry over to the mouthfeel in addition to mint, cherry, and blackberry notes. The Chateau Kamnik Ten Barrels Cabernet Sauvignon 2011 has extremely fierce tannins and needs to be laid down for a few more years.
——————
"As with all these tastings, there are always some stand-outs from little-known corners of the wine world; the sort of wines which really excite the judges when its revealed a high score was awarded not just to a winery few, if any, had heard of, but to a wine region that was new to them. Among these was the Skopje district, which is located in Macedonia, and source of the 'Ten Barrels Cabernet Sauvignon' from Château Kamnik, which was the other entry to achieve the top title of Master this year, such was the quality of the wine for the price – it costs less than £20."

– Source: The Drinks Business

——————
Chateau Kamnik Single Vineyard Merlot 2010
Some of the regional competitions named this wine the 'Sassicaia of the Balkans'. This is a reserve wine and spends 18 months in new oak and is an absolutely fantastic wine. The nose is full of black fruit, strawberry, mint, stone, eucalyptus, pepper, and mineral. An extremely complex nose. The palate is silky smooth with notes of game, black and red berries, and mint. The Chateau Kamnik Single Vineyard Merlot 2010 is a  wine that will please many people.
Chateau Kamnik Terroir Grand Reserva Vranec 2012
This is one of two "Grand Reserva" wines made by Kamnik. 100% Vranec, the grapes were picked late and partially dried after harvest. An extremely dense and concentrated wine at 16.2% alcohol. The wine has an inky purple color and extremely viscous in the glass. The nose is full of blue fruit, berry jam, sour plum, and white flower notes. The palate has big blue fruit flavors with balanced acidity and tannins that are round, chewy, and fierce all at the same time. The alcohol is high but is not felt, as this massive wine is put together extremely well. Chateau Kamnik Terroir Grand Reserva Vranec 2012 is a phenomenal wine made from a unique and promising variety.
Chateau Kamnik Signature Grand Reserva Merlot 2012
The second of the "Grand Reserva" line and equally big at 17.3% alcohol. The color is more brick red as opposed to the opaque, inky Vranec Terroir. The winery labels this as off-dry, but it tastes like a dry wine. The nose has tomato juice, black pepper, brambleberry, and plum notes. The palate is full of pepper, salt, mineral, blackberry jam with fierce tannins and a long end-palate. This wine is so balanced and well made that the high alcohol is again not felt. Chateau Kamnik Signature Grand Reserva Merlot 2012 is massive, rich, and delicious.
Chateau Kamnik Montepulciano 2013
We noticed at The Hunter's Lodge restaurant that they had a Montepulciano on the wine list. We did not try it in the winery so we inquired about it. The server told us that it had sold out a long time ago. About one month later in Kotor, Montenegro, we came across a bottle at a restaurant. We ordered it with no hesitation.
A blend of 97% Montepulciano and 3% Vranec. Even though this is one of Chateau Kamnik's entry-level reds, it doesn't suffer from any loss of quality. The wine is a massive and jammy interpretation of this Italian grape. The wine is beefed up by a small amount of Vranec in the blend. The nose and palate have identical flavors of dark cherry, dirt, plum, and sweet tobacco. Chateau Kamnik Montepulciano is a wonderful red wine that gives a sample of Chateau Kamnik's more expensive offerings at a fraction of the price.
The finest selection of
wines available at:

Shipping is available EU-wide and to the UK.
************
    Do you want to try Macedonian wines?    
If you're looking to savor the exquisite flavor of Macedonian wines, look no further than wineandmore.com. With an abundance of options from different winemakers, it's easy to find exactly what your palate desires. Not sure which bottle is best for you? Try out one of their curated wine cases and discover the perfect vintage for any occasion!
************
Want to learn more about wine?
Are you ready to discover the wonderful world of wines? Come join us at wineandmore.com and let's explore the incredible selection of delicious wines together! We can't wait to share our passion for wine with you!
You May Also Enjoy
Vertical Tasting of Chateau Kamnik's Cabernet Sauvignon
---
Cover image courtesy of Chateau Kamnik.
Please note that the opinions expressed in this article are unsolicited and have not been paid for in any way by governmental bodies, enterprises, or individuals. We do not sell editorial content as that would destroy the legitimacy of our reviews and the trust between Exotic Wine Travel and its readers. On occasion, we extend the option of purchasing the wines we review or/and the products we spotlight. Some of these product links are set up through affiliate programs, which means Exotic Wine Travel gets referral credits if you choose to purchase these items via the links we provide.