A Crash Course On Biodynamic Austrian Wine
Reading Time: [est_time] Wine brings people together, both from near and far. Charine met Tom Leitner on a natural wine Facebook group. After sharing a few messages, we realized that Tom shares a passion for Croatia and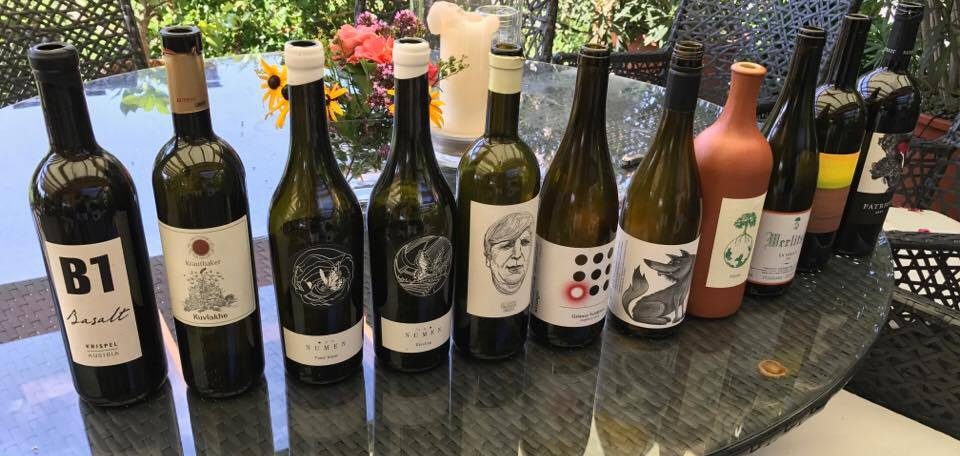 Reading Time: 3 minutes
Wine brings people together, both from near and far.
Charine met Tom Leitner on a natural wine Facebook group. After sharing a few messages, we realized that Tom shares a passion for Croatia and Croatian wine with us. He invited us to visit him in Austria and taste some of his favorite wines. We decided to make the three-hour bus trip up to Graz, Austria from Zagreb.
Austrian Wine
Today, Austria is known more for its high-quality wines than bulk wines. The country made headlines internationally in the wine world in 1985. That year, a few wineries were found to have added a component of antifreeze into their late harvest wines, making them taste sweeter. After news of this spread, Austrian exports collapsed. It resulted in tighter government controls as well as a need for producers to focus on making high-quality wines.
We are too young to have that old prejudice in our minds. When we think of Austrian wine, we think of high quality. We've been really interested in Austrian wine over the last year. The few examples that we have tasted were all outstanding. In fact, two of my all-time favorite white wines (Schloss Gobelsburg Tradition and Nikolaihof Vinothek) are Austrian Rieslings.
Austria has a sizeable organic and biodynamic wine-producing community. This should be no surprise as Rudolf Steiner, the man held largely responsible for the founding of biodynamic principles, is Austrian. There are minimal intervention producers peppered throughout the country. Many of these producers make waves at natural wine fairs around the world such as RAW Wine.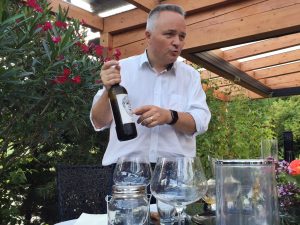 Austria's Biodynamic Wines
When Tom invited us to visit, we jumped at the chance. It was a successful weekend as we got to taste nearly 50 wines, most of them biodynamic or organic. On the first evening we arrived, Tom organized a tasting of biodynamic Austrian wine (mostly Demeter certified) and invited a few of his close friends to join us. All of his friends were new to biodynamic and minimal intervention wines but were willing to give them a shot. Tom was nice enough to share some top wines from his cellar. Some of the wines are limited edition and/or extremely hard to find.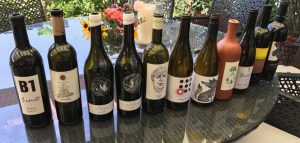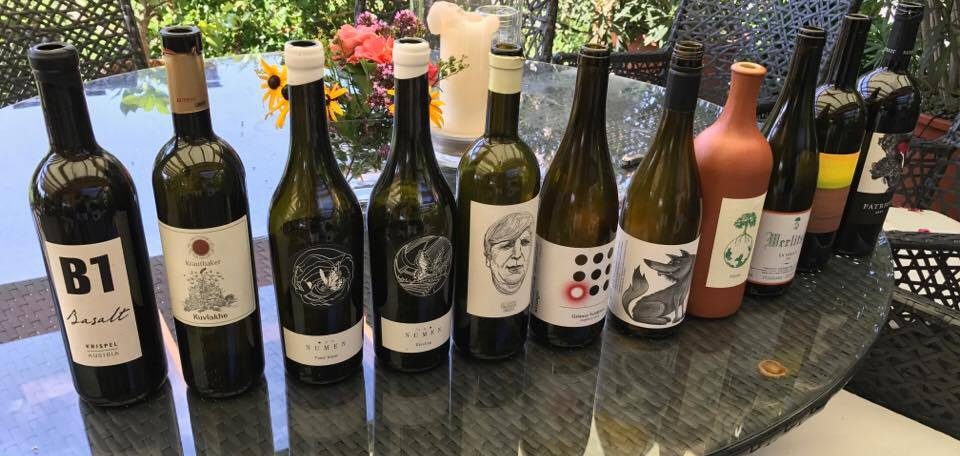 The first bottle was corked but that didn't dampen anybody's spirits. The rest of the wines showed well. The evening was a rousing success. In fact, Charine said that it may be her most exciting or eye-opening tasting…ever.
We tasted through 11 wines during the evening and many of them were stunning. A couple were a little crazy and not for everyone, while some were simply great. The entire group enjoyed the tasting overall. Here are our favorites from the evening.
Exotic Wine Travel's Picks
 (You can find out more about our scoring system on the START HERE page.)
Franz Reinhard Weninger, 

Grüner Veltliner Amphora 2013
From Mittelburgenland (Middle Burgenland), only 230 bottles of this wine were produced in 2013. Franz Reinhard Weninger is a certified biodynamic producer. Full of dried pineapple, apricot, and diesel fuel flavors. This is medium bodied and has great texture along with fine-grained tannins and a long finish. Tangy for a macerated white wine. It's subtle and really needs contemplation to enjoy, which takes some work but rewards those who are patient.   4.4/5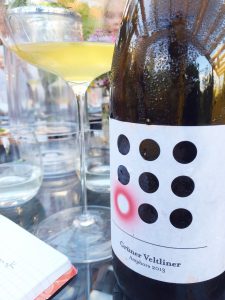 Gut Oggau, Timotheus 2015
Find or buy on Wine-Searcher.
A blend of Grüner Veltliner and Pinot Blanc from Burgenland, Gut Oggau is a certified biodynamic winery. It's a lightly macerated white wine matured in oak. This wine needs a lot of air to reach its best. The nose is full of brett, meat, apricot, and dandelion It smells like true wild macerated wine. The palate is a little different, it tastes like a raw white wine with some slight frizzante action. This is juice for hardcore natural wine geeks.   4.2/5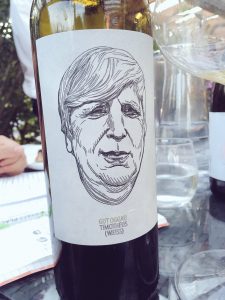 From the Südoststeiermark (Southeast Styria) region, this was the only wine during the evening that was not from either certified organic or biodynamic vineyards. The Weingut Krispel B1 is made from Sauvignon Blanc and Pinot Gris that grow in vineyards with volcanic, basalt soils. It is macerated for three weeks, aged for 12 months in barrel, and 12 months in basalt rock containers. This has crazy mineral, ash, crush rock, flint, and matchstick flavors. The fruit flavor is white pear but this is mineral driven with an acidic core. A fascinating wine and one that almost everyone was amazed by.   4.4/5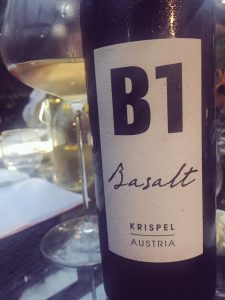 Sepp & Maria Muster, 

Graf Sauvignon 2012
Find or buy on Wine-Searcher.
From a certified biodynamic winery in the Südsteiermark (South Styria) region. Sepp & Maria Muster have a cult-like following. This is a lightly macerated Sauvignon Blanc aged for two years in barrel. Apricot, earth, white peach, and white flower flavors. The mid-palate is herbal and even has some juicy red fruit notes. Taste this wine blind and one might think it's a light red wine.   4.3/5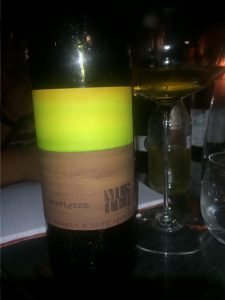 Werlitsch, 

Ex Vero II 2009
Find or Buy on Wine-Searcher.
From the Südsteiermark region, Werlitsch is a certified biodynamic producer and the Ex Vero II is their mid-range offering. It's a blend of Sauvignon Blanc and Chardonnay. This is full of mineral, white peach, autumn leaf, and green veggie flavors with a beautiful golden color. This is tangy with a medium body and an oily mouthfeel. The wine has high drinkability and is very enjoyable, especially for newbies to this style of wine.  4.1/5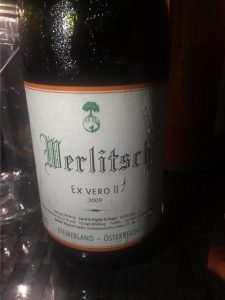 You May Also Enjoy
Highlights from The Orange Wine Festival 2017
Gut Oggau Brutal Rosé 2016
A Night of Natural Wines in Tbilisi, Georgia
---
Cover photo by Tom Leitner.
The opinions expressed in this article are unsolicited and have not been paid for in any way by governmental bodies, enterprises, or individuals. We do not sell editorial content as that would destroy the legitimacy of our reviews and the trust between Exotic Wine Travel and its readers.