Braño Bahna Veltlín 2017 & Vinocentrum
Reading Time: [est_time] Hello! Welcome to As Drunk by Exotic Wine Travel, a weekly column where we feature interesting wines that we encourage you to seek out. The reviews featured in this series may be written by
Reading Time: 2 minutes
Hello! Welcome to As Drunk by Exotic Wine Travel, a weekly column where we feature interesting wines that we encourage you to seek out. The reviews featured in this series may be written by either one or the both of us. The featured wines can be from obscure or well-known wine regions. We hope that these wine recommendations will keep you gastronomically curious and your palate invigorated!
Vinocentrum Wine Bar
Braño Bahna moved to Svätý Jur about fourteen years ago. He decided to set up a wine bar called Vinocentrum which would serve wines only from the village. The problem is that very few were bottling their own wine. Nearly every producer in the village made wine. but for their own consumption with friends. Braño set out to change that.
Now Vinocentrum has over 100 wines in stock and pours 16 different wines daily, all from the village. Every year Braño and his wife travel around the wine world, bringing back wines for all the local producers to taste. When we visited, he had recently returned from Alsace, France.
We got the chance to spend two evenings in the wine bar. Both nights were packed. "Everywhere I travel around the world, I'm looking for a wine bar like this," Braño said of Vinocentrum. Vinocentrum is fun and unpretentious. It's full of antique furniture, photos of Braño's family, and wine books written in several different languages.
If you're in Bratislava, the village of Svätý Jur is only a 15-minute train ride away. It's worth the trek to make it to this place. Who knows, you might bump into Braño himself. FYI, Vinocentrum also makes a great cup of coffee with beans from a local roaster.
Braño Bahna Veltlín 2017
Braño Bahna Winery is located in the village of Svätý Jur. He farms three hectares of vineyards organically and produces less than five thousand bottles of wine per year. Braño is very dedicated to low impact in the vineyards, even in a wet summer like 2018, he refused to spray.
This year downy mildew hit his vineyards hard, like in most of Europe. However, Braño isn't discouraged. He does what he can each year and the labels he produces depends on the vintage.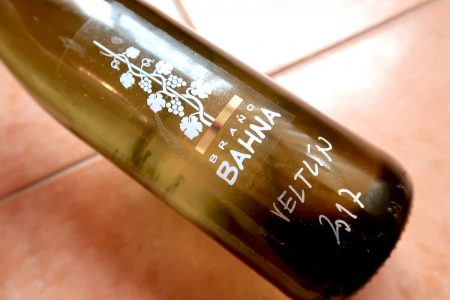 Braño had just bottled some of his 2017 whites when we visited and the Veltlín is our favorite. The Braño Bahna Veltlín 2017 sees two days of skin contact. It's fermented with native yeasts and spends the rest of the time in stainless steel until bottling. Flavors include lime, grass, and a touch of green herbs with some oxidation from the skin contacts. Tangy with bright fruit. Chewy texture with a bright fruity finish, it doesn't have the searing acidity that can be common in the region. Beautiful and easy to drink for this style of wine.
88/100 (You can find out more about our scoring system on the WINE RATING page.)
---
 Braño Bahna and Vinocentrum provided accommodation for our visit. The opinions expressed in this article are unsolicited and have not been paid for in any way by governmental bodies, enterprises, or individuals. We do not sell editorial content as that would destroy the legitimacy of our reviews and the trust between Exotic Wine Travel and its readers.