Buyer's Guide: Croatian Wines in the USA
[vc_row][vc_column][vc_column_text] Good news for Croatian wine lovers and wine enthusiasts residing in the USA. Wine & More, Croatia's leading wine webshop, has just unveiled a mighty new limp. Adding to their EU-wide shipping, Wine & More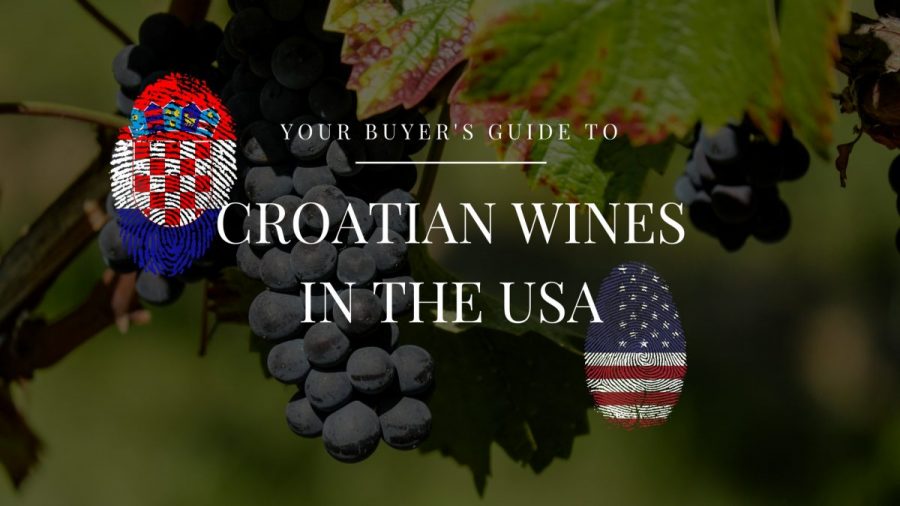 Good news for Croatian wine lovers and wine enthusiasts residing in the USA. Wine & More, Croatia's leading wine webshop, has just unveiled a mighty new limp. Adding to their EU-wide shipping, Wine & More has succeeded in making Croatian wines more accessible by introducing US home delivery.
If you decide to purchase wines, check out US shipping details, and uncover when you can expect so much-wanted Croatian wine at home!
"We worked hard to open sales channels in the US, and now, we can proudly announce that we can ship Croatian wines to the US," said Dario Drmač, founder of Wine & More (Zagreb, Croatia).
The webshop will continue to expand the US selection and encourage readers to suggest which wines they'd like to see in the store. You can take a look at their full wine selection here.
We met Dario in the winter of 2016 and soon became good friends with him. Dario was instrumental in highlighting obscure and exciting wine producers to us during our research for Cracking Croatian Wine. So we have no doubt that he would do the same for his US customers!
As your enthusiastic advocates of Croatian wine, we tasted some wines in Wine & More's US portfolio to create a buyer's guide for you. What's more?
Tasting Notes: Croatian Wines in the USA
Disclosure: Please note that these wines were sent to us as samples. Our opinions of the wines are completely independent and have not been paid for in any way. We do not sell editorial content, as that would destroy the legitimacy of our reviews and the trust between Exotic Wine Travel and its readers.
Refreshing Croatian white wines
Kutjevo, Graševina Vrhunska
The Kutjevo Winery, founded in 1232, is Croatia's oldest winery known for producing highly sought-after white wines.
Type: A varietal wine made Croatia's most popular wine grape, Graševina.
Alcohol: 13.5 %
Wine region: Slavonia and the Danube region
Tasting notes: Top-quality Graševina is the brand of the Kutjevo Winery. This wine has a fresh and harmonious citrus flavor, with hints of green apples and a strong minerality. Its long aftertaste reveals notes of chamomile. This wine is characterized by its balanced acidity, which adds a delightful juiciness to the overall taste.
Food pairing: Top-quality sea fish, smoked meat, roasted chicken or turkey meat
Price: $19.99
This wine is for you: If you'd like to try one of the most awarded, budget-friendly, top quality Graševina.
Meneghetti, Malvazija 
Meneghetti Winery is widely considered one of the best producers of fresh Malvazija wine.
Type: A wine made from Croatia's indigenous wine grape, Malvazija Istarska (pronounce: Mal-vahz-ee-yah Ih-star-skah), blended in small percentage with Chardonnay  and Pinot Blanc.
Alcohol: 13%
Wine region: Istria
Tasting notes: Mineral water, white peach, green apple, pear, honeydew melon, and with typical hints of acacia flower. A summery white wine with lime-accented acidity and slightly bitter finish. The Meneghetti Malvazija is a varietally accurate wine and a crowd-pleaser.
Food pairing: Pasta with creamy sauce, grilled squid
Price: $33.99
This wine is for you: If you like floral, fresh white wine or if you want to understand the sensory merits of Malvazija Istarska.
Stina, Pošip
The Stina Winery has been making waves in the wine industry with its minimalistic labels, dramatically steep vineyards, and stellar wines.
Type: A varietal wine made from Croatia's indigenous wine grape, Pošip.
Alcohol: 13%
Wine region: Dalmatia
Tasting notes:  This wine is full-bodied with ripe flavors and a rich, layered scent. It opens with dominant tropical fruit, peach, Mediterranean herbs, and vanilla aromas. Its balanced acidity adds a lovely juiciness to the wine. Perhaps the biggest charm of Stina's Pošip is its structure and the broad expression on the mid-palate. It packs a bright, saline drive on the palate.
Food pairing: Prawn cocktail, shrimps, grilled white fish
Price: $39.99
This wine is for you: If you'd like to try one of the best examples of Pošip.
Korta Katarina, Pošip
The Korta Katarina Winery, luxurious villa, and stunning vineyards are located on the Pelješac peninsula in Southern Croatia, offering stunning views of the Dalmatian Coast and the Adriatic Sea.
Type: A varietal wine made from Croatia's indigenous wine grape, Pošip (pronounced: Poh-ship).
Alcohol: 14 %
Wine region: Dalmatia
Tasting notes: The Pošip wine has a lovely golden-greenish color that looks great in the glass. Its aroma is a mix of citrus, white stone fruits, and field flowers, with a strong intensity. It tastes full and delicious, with a subtle bitterness. This dry wine is very fresh and easy to drink.
Food pairing: Seafood dishes, particularly with shells and crabs.
Price: $39.99
This wine is for you: If you're looking for a dry, extremely fresh and easy drinking wine.
Red, rad, and rare
Stina, Plavac Stipančić
A Plavac obtained from a single vineyard known for regularly producing high-quality grapes.
Type: A varietal wine made Croatia's flagship grape, Plavac Mali (pronounce: Plah-vahts Mah-lee).
Alcohol: 14.5%
Wine region: Dalmatia
Tasting notes: Concentrated aromas of dark fruit and spice, with ripe tannins and surprising freshness. The wine has a long finish and represents the best of Stina and Croatian Plavac.
Food pairing: Beef, game meat, steak, mature cheese
Price: $89.99
This wine is for you: If you'd like to be wowed by the entry-level standard of Croatian red wine or if you want a value-for-money Plavac Mali wine.
Matuško, Dingač
Matuško Winery is best known for its stunning Dingač and Plavac Mali wines.
Type: A varietal wine of Plavac Mali
Alcohol: 14.5%
Wine region: Dalmatia
Tasting notes: A true Dingač's flavor profile—black currant, raisin, vanilla, wild strawberries, and savory herbs. Dingač matured in oak barrels, creating a clear dark ruby red color with purple hues. It has a full, rounded flavor with a harmonious balance of astringency and sweetness. Hot tip: Decant this wine for at least two hours before consumption.
Food pairing: Beef stew, barbecued ribs, roasted pork belly
Price: $39.99
This wine is for you: If you'd like to have a quintessential experience of Dalmatian red wine or if you like big, tannic and warm-climate red wine.
Korta Katarina, Zinfandel
Korta Katarina Winery produces an exceptional Croatian Zinfandel wine that has great aging potential. It is likely to continue to improve in quality over the years, making it a valuable addition to a true wine collector.
Type: A varietal wine of Zinfandel, known as Crljenak Kaštelanski (pronounced: Tserl-yee-ehnak Kashh-tell-ann-skee), Tribidrag, and Pribidrag in Croatia. Learn more about the story of "the original Zinfandel" in this article.
Alcohol: 14.5%
Wine region: Dalmatia
Tasting notes: This ruby-colored wine is both beautiful and elegant. The wine is lively and rich, with high concentrations, and pleasantly accentuated acids. It has a rich, full-bodied taste with a firm structure, an abundance of cherry sweetness at the finish, and a hint of dark chocolate. After opening, the wine develops wonderful forest notes of sour black bitter oak, crumpled blueberry bush leaves, and forest soil. It has a long duration, a perfect balance between maturity and freshness, and an intense retro taste of cherry jam.
Food pairing: Roasted meat, steak, spicy food, ripe cheese.
Price: $69.99
This wine is for you: If you're a wine enthusiast who can't wait to check off yet another esoteric grape on your to-drink list.
The dependable cuvées
Delusional Wine Cuvée
Mike Pulley's friends thought he was delusional when he left his corporate career in London to start a boutique winery on the Dalmatian coast. However, his decision to become a winemaker in Dalmatia is far from delusional.
Type: A red wine blend of Babic (60%), Plavac Mali (30%), and Zinfandel (10%), also known as Crljenik Kastelanski.
Alcohol: 13.5%
Wine region: Dalmatia
Tasting notes: When grown to an extremely low yield, these grape varietals produce a wine with concentrated flavors of dark cherry, herbs, and stone. The wine also presents a dark cherry, herb, and stone aroma.Bright and juicy with good acidic strength.
Food pairing: Steak, barbecue sausages, grilled vegetables, lasagna, hard cheese.
Price: $39.99
This wine is for you: If you're craving a red wine with soul to remind you to slow down.
Meneghetti, Red
In search of elegance to the last detail, taste some of the Meneghetti Winery wines. If you get the chance, visit their famed wine hotel, part of the Relais & Chateaux network, known for its high-quality accommodations and culinary experiences. 
Type: A red wine blend, Merlot (80%), Cabernet Sauvignon (15%), Cabernet Franc (5%)
Alcohol: 13.5%
Wine region: Istria
Tasting notes: The nose of this wine is filled with the delightful scent of raspberries and currants, complemented by spicy hints of vanilla, smoke, coffee, and cinnamon. It has a lively and fruity taste, with a soft and complex texture, and a mineral aftertaste. The fine tannins give it a pleasantly long finish.
Food pairing: Roast beef, game meat, hard cheese
Price: $99.99
This wine is for you: If you're looking for a ready-to-drink, structured Bordeaux-style blend that tastes quite like an actual Bordeaux wine.
************
    Do you want to try Croatian wines?
If you're looking to savor the exquisite flavor of Croatian wines, look no further than wineandmore.com. With an abundance of options from different winemakers, it's easy to find exactly what your palate desires. Not sure which bottle is best for you? Try out one of their curated wine cases and discover the perfect vintage for any occasion!
************
Want to learn more about wine?
Are you ready to discover the wonderful world of wines? Come join us at wineandmore.com and let's explore the incredible selection of delicious wines together! We can't wait to share our passion for wine with you!