11 Sardinian Wines From The Cagliari Wine & Food Festival
Reading Time: [est_time] The Cagliari International Wine & Food Festival takes place each summer in Sardinia. This last summer, we were invited by the organizers, APS Promo Eventi. This rendition of the event included the two-day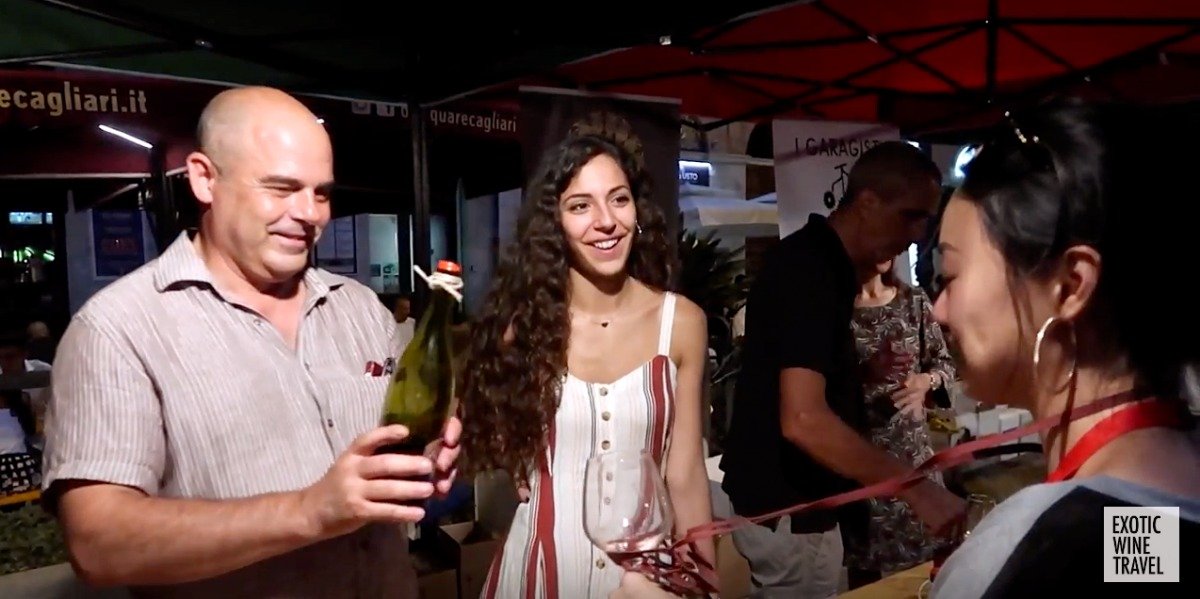 Reading Time: 4 minutes
The Cagliari International Wine & Food Festival takes place each summer in Sardinia. This last summer, we were invited by the organizers, APS Promo Eventi. This rendition of the event included the two-day festival and a one-day excursion to the village of Mamoiada – which is famous for its Cannonau.
Before the festival, the day trip to Mamoiada stole the show. We spent the day visiting cellars, vineyards, and small producers – some producing around only 3000 bottles per year. In the afternoon, a group of five producers organized a feast of slow-roasted Sheep and Sheep's blood. It took place at the home of a local shepherd. While the food isn't something we would crave every day, it was still a unique and eye-opening experience.
After the excursion, we presented a workshop on how wineries can build their own personal brand. After that, we attended the two day festival in downtown Cagliari. There were over forty producers pouring wines until the wee hours of the night.
Sardinian Wine
When it comes to wine, Sardinia (Sardegna in Italian) is mostly known for its whites made from Vermentino and its reds made from Cannonau (Grenache) and Carignano (Carignan). All three of these grapes make beautiful wines, both for immediate drinking and cellaring. For hardcore wine geeks, two unique specialties that you shouldn't miss are Vernaccia di Oristano and Malvasia di Bosa. Both of them are oxidative style wines that age under a film of yeast called Flor. On this last trip, we got a taste of them all.
Last Fall, APS Promo Eventi invited us to judge at The Vermentino Competition (you can read about some of our favorite Vermentinos there). That trip focused on Vermentino, this trip focused mostly on Cannonau. Here are eleven wines that stood out to us during the event and day excursion.
Exotic Wine Travel's Picks.
You can find out more about our scoring system on the WINE RATING page.
Cantina Gungui, Berteru Cannonau di Sardegna 2016
Vike Vike, 

Cannonau di Sardegna 2016
Find or buy on Wine-Searcher.
Cantina Vike Vike is founded by the grandson of Guiseppe Sedilesu. The wines are produced in the village of Mamoiada. This is a minimal intervention style of wine and a well-executed one at that. There is a touch of volatile acidity which works in the wine, it is accompanied by pure red fruit flavors. The Vike Vike Cannonau di Sardegna is chewy, fresh, and fruity. This may turn off some, but fans of this style of wine will be in love.   4.1/5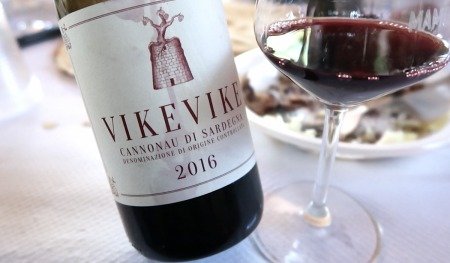 Cantina Sannas, 

Bobatti 

Cannonau di Sardegna 2017
Cantina Sannaz is a tiny producer in Mamoiada and this is only their second vintage of the Bobatti Cannonau di Sardegna. The wine is made in a small garage within Mamoiada. It's a minimal intervention, unfiltered wine. It's raw, rustic, and delicious. Notes of Mediterranean herb, rubber, and white pepper accompany the red fruit. Round with chewy tannins.   4.0/5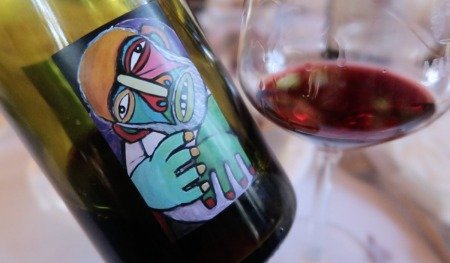 Marco Canneddu, Zibbo Cannonau di Sardegna 2016
Find or buy on Wine-Searcher.
The Marco Canneddu Cannonau di Sardegna is a big bodied and high alcohol Cannonau. In fact, we love that they own the 16% alcohol by clearly stating it on the label. It has notes of strawberry, red cherry, licorice, Mediterranean herbs, and a touch of oak. The wine has a round mouthfeel and chewy tannins. This has the structure to age well in at least the medium term.   4.0/5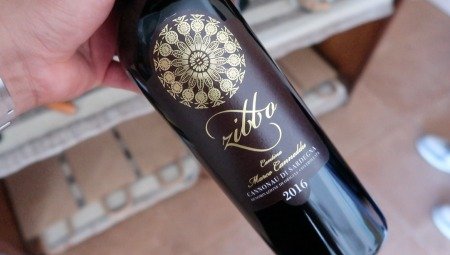 Giuseppe Sedilesu, 

Perda Pintà 2015
Find or buy on Wine-Searcher.
Guiseppe Sedilesu is one of the prominent producers in Sardinia. The Perda Pintà is made from Granazza – which is the same grape as Vernaccia di Oristano. Aged for one year in oak. Full of apricot, nuts, toffee, and orange peel notes. This has palate presence and a touch of residual sugar, one might get the impression that it is fortified because of its high alcohol (16%). Very oxidative style of wine, Sherry-like. Long spicy finish.   4.3/5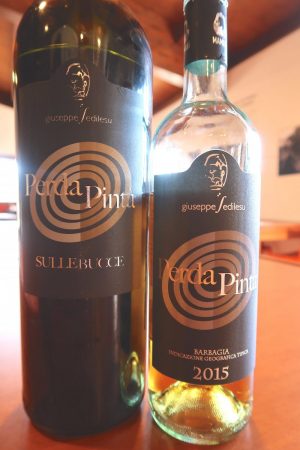 Fratelli Serra,

Vernaccia di Oristano 2002
Tasting Vernaccia di Oristano is always a treat. It's a wine that undergoes long aging in barrel under a film of yeast called Flor. The Fratelli Serra Vernaccia di Oristano 2002 is aged in chestnut casks under the Flor.
It has notes of almond, hazelnut, dried apricot, and orange peel. It's similar to a dry Sherry. This has beautiful acidity and the alcohol is well managed. Long finish tells you it's a masterful execution of this style.   4.4/5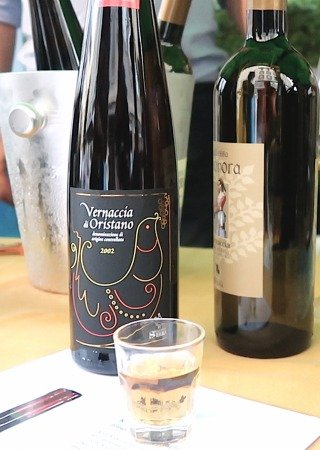 Emidio Oggianu, Malvasia di Bosa Riserva 2011
Like Vernaccia di Oristano, Malvasia di Bosa is made with long oak aging under the Flor. The Emidio Oggianu Malvasia di Bosa Riserva is a fantastic wine in this style. Barrel fermented and oxidized like a Sherry, the wine is huge at 17% ABV but the flavors are concentrated enough to carry the alcohol. Nutty, apricot, lime, cognac, and other savory flavors emerge from the glass. It's a full-bodied wine with a chewy texture. It's a wine to be drunk next to a fireplace, deep in meditation. 4.3/5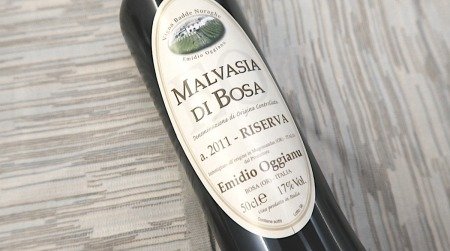 Argei, P

ranu Mariga Isola dei Nuraghi IGT 2013
Find or buy on Wine-Searcher.
Argei is a co-operative winery and the Pranu Mariga is the reserve red wine. It is a blend of Bovale, Cannonau, and Monica aged in barriques. It's a rich red wine with flavors of cherry, Mediterranean herb, meat, and sweet cedar. This has a brilliant tartness that is not typical for this part of the Mediterranean. It's big-bodied, round, and enjoyable that shows potential to improve with more time in the bottle.   4.0/5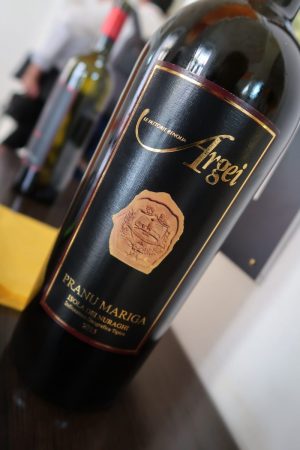 I Garagisti di Sorgono, 

Manca 2015
Find or buy on Wine-Searcher.
The I Garagisti di Sorgono, Manca 2015 is Cannonau aged for one year in used oak. It's a minimal intervention wine. This is light-handed Cannonau with red fruit, white pepper, and Mediterranean herb flavors. It's medium bodied with a juicy finish and is well balanced despite the high alcohol (15.5 %). The tannins are easy going and more importantly, the wine has soul.   4.1/5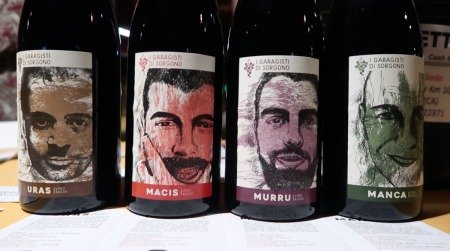 Gebelias,

Gebel Isola dei Nuraghi IGT 2013
The Gebelias Gebel is a unique blend of Cannonau, Carignano, Cabernet Sauvignon, and Sangiovese aged in oak for one year. It has notes of wood, sweet cedar, cherries and Mediterranean herbs. This is full-bodied with round tannins. The Cabernet Sauvignon and Sangiovese give some juicy acidity to the wine, making it a perfect companion with meats.    4.0/5
---
You May Also Enjoy
The Vermentino Wine Competition in Sardinia
We were guests of the Cagliari International Food & Wine Festival, who paid for our travel and accommodation. Please note that the opinions expressed are our own and have not been paid for in any way. We do not sell editorial content as that would destroy the legitimacy of our reviews and the trust between Exotic Wine Travel and its readers. On occasion, we extend the option of purchasing the wines we review or/and the products we spotlight. Some of these product links are set up through affiliate programs, which means Exotic Wine Travel gets referral credits if you choose to purchase these items via the links we provide.