Château Mont-Redon Châteauneuf-du-Pape 2015 & 2016
Reading Time: [est_time] Hello! Welcome to As Drunk by Exotic Wine Travel, a weekly column where we feature interesting wines that we encourage you to seek out. The reviews featured in this series may be written by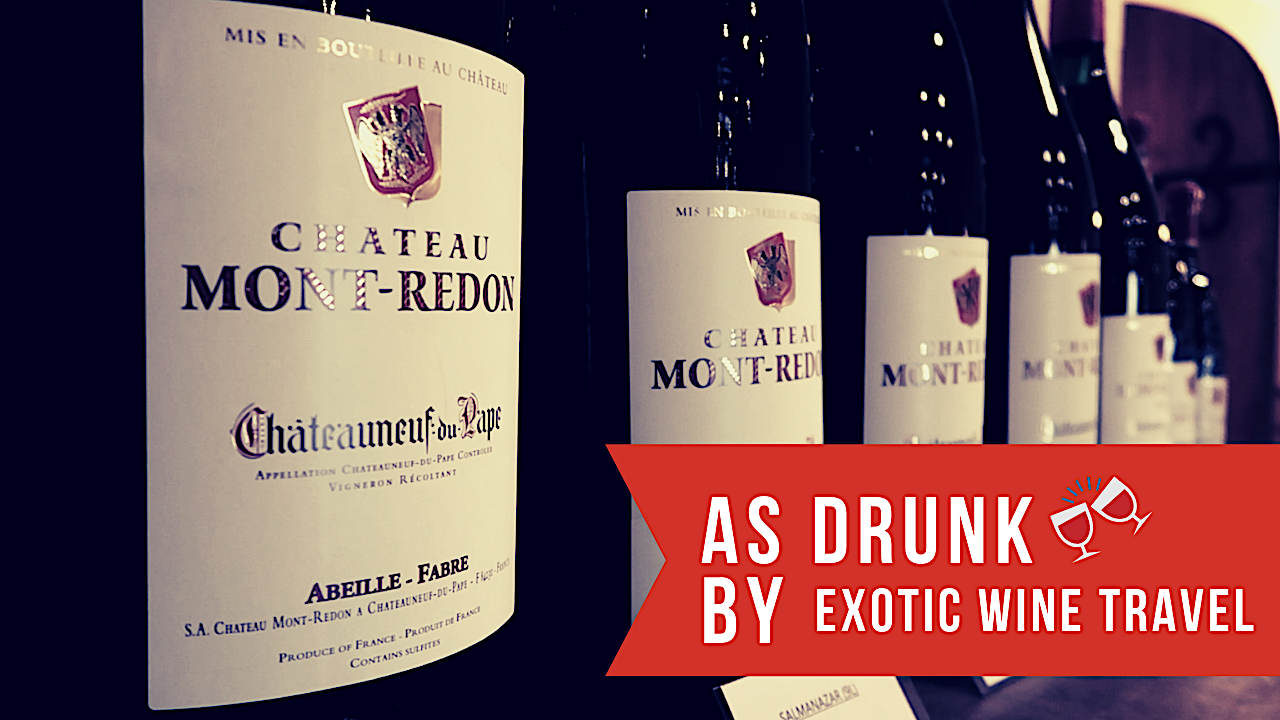 Reading Time: 1 minute
Hello! Welcome to As Drunk by Exotic Wine Travel, a weekly column where we feature interesting wines that we encourage you to seek out. The reviews featured in this series may be written by either one or the both of us. The featured wines can be from obscure or well-known wine regions. We hope that these wine recommendations will keep you gastronomically curious and your palate invigorated!
Château Mont-Redon, Châteauneuf-du-Pape 2015 & 2016
Château Mont-Redon is one of the largest estates in Châteauneuf-du-Pape. They have over 100 hectares of vineyards in a large block within the appellation. The subregion is so large and significant that it's named after the winery.
These days the alcohol levels and prices of Châteauneuf-du-Pape are rising steadily. It's common to see alcohol levels in the 15.5%-16% range. It's easy to find special cuvées of Châteauneuf-du-Pape priced over 500 USD. Château Mont-Redon has a different approach.
Château Mont-Redon makes only one Châteauneuf-du-Pape, no reserve wines or special cuvées. They also emphasize freshness, relatively low alcohol, and age-worthiness. I love that they put so much focus on one flagship red, which is still relatively affordable for fine wine.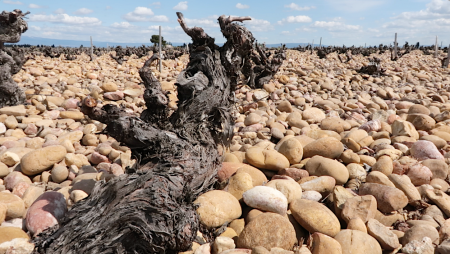 Old vine of Grenache in Château Mont-Redon's galet-laden vineyard. 
We recently visited the estate and were impressed with the vineyards and the two latest vintages of the red, 2015 & 2016 – which are both stellar vintages in Châteauneuf-du-Pape. I preferred the 2016 while Charine fancied the 2015 vintage. The Château Mont-Redon flagship red blend is primarily Grenache, Syrah, and Mourvèdre with small amounts of Cinsault, Counoise, Muscardin, and Vaccarèse.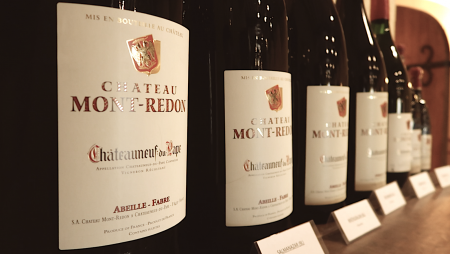 The Château Mont-Redon Châteauneuf-du-Pape 2016 is a little tight now but is built for the long haul. It clocks in at 14.5% ABV but feels much more balanced and nuanced than that number would suggest. It tastes like a strawberry wrapped in bacon and topped with black pepper. The wine is full bodied with a spicy finish and tough tannins. The wine is elegant, polished and worthy of cellaring.
Score MKH: 92/100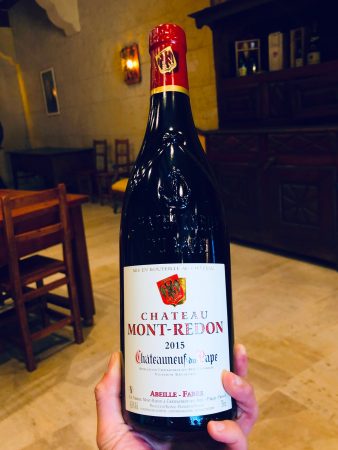 Charine says – The Château Mont-Redon Châteauneuf-du-Pape 2015 is more developed on the palate than the bouquet—sweet red cherry and blackcurrant bursting through a light veil of leather. Amazing tannins that enter silkily then turn velvety towards the mid-to-end palate.
It leans towards the more modern, clean, and polished style plus more elegant, too, as the alcohol and body get dialed back consistently in every vintage. It's drinking beautifully now and will probably enter a more-tertiary-than-primary window in 6-10 year then hang in there for some time. For those who like a more medium-plus body, no-brett, and red-fruit-lift kind of Châteauneuf-du-Pape, this is a great choice.
Score CT: 93/100
Find or buy on Wine-Searcher.
(You can find out more about our scoring system on the WINE RATING page.)
---
Please note that the opinions expressed are our own and have not been paid for in any way. We do not sell editorial content as that would destroy the legitimacy of our reviews and the trust between Exotic Wine Travel and its readers. On occasion, we extend the option of purchasing the wines we review or/and the products we spotlight. Some of these product links are set up through affiliate programs, which means Exotic Wine Travel gets referral credits if you choose to purchase these items via the links we provide.