Clai 'Baracija' Refošk & Malvazija
Reading Time: [est_time] Hello! Welcome to As Drunk by Exotic Wine Travel, a weekly column where we feature interesting wines that we encourage you to seek out. The reviews featured in this series may be written by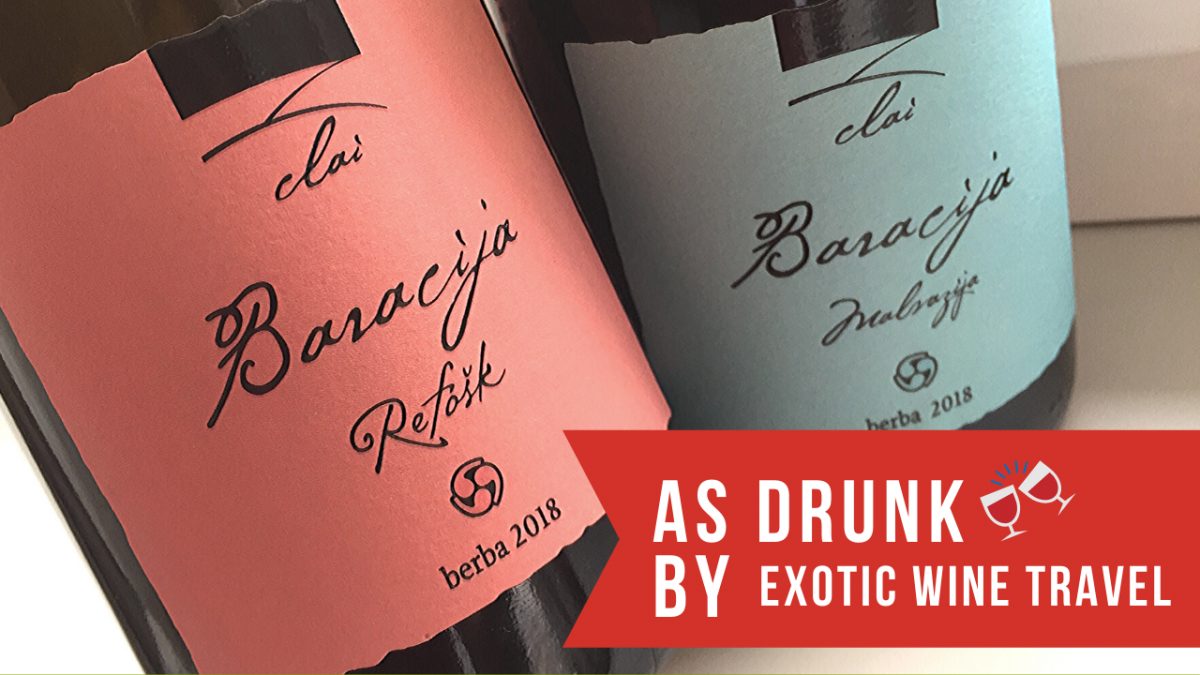 Reading Time: 1 minute
Hello! Welcome to As Drunk by Exotic Wine Travel, a weekly column where we feature interesting wines that we encourage you to seek out. The reviews featured in this series may be written by either one or the both of us. The featured wines can be from obscure or well-known wine regions. We hope that these wine recommendations will keep you gastronomically curious and your palate invigorated.
Clai, 'Baracija' Refošk & Malvazija
The 'Baracija' is the entry-level line of Clai's current three-tier portfolio. This line consists of a macerated Malvazija (aka 'baby Sv. Jakov') and 'Refošk'/Refosco dal Peduncolo Rosso (aka 'baby Brombonero'). The first vintage of Baracija is 2017. Those wines are fabulous as is the latest 2018 vintage.
The Clai, 'Baracija' Refošk 2018 showcases a classic and accessible example of Refosco dal Peduncolo Rosso. Wonderfully spicy with defined hints of black pepper, blueberry, blackberry, and green stem; lurking behind is a smoky, savory quality. The luminous fruit is ultimately the most attractive character here—as is the case for all Clai's wines; harmoniously intense and fresh. A mid-weight wine with light tannins and juicy acidity. Drink now; that said, for a ~€13 wine, it's impressive that this wine definitely shows assured short-term aging potential.
Score: 90+/100
          View this post on Instagram                      
The Clai, 'Baracija' Malvazija 2018 is a little reductive now but there's a gorgeous wine underneath. Notes of dandelion, yellow peach, white pepper, and grass. This has a lot of concentration for an entry-level wine. It's a baby Sv. Jakov but a fine wine in its own right.
Score: 90/100
The finest selection of Clai wines
available at:

Shipping is available EU-wide and to the UK.
You Might Also Enjoy:
Clai Brombonero & Clai Sv Jakov: Two Iconic Croatian Wines
Cracking Croatian Wine: Istria Part 1/4
Learn more about Clai at 8:10 in the video.
********************
    Do you want to try Croatian wines?    
If you're looking to savor the exquisite flavor of Croatian wines, look no further than wineandmore.com. With an abundance of options from different winemakers, it's easy to find exactly what your palate desires. Not sure which bottle is best for you? Try out one of their curated wine cases and discover the perfect vintage for any occasion!  
********************
Want to learn more about wine?
  Are you ready to discover the wonderful world of wines? Come join us at wineandmore.com and let's explore the incredible selection of delicious wines together!
---
Please note that the opinions expressed are our own and have not been paid for in any way. We do not sell editorial content as that would destroy the legitimacy of our reviews and the trust between Exotic Wine Travel and its readers. On occasion, we extend the option of purchasing the wines we review or/and the products we spotlight. Some of these product links are set up through affiliate programs, which means Exotic Wine Travel gets referral credits if you choose to purchase these items via the links we provide.