Cracking Croatian Wine: Komarna Wine Recommendations
Reading Time: [est_time] Back in the Spring of 2018, we set out on a re-tour of Croatia to bring our book Cracking Croatian Wine: A Visitor Friendly-Guide to life. We originally shot 13 episodes. With the onset of COVID
Reading Time: 4 minutes
Back in the Spring of 2018, we set out on a re-tour of Croatia to bring our book Cracking Croatian Wine: A Visitor Friendly-Guide to life. We originally shot 13 episodes. With the onset of COVID in 2020, we found ourselves 'stuck' in Croatia, which gave us a chance to reboot the series. Here is the sixth episode about Dalmatia 'Cracking Croatian Wine: Komarna Wine Region'.
Komarna: The Newest Croatian Wine Region
Komarna is the newest wine region in Croatia and is an entirely certified organic region. This seaside region in Southern Dalmatia is planted mostly with Plavac Mali and Pošip. It's a compact area with 90 Hectares (222 acres) under the vine.
Komarna gives way to spectacular views of the deep blue Adriatic Sea and the nearby Pelješac Peninsula. There are seven winegrowers in this small region. Because it's a brand new region, the producers of Komarna are modern with well-equipped cellars. The wines are already impressive and should improve ass the vineyards get older and as the producers gain more experience with the land. Join us and meet the pioneers of Komarna in the latest episode of Cracking Croatian Wine.
Watch "Cracking Croatian Wine: Komarna Wine Region" on Exotic Wine Travel YouTube:
Timestamps: Cracking Croatian Wine: Komarna Wine Region
(0:00) Learn about Komarna and why it's a region to keep your eye on.
(0:22) Take a road trip with us to Gradac. This scenic, beach town in Southern Dalmatia is only a 30-minute drive from Komarna and served as our base for this video. We stayed at the scenic Villa Lavanda.
Book a stay at the seaside Villa Lavanda: https://www.vrbo.com/717519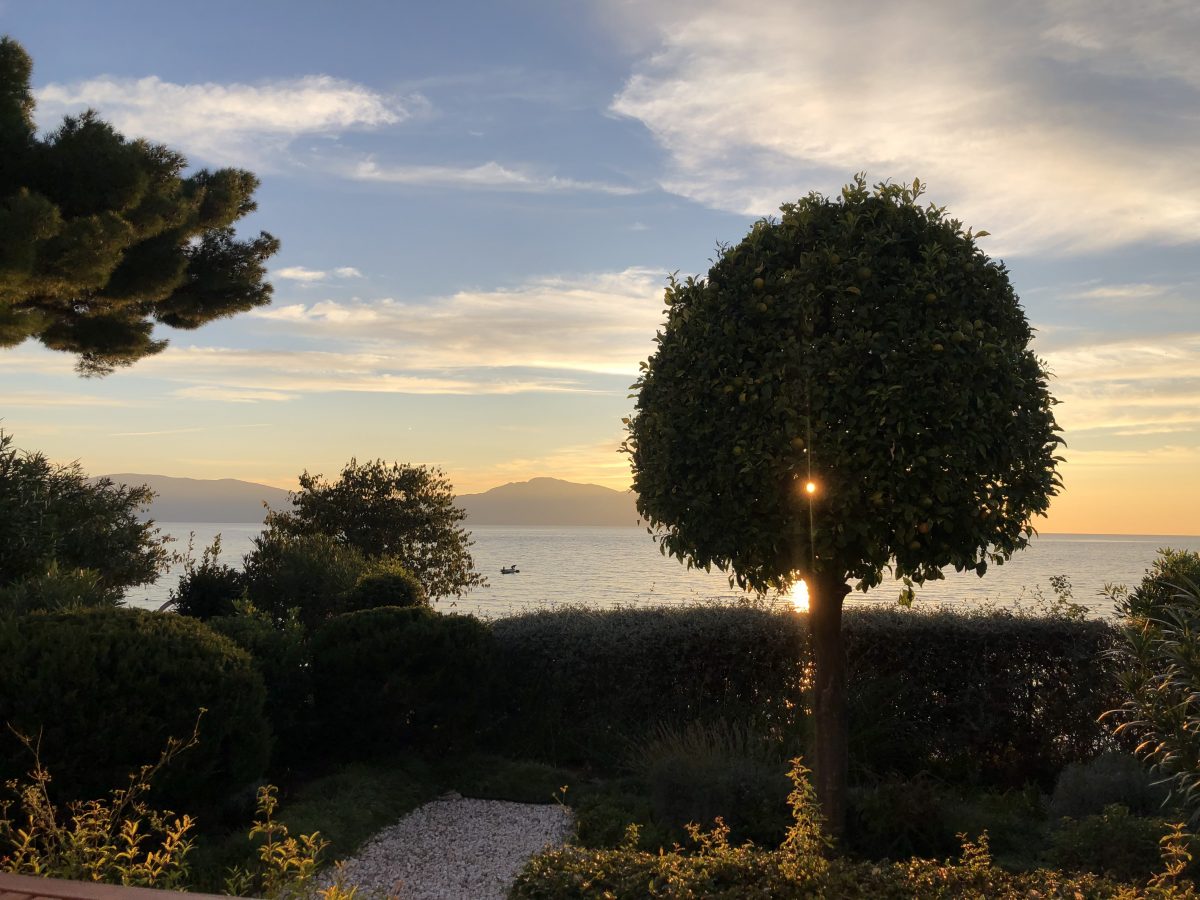 (1:09) Optima Rent-a-Car set us up with our transportation. Jump in the car as we head to Komarna.
(1:33) Taste with us at Rizman. This is the pioneering winery of Komarna. Their cellar has a sweeping view of the Adriatic Sea and serves food to pair with their excellent wines made from Pošip, Plavac Mali, Tribidrag (Zinfandel), and Syrah.
(3:51) The distinctive Neretva Valley and Ušče Neretve are can't miss sights. They are an oasis of green in bone-dry Dalmatia. The latter is a world-class windsurfing destination.
(4:16) Join us at another winery visit. Terra Madre is a new producer that was founded by three families, who together own a nearby agricultural products company.
(6:05) Learn how to make a homemade fish Peka. This is a traditional Dalmatian dish cooked under a ceramic bell and hot coals. If you don't have all that equipment or an outdoor barbeque, you can just use an oven.
(6:43) Meet our friend, Master of Wine Jo Ahearn. She is the proprietor and winemaker at Ahearne Vino. Jo makes exciting wines from local grapes on the nearby island of Hvar.
(7:43) Come with us to taste wines at Vina Deak. The Deak family owns a number of accommodation options geared towards tourists. In recent years, they've started a winery. Their olive oil is also a can't miss.
(9:38) Take a vineyard stroll with us and Antonija of Saints Hills Winery. This winery is aided by superstar wine consultant Michel Rolland. The winery is located on the nearby Pelješac Peninsula but Saints Hills does have a small plot in Komarna.
(11:24) We put two Plavac Malis to the test. The Saints Hills, Dingač vs the Saints Hills, Sv. Roko before catching some sea and sun.
(12:33) Come with us and our local friend Martina on a visit to Volarević Winery. This brand is spearheaded by Josip Volarević who is working on his Ph.D. thesis on Plavac Mali.
(14:05) Have dinner with us as we indulge in the local specialties. Fried frog legs with onions and brodeto, a stew also made with frog legs.
(15:13) Experience a night harvest with us. We help out in harvesting Pošip at Rizman Winery. Harvesting white wine grapes at night help retain acidity and aromas in the grapes, thus making the wine more delicious.
Komarna Wine Recommendations:
The Rizman, Pošip is good in every vintage but this may be the best I've tasted. The wine has notes of dried pineapple, white flower, rock, and garrigue. The fruit feels a bit overripe on the nose but the palate brings it back. There's a good blend of fruit and mineral notes here. The acidity is crisp. For a fresh white, this is full-bodied and generous. Good length. Score: 91/100
*I also highly recommend the barrel-fermented Pošip from this producer known as Rizman, 'Nonno' Pošip.
Rizman, Primus Plavac Mali
Rizman really nailed it with their Primus Plavac Mali. It's full-bodied Mediterranean red but one with some finesse. Notes of strawberry, rose, baked raspberry, and garrigue. Very good use of wood, it's integrated perfectly. The tannin management here is also fantastic, they aren't hard and biting but do add some chewiness. This wine should age very well in the medium term. Score: 90/100
This is another successful vintage of the Saints Hills, Sv. Roko. This is consistently my favorite wine in their portfolio. Made with Plavac Mali from Komarna region. Strawberry, cherry, cedar, garrigue. Full-bodied and Mediterranean in style. Firm yet ripe tannins. More Nebbiolo-style of Plavac Mali. Score: 90/100
Ok, so this wine isn't from Komarna but it's worth noting. The Saints Hills, Dingač is the big brother to the Sv. Roko. It's my favorite vintage of this wine. It's richer and fuller than the Sv. Roko. Notes of cherry, red plum, rose petal, and cedar. Full-bodied and intense, this is Plavac Mali done right. There's plenty of fruit upfront with small, biting tannins on the backend. Long finish. Score: 93/100
Vina Deak, Ćaća Moj Pošip
The Vina Deak, Ćaća Moj Pošip is an encouraging wine from this young producer. It really has the feel of a Southern Rhône (France) white. Notes of white peach, crushed rocks, basil, and pomelo dominate the palate. This is mouth-filling and has a little zip thanks to the acidity. It will be great with mussels and oysters. Score: 89/100
Terra Madre, Plavac Mali Premium
This was one of the biggest revelations of the visits for me. I've been hard on this winery in the past but the 2016 Terra Madre, Plavac Mali Premium is beautiful. Notes of strawberry, rose petal, tar, and thyme. It is a delicate Plavac Mali that acts a lot like a Nebbiolo. Fruity, floral, complex with some firm tannins on the backend. This is by far Terra Madre's best wine, really acting like a Nebbiolo d'Alba. Score: 90+/100
Volarević, 'Syrtis' Pošip
The Volarević, Pošip Syrtis is explosive with a nose of tropical fruit, Greek yogurt, green guava, and green mango. It's like a medley of a tropical fruit salad with some crushed rocks on top. The palate has laser-like focus. There's a lot to like here. It has a sweet fruit finish. There might be a touch of residual sugar here but that softens the palate. Score: 90/100
Volarević, Plavac Mali Gold Edition
The Volarević, Plavac Mali Gold Edition is the ripest and beefiest Plavac Mali in this lineup. At 15% abv, this is big Plavac Mali done well. Notes of cherry, rose petal, and cigar ash. Full-bodied with generous fruit and some serious structure thanks to the small tannins. Fun to drink now and will unfurl further with some time in the cellar. Score: 90/100
The finest selection of
available at:

Shipping is available EU-wide and to the UK.
************
Do you want to try Croatian wines?
If you want to savor the exquisite flavor of Croatian wines, look no further than wineandmore.com. With many options from different winemakers, it's easy to find exactly what your palate desires. Not sure which bottle is best for you? Try out one of their curated wine cases and discover the perfect vintage for any occasion!
************
Want to learn more about wine?
Are you ready to discover the wonderful world of wines? Come join us at wineandmore.com and explore the incredible selection of delicious wines! We can't wait to share our passion for wine with you!
---
The opinions expressed in this article are unsolicited and have not been paid for in any way by governmental bodies, enterprises, or individuals. We do not sell editorial content as that would destroy the legitimacy of our reviews and the trust between Exotic Wine Travel and its readers. On occasion, we extend the option of purchasing the wines we review or/and the products we spotlight. Some of these product links are set up through affiliate programs, which means Exotic Wine Travel gets referral credits if you choose to purchase these items via the links we provide.