Croatian Wine: Nine Top Bordeaux Blends
Reading Time: [est_time] The magical pairing of Cabernet Sauvignon and Merlot. Coveted around the world and present in nearly every winemaking country. The two grapes hail from Bordeaux, France and are celebrated by wine lovers the
Reading Time: 4 minutes
The magical pairing of Cabernet Sauvignon and Merlot. Coveted around the world and present in nearly every winemaking country. The two grapes hail from Bordeaux, France and are celebrated by wine lovers the world over. Cabernet Sauvignon and Merlot just work well together in wine, it's a synergy comparable to peanut butter and jelly.
Many of the countries in Eastern Europe were in the communist or socialist systems until about twenty years ago. When private wineries started popping up in these countries, many were quick to plant Cabernet Sauvignon, Chardonnay, Merlot, and Sauvignon Blanc.
Croatia is no exception to that rule. However, the country does have a plethora of indigenous grapes, mitigating the need for international varieties compared to neighboring countries. Several producers still opt to make Bordeaux blends. Much of them are uninspiring, some of them are meh, and a handful are outstanding.
Croatian Bordeaux Blends
There are four main wine regions in Croatia: Istria & Kvarner, Dalmatia, The Uplands, and Slavonia & The Danube. The first two regions are on the coast of the Adriatic Sea and have a Mediterranean climate while the later two are inland and experience a continental climate. Producers are ambitious and there are examples of solid Bordeaux blends in every region.
For now, the area best suited for red wines in Croatia is Dalmatia and Istria & Kvarner. There are an increasing number of very good Bordeaux blends coming out of Slavonia & The Danube with every passing vintage. Baranja, which is on the Danube river and near the border with Hungary shows a lot of promise.
Many wine geeks scoff at international grapes grown in new or emerging wine regions. We used to be in the same camp but have softened our stance dramatically. These wines have a place and ignoring them would be ignoring a major tenet in Croatia's wine scene.
These are our nine favorite Croatian Bordeaux blends. We have tasted several vintages of these wines when possible. For people who visit the country and want a taste of something familiar, you won't go wrong with these wines.
Exotic Wine Travel's Picks:
Baraka, Prisbus Cabernet Sauvignon Merlot 2013 – Dalmatia
A fairly new producer on the scene. Filip Baraka and his father have small holdings of vineyards near Šibenik. This wine was aged for 14-16 months in new French Oak. Full of charred wood, black cherry, cassis, capsicum, and graphite flavors. The wood comes on strong and may be too heavy for some but it is well integrated. Medium bodied Bordeaux blend that is plush in the mouth and has a long finish guided by fine tannins. Really pleasant with low alcohol at 12% ABV.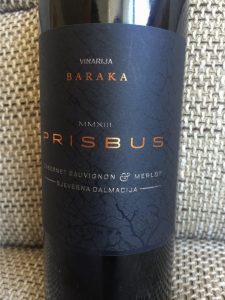 Bibich, Aleph 2010 – Dalmatia
A blend of 67% Cabernet Sauvignon, 23% Cabernet Franc, and 10% Merlot. This is the top wine from Bibich. The 2010 is the first harvest from a vineyard that Alen Bibich planted in the early 2000's. A Bordeaux blend that spends 24 months in French oak. Dark and concentrated with dark fruit, red plum, cedar, olive, and capsicum. This is fruit forward and rich with soft tannins and a chocolate, leather finish.  
Available at wineandmore.com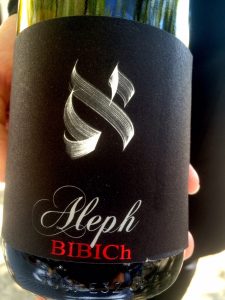 Boškinac, Cuvée 2013 – Istria & Kvarner
Boškinac hotel and restaurant is one of the most celebrated culinary establishments in Croatia. Boris Šuljić is the head chef and winemaker. Full of sour cherry, blackberry, sweet tobacco, and earth. The wood is present but not over pronounced. Long finish and nice minerality, it smells and tastes like a warmer weather red wine. The 2007 vintage of this wine is spectacular but not available on the market.  
Available at wineandmore.com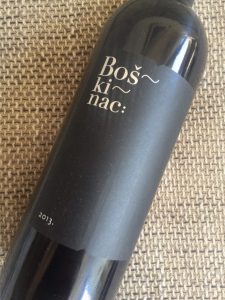 Coronica Grabar 2012 – Istria & Kvarner
Moreno Coronica is a master of Teran and Malvazija in Istria. His Bordeaux blend is no slouch as well. A blend of 70% Cabernet Sauvignon and 30% Merlot. This spent two years in Slavonian Oak. Full of rich plum, cherry, cedar, capsicum, leather, and earth. Fruit forward and delicious with medium weight on the palate.  
Available at wineandmore.com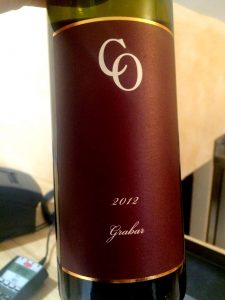 G&J Vina, Tvoja Krv i Moja 2013 – Dalmatia
A blend of Merlot and Cabernet Sauvignon. Translates to "Your Blood and Mine." Made by a Croatian couple that spent many of their years in Monte Carlo, where they fell in love with French wines. This wine is unfined and unfiltered like we like it. Dark fruit, graphite, perfume, and earthy notes. Long and persistent finish. A well-balanced Bordeaux blend with Mediterranean ripe fruit and earthy characteristics that are not common amongst Croatian Bordeaux blends.  
Available at wineandmore.com
Krauthaker, Mercs 2012 – Slavonia & The Danube
Vlado Krauthaker is perhaps the most celebrated and successful winemaker in Croatia. He experiments like a mad scientist and produces a large portfolio of wines. This is a blend of 60% Merlot and 40% Cabernet Sauvignon. A red wine that was aged for 24 months in Slavonian oak. It has violets, red cherry, cassis, cedar, and pencil lead. It has medium weight and a touch of sweet tobacco on the spicy finish. The tannins are round and ripe. We have tasted three vintages of Mercs and the 2012 stands out.   
Find and buy at wineandmore.com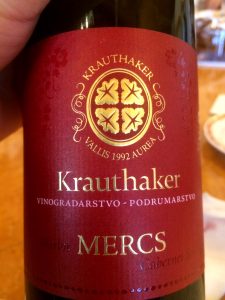 Legovina Cuvée Noir 2009 – Istria & Kvarner
Legovina is quietly producing excellent red wines in Istria. Their Chinon-like Cabernet Franc along with the Teran are good wines but the Cuvée Noir takes it up one notch. It's a blend of Cabernet Sauvignon, Merlot, and Cabernet Franc aged 72 months in oak. Full of chocolate, earth, sweet tobacco, and black cherry flavors. The wine is dense and well structured with a touch of graphite on the palate. It really tastes like a terroir-driven, ripe Bordeaux.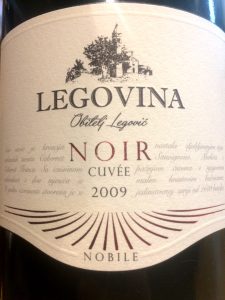 Meneghetti, Red 2011 – Istria & Kvarner
Meneghetti has a luxury hotel and restaurant in addition to their winery in Istria. This is their cru wine. A blend of 70% Merlot, 25% Cabernet Sauvignon, and 5% Cabernet Franc. We've been tough on other vintages of this wine but the 2011 is something special. Pronounced earth, graphite, and mineral notes. The fruit here is ripe, but not overripe and the acidity guides a long finish. This has potential to age further in the bottle. 
Available at wineandmore.com
Petrač, 999 2012 – The Uplands
Petrač makes a Bordeaux blend called Karizma. It is readily available in Zagreb and is a leafier, earthier red wine. The Karizma is a well-made, accessible wine but their 999 is something special.
The Petrač 999 is the estate's reserve wine and made in limited quantities, 999 bottles to be exact. Made from selected Cabernet Sauvignon grapes that were aged for 42 months in French oak. Dark in color. Full of oak but nicely toasted oak. It's got a lot of makeup on but there is very good juice underneath. Dark cherry, capsicum, greens, graphite, and forest notes. This has a nice mixture of earth and fruit. Round on the palate with firm tannins and a long, tight finish. The most 'Bordeaux' tasting of the Bordeaux blends in Croatia. Good stuff at only 13.5% ABV.   
Find and buy Petrač wines at wineandmore.com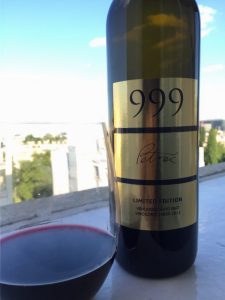 The finest selection of
Croatian wines available at:

Shipping is available EU-wide and to the UK.
************
    Do you want to try Croatian wines?    
If you're looking to savor the exquisite flavor of Croatian wines, look no further than wineandmore.com. With an abundance of options from different winemakers, it's easy to find exactly what your palate desires. Not sure which bottle is best for you? Try out one of their curated wine cases and discover the perfect vintage for any occasion!
************
Want to learn more about wine?
Are you ready to discover the wonderful world of wines? Come join us at wineandmore.com and let's explore the incredible selection of delicious wines together! We can't wait to share our passion for wine with you!
---
Disclosure:
Please note that the opinions expressed in this article are unsolicited and have not been paid for in any way by governmental bodies, enterprises, or individuals. We do not sell editorial content as that would destroy the legitimacy of our reviews and the trust between Exotic Wine Travel and its readers. On occasion, we extend the option of purchasing the wines we review or/and the products we spotlight. Some of these product links are set up through affiliate programs, which means Exotic Wine Travel gets referral credits if you choose to purchase these items via the links we provide.