15 Amber Wines (Orange Wines) to Try in Croatia
Reading Time: [est_time] Refreshing like white, complex like red, versatile like sparkling, and fun like rosé: here comes orange wine. While those descriptors are mere generalizations, they do accurately illustrate the various facades of orange wine.
Reading Time: 9 minutes
Refreshing like white, complex like red, versatile like sparkling, and fun like rosé: here comes orange wine. While those descriptors are mere generalizations, they do accurately illustrate the various facades of orange wine. Many people believe orange wine is having a moment. Some consider it to be the latest 'It' wine. The irony is that this 'new' style of wine has a history of more than 8,000 years. It has survived the passage of time, and its sensory merits are time-tested. Yet today orange wines are considered controversial, sparking raw emotions and fervent beliefs among wine drinkers, winemakers, and wine professionals.
Why is that?
The best way to understand these polarized opinions is to first understand how orange wine is made.
What is Orange Wine? No, Actually it's Amber Wine.
Nothing to do with the citrus fruit, orange wines are made from white wine grapes where the skins are not removed and stay in contact with the juice for anywhere from a few days to months, or even years in some rare cases. This contrasts with conventional white wines, which are made by crushing the grapes and removing the skins before the fermentation process begins. The color of a wine comes less from the flesh and juice than from the skin. As such, the skins of white grapes impart color density to orange wines. Besides color, the skins also provide phenolic compounds that can make the wines more robust and textured.
So orange wines are white wines made in a similar way to red wines. Fans of these wines find their individuality unparalleled and compelling. The naysayers have their reasons too, and one of the biggest critiques is that extended skin contact can conceal the varietal characteristics and the subtle nuances derived from 'a sense of place'.
While it is more common for people to refer to this style of wine as 'orange wine'—which can be considered a misnomer and is clearly misleading for many reasons (orange wine can also mean wine made in the Orange wine region of Australia)—we prefer to use the term 'amber wine'. It is also sometimes called 'skin contact wine' and 'macerated white wine'.
So are we all set here? Let's talk about amber wine now.
Croatian Amber Wines (Orange Wines)
Today,  amber wine is made in many parts of the world, with Australia, Austria, France, Georgia, Italy, Spain, and the United States being some of the more famous amber wine-producing countries. Also, Croatia's neighbor, Slovenia, has made a name for itself with its natural wine movement, which includes a diverse and world-class offering of amber wines. Croatia has the potential to shine in this category as well. Amber wines are made in all four wine regions in Croatia: Istria & Kvarner, Dalmatia, Croatian Uplands, and Slavonia & the Danube. Many of these wines are of outstanding quality, while others are quirky with memorable traits.
A statement we often hear in Croatia is, "My grandfather made wine like that." To many producers, making white wine with long maceration is not a newfangled posturing or market-driven experiment but a logical return to family tradition.
Croatia receives most of its visitors in the summer, so red wines may not always be an attractive option, especially on a sweltering day. Why not give amber wine a shot? Here are 15 excellent Croatian amber wines to look out for.
15 Croatian Amber Wines to Try
Boškinac OCU 2015 – Istria & Kvarner
Boškinac Hotel-Winery-Restaurant is a culinary hotspot on the island of Pag. Owner and winemaker Boris Šuljić considers this wine an ode to his father, who used to make this style of wine. We love the 2015 vintage of Boškinac OCU and wrote about it in a previous article. Fans of amber wines with sweet oak taste will appreciate this effort.
 

Weeeee they are pouring wine-by-the-glass from a magnum bottle! Boskinač Ocu 2015 is a blend of Chardonnay, Sauvignon Blanc, Debit, and Gegić. The last two are Croatian varieties. 21 days of maceration. 6 months in oak before bottling. The result is an amber wine with medium frame, refreshing acidity, and white tea-like astringency. Aromas of summer flower, ginger, caramel, and marshmallow. Orange pith and citrus flavors on the palate. I don't come across many amber wines with pronounced oak flavors, and definitely welcome the toasty sweetness that the oak lends to this wine.
Clai Sv. Jakov 2013 – Istria & Kvarner
Giorgio Clai is often referred to as the 'Godfather of Istria' and the 'Godfather of Organic Winemaking'. He is also a household name in the 'natural wine' circuit. A trip to Istria is incomplete without trying Clai wines. The grapes are farmed with biodynamic principles and undergo spontaneous fermentation.
Clai Sv. Jakov is a serious interpretation of Malvazija, with Spring aromas of dandelion and lemongrass, dried fruit, and a hint of nut. The citrusy acidity makes the wine extremely approachable. This wine would appeal to people who love structured amber wine packed with intricate nuances. 2013 is the latest vintage on the market, and the older vintages are worth seeking out. As the wines age, they gain more layers of nuttiness and meadow-like notes. The skin contact lends the Malvazija flavor intensity, texture, weight, and a gentle tannic tug. You can read more about our thoughts in the Instagram post below.
Clai also makes a more easy-drinking, macerated white blend called Ottocento Bijeli.
Search or buy on wineandmore.com
 

2011 Clai Sv. Jakov made of Istrian Malvasia. Color of a Grade A medium-amber maple syrup. Characteristics of wet sand, dried flower, macadamia oil, orange pith, and pomelo. Tannins are redolent of green tea. Refreshing acidity, extremely spicy finish. The 2009 sibling is performing better than 2011 at the moment, but 2011 appears to have better stuffing to go the distance. To us, Clai (Istria, Croatia) is one of the top three producers of amber wine in the world–well, at least in the limited world that we've created after tasting a significant number of amber wines. Employing organic farming methods, native yeast, and other minimal-intervention approaches, Clai wines always turn up with vitality and whole integrity.
Dobravac Simfonija 2009 – Istria & Kvarner
The Dobravac Villa consists of a winery, hotel, and restaurant in the town of Rovinj, Istria. The winery produces several exciting wines from Cabernet Sauvignon, Merlot, Teran, and Malvazija.
The Dobravac Simfonija is a skin contact wine made from a blend of 70% Malvazija and 30% Chardonnay. A full-bodied amber wine with flavors of apricot, orange peel, and yellow flower. The Dobravac Simfonija boasts a rich texture with a touch of tannins and a caramel-tinted finish. There is a slightly rustic quality to this wine that hardcore amber wine geeks will adore.
Kabola Malvasia Amphora 2009 – Istria & Kvarner
An organic wine producer, Kabola has made waves with its Muškat Momjanski dessert wines and amphora wines. The Kabola Malvasia Amphora is made from Malvazija grapes, macerated for seven months in amphorae, then aged in 4,000-liter Slavonian oak barrels. The wine sees further aging in the bottle before it is released on the market. This bottling would appeal to wine lovers who like textured amber wines with a good blance between fresh flavors and oxidative notes.
 Search or buy on wineandmore.com
 

Kabola is an organic wine producer in the Istria wine region of Croatia. Its lineup of sweet wine and amphora wine have made waves in the country. We absolutely adore this macerated Malvazija made in amphora. Despite the 14.8% alcohol, which does throw out some heat on the end palate, this is juicy and easy to drink!
Piquentum Blanc 2015 – Istria & Kvarner
The Piquentum winery is built into a water cistern and enjoys geothermal control all year round. To ferment his wine, Dimitri Brečević uses fans to blow warmer air from outside into his winery.
Made without added yeast, enzymes, fining agents, or other additives, the Malvazija grapes are macerated for two to three days, then aged in a mix of 70% barriques and 30% stainless steel tanks. The floral aroma makes this wine immediately appealing. A deeper, thoughtful sniff captures notes of chrysanthemum tea, smoked meat, and a hint of white-fleshed fruit. The creamy palate is enlivened by appetite-pleasing acidity. The finish is slightly bitter with a yellow flower tone. Without close observation, it might be hard to tell that this is a skin contact wine. However, the short maceration certainly delivers a discernible savory quality to it while muting the fresh fruit flavor judiciously. This is a great option for people who like lightly macerated white wines.
Piquentum Malvazija Blanc is available at wineandmore.com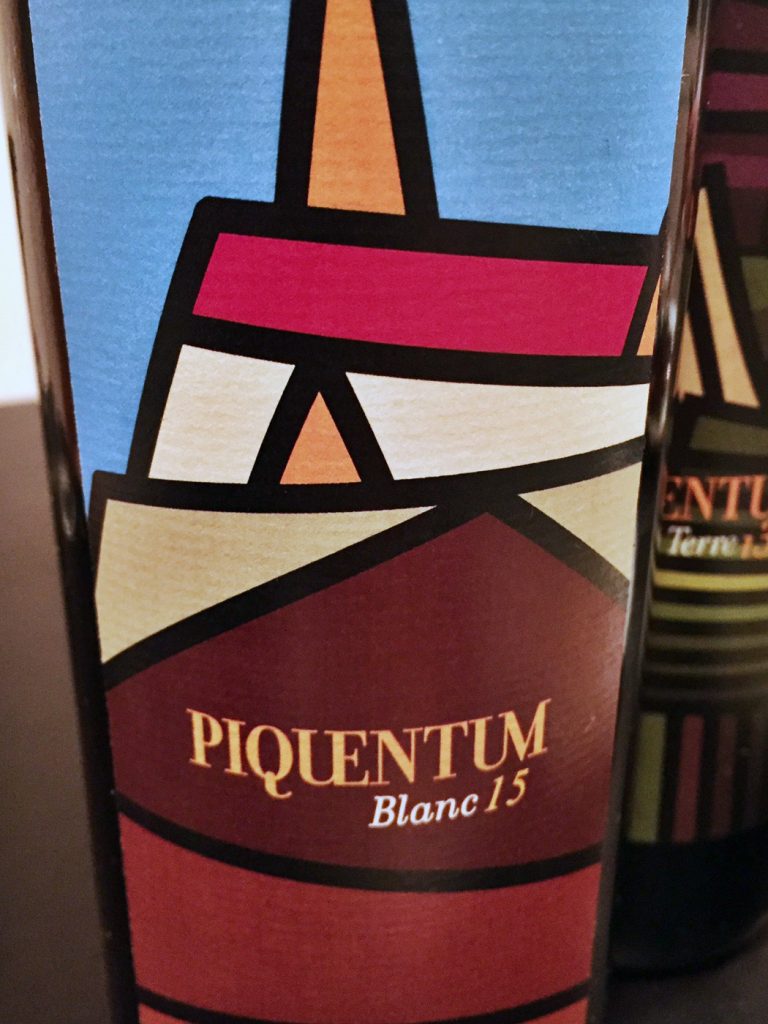 Roxanich Ines u Bijelom 2009 – Istria & Kvarner
Roxanich produces three bottlings of amber wines: Antica, which is made from Malvazija; Milva from Chardonnay, and this: a field blend of Glera, Graševina, Pinot Blanc, Pinot Grigio, Sauvignon Blanc, Tocai Friulano, and Vermentino.v
The name "Ines u Bijelom" translates to "Ines in white" (Ines is the name of Mr Rozanić's wife). Macerated for 70 days, this amber delight exhibits a high-toned, floral bouquet and a buoyant palate marked by flavors of dried leaf, orange blossom, ginger, and white flower. The acidity sings through the palate. All that is great, but the most memorable trait of this wine is perhaps the bittersweet, honeysuckle-like finish.
Roxanich Ines u Bijelom is available at wineandmore.com
Krauthaker Kuvlakhe Graševina 2011 – Slavonia & The Danube
One of the most revered figures in Croatia's wine industry, Vlado Krauthaker visited the Georgian wine regions a few years ago and fell in love with its oxidative-style, skin contact wines. The Krauthaker Kuvlakhe series is a manifestation of his love for Georgia's traditional-style amber wine made in the qvevri.
Krauthaker Kuvlakhe Graševina is made from organically grown grapes. Fermentation happens spontaneously and no sulfur is added at any point. The wine is bottled without fining or filtration. This amber wine received 207 days of skin contact. On the nose, it shows notes that are more typical of red wine, such as red fruit, cedar, leather, coffee, and vanilla.  On the palate, citrus flavors, along with hints of pistachio, sesame, and dried red fruit and dried black fruit emerged. The wine starts out slightly weighted down by the oak influence, but with some rigorous swirling, it transforms into an ethereal beauty.  This wine takes skin contact and the oxidative style to quite the extreme end, and the result cannot be more deliciously umami.
Search or buy at wineandmore.com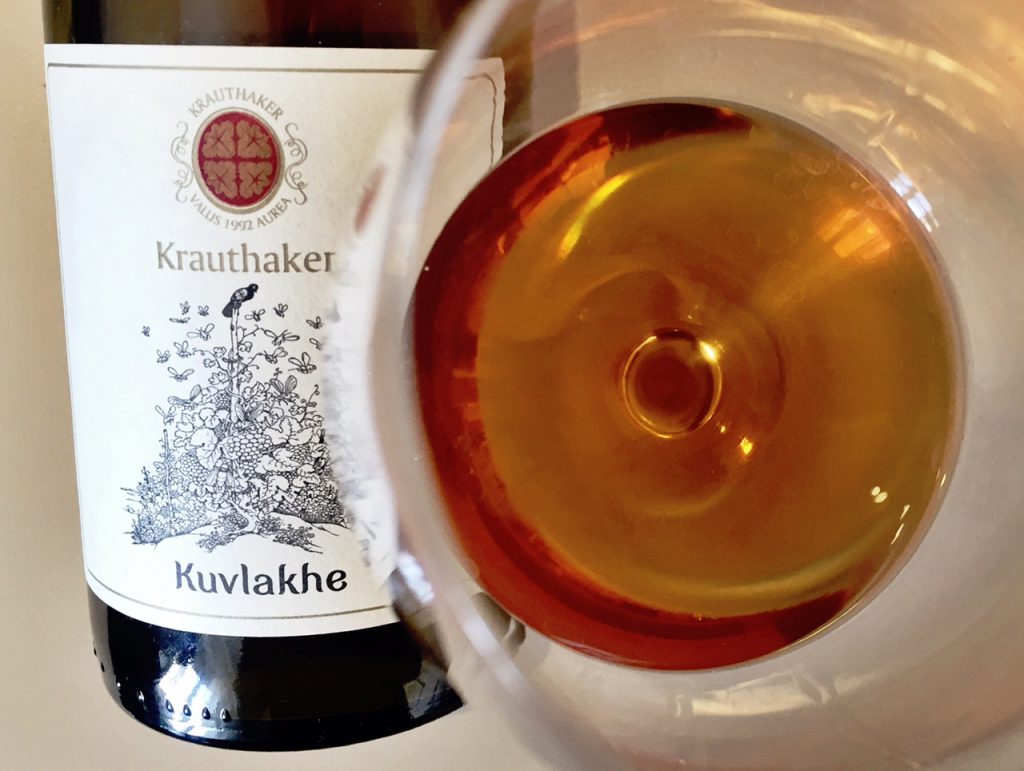 Korak Pinot Sivi 2011 – The Croatian Uplands
Velimir Korak has an insistent but not dogmatic approach to winemaking. This attitude penetrates his wines. There's a distinct style across his portfolio: vibrant and precise fruit flavors, dancing acidity, and a floral undertone.
Pinot Sivi is the Croatian name for Pinot Gris / Pinot Grigio. Fermented with native yeast, macerated for one month, then aged for one year in old barriques and another year in large oak casks. The Korak Pinot Sivi 2011 has harmonious flavors of lychee, rose petal, grass, raspberry, and redcurrant. If you love macerated Pinot Grigio from Friuli-Venezia Giulia, you would probably appreciate this fine example too.
Tomac Amfora 2008, Tomac Amfora Rizling 2011, and Tomac Amfora Pjenušac Brut Nature 2010 – The Croatian Uplands
Tomislav Tomac is a revered producer in Croatia. Perhaps more known for his sparkling wines, his still wines and Amfora line are equally impressive. The Tomac Amfora line consists of wines that are fermented in Georgian qvevri (buried clay vessels) and matured in large oak casks. These wines tend to have a sweet nut undertone and would appeal to wine lovers who seek elegance in their amber wines. You can read more about these wines in our article Tomac Winery: Leading the Charge in Croatia.
Tomac Amfora wines are available at wineandmore.com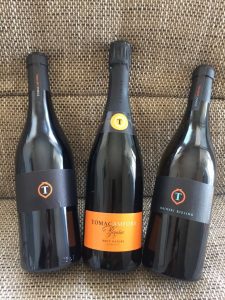 Voštinić Klasnić Škrlet Orange 2015 – The Croatian Uplands
This producer caught our eye during the Vinart Grand Tasting event in Zagreb. Made from the autochthonous grape Škrlet from the Moslavina sub-region, near Zagreb. This spent 20 days on the skins. The result is a  wonderfully structured amber wine that amplifies the varietal characteristics: light weight, a botanical undertone, white-fleshed fruit flavors, and an invigorating acidity. Flavors of dandelion, orange peel, peach, nectarine, and Autumn leaf pile, the wine's finish is significantly persistent with a featherlight tug from the tannins.  The Voštinić Klasnić Škrlet Orange makes for an easy introduction to the wonderful world of skin contact.
Bibich Bas de Bas Bijelo 2011 – Dalmatia
Alen Bibić is one of Croatia's most famous wine producers. He is a champion for the variety Debit, which is indigenous to the area around Skradin. He spent much of his childhood tending the vines of Debit with his grandfather, and this wine is an encapsulation of the wine that his grandfather used to make.
A wine that is close to Alen's heart, the Bibich Bas de Bas Bijelo is made from 90% Debit and 10% miscellaneous varieties. Fermented in large stone tanks, macerated for three months, then transferred into oak barrels for aging. No sulfur is added at any point. This is a  full-bodied wine with a precise structure and marvelously long finish. The texture and flavor envelop the entire mouth; it's as if every taste receptor is electrically stimulated. There is an intense dried tropical fruit characteristic, made interesting by a botanical undertone. The oxidative style appears as a pleasant bourbon-like aroma. The finish is tangy with a hint of tangerine. The tannins are grippy but sweet, round, and juicy. This is a juggernaut manifestation of the grape Debit, and is a wine for wine geeks and collectors.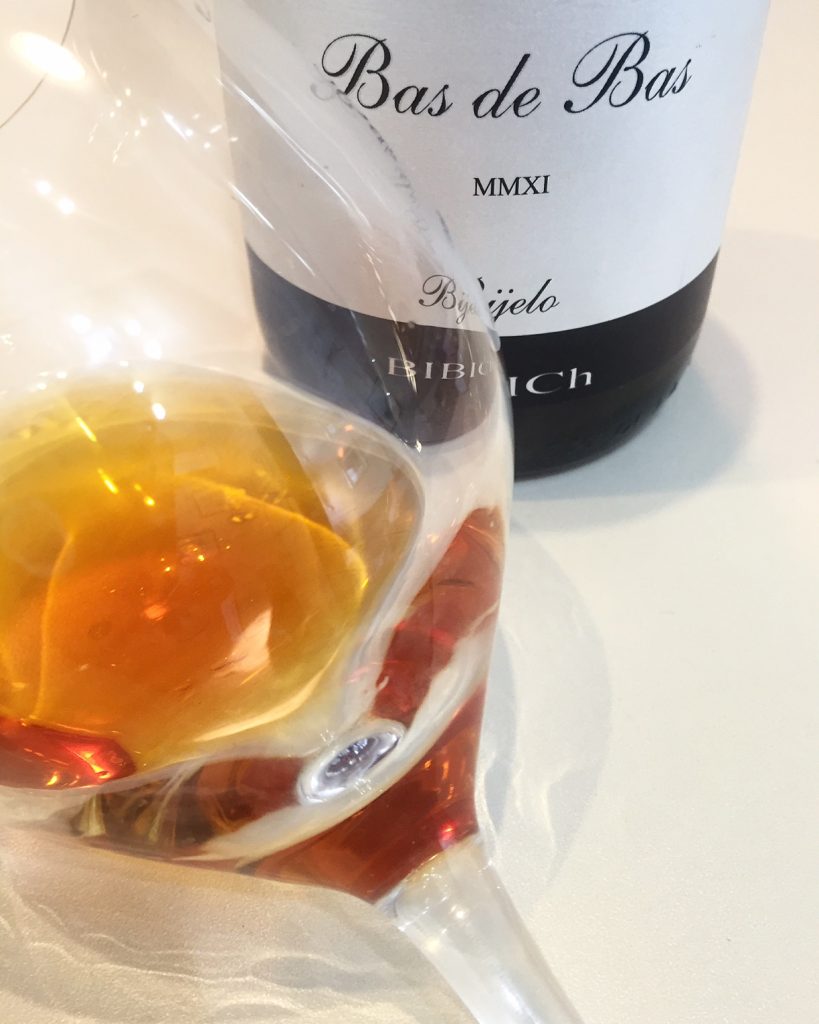 Sladić Oya Noya 2015 – Dalmatia
Located in Plastovo in Central Dalmatia, Sladić's family-run cellar is in the same village as Bibich Winery (mentioned above). Ante Sladić and his family work with the indigenous varieties Debit, Lasina, Maraština/Rukatac, and Plavina.
The Sladić Oya Noya is a blend of Maraština/Rukatac and Debit. Maceration lasted for seven days. On the nose, the wine expresses notes of dandelion, game, dried pineapple, and ripe apricot. A full-bodied wine with an end-palate dominated by oxidative flavors. This wine would appeal to people who have some experience with amber wine and are interested in expericing a different expression.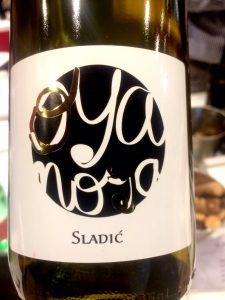 Duboković Moja M 2010 – Dalmatia
Ivo Duboković is a marketing professor, the vice-president of the Tourism Board of Jelsa, and the winemaker at Duboković winery. The production size is around 25,000 bottles per year. Because of the low supply, high quality, and high demand, Duboković wines have gained a cult-like following and can be hard to procure. As such, a visit to this garage winery is the best way to try its wines. The winery is located on the Hvar island in South Dalmatia. Tasting sessions are held in the cellar, under candlelight, with barrels piled high up in all corners of the room.
This macerated Maraština (Rukatac) flaunts an arresting golden hue and flavors of cherry, citrus, cedar, caramel, and an array of Mediterranean herbs. There's a lot of power coming from the acidity and minerality. It will be hard to tell if this is a white, rosé or red wine in a blind tasting. A chameleon wine that will surprise nearly every wine lover.
Search or buy Duboković wines at wineandmore.com
The finest selection of

Shipping is available EU-wide and to the UK.
************
    Do you want to try Croatian wines?    
If you're looking to savor the exquisite flavor of Croatian wines, look no further than wineandmore.com. With an abundance of options from different winemakers, it's easy to find exactly what your palate desires. Not sure which bottle is best for you? Try out one of their curated wine cases and discover the perfect vintage for any occasion!
************
Want to learn more about wine?
Are you ready to discover the wonderful world of wines? Come join us at wineandmore.com and let's explore the incredible selection of delicious wines together! We can't wait to share our passion for wine with you!
---
Check out our collection of articles in the "amber wine / orange wine" section.
Please note that the opinions expressed in this article are unsolicited and have not been paid for in any way by governmental bodies, enterprises, or individuals. We do not sell editorial content as that would destroy the legitimacy of our reviews and the trust between Exotic Wine Travel and its readers. On occasion, we extend the option of purchasing the wines we review or/and the products we spotlight. Some of these product links are set up through affiliate programs, which means Exotic Wine Travel gets referral credits if you choose to purchase these items via the links we provide.