Cypriot Wineries: Part 2
This is part 2 of the Cypriot wineries article. Check out our previous article, Cypriot Wineries: Part One.  We were pleasantly surprised with our recent tasting trip throughout Cyprus. As we mentioned in a previous article, over the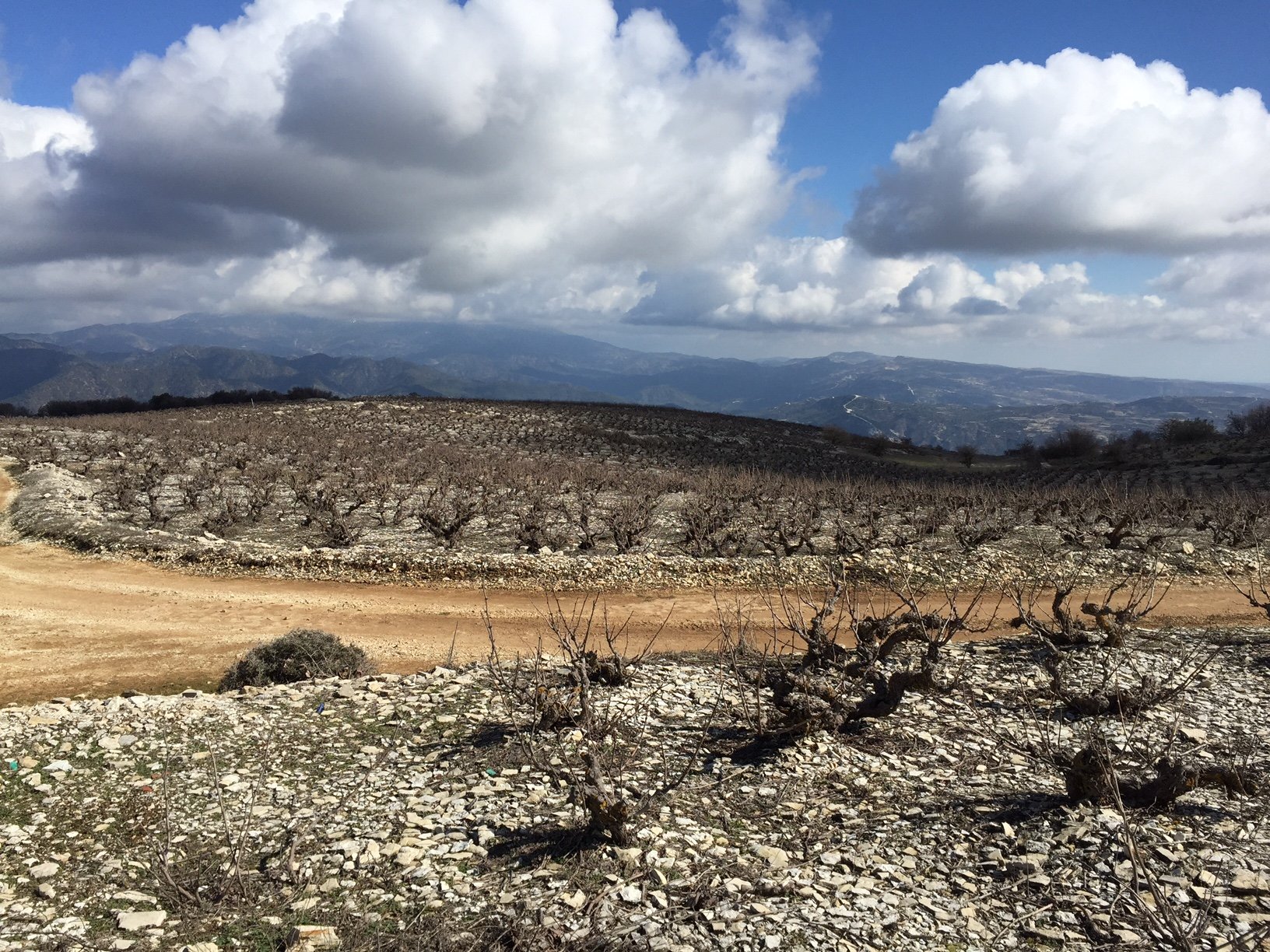 This is part 2 of the Cypriot wineries article. Check out our previous article, Cypriot Wineries: Part One. 
We were pleasantly surprised with our recent tasting trip throughout Cyprus. As we mentioned in a previous article, over the course of two weeks, we tasted more than 200 wines from 30 different producers. Most of our trip was spent on the road visiting two or three producers each day.
It was surprising to see a hotbed of young, winemaking talent churning out some solid juice. There is no shortage of good wine being made on the island. By our count, at least 20 producers are making at least one interesting wine. These producers in part two of Cypriot Wineries are producing multiple good wines across their portfolios and a few standouts.
Vasilikon Winery
Vasilikon Winery was established in 1993 by three brothers Heracles, Georgios and Giannis Kyriakides. The winery employs the only head, female winemaker on the island. It was the westernmost winery that we visited in Cyprus. We could see the Mediterranean Sea from the window of the tasting room at Vasilikon.
Vasilikon Winery is located in the Paphos region of Cyprus. Most of the vineyards in Cyprus are located on mountainous terrain with terraces cut into rugged slopes. Vasilikon is slightly different, it is located on a plateau at about 650 meters in elevation. The Mediterranean breezes coming from the west keep the area cool enough for viticulture.
The winery is big and impeccably clean. When we were in the winery, something interesting was taking place down in the cellar. The two top red wines were being sealed with wax, by hand.
The Wines
All of Vasilikon's offerings are well-made and balanced. We were especially fond of a few experiments they were undertaking, namely with the white grape Morokanella and the red grape Lefkada – known as Vertazami in Greece. All of the labels are modern and accessible, with the exception of the Agios Onoufrio Red –  which was the first red wine that the winery made.
Exotic Wine Travel's Picks
Vasilikon Morokanella 2016
Yellow flower and lemon, pineapple, mineral water. Flavors are integrated well, full bodied and creamy, on the lees. Like a blend of Muscat and Malvasia. This is very harmonious, unique, and delicious. Tasted from tank sample   3.9/5
Vasilikon Agios Onoufrio 2015
One of the owners, Giannis, told us about his recent trip to Bordeaux. He said that he wasn't happy with the wines there and that his entry level red was just as good as the ones he tasted in Bordeaux. Of course, we balked upon hearing that statement – then we tasted the wine. A blend of Syrah, Cabernet Sauvignon, Cabernet Franc, Merlot, and Maratheftiko. Black cherry, pencil lead, earth, very complex for an entry-level red. Good fruit and medium mouthfeel, some graphite and herbs on the palate. Fruity, tangy, and nicely balanced. It has grippy tannins, and they are easy enough for casual wine drinkers to enjoy – an exceptional wine for the price.   3.9/5
Vasilikon Methy Cabernet Sauvignon 2013
In wood for 12-18 months and two years in bottle. Pencil lead, capsicum and black cherry and dark chocolate. Lots of menthol and peppermint, fruity and firm tannins on the finish. The nose is very nice, we would like the finish to be slightly longer, but this is still a very good effort. This wine took us completely off guard.  4.0/5
Nelion Winery
This was the smallest winery that we visited during our stay in Cyprus. Situated near the small village of Pretori, it offers gorgeous views down the valley. It was a clear day when we arrived and could see Mt Olympus from the winery, which is the tallest mountain in Cyprus.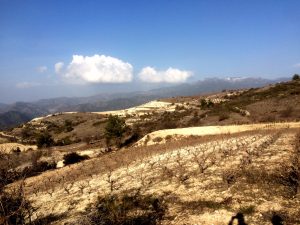 View from Nelion Winery, Mt Olympus is on the right in the background
The Ioannou family founded the winery in 1996 and they are now on their second generation of winemakers. Marinos finished his winemaking education in Greece and returned home to head up the production. Marinos told us that last year he only made 20,000 bottles of wine because he wants to move towards using only estate-grown fruit –  a rarity in Cyprus.
Nelion Winery is small and humble, but don't let that fool you. They produce some serious wines. Marinos is the only producer on the island making a dry red wine from the indigenous grape Ofthalmo. Marinos also makes several different dessert wines from Black Muscat, Grenache, and Chardonnay.
The Wines
All of the wines in Nelion's portfolio have richness and depth. The reds are dense and have the stuffings to age – very similar to Californian reds without excessively high alcohol. The entry-level sweet wines are very easy drinkers while the more serious ones like the sun-dried Chardonnay will appease critical palates. Because of the small production, most of the wines are only available on-site. It's worth making a day trip from Limassol up to this wonderful winery. Kick back, sip on some wine, and enjoy the view!
Exotic Wine Travel's Picks
This is Marinos first attempt with this grape. When we tasted it, we nodded our heads in astoundment. Marinos replied, "I'm glad you like it, I think it's a great wine but I didn't know if my judgement was clouded."
It spent 11 months in new 300L French Oak. Charred wood, bramble berry, black cherry, earth, herbs. Very balanced, nice texture, the tannins are fine-grained and under control. This tastes like a very good, under control Zinfandel.   4.3/5
Nelion Cabernet Sauvignon 2009
This is the first and last Cabernet Sauvignon from Marinos, he wants to move towards indigenous varieties. The wine spent 12 months in oak and is full of graphite, black cherry, capsicum, and a kiss of vanilla. This is big and aging beautifully, great fruit with fine grained tannins. This is still youthful, extremely well made, and can age further in the bottle.   4.4/5
This is part 2 of the Cypriot wineries article. Check out our previous article, Cypriot Wineries: Part One. 
You May Also Enjoy:
Facing Our Fears: Cypriot Wine
You Cheat Sheet to The Wines of Cyprus: Part I
Vouni Panayia: Confidence in the Cypriot Wine Grapes
George Kassianos: The Godfather Of Cypriot Wine
More than Xynisteri: Indigenous White Wine Grapes of Cyprus
Maratheftiko And The Other Red Grapes Of Cyprus
---
Disclaimer: The Cyprus Tourism Organisation provided us with flights, hotel accommodation, a car rental, and a few meals. Parts of our stay were sponsored by The Annabelle Hotel (Paphos) and Saint Elena Hotel (Larnaca). A few wineries provided us tasting samples, but most of them simply gave us their time. The opinions of the wines are our own and we were under no obligation to give favorable reviews.