Exploring the Different Expressions of Georgian Wine
Reading Time:[est_time] In November, as part of our Uncorking the Caucasus book launch and promotion, we had a signing session along with a wine tasting class at 8000 Vintages in Tbilisi, Georgia. 8000 Vintages is located just
Reading Time:3 minutes
In November, as part of our Uncorking the Caucasus book launch and promotion, we had a signing session along with a wine tasting class at 8000 Vintages in Tbilisi, Georgia.
8000 Vintages is located just about a 10-minute ride from the popular tourist zone in the Old Town. The name represents the age of Georgia's winemaking history. There are over 150 Georgian wine producers represented in this wine shop and bar. Patrons can enjoy wine degustation, wine by the bottle, and wine-pairing dishes (mostly cheese and cold cut) in an Instagram-worthy setting here. If you are new to Georgian wine, don't fret. This place boasts an in-house sommelier, Zaza Grigalashvili, who is knowledgeable about Georgian wines and is able to guide you through the wide selection. Take a peek at this stunning-looking wine outlet in this YouTube video appended:
For the book event, we had a perfect turnout of 40 people—a size large enough to create a festive mood and small enough for an intimate tasting session. The crowd consisted of locals, expats, enthusiasts, casual drinkers, diplomats, and winemakers. Four Georgia wines were presented and tasted at the session. These four wines were thoughtfully selected to:
Show the participants that amber wines can be elegant and accessible. Contrary to popular belief, they aren't always mousey, tannic, and challenging to unfamiliar palates.
Present the work by a mix of big producer (Teliani Valley), artisanal qvevri wine producer (Tchotiashvili and Pheasant's Tears), and new-generation young gun (Artizani).
Let the participants experience the different expressions of a grape variety (Saperavi).
The tasting notes below are simpler than our usual style, with limited technical notes. The reason for this is during the session, we wanted to drop most of the detailed descriptors and help participants to "feel" the wines and articulate why they like or dislike each wine.
Exploring Georgian Wine at 8000 Vintages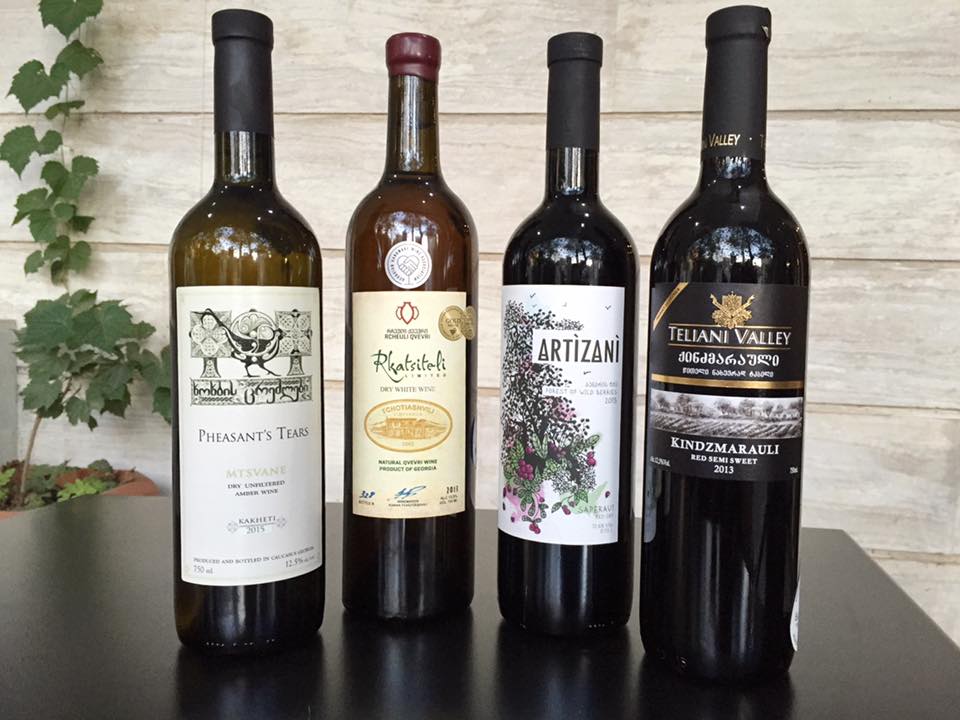 1. Pheasant's Tears Winery Mtsvane 2015
An aromatic nose dominated by orange peel and ripe stone fruit. On the palate, it is juicy, harmonious, and soft. A crowd pleaser and an easy introduction to amber wine as it is light and crisp. Pheasant's Tears is mentioned in our book Uncorking the Caucasus as one of our favorite wineries in Georgia.
2. Kakha Tchotiashvili Rcheuli Qvevri Rkatsiteli 2013
This wine has a deep tangerine hue even though the label states it's a white wine. The nose is more muted than the Pheasant's Tears Mtsvane, but don't be fooled because the protagonist is in the mouth. This wine is structured, expressive, with tannins that kick in on the mid-palate, and the end palate is precise and long. Flavors of apricot, peach, forest leaves, and a touch of earth. Rkatsiteli wines that have gone through extended periods of skin contact can be unique and delicious. They can be grippy but are incredibly food-friendly wines. Specifically for this wine, it can be paired well with many robust meat dishes.
3. Artizani Saperavi 2015 
Fermented with wild yeast in stainless steel tank and temperature control; no sulfite or additive was added;  unfiltered wine. The aroma takes awhile to open up. After some aeration, this wine expresses an honest interpretation of Saperavi—fresh burst of berries, forest floor and licorice in its aroma, with a surprising twist of floral characteristics on the palate. Great structure and balance; a well-made wine that can see many years of aging in the bottle and continue to blossom. This is the first vintage of Artizani and comes in a small production of 1,100 bottles.

4. Teliani Valley Georgian Winery Kindzmarauli 2013
This wine is mentioned in our book. Kindzmarauli is an appellation found in the Kvarli, Kakheti part of Georgia. Wines that bear the name of this appellation are always semi-sweet red made from the indigenous variety Saperavi. This wine is well-received by almost everyone, even the non-sweet wine lovers, at the event. On the nose, it's full of toffee and tart plum; and in the mouth, it is reminiscent of a dark berry pie. With 35g/l of residual sugar, it surprisingly leaves no heaviness or coating sensation in the mouth. A perfect match for Churchkhela (traditional Georgian but candy) or a gamey stew.
Click here to view more photos from our book launch events.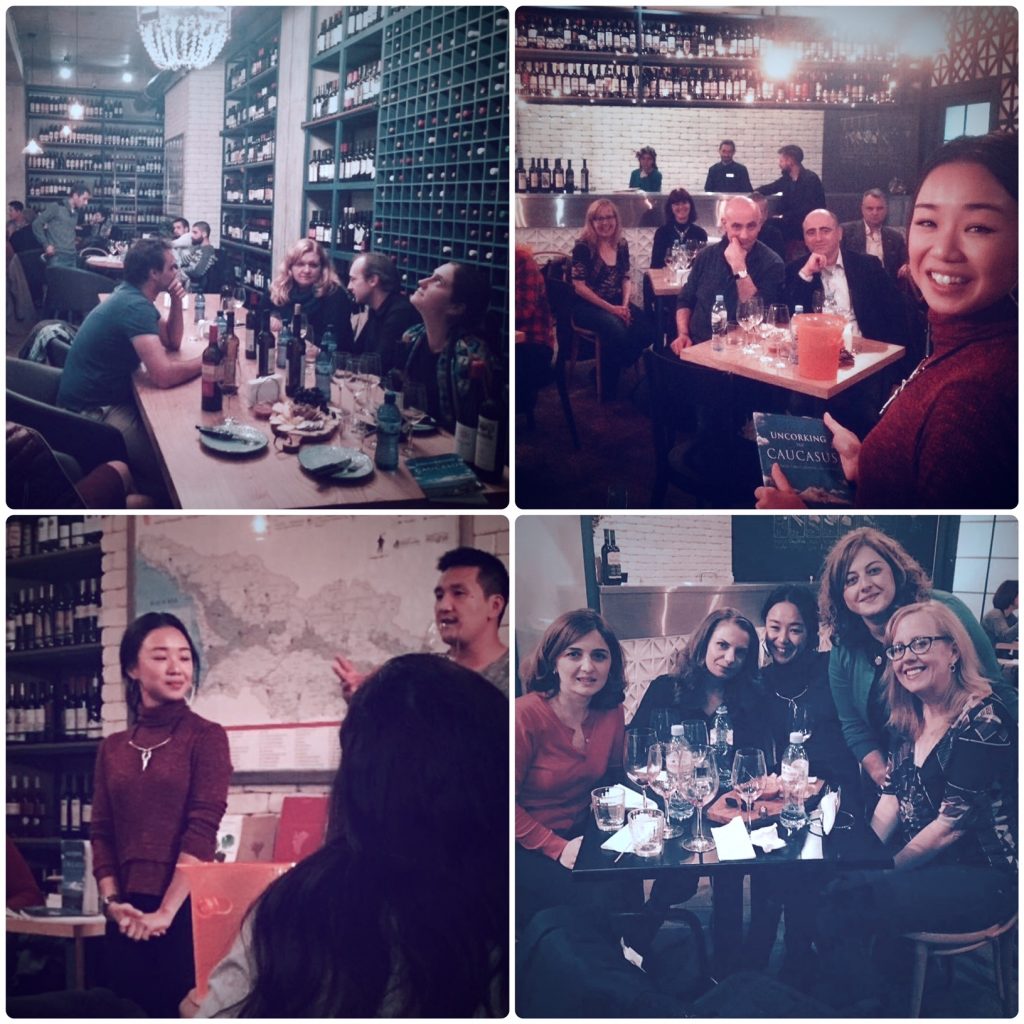 Learn More About the Indigenous & Ancient Grape Varieties from Georgia
Mtsvane
"mits-vah-neh"
Short for Mtsvane Kakhuri, an ancient variety indigenous to the Kakheti region of southeast Georgia. Mtsvane means "green" in Georgian. This white variety is diverse and ramified, with many derivatives growing throughout Georgia. Mtsvane maintains a relatively high level of acidity even as the sugar level goes up. It is a hardy variety that can survive the cold winters in Georgia. The varietal wine made from Mtsvane is slightly greenish in color, with characteristics of peach, apricot, pineapple, citrus, and flowers, supported by delightful crispness. When produced in the qvevri, it produces a dark amber, sometimes reddish, wine. The body and flavors vacillate back and forth in the mouth between the semblances of red, rosé, and white wines. As a relatively aromatic variety, Mtsvane often plays a part in white blends. In some of the most famous appellations for Georgian white wines such as Manavi and Tsinandali, Mtsvane is blended with Rkatsiteli.
Rkatsiteli
"rah-kats-ee-teh-lee"
Rkatsiteli, whose name means "red stem", is a ubiquitous white wine variety that comprises nearly half of Georgia's vineyard plantings. It is a hardy and easy-to-grow grape as it is resistant to cold and maintains a high level of acidity and sugar as it ripens. It can be made into dry, semi-sweet, and fortified wines, and also brandy. This variety is treated in both the traditional Georgian qvevri style with extended skin contact and the conventional-style white wine technique. In the conventional style, it becomes a well-balanced, medium-bodied white wine with a touch of spice. When made in the qvevri style, it takes on an amber tone, a forceful structure, and beautiful creaminess on the palate. Rkatsiteli is to Georgia as Chardonnay is to California.
Saperavi
"sah-per-ra-vee "
Saperavi means "color/dye." This is the most widely planted red wine variety in Georgia. Like Alicante Bouschet, it is teinturier with red flesh and red juice. This dark-skinned and dark-fleshed grape makes deep red, inky, and often opaque wine with heavy body and profound texture. Some wineries in the country label it as black wine instead of red. Due to the grape's marked acidity and myriad characteristics of black fruit, licorice, chocolate, earth, smoked meat, tobacco, savory spice, and pepper, it is extremely versatile and can be made into rosé, dry, semi-sweet, sweet, and fortified wines. A dry red Saperavi wine resembles a mix between Blaufrankisch and Syrah.
Uncorking the Caucasus: Wines from Turkey, Armenia, and Georgia
is available on Amazon.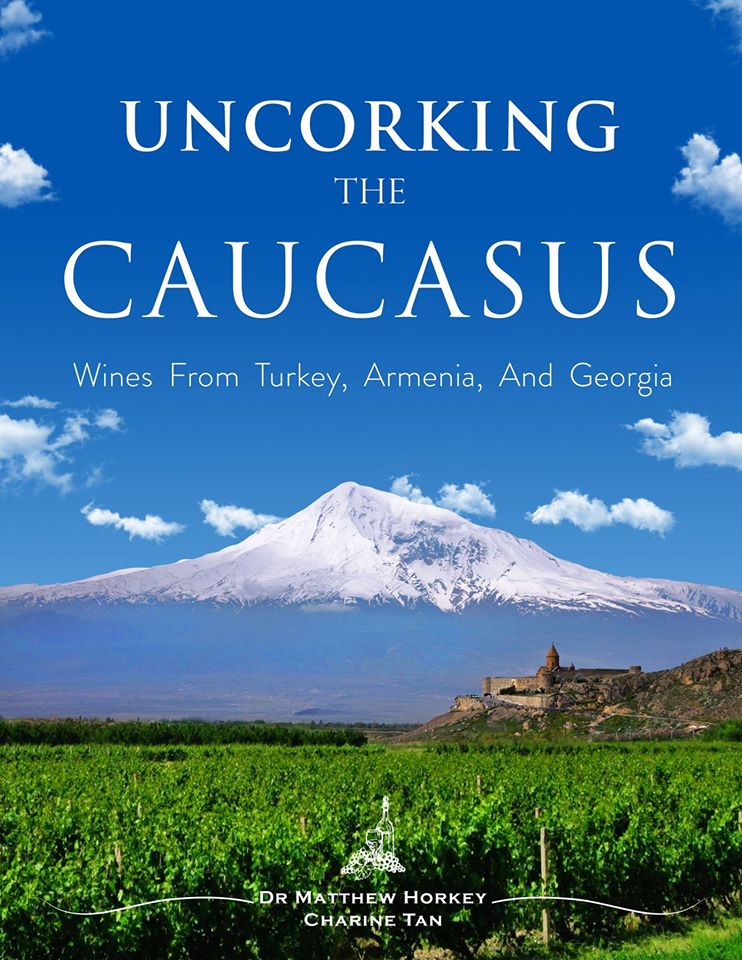 ---
Thank you 8000 Vintages for hosting the event and providing tasting samples of the wines. 
You May Also Enjoy
Simon Woolf: Amber Revolution
The Unstoppable Progress in the Georgian Wine Scene
Exotic Wine Travel's 16 Wines of 2016 (Georgian wine scored two spots out of 16!)
Tsitska-Tsolikouri Amber Wine from Imereti, Georgia
A Brief History of Wine from the Caucasus