Domaine Bois de Boursan Cuvée des Félix Châteauneuf-du-Pape 2016
Reading Time: [est_time] Hello! Welcome to As Drunk by Exotic Wine Travel, a weekly column where we feature interesting wines that we encourage you to seek out. The reviews featured in this series may be written by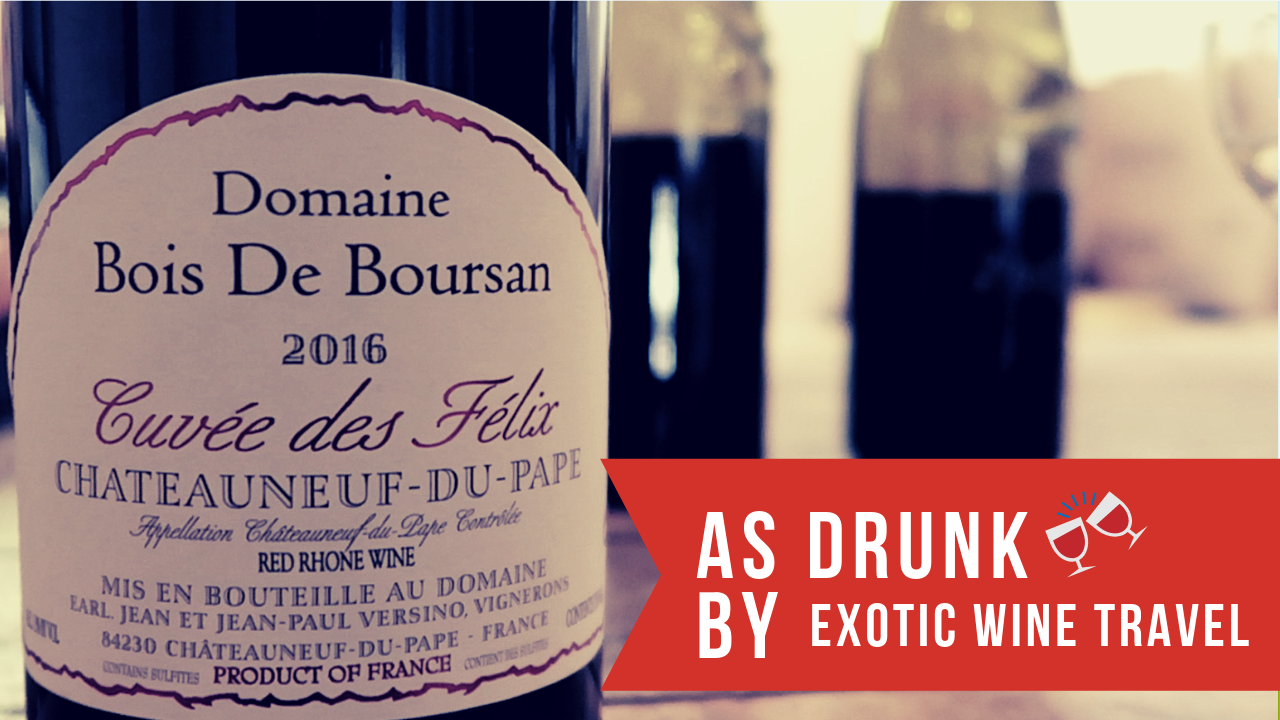 Reading Time: 1 minute
Hello! Welcome to As Drunk by Exotic Wine Travel, a weekly column where we feature interesting wines that we encourage you to seek out. The reviews featured in this series may be written by either one or the both of us. The featured wines can be from obscure or well-known wine regions. We hope that these wine recommendations will keep you gastronomically curious and your palate invigorated!
Domaine Bois de Boursan, 'Cuvée des Félix' Châteauneuf-du-Pape 2016
Most modern Châteauneuf-du-Papes are full-bodied, plush wines with alcohol levels approaching 16% abv. That's not the goal of Jean-Paul Versino, the second generation winemaker at Domaine Bois de Boursan. Jean-Paul aims to create elegant wines that do well in the bottle for many decades.
The cellar of Bois de Boursan sits at the southern end of Châteauneuf-du-Pape, just under the home of Jean-Paul's late father. He farms 16 hectares of vineyards organically. The winery is very small, producing about 35-40 thousand bottles of wine per year.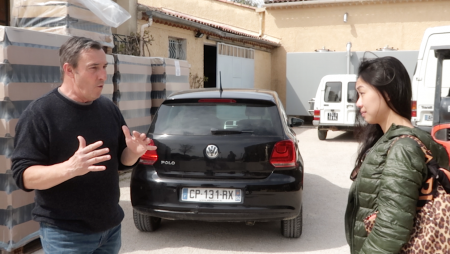 Winemaker Jean-Paul Versino. 
Jean-Paul isn't about chasing high scores and points. He wants to produce wines that are beloved by a particular audience. Those who value nuances, finesse, and tradition over jammy fruit. We definitely could see that in his flagship Châteauneuf-du-Pape. That wine is a little austere when young but ages beautifully. With his special cuvée, the Domaine Bois de Boursan 'Cuvée des Félix' Châteauneuf-du-Pape, Jean-Paul has struck a fine balance that will keep traditional and modern palates happy.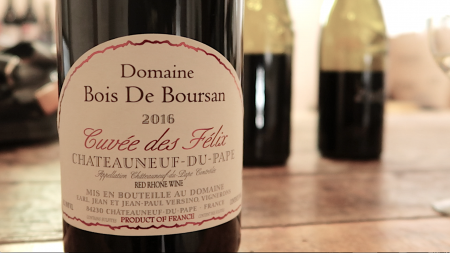 The Domaine Bois de Boursan 'Cuvée des Félix' Châteauneuf-du-Pape 2016 is made from a vineyard selection of the best grapes. It's named after Jean-Paul's grandfather, who started the estate after being a woodcutter all his life. The cuvée is mostly Grenache and Mourvedre with Syrah and other permitted varieties. It's aged in used oak. This is more opulent and complex than the standard Châteauneuf-du-Pape from Bois de Boursan but it's by no means an alcoholic beast.
It has a great nose with leather, strawberry, blueberry, stewed cherry, and beef jerky. The wine is very traditional and "Frenchie" in style. The palate is round, full-bodied and leathery, with a snappy, peppery finish. While this wine has a long life ahead of it, the round and chewy tannins allow it to be enjoyed now. If you like more elegant Châteauneuf-du-Pape, this is for you. 
Score: 94/100 (You can find out more about our scoring system on the WINE RATING page.)
Find or buy on Wine-Searcher.
---
Please note that the opinions expressed are our own and have not been paid for in any way. We do not sell editorial content as that would destroy the legitimacy of our reviews and the trust between Exotic Wine Travel and its readers. On occasion, we extend the option of purchasing the wines we review or/and the products we spotlight. Some of these product links are set up through affiliate programs, which means Exotic Wine Travel gets referral credits if you choose to purchase these items via the links we provide.