Domaine de la Solitude Châteauneuf-du-Pape Cornelia Constanza 2016
Reading Time: [est_time] *The photo depicts the 2015 vintage but the article refers to the 2016 vintage.  Hello! Welcome to As Drunk by Exotic Wine Travel, a weekly column where we feature interesting wines that we encourage you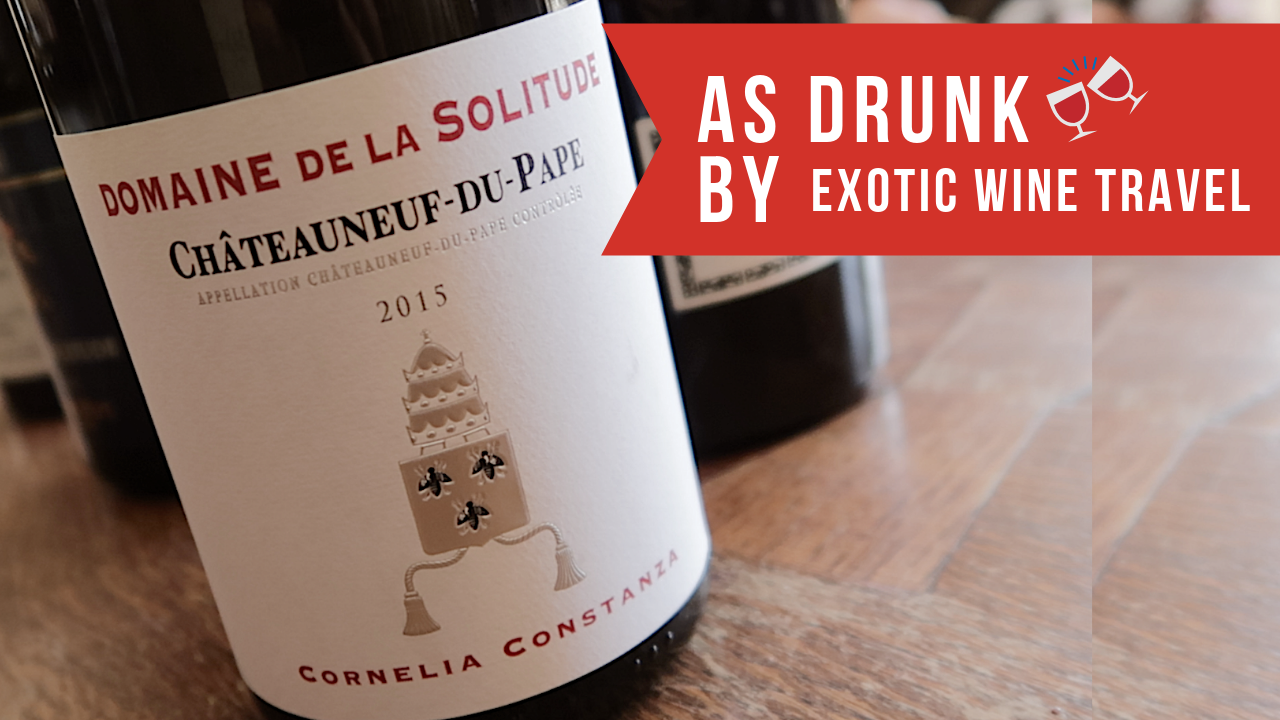 Reading Time: 1 minute
*The photo depicts the 2015 vintage but the article refers to the 2016 vintage. 
Hello! Welcome to As Drunk by Exotic Wine Travel, a weekly column where we feature interesting wines that we encourage you to seek out. The reviews featured in this series may be written by either one or the both of us. The featured wines can be from obscure or well-known wine regions. We hope that these wine recommendations will keep you gastronomically curious and your palate invigorated!
Domaine de la Solitude,'Cornelia Constanza'Châteauneuf-du-Pape 2016
Domaine de la Solitude is one of the oldest estates in Châteauneuf-du-Pape. Winemaker Florent Lançon represents the eighth generation of winemakers at the estate, all from one family. They own 37 hectares of vineyards in Châteauneuf-du-Pape, which are currently undergoing the process to receive organic certification.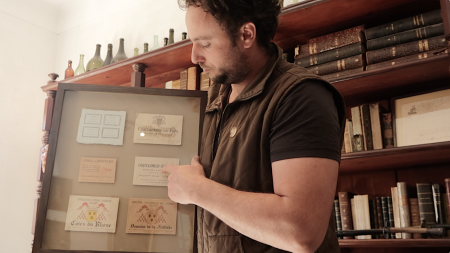 Florent Lançon, winemaker at Domaine de la Solitude.
We came across their wines during the Les Printemps des Châteauneuf-du-Pape. After tasting some of their wines, we had to visit the estate – which is just outside the main village. We spent more time with the winemaker Florent and did a thorough tasting of their portfolio. These wines are modern and fruit forward with round tannins. Thankfully, they are not complete fruit bombs. There is a sense of traditional craftsmanship in the wines that keep them from tasting over the top.
Their whole portfolio comes highly recommended, from the entry level Côte du Rhône all the way to their high-end bottlings like La Reserve Secret and Vin de Solitude. The Domaine de la Solitude 'Cornelia Constanza' Châteauneuf-du-Pape is what caught our attention. It is a cuvée that Florent introduced when he took over the winemaking duties from his father in 2007.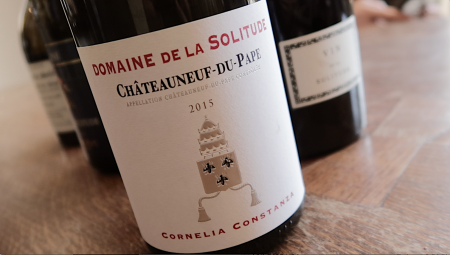 The 2015 vintage is in the photo but the article is about the 2016. 
The Domaine de la Solitude 'Cornelia Constanza 'Châteauneuf-du-Pape 2016 is made from old-vine Grenache grown in sandy soils. The cuvée consists of 90% Grenache and 10% from other varieties that are co-fermented. It has notes of strawberry, raspberry, sour cherry, fall leaves, and earth. The wine is full-bodied and rich with a certain elegance on the palate. It has crunchy fruit, grippy tannins, and a long finish. The Domaine de la Solitude Châteauneuf-du-Pape Cornelia Constanza 2016 is a flat-out sexy wine and should do great in the cellar for decades to come. 
Score: 95/100 (You can find out more about our scoring system on the WINE RATING page.)
Find or buy on Wine-Searcher.
You might also enjoy:
---
Please note that the opinions expressed are our own and have not been paid for in any way. We do not sell editorial content as that would destroy the legitimacy of our reviews and the trust between Exotic Wine Travel and its readers. On occasion, we extend the option of purchasing the wines we review or/and the products we spotlight. Some of these product links are set up through affiliate programs, which means Exotic Wine Travel gets referral credits if you choose to purchase these items via the links we provide.