Esu Carbonia, 'Nero Miniera' Carignano del Sulcis
Reading Time: [est_time] Carignan was at one time, one of the most planted red grapes in the world. This underappreciated variety is mostly associated with the south of France and Spain (its homeland) where it's often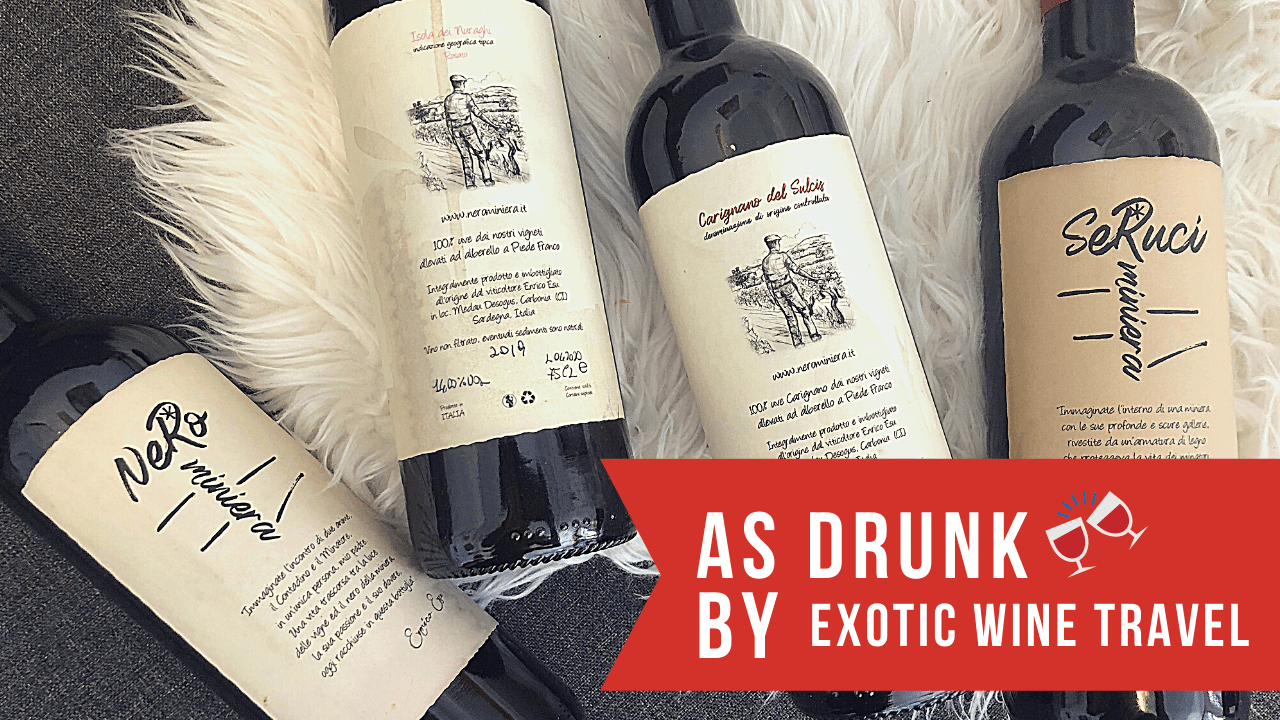 Reading Time: 2 minutes
Carignan was at one time, one of the most planted red grapes in the world. This underappreciated variety is mostly associated with the south of France and Spain (its homeland) where it's often blended. In recent years, varietal examples from Chile have gotten some press. Still, my heart is with the wines found in Sardinia. Tucked away on the southwest corner of the island, you can find the small DOC Carignano del Sulcis.
Esu Carbonia, 'Nero Miniera' Carignano del Sulcis
"This wine to me is like 98 points," said my friend and local Sardinian, Mario Bonamici.
Mario owns an events company dedicated to showcasing the local products of Sardinia. Thanks to him, I've been to the island several times over the last few years. A natural wine lover, Mario introduced me to the brilliant wines of Esu Carbonia by Enrico Esu. I'll never forget my first sip of the 'Nero Miniera' Carignano del Sulcis, it's a wine that keeps you coming back for more.
The Carignano del Sulcis DOC is dominated by large cooperatives like Santadi and Sardus Pater. While those producers make excellent wines, it's great to see new, small producers like Esu Carbonia making their mark. This small estate produces less than 10,000 bottles per year, most of which is sold in Sardinia. The vines are grown in the typical sandy soils of the region.
Carignano del Sulcis produces wines that have enough body, richness, and fruit to keep casual palates happy. They also have enough complexity and spiciness to keep more seasoned drinkers engaged. A wine that can live in two different worlds is no small feat.
The Esu Carbonia, Carignano del Sulics wines are no exception. They also bridge the gap between the hipster crowd that loves natural wines and the buttoned-up gang who like classic reds. They have a very hands-off feel to them, which lets the wildness of Carignan shine through yet still retains a certain refinement. These are big, Mediterranean wines done right.
I look forward to continuously follow Enrico Esu's progress. He soon may be able to produce wine to rival the flagship of the Carignano del Sulcis DOC, the Santadi Terre Brune. And thanks to Mario for introducing me to Sardinia and these wines – even if our scoring system is a little different.
Wine Recommendations:
Esu Carbonia, 'Nero Miniera' Carignano del Sulcis 2018
Another wonderful vintage of the Esu Carbonia, 'Nero Miniera' Carignano del Sulcis. Complex aromas of strawberry, dried cherry, meat, dried rose petal, and parched earth. Full-bodied and rich with plenty of ripe red fruit upfront. The fruit is plush while licorice and earthy complexities hit on the back end. Firm tannins. Let this rest in the bottle for a few years but if you want to enjoy it now, make sure to have some meat grilled up. Score: 91/100
Esu Carbonia, 'SeRuci Miniera' Carignano del Sulcis Riserva 2018
The SeRuci Miniera' Carignano del Sulcis Riserva is a little denser than the 'Nero Miniera' and comes in with slightly higher alcohol at 15%. The nose is similar to the 'Nero Miniera' except that this wine is a little more dark fruit-driven. Notes of black cherry, meat, licorice, and scorched earth. This shows a little more polish and a tad more wood. It's a little plusher on the palate. The tannins are big and chewy. Like its little sibling, there's a certain 'wildness' to these wines, which I absolutely love. Score: 92/100
You can find out more about our scoring system on the WINE RATING page.
BONUS: Esu Carbonia, Rosato
Enrico Esu also produces an exciting rosé under the Isola del Nuraghi IGT. You can see Charine's comments about this wine below.
You Might Also Enjoy:
---
Esu Carbonia provided tasting samples. The opinions expressed in this article are unsolicited and have not been paid for in any way by governmental bodies, enterprises, or individuals. We do not sell editorial content as that would destroy the legitimacy of our reviews and the trust between Exotic Wine Travel and its readers. On occasion, we extend the option of purchasing the wines we review or/and the products we spotlight. Some of these product links are set up through affiliate programs, which means Exotic Wine Travel gets referral credits if you choose to purchase these items via the links we provide.