Feravino 'Miraz' Cuvée & Syrah 2017
Reading Time: [est_time] Hello! Welcome to As Drunk by Exotic Wine Travel, a weekly column where we feature interesting wines that we encourage you to seek out. The reviews featured in this series may be written by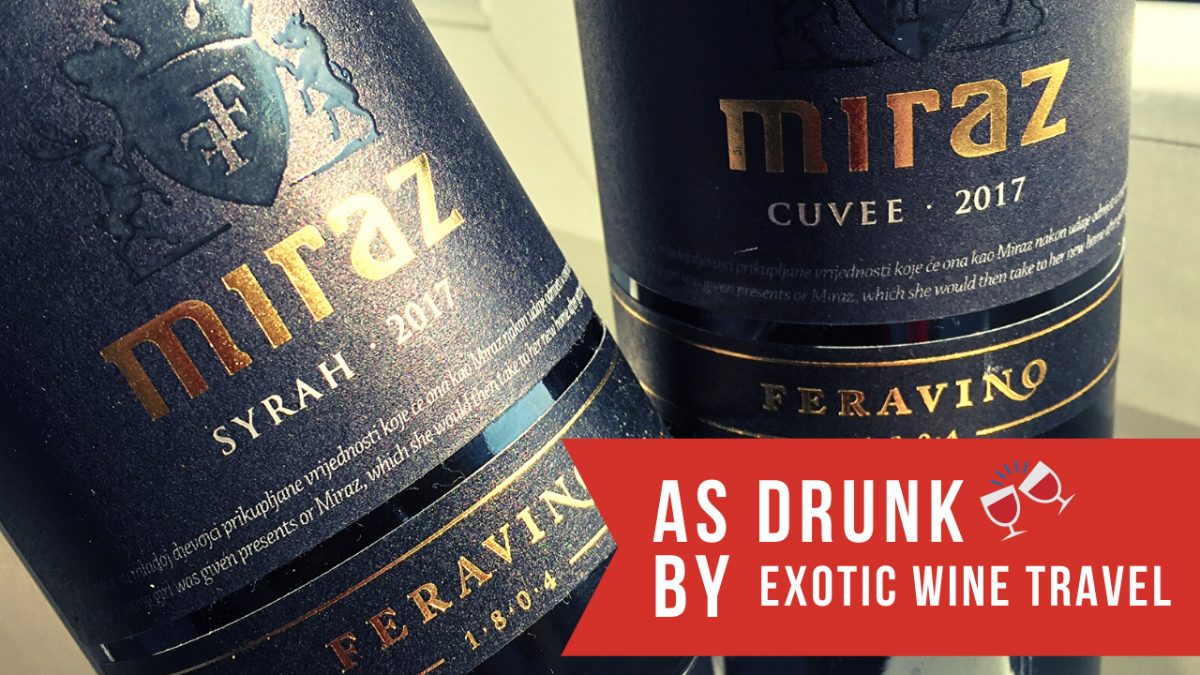 Reading Time: 2 minutes
Hello! Welcome to As Drunk by Exotic Wine Travel, a weekly column where we feature interesting wines that we encourage you to seek out. The reviews featured in this series may be written by either one or the both of us. The featured wines can be from obscure or well-known wine regions. We hope that these wine recommendations will keep you gastronomically curious and your palate invigorated.
Feravino, 'Miraz' Cuvée & Syrah 2017
Slavonia is known around the world for its famed oak, but there's much more to this region. There's a long history of wine production here. The Cistercian monks started planting grapes in Slavonia in the 13th century.
Concerning Croatian wines, Dalmatia has long been the region for big reds thanks to its Mediterranean climate. The continental region of Slavonia has historically been a white wine region, with Graševina leading the way. Today, that's changing. There are some delicious reds that offer tremendous value for money.
Feravino is a young estate in Slavonia that focuses on red wine production. Their 'Miraz' line represents the finest wines in the cellar. I usually tend to favor their 'Miraz Cuvée' which is a blend of Frankovka (Blaufränkisch), Merlot, Cabernet Sauvignon, and Cabernet Franc. The 2017 is another good vintage of this wine and it's a great direction for Slavonian reds in my opinion. However, the most impressive of the 2017 'Miraz' lineup is the Feravino 'Miraz' Syrah.
The Feravino, 'Miraz' Cuvée is a blend of Frankovka, Merlot, Cabernet Sauvignon, and Cabernet Franc aged in Slavonian oak. This is full-bodied but not overripe or overdone. Notes of black cherry, plum, tobacco, and graphite. The front is round and fruity and the back end has structure and chewy tannins. This is a good direction for Slavonian reds. It's a good, honest red that isn't stripped down. It should age nicely in the medium term (10 years).
Score: 90/100
The Feravino, 'Miraz' Syrah is a ripe wine aged in Slavonian oak. It's more of a European-style Syrah, not a big fruity Shiraz. There are notes of blackberry, blueberry, cedar, and black pepper. This is full-bodied with some slight floral notes on the back end. The tannins sneak up on the finish, giving just a little grip. This red should be great with the local, spicy sausage known as Slavonski Kulen.
Score: 90+/100
(You can find out more about our scoring system on the WINE RATING page.)
The finest selection of
(a re-branded name of the winery)
wines available at:

Shipping is available EU-wide and to the UK.
************
Do you want to try Croatian wines?
If you want to savor the exquisite flavor of Croatian wines, look no further than wineandmore.com. With many options from different winemakers, it's easy to find exactly what your palate desires. Not sure which bottle is best for you? Try out one of their curated wine cases and discover the perfect vintage for any occasion!
************
Want to learn more about wine?    
Are you ready to discover the wonderful world of wines? Come join us at wineandmore.com, and let's explore the incredible selection of delicious wines together!
---
Please note that the opinions expressed are our own and have not been paid for in any way. We do not sell editorial content as that would destroy the legitimacy of our reviews and the trust between Exotic Wine Travel and its readers. On occasion, we extend the option of purchasing the wines we review or/and the products we spotlight. Some of these product links are set up through affiliate programs, which means Exotic Wine Travel gets referral credits if you choose to purchase these items via the links we provide.i.g