Game Of Thrones Wine: Cabernet Sauvignon Napa Valley 2015
Reading Time: [est_time] Hello! Welcome to As Drunk by Exotic Wine Travel, a weekly column where we feature interesting wines that we encourage you to seek out. The reviews featured in this series may be written by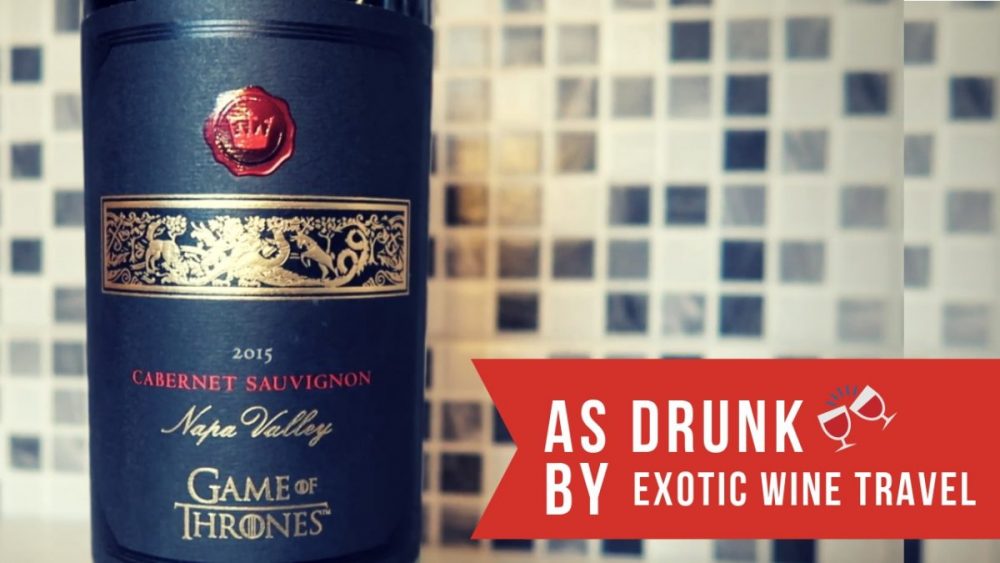 Reading Time: 2 minutes
Hello! Welcome to As Drunk by Exotic Wine Travel, a weekly column where we feature interesting wines that we encourage you to seek out. The reviews featured in this series may be written by either one or the both of us. The featured wines can be from obscure or well-known wine regions. We hope that these wine recommendations will keep you gastronomically curious and your palate invigorated!
Game Of Thrones Wine: Cabernet Sauvignon, Napa Valley, 2015
I might be the only person who knows nothing about the Game of Thrones series. In fact, we were giving a presentation in New York City about Croatian wines and I mentioned that Dubrovnik is where many parts of "king of thrones" were filmed. The audience corrected me instantly, emphatically, and in unison "Game of Thrones!"
When 8wines.com offered us a few samples for us to try, Charine thought it would be interesting to try something from the Game of Thrones wine portfolio (owned by Vintage Wine Estates). The Game of Thrones Red Blend and Game of Thrones Chardonnay are made with fruit from the Central Coast AVA, which means that the grapes could be sourced from a fairly large area in California. If any of these wines were going to be good, I thought the Napa Valley Cabernet Sauvignon (fruit can come from any of the 16 sub-AVAs in Napa Valley) would have the best chance.
Bob Cabral is the winemaker of Game of Thrones Cabernet Sauvignon. He's well known for crafting the first American Pinot Noir to receive 100 points from Robert Parker's The Wine Advocate. After making wine at William Selyem for many years, Bob started his own project and was then contacted by HBO to make the Game of Thrones wine.
Bob is reportedly a Game of Thrones fanatic, but I was still skeptical before trying the wine. Is this just a marketing gimmick, or is there substance inside the bottle?
The Game of Thrones Cabernet Sauvignon Napa Valley 2015 isn't a gimmick. This is some serious juice. It's full of black cherry, violet, capsicum, and a touch of sweet cedar. The wine is round and silky on the palate with chewy tannins. Bob Cabral did an excellent job of making a young Cabernet Sauvignon accessible and easy to drink for all types of palates while offering enough subtle nuances to serious wine enthusiasts.
For Game of Thrones fans, this is an outstanding wine to bring to dinner or to sip on while watching an episode. For the few people out there that know nothing about Game of Thrones like myself, it's a flat-out good wine. This is definitely on par, if not better, than many of the standard Napa Valley's Cabernet Sauvignons (Napa Valley AVA-level, not sub-AVA) out there.
[ap_call_to_action button_text="Shop Now" button_url="https://share.www.exoticwinetravel.com/game-of-thrones-cabernet-sauvignon" button_align="center"]Get €15 off. Use the code "EWT8WO7".[/ap_call_to_action]
90 points (You can find out more about our scoring system on the Wine Rating page.)
Find or buy this wine and other Game of Thrones wines at 8wines. Use the promo code EWT8WO7 and get €15 off your first purchase of $100 or more. (EU-wide delivery plus Hong Kong, Japan, and Norway.
---
You May Also Enjoy
Bob Cabral's website
All of the 'Game of Thrones' Booze You Can Buy and Collect (So Far), by Food & Wine
The 'Game Of Thrones' Season 8 Premiere Month Has Been Revealed, by Bustle
We received this wine from 8wines.com as a complimentary sample for this review. Please note that the opinions expressed are our own and have not been paid for in any way. We do not sell editorial content as that would destroy the legitimacy of our reviews and the trust between Exotic Wine Travel and its readers. On occasion, we extend the option of purchasing the wines we review or/and the products we spotlight. Some of these product links are set up through affiliate programs, which means Exotic Wine Travel gets referral credits if you choose to purchase these items via the links we provide.