Gašper Cabernet Franc Selekcija 2017
Reading Time: [est_time] Hello! Welcome to As Drunk by Exotic Wine Travel, a weekly column where we feature interesting wines that we encourage you to seek out. The reviews featured in this series may be written by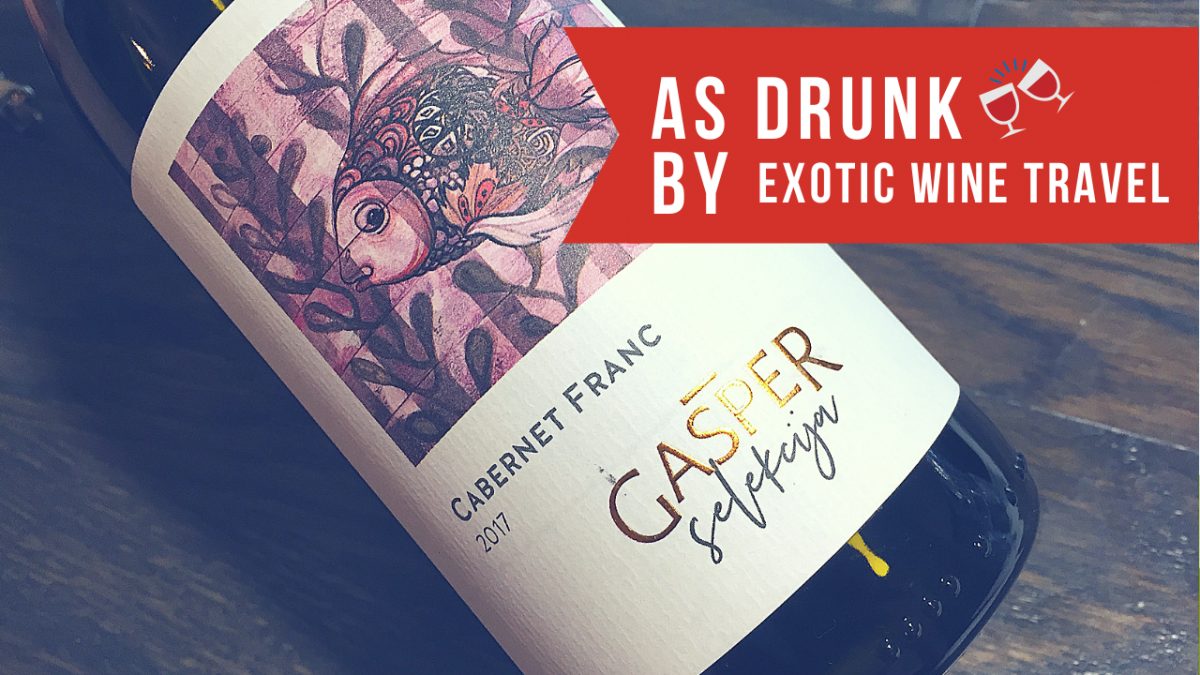 Reading Time: 2 minutes
Hello! Welcome to As Drunk by Exotic Wine Travel, a weekly column where we feature interesting wines that we encourage you to seek out. The reviews featured in this series may be written by either one or the both of us. The featured wines can be from obscure or well-known wine regions. We hope that these wine recommendations will keep you gastronomically curious and your palate invigorated!
Gašper, Cabernet Franc Selekcija 2017
Goriška Brda, Slovenia is an extension of Collio in Friuli-Venezia Giulia, Italy. It's known as the premier region for Slovenian wine. The specialty of Brda (short for Goriška Brda) is orange wine, especially from the grape Rebula (Ribolla Gialla across the border in Italy).
There are some fabulous reds in Brda too, most of which are based off Merlot. The other Bordeaux grapes like Cabernet Sauvignon and Cabernet Franc make cameos but are often used as blending grapes and not made into varietal wines. That's what makes the Gašper, Cabernet Franc Selekcija unique.
Gašper is owned by Gašper Čarman. He is one of the most renowned sommeliers in Slovenia and is the founder of eVino, the biggest online Slovenian wine shop. Gašper producers his line of Slovenian wines in cooperation with the biggest cooperative in Goriška Brda known as Klet Brda. Gašper wines have been well received over the years but struck platinum with their Cabernet Franc Selekcija.
The Gašper, Cabernet Franc Selekcija 2017 is the first red Slovenian wine to receive a Platinum Medal at the Decanter World Wine Awards. This is an intense, full-bodied Cabernet Franc. It has a touch of funk that might make people believe it is French. Notes of black cherry, leather, funk, capsicum, and graphite. Weighty on the palate with light tannins. The intensity of the flavor on the mid-palate and finish are what stand out here. We'd like a little more tannin but overall, this is a beautiful wine.
Score: 92/100 (You can find out more about our scoring system on the WINE RATING page.)
We purchased this wine from Enozoik Shop in Croatia.
The finest selection of
wines available at:

Shipping is available EU-wide and to the UK.
************
    Do you want to try Slovenian wines?    
If you're looking to savor the exquisite flavor of Slovenian wines, look no further than wineandmore.com. With an abundance of options from different winemakers, it's easy to find exactly what your palate desires. Not sure which bottle is best for you? Try out one of their curated wine cases and discover the perfect vintage for any occasion!
************
Want to learn more about wine?
Are you ready to discover the wonderful world of wines? Come join us at wineandmore.com, and let's explore the incredible selection of delicious wines together! We can't wait to share our passion for wine with you!
You Might Also Enjoy:
Do you like our content?
If you like our articles and videos, we'd love for you to be a part of our community on Patreon. The support from Patreon helps keep the content coming and you access to behind the scenes content. It also gives us the chance to get to know you better. Check out the Exotic Wine Travel Patreon page by clicking the photo below.

---
Please note that the opinions expressed in this article are unsolicited and have not been paid for in any way by governmental bodies, enterprises, or individuals. We do not sell editorial content as that would destroy the legitimacy of our reviews and the trust between Exotic Wine Travel and its readers. On occasion, we extend the option of purchasing the wines we review or/and the products we spotlight. Some of these product links are set up through affiliate programs, which means Exotic Wine Travel gets referral credits if you choose to purchase these items via the links we provide.