2015 Lagvinari Wine from Georgia
Reading Time: [est_time] For a listing of articles and videos on Georgian wines and wine travel in Georgia, check out our page Uncorking the Caucasus. To purchase the Kindle or paperback copy of the book Uncorking the Caucasus: Wines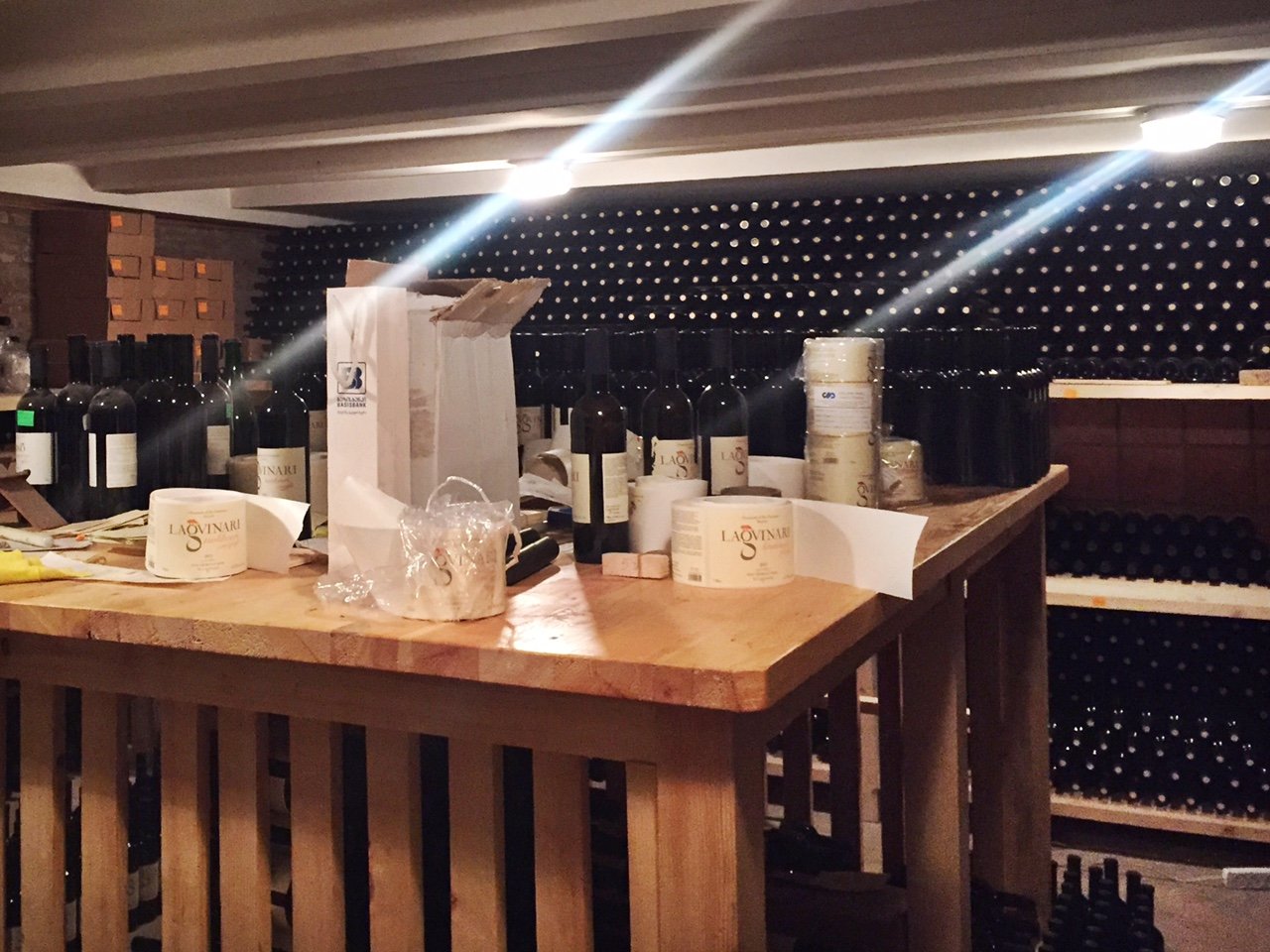 Reading Time: 3 minutes
For a listing of articles and videos on Georgian wines and wine travel in Georgia, check out our page Uncorking the Caucasus. To purchase the Kindle or paperback copy of the book Uncorking the Caucasus: Wines from Turkey, Armenia, and Georgia, please head to this Amazon product page.
Thanks to the first annual UNWTO Conference on Wine Tourism, we got the chance to return to Tbilisi, Georgia in the Fall of 2016. When we arrived in Georgia, there was one producer who was our top priority to visit.
We had dinner on a crisp September night with one of our favorite winemakers, Dr Irakli "Eko" Glonti, the owner of Lavignari Winery. We tasted nine wines from his 2015 vintage with journalists from Turkey, China, Russia, USA, Germany and the UK who were also in town for the conference.
Eko is a medical doctor turned geologist turned winemaker. His first vintage was 2011 and in a short amount of time, the Lagvinari wines found their way to the wine list of The Fat Duck. He is also a favorite of Master of Wine, Isabelle Legeron.
Walking into his home, you know you are in the presence of a true renaissance man. The house is covered wall to wall with books, paintings, and vinyl from all different parts of the globe. He does not allow visitors to come to his winery; the only way to taste his wines is if you are lucky enough to be invited to his home. A visit to Eko's always promises to be memorable as you can see below. 
Lagvinari Wine
Eko is a true romantic but thinks methodically about his wines. As a medical doctor, he is concerned with the health of the soil that the grapes are grown in. He works with many small farmers, most with less than a half-hectare of grapes. All Lagvinari wines are fermented, macerated, and aged in traditional Georgian "qvevri" (buried clay vessels) with the exception of a batch of Saperavi he made in steel tanks in 2011.
The wines reflect who he is as a person in a big way – all of them are aromatic and more elegant than powerful. Lagvinari wines display subtle flavors that open up in the glass over time and a bit of tension broken up by moments of intensity. All of Eko's wines are alive and full of emotion – they are delicious and intellectual at the same time. The best part is the approachability, Lagvinari wines can be recognized as great efforts by even novice tasters.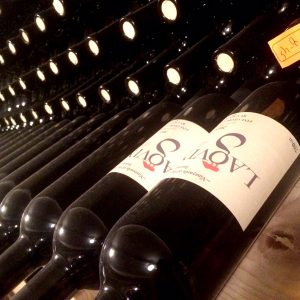 The number of wines produced by Eko changes from year to year depending on the quality of the grapes. The 2015 vintage was described as tough emotionally and physically by Eko. He is not proud of the vintage and keeps insisting that the 2016's are even better. 
Despite his opinions, I was blown away by the 15's and feel that they are accessible to even non-adventurous palates. Georgian qvevri wines have the ability to confuse, confound, and even turn off many tasters. The Lagvinari wines are easy to understand for the first time qvevri drinkers and complex enough to satisfy the most critical palates.
In 2015, Eko made nine varietal wines from Tsitska, Tsolikouri, Chinuri, Krakhuna, Rkatsiteli, Goruli Mtsvane, Aladasturi, Ojaleshi, and Otskanuri Sapere. All of these wines are excellent, but here are our three favorites of the vintage. 
EXOTIC WINE TRAVEL'S PICKS
(You can find out more about our scoring system on the START HERE page.)
Lagvinari, Tsolikouri 2015
This Tsolikouri saw four months of skin contact. It has the nice spring breeze nose with oranges, almonds, and green tea flavors. The wine changes throughout the glass and has some tannic grip. This wine is floral and fruity. It constantly ebbs and flows between a white and light red wine as it breathes.   4.3/5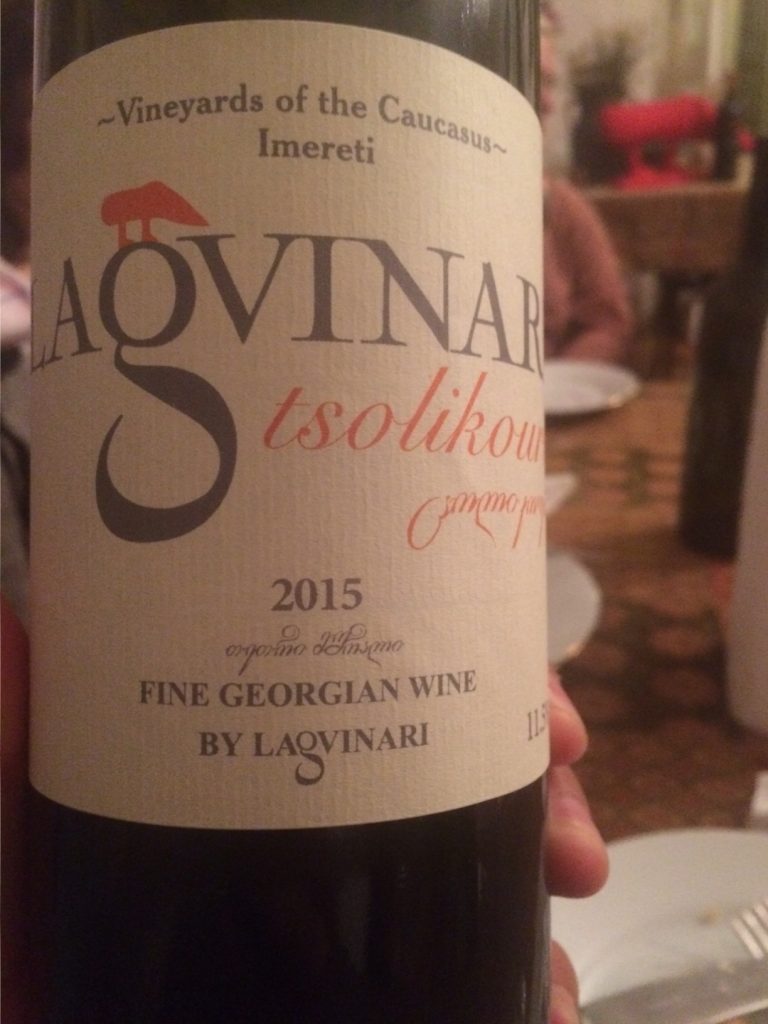 Lagvinari, Goruli Mtsvane 2015
The wine made from this grape looks slightly gray in color. Goruli Mtsvane is rare, and there are only a handful of Georgian producers working with it. This is absolutely wonderful to drink. The wine has hints of white fruits, greens, and nuts on the nose, but it feels and tastes like a red wine on the palate. The texture is rich with faint red fruits, backed by a wonderful juiciness. The tannins are big and chewy. 
Eko thinks that this may be his greatest achievement in 2015. After sampling, it's hard to disagree with his sentiment.   4.4/5
Lagvinari, Aladasturi 2015
What a wine! This is made in qvevri but many would not be able to tell. Aladasturi is a red grape that makes wines with light color. It needs some time to breath in a decanter before it shows its true identity. The nose is very reminiscent of an Oregon Pinot Noir – raspberries, strawberries, forest floor, earth, and leaves. The palate is both earthy and fruity, it tastes a little like a Cru Beaujolais. This is a wonderful red wine that can be served slightly chilled and was our favorite wine of the evening.   4.5/5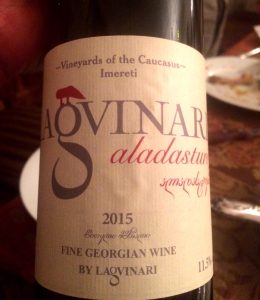 ---
You May Also Enjoy
Amber Revolution: Orange Wine Now Gets A Voice (And Book)
The Unstoppable Progress in the Georgian Wine Scene
The ideas expressed in this article are personal opinions and are not associated with any sponsors or business promotions.