Golguz Cuvée Premium 2015
Reading Time: [est_time] Hello! Welcome to As Drunk by Exotic Wine Travel, a weekly column where we feature interesting wines that we encourage you to seek out. The reviews featured in this series may be written by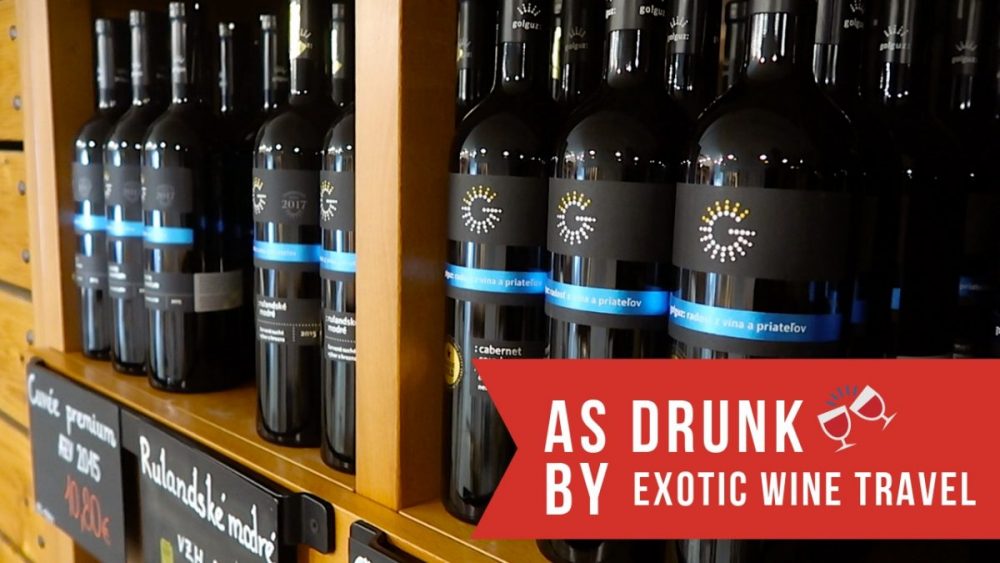 Reading Time: 1 minute
Hello! Welcome to As Drunk by Exotic Wine Travel, a weekly column where we feature interesting wines that we encourage you to seek out. The reviews featured in this series may be written by either one or the both of us. The featured wines can be from obscure or well-known wine regions. We hope that these wine recommendations will keep you gastronomically curious and your palate invigorated!
Golguz, Cuvée Premium 2015
We first got a taste of Golguz at the Wine Museum in downtown Bratislava, also known as the Národný Salón Vín Slovenskej Republiky. When we visited in the winter of 2017, a Golguz Rulandské Modré (Pinot Noir) 2015 caught our attention. It's made from late harvest grapes and retains the beautiful fruit and earthy undertones we expect from Pinot Noir.
Our friend and Slovak wine writer Tibor Vittek told us, "this wine is from Hlohovec, which we call little Burgundy because it's an excellent area for the Pinot varieties."
Fast forward eight months and we found ourselves at Golguz winery during our ten-day re-tour of Slovak wine regions. We arrived in Hlohovec after a five-hour drive from Slovak Tokaj, we were met by the assistant oenologist and house sommelier. After exchanging quick pleasantries, we jumped right into tasting from the tank and bottle.
Golguz has 200 hectares of vineyards in Hlohovec but only produces around 200,000 bottles per year – the rest of the grapes are sold. The vineyards surround the town of Hlohovec and are located within the Malokarpatská (Little Carpathian) wine region. Drinking through their wines, it's apparent that their vineyards give good fruit. All of the wines show a ripe, luscious fruit note that isn't always found in the Small Carpathian region.
We've been pleased with nearly every wine we have tasted at Golguz. Surprisingly, it's a red that sticks out to us the most.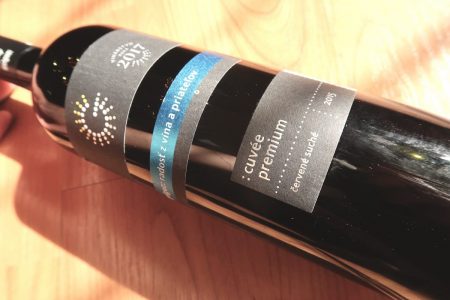 The Golguz Cuvée Premium 2015 is a blend of Alibernet, Dornfelder, and Cabernet Sauvignon aged in oak. The Cuvée Premium bottling is not produced every year and the blend changes depending on the vintage. It's dark and rich on appearance but medium bodied and juicy on the palate. Nice combination of black and red fruit with a touch of oak and capsicum notes. Smooth mid palate with lots of fruit and chewy tannins. It has a little savage note that we liken to Carignan, which probably comes from the Alibernet. Low in alcohol at 12.5% and tons of fun to drink. 
88/100 (You can find out more about our scoring system on the WINE RATING page.)
Penzión Jašter
We have to enthusiastically mention Viecha Jašter. It's a local restaurant that has recently opened up a guesthouse. The owner, Paolo, produces his own wine and is the president of the local wine association.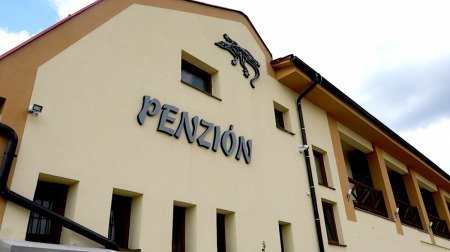 It was the most comfortable accommodation we stayed in during our recent trip to Slovakia. The rooms are spotless and close to the level of a 4-Star Hotel. We also ate several meals there and the food is hearty and honest. Thanks to Viecha Jašter for having us!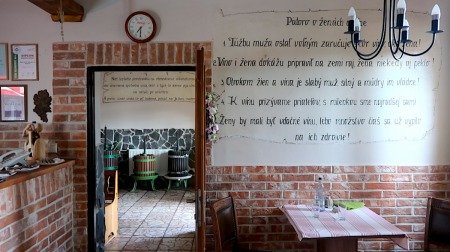 ---
Golguz and Viecha Jašter provided accommodation for our visit. The opinions expressed in this article are unsolicited and have not been paid for in any way by governmental bodies, enterprises, or individuals. We do not sell editorial content as that would destroy the legitimacy of our reviews and the trust between Exotic Wine Travel and its readers.