Gravner and Radikon: Italian Wines Without Compromise
Reading Time: [est_time] Gravner and Radikon have been high on our "must visit" list for a long time. We are huge fans of the natural, macerated, qvevri wines in Georgia. While the Georgians have been making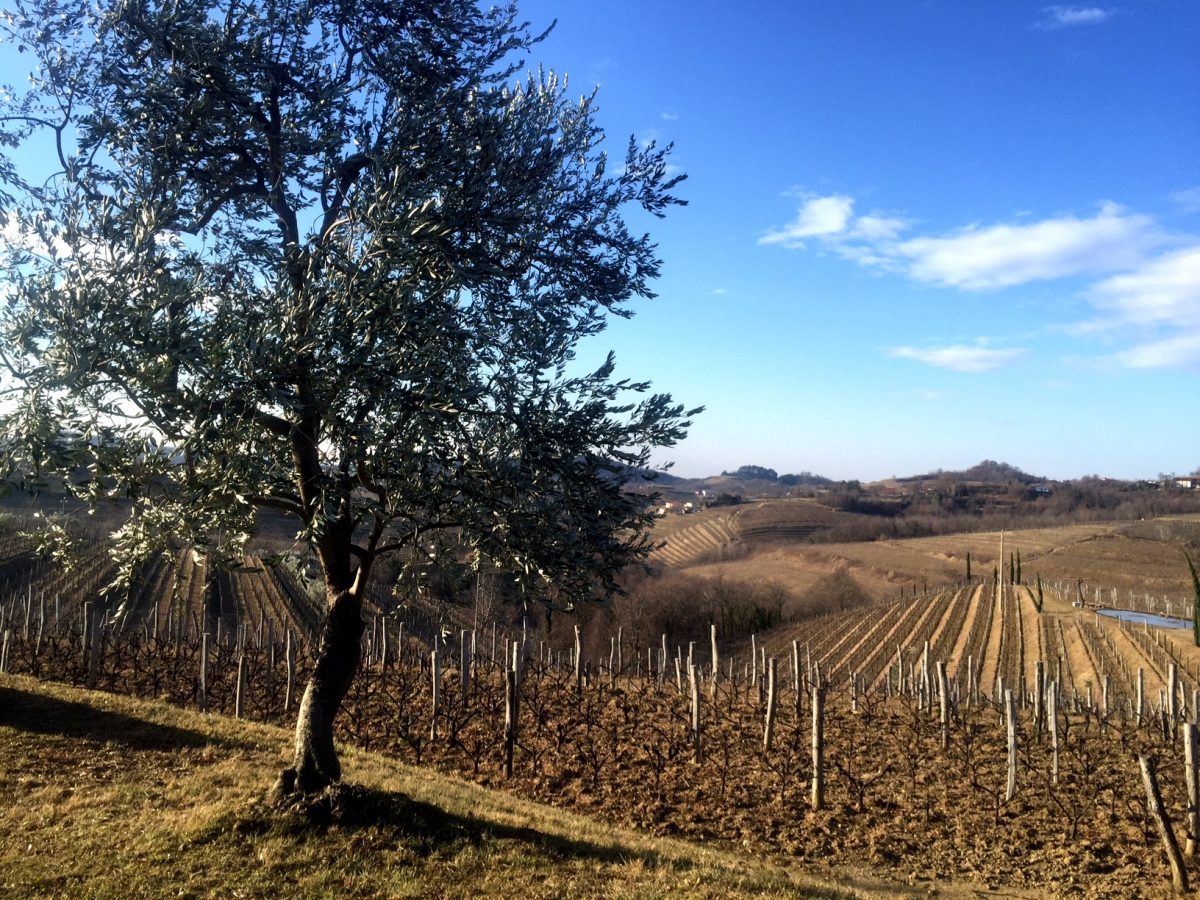 Reading Time: 5 minutes
Gravner and Radikon have been high on our "must visit" list for a long time. We are huge fans of the natural, macerated, qvevri wines in Georgia. While the Georgians have been making this style of wine for thousands of years, these two Friulian producers were the ones that pushed this style of wine into the forefront during modern times.
Gravner is credited for bringing qvevri (amphora) into the visibility of contemporary wine drinkers. Radikon is credited for his fervent stand against adding sulfites to wine. Love or hate them, they are synonymous with the current "natural wine" buzz. Both producers believe in making their vineyards into sustainable living systems and condemn the use of artificial fertilizers, herbicides, and pesticides.
Gravner
When we arrived at the Gravner cellar, the sun was shining but the Bora winds were at full force. The Bora comes off the Alps in the north and the Dinaric Range in the east. The winds blow down the Adriatic Sea during the winter with impressive force. Charine was knocked down by the wind and struggled to get up three times before our friend Vedran helped her up.
Joško Gravner and his daughter Mateja Gravner are the winemakers here. For our tour, Mateja took us out to the beautiful vineyards. Gravner has developed a way to prune the Ribolla Gialla vines differently. We think of it almost like a modified triple cordon system. Mateja explained that they feel the berry clusters need to be closer to the old wood in order to bear good fruit.
After visiting the vineyards, Mateja walked us through the cellar. She told us about the family history and why her father Joško started making wine in this fashion. More than a decade ago, Joško Gravner traveled to Georgia to see how wine was being made there. He was astounded by the method of making wine in buried clay vessels, known as qvevri in Georgia.  He came home and decided to get rid of his stainless steel tanks and began importing Georgian qvevri. Half of his first shipment of qvevri was delivered to him in broken pieces but that didn't discourage him.
After spending a lot of time in Georgia, we have seen plenty of qvevri cellars. Yet we are never sick of seeing another. There is something peaceful and calming about being around wine "born" out of mother earth.
Mateja took us through the more traditional cellar, where the élevage takes place in large oak casks for six years before bottling. She continued to share the stories about her father's winemaking journey. Gravner winery moved all of their fermentations to qvevri in 2001. After the 2013 vintage, Gravner will be fully dedicated to the indigenous varieties of Ribolla Gialla and Pignolo.
We stepped into the beautiful tasting room. Gravner had special stemless glasses designed for their wines (which you can see below). At first, we were disappointed because the tasting pours were small and the wine was difficult to evaluate in the large glasses. The tasting went to the next level when Mateja opened the Gravner reserve wine, a macerated Pinot Grigio.
Gravner's wines are extremely well-made and are as clean as amphora wines can get. The flavors on the nose and palate are intense. They are serious amber wines that are massively structured and take a lot of concentration to understand. We feel that the potential for Pignolo is limitless and their flagship wine made out of Ribolla Gialla is popular for a reason. All of Gravner's wines have higher acidity for macerated wines, which can ease newcomers into this style of wine.
Exotic Wine Travel's Picks
You can read more about our scoring system on our START HERE page.
Some of the Ribolla Gialla grapes that went into this wine were infected with botrytis. This is deep amber in color. It has flavors of orange peel, apricot, and spice. The nose and palate are pronounced yet elegant. The wine has some savory characteristics like a chicken broth. The tannins are firm and guide a long, cognac-like finish.   4.4/5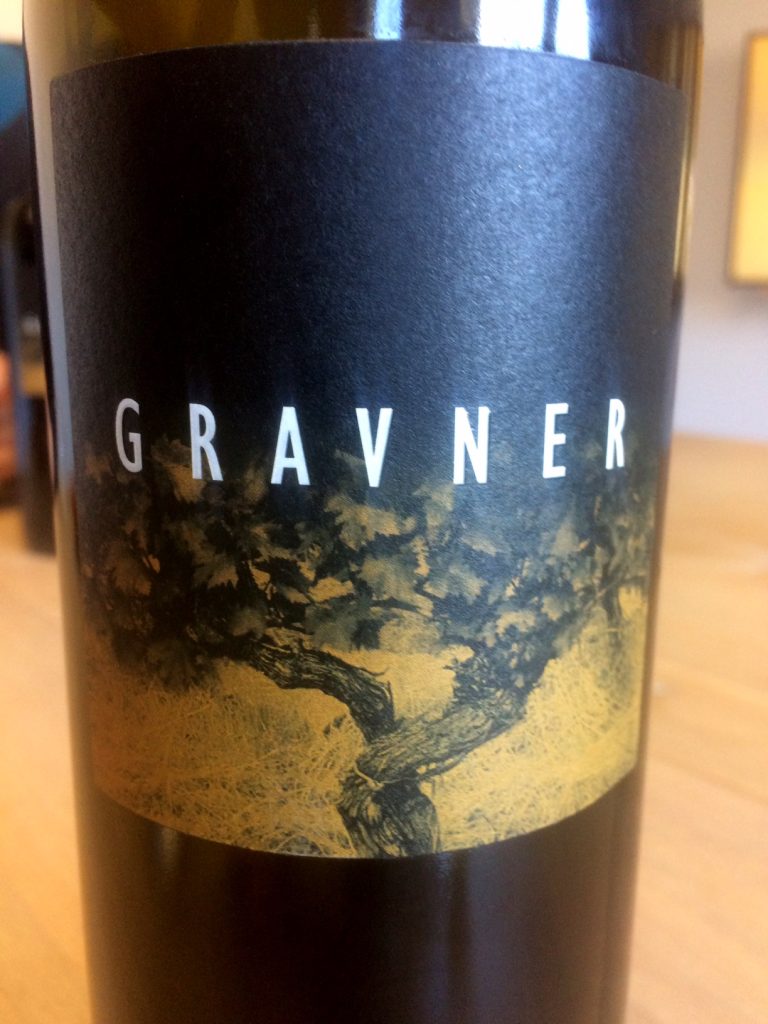 Gravner Pinot Grigio 2006 
This is the reserve wine from Gravner and after the 2013 vintage, they will cease production of Pinot Grigio. A brown-orange color, this is what we expect from macerated Pinot Grigio. This wine is incredibly complex with significant depth. It is full of orange peel, earth, caramel, brown sugar, forest floor, and maple syrup notes. The wine is tangy, savory, and complex – extremely delicious for those willing to open themselves up to this style of wine. The tannins are firm but sweet.   4.4/5
Made from the local variety Pignolo, this spent five years in the oak cask and five years in the bottle. The wine has a rocking nose with plum, rose petal, black licorice, and brown spices. At first, the wine is more earthy on the palate. After time in the glass, the dark fruit emerges. This is big in body and the tannins are big and round, they possess a lot of grip. While the wine is firm, the tannins are ripe. The finish is long and complex, it feels great on the palate but make no mistake, it is a thinking wine.   4.5/5
Radikon
In September of 2016, Stanislao "Stanko" Radikon passed away. He was a pioneer in the natural wine world. Stanko wanted the local Ribolla Gialla grape to be respected and well-known. His innovations include three-month skin maceration with Ribolla Gialla, the half-liter & liter bottles, as well as bottling his wine without sulfur. We never got a chance to meet Stanko, but when we visited the Radikon estate, his presence was felt.
The family misses Stanko dearly, you can feel it when talking to them. Stanko's son Saša Radikon is the head winemaker now and Stanko's wife Suzana is still deeply involved. They continue to fulfill Stanko's legacy.
We pulled in about half an hour early for our appointment and the family was eating lunch. All three of us felt a little embarrassed interrupting their meal but Suzana assured us it was fine. We parked our car and waited for 15 minutes, staring out into Radikon's beautiful vineyards. Suzana finished up her meal and then joined us outside, officially starting the tour.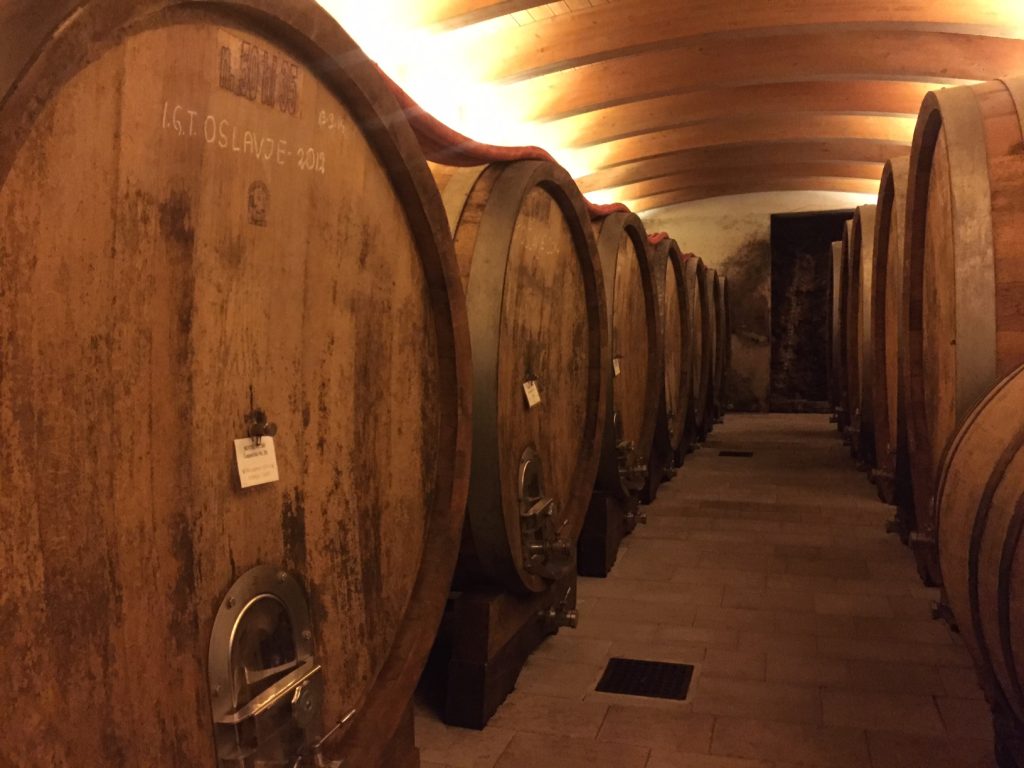 Suzana walked us through the cellar which is full of old Slavonian oak casks. Radikon produces a little over 30,000 bottles per year. Since they age the wines for a long time, a lot of the cellar space is taken up by wines that are patiently resting. The main line of Radikon wines spends three to four months on the skins and six years in cask before bottling. Stanko's son Saša started his own "S" line of wine that spends 10 days on the skins and 18 months in the casks before bottling. They were made to be a user-friendly introduction to this style of wine.
Suzana lit up like a light bulb when she showed us a few older vintages, perhaps they were making her feel more connected to Stanko. We walked into the bottling room where we tasted through the wines, including several vintages of their Ribolla, a Pinot Noir, and their Grand Cru white wine.
The wines are alive and do not hold back. They are like a strong, quirky person that walks into a party and doesn't care what people think. Radikon wines are uncompromising and bursting with life. This holds most true with the Ribolla wines, we tasted the 1998, 2001, 2003, and 2009 vintages. Charine describes Radikon Ribolla as a "wild child!" The wines from the "S" line show a lot more restraint and are easier to understand. The Grand Cru wine, Fuori dal tempo is…well just read the notes below.
We wish the Radikon family all the very best. Their reputation is well deserved and tasting the wines can be an exhilarating experience for those who are open to it.
Exotic Wine Travel's Picks
You can read more about our scoring system on our START HERE page.
Radikon "S" Pinot Grigio 2014
From the S-Line from Radikon, which is made in the same style as the main line but ages 18 months in oak cask instead of six years. This is a very bright interpretation of a macerated Pinot Grigio. Flavors include rose petal, orange peel, lemon, forest leaves, and dried pineapple. The acidity is very lively and the mouthfeel is gritty with a beautiful finish.   4.6/5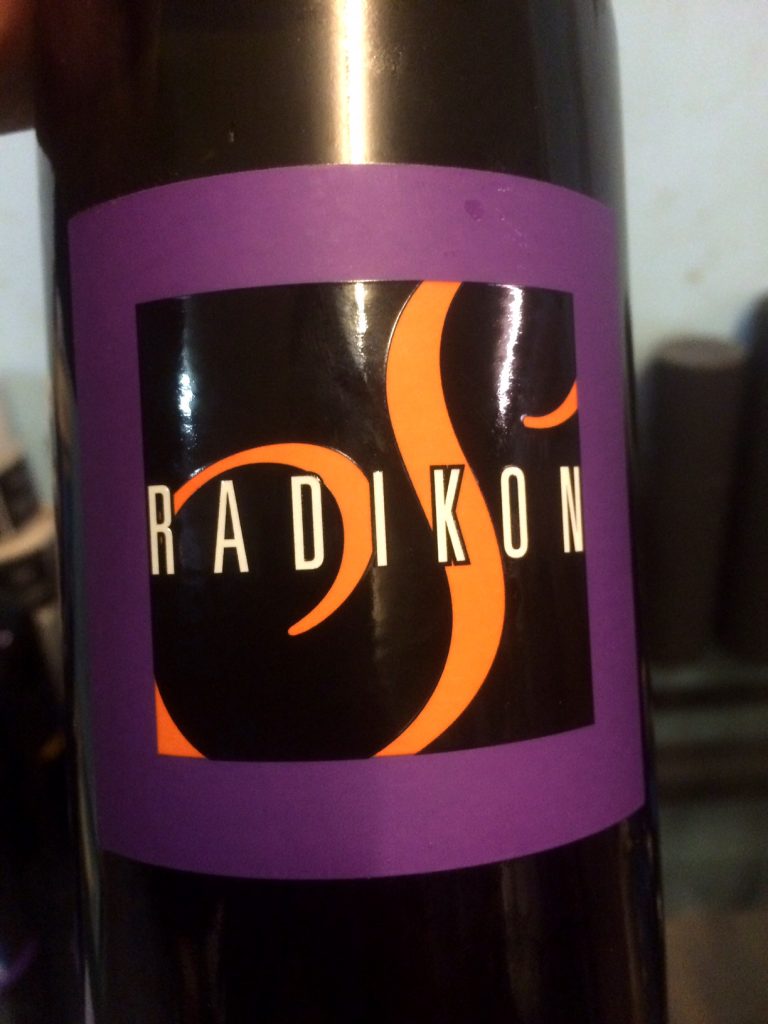 A blend of 70% Chardonnay and 30% Sauvignon Blanc. This cuvée is named after the village where the Radikons reside. The flavors include autumn leaves, pumpkin, lemon, dried banana, and almonds. The wine has bright and bouncy acidity on the palate with gritty, fine-grained tannins. This is wild and yet elegant at the same time.   4.6/5
Radikon Fuori dal Tempo 2001 
A blend of 60% Chardonnay and 40% Sauvignon Blanc. This name translates to "out of time" which is appropriate for this wine. This is the cru wine of Radikon made from a meticulous selection of grapes. This is ethereal and like no other wine we have ever tasted, conventional or amber. Charine teared up after taking a sip of this. It is full of tomato leaf, orange peel, herb, and cinnamon flavors. The mouthfeel is what sets it apart, it has this interesting cotton candy note but the wine dances over the palate. It is rich and concentrated yet old and elegant. Although we never met Stanko, we feel we know him and what he was always striving for by tasting this wine. Wow, what a beauty.   4.7/5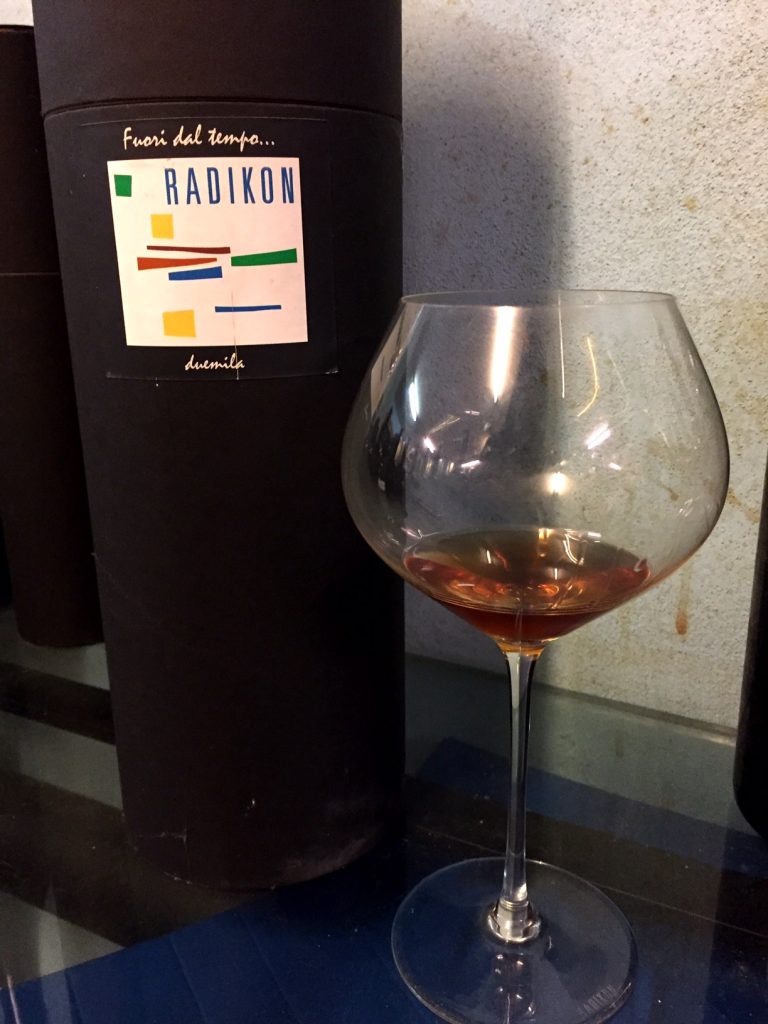 You May Also Enjoy:
Miani: The Stuff Wine Dreams are Made of
Classic Wines from Borgo Del Tiglio and Meroi
Bastianich and Jermann: Iconic Friulian Wine
Amber Revolution by Simon Woolf
---
Disclaimer: The ideas expressed in this article are personal opinions and are not associated with any sponsors or business promotions.