Hecht & Bannier, Faugères 2013
Reading Time: [est_time] Hello! Welcome to As Drunk by Exotic Wine Travel, a weekly column where we feature interesting wines that we encourage you to seek out. The reviews featured in this series may be written by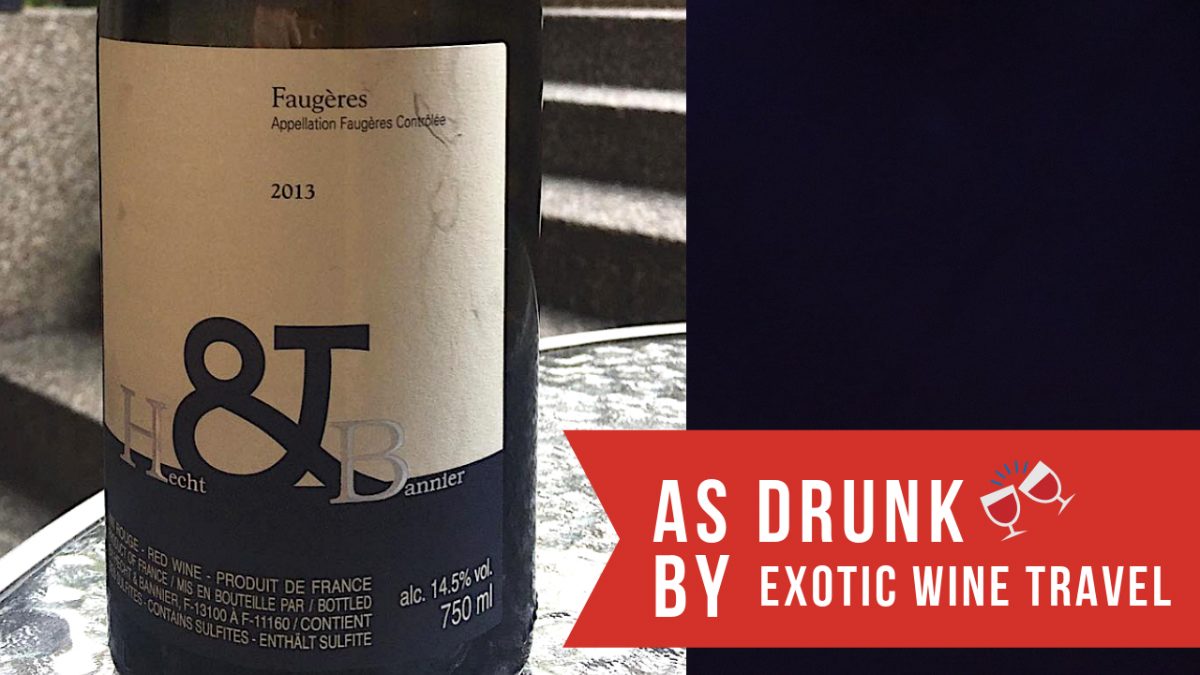 Reading Time: 1 minute
Hello! Welcome to As Drunk by Exotic Wine Travel, a weekly column where we feature interesting wines that we encourage you to seek out. The reviews featured in this series may be written by either one or the both of us. The featured wines can be from obscure or well-known wine regions. We hope that these wine recommendations will keep you gastronomically curious and your palate invigorated!
Hecht & Bannier, Faugères 2013
In Spring 2018, I took part in a weeklong tasting in the Languedoc-Roussillon. It was a tasting bonanza featuring 2000 wines out during a seven day period. One evening we joined fellow winemakers and merchants over dinner at Château de Pennautier.
During dinner, Mr. Francois Bannier sat across from me. He is one of the founding partners of the négociant brand Hecht & Bannier. The brand bottles Southern French wines from both Languedoc-Roussillon and Provence. The Hecht & Bannier Faugères is one of the flagship wines. It's a blend of Syrah, Mourvedre, and Carignan aged for 24 months in 600-liter oak barrels.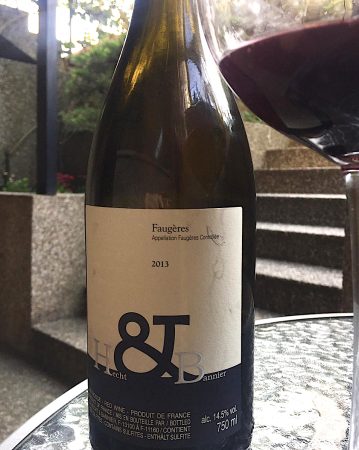 Since Charine wasn't present at the event, I got a bottle to take with me so she could try it (thanks to Francois). Allegedly Charine was pretty impressed with the wine. Her tasting notes are as follows:
"Hecht & Banner was established in 2002. They work with grapes grown in Roussillon, Languedoc, and Provence. This 2013 "Faugères" is a blend of mostly Syrah with a bit of Mourvèdre and Carignan. If you love the generosity and warmth of Mediterranean reds, this is your drop. The bouquet delivers an embrace of blackcurrant, black cherry, violet, black pepper, and meat. To me, it's more Mourvèdre on the nose than it is Syrah. In the mouth, the weight sits firmly on the tongue with herbs and savory flavors taking on the impression while the fruit sits healthily in the background. Oh yes, the Carignan is here. The Syrah is the fort holder, ensuring a structured, 'don't cha get out of line' tradition from start to finish. The tannins leave a clear sense of astringency. If you like tannins, drink this from a glass with a big bowl to enjoy the full aromas and power in the mouth. If you prefer something rounder and smoother, go with a smaller bowl or drink this after a few hours of aeration."
Score: 90/100
You can find out more about our scoring system on the WINE RATING page.
Find or buy on Wine-Searcher.
---
The opinions expressed in this article are unsolicited and have not been paid for in any way by governmental bodies, enterprises, or individuals. We do not sell editorial content as that would destroy the legitimacy of our reviews and the trust between Exotic Wine Travel and its readers. On occasion, we extend the option of purchasing the wines we review or/and the products we spotlight. Some of these product links are set up through affiliate programs, which means Exotic Wine Travel gets referral credits if you choose to purchase these items via the links we provide.