Herdade do Portocarro 'Partage' Touriga Nacional 2011
Reading Time: [est_time] Hello! Welcome to As Drunk by Exotic Wine Travel, a weekly column where we feature interesting wines that we encourage you to seek out. The reviews featured in this series may be written by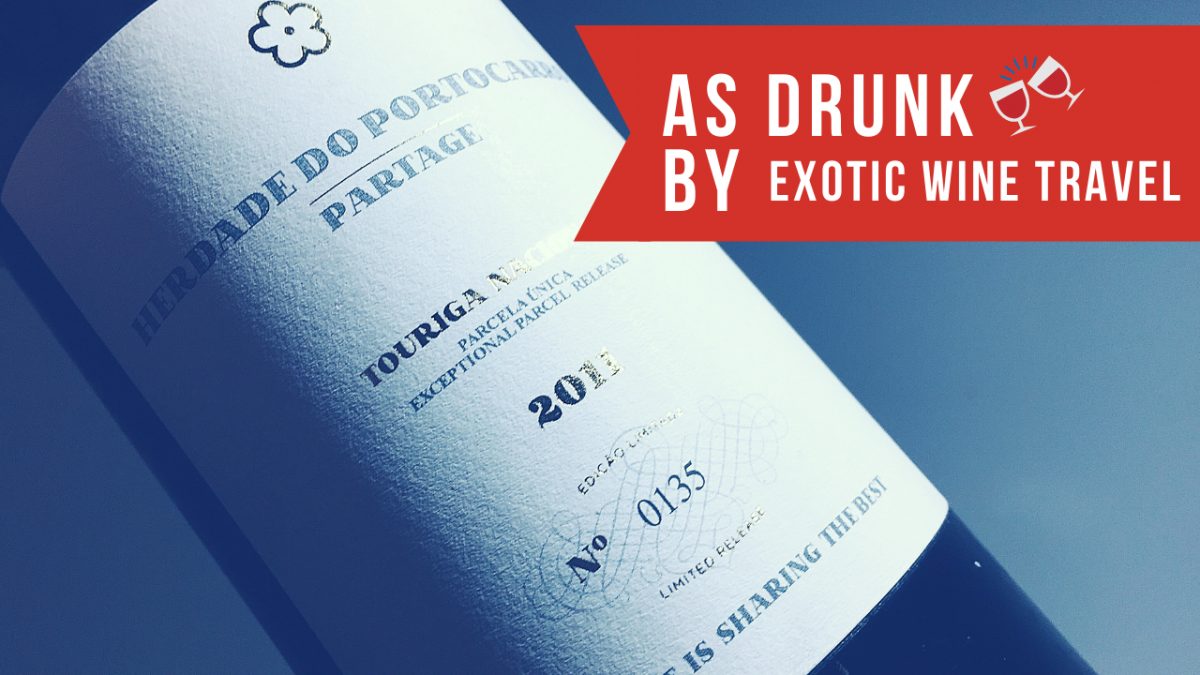 Reading Time: 1 minute
Hello! Welcome to As Drunk by Exotic Wine Travel, a weekly column where we feature interesting wines that we encourage you to seek out. The reviews featured in this series may be written by either one or the both of us. The featured wines can be from obscure or well-known wine regions. We hope that these wine recommendations will keep you gastronomically curious and your palate invigorated.
Herdade do Portocarro 'Partage' Touriga Nacional 2011
The Setúbal Peninsula is located just south of Lisbon, Portugal. In terms of wine production, it's most famous for the fortified wine Moscatel de Setúbal. Herdade do Portocarro is one producer that is attempting to change the reputation of the region and focus on premium dry wines.
Herdade do Portocarro's winemaker loves tales from the old American west. Several wines in the lineup pay homage to Native American chiefs like Cavalo Maluco (Crazy Horse) and Geronimo. The winery works with a number of Portuguese grapes in addition to Sangiovese.
This wine is made from 100% Touriga Nacional. It's a grape more commonly associated with Port and table wines from the Douro. The grape is also grown throughout the country. Touriga Nacional is a wise choice for winemakers in Southern Portugal, thanks of its ability to maintain high acidity.
The 2011 vintage of Herdade do Portocarro 'Partage' Touriga Nacional is aged in French oak for 18 months. It's a developed wine with notes of plum, dried cherry, brown herbs, rose petal, and tobacco. You can feel the acidity and a medium level of tannins. You have to like mature wines to appreciate this, for those who want fresh red, look elsewhere. It's a complex, thought-provoking wine. My only wish is to have known this wine at a younger age.
Score: 91/100
Find or buy on Wine-Searcher.
You can also find Herdade do Portocarro wines on 8wines.com. Use our code EWT8WO7 and get €15 off your first purchase of $100 or more. (EU-wide delivery plus Hong Kong, Japan, and Norway)
You can find out more about our scoring system on the WINE RATING page.
Do you like our content?
If you like our articles and videos, we'd love for you to be a part of our community on Patreon. The support from Patreon helps keep the content coming and you access to behind the scenes content. It also gives us the chance to get to know you better. Check out the Exotic Wine Travel Patreon page by clicking the photo below.

---
Please note that the opinions expressed are our own and have not been paid for in any way. We do not sell editorial content as that would destroy the legitimacy of our reviews and the trust between Exotic Wine Travel and its readers. On occasion, we extend the option of purchasing the wines we review or/and the products we spotlight. Some of these product links are set up through affiliate programs, which means Exotic Wine Travel gets referral credits if you choose to purchase these items via the links we provide.