Cypriot Wineries: Part 1
Reading Time: [est_time] We were pleasantly surprised with our recent tasting trip throughout Cyprus. As we mentioned in a previous article, over the course of two weeks, we tasted more than 200 wines from 30 different producers.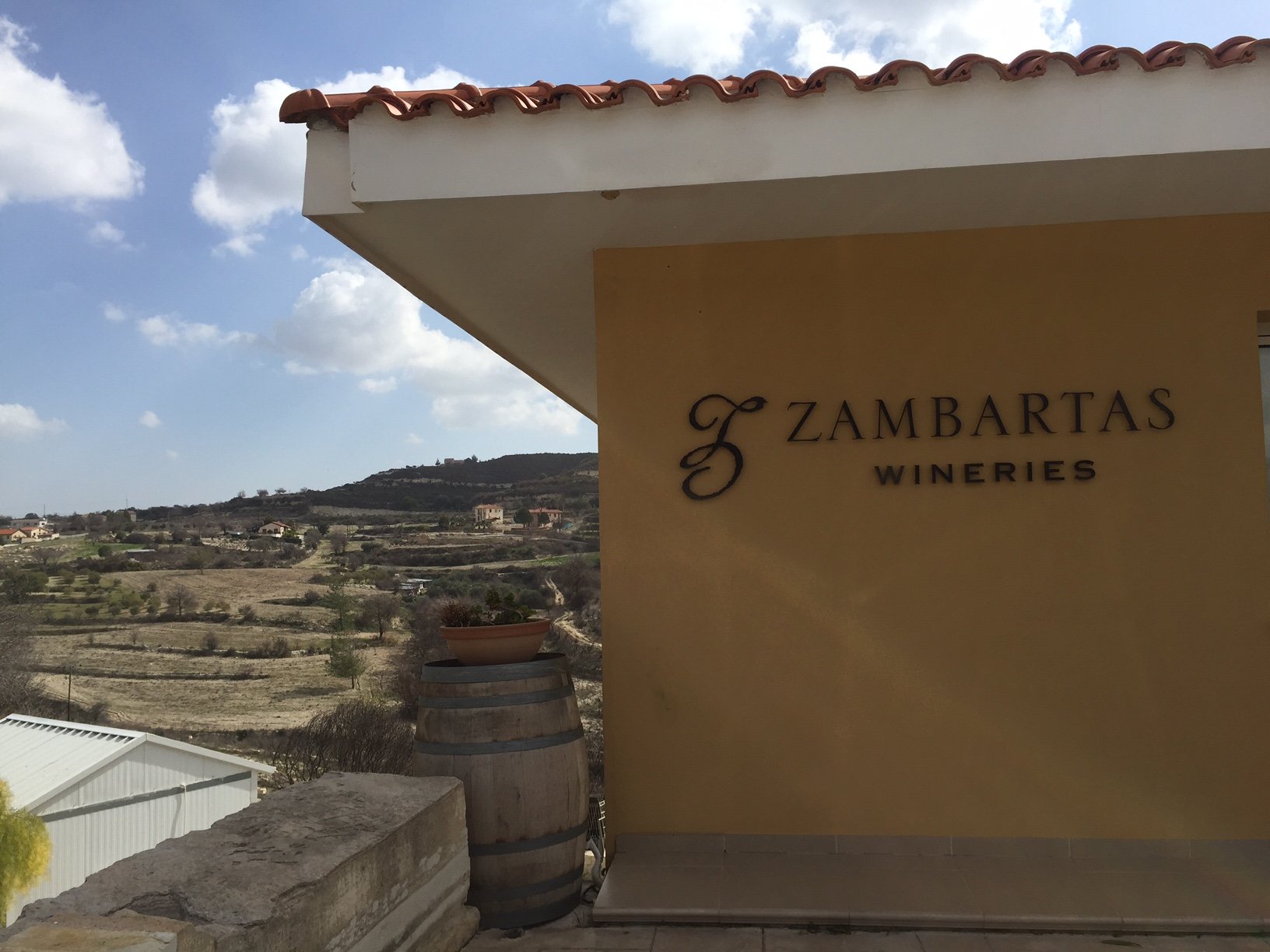 Reading Time: 3 minutes
We were pleasantly surprised with our recent tasting trip throughout Cyprus. As we mentioned in a previous article, over the course of two weeks, we tasted more than 200 wines from 30 different producers. For most of the trip, we were on the road visiting two or three producers each day.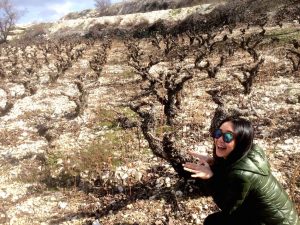 It was surprising to see a hotbed of young, winemaking talent churning out some solid juice. There is no shortage of good wine being made on the island. By our count, at least 20 producers are making at least one interesting wine. These producers in listed in part one of Cypriot Wineries are producing several good wines across their portfolios and a few standouts.
Tsangarides Winery
One of the two wineries in Cyprus with organically certified vineyards. It is a brand new winery, established in 2005, producing about 200,000 bottles per year. Tsangarides estate vineyards are certified organic but they also buy grapes from other local farmers, like most producers in Cyprus.
Tsangarides was the first winery that we visited in Cyprus that impressed us with their entire portfolio. The winery is beautiful and secluded in a tiny village called Lemona. From the al fresco seating area, you can see down the Troodos mountains and into a beautiful valley.
The proprietor Angelos is working hard to plant more vineyards so he can be a fully certified organic winery. Some of the wines we tasted need more bottle aging before they are released but all were of good quality. Of all the examples we tasted in Cyprus, Tsangarides is one of only two producers making solid Chardonnay. Their unoaked Chardonnay won a silver medal at the 2016 Decanter competition.
The Wines
The wines here have impressive minerality and depth. The depth and concentration of Tsangarides' estate "Organic" line of white wines really distinguishes them from other producers on the island. For all the talk of Shiraz/Syrah doing well on Cyrpus, many have disappointed us. The Tsangarides Shiraz is the exception, it is excellent. The wine shows fruit, balance, and restraint. It's worth taking the picturesque drive from Paphos to visit this winery.
Exotic Wine Travel's Picks
Tsangarides Xinisteri Organic 2016
Notes of pine, white flower, minerals, grass, smoke, and pineapple. Wine with an oily body, finishes with lemon, high quality and intense. The acidity is corrected like all Xynisteri dry wines in Cyprus. It was perhaps the most mineral driven Xynisteri wine we came across.   4.1/5
This smells like a Barossa Shiraz with blackberry, pepper, graphite. Rich, full, and tangy with ripe and easy-going tannins. This is rich and delicious, spicy and with a long finish. Aged in used oak barrels for over 6 months. This is the only wine that has a different label from the rest of the Tsangarides portfolio. Labels of Shiraz are made by commissioned, local artists and add a certain "fun-factor" to the wine.   4.2/5
Zambartas Winery
Possibly the most respected man in the Cypriot wine industry is the late Akis Zambartas. He was the chief enologist and managing director of KEO, the largest winery on the island before starting his own label in 2006. Akis Zambartas even has a special section dedicated to him in Hugh Johnson's Pocket Guide to Wines 2016. Akis studied and helped revive over 12 native Cypriot varieties.
Akis' son Marcos went to Adelaide to study winemaking. Marcos chose Southern Australian to study wine because he felt the climate was similar to Cyprus. He now heads up the winemaking and production of Zambartas Winery. The winery is at its capacity, producing 85,000 bottles of wine per year from mostly contracted grape growers.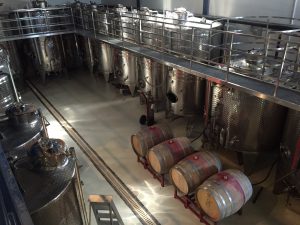 The new winery was built in 2007 and it feels like a home when walking inside. There are wonderful views and an inviting fireplace next to a large collection of wine books. The winery is located downstair, it is spotless and well organized. A table for tasting overlooks the cellar.
The winery is in the Agios Amvrosios village which is an interesting drive in itself. Around the area are barren terraces as far as the eye can see. Most of these vines were pulled after the market for cheap bulk wine dried up with the fall of the Soviet Union. The area makes for a beautiful drive but is a "vineyard graveyard."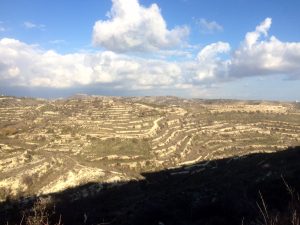 The Wines
Zambartas wines are clean, well-made, and feel very "New World." This isn't a bad thing, the wines have balance and explosive flavors. All of the wines will benefit from extended time in the bottle. Due to the high demand for their wines, it tastes like the wines are released a tad early. Fans of Australian Shiraz will feel right at home with their Shiraz-Lefkada blends.
Exotic Wine Travel's Picks
Zambartas Xynisteri Single Vineyard 2015
The vineyard is 950 meters above the sea and the vines are 28-years-old. About 60% of the wine is fermented and aged in new French Oak for 5 months. This has a beautiful nose with vanilla, yogurt, lemon, creamy, lime. Nice mouthfeel, the wine really sings on the palate. It flows very nicely and the finish is nice  with good oak integration.   4.0/5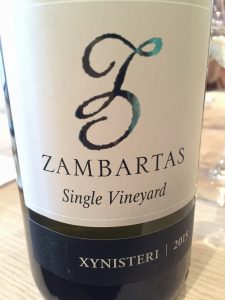 Zambartas Lefkada – Shiraz 2013
One year in French and American oak barrels. Beautiful nose of black pepper, earth, violets, blackberry, and black plum. The wine has nice weight on the palate with ripe, chewy tannins. This is some serious stuff, the Lefkada adds a new dimension of flavor to the Shiraz.   4.2/5
You can read Cypriot Wineries: Part Two in the coming weeks.
---
Disclosure: The Cyprus Tourism Organisation provided us with flights, hotel accommodation, a car rental, and a few meals. Parts of our stay were sponsored by The Annabelle Hotel (Paphos) and Saint Elena Hotel (Larnaca). A few wineries provided us tasting samples, but most of them simply gave us their time. The opinions of the wines are our own and we were under no obligation to give favorable reviews.