Hungarian Wine: Thursdays @ Taste Hungary's Tasting Table
Owned by the same team behind Taste Hungary, a leading food and wine tour company in the country, Tasting Table Budapestis a wine shop and wine bar. Stocked with over 200 Hungarian wine labels, it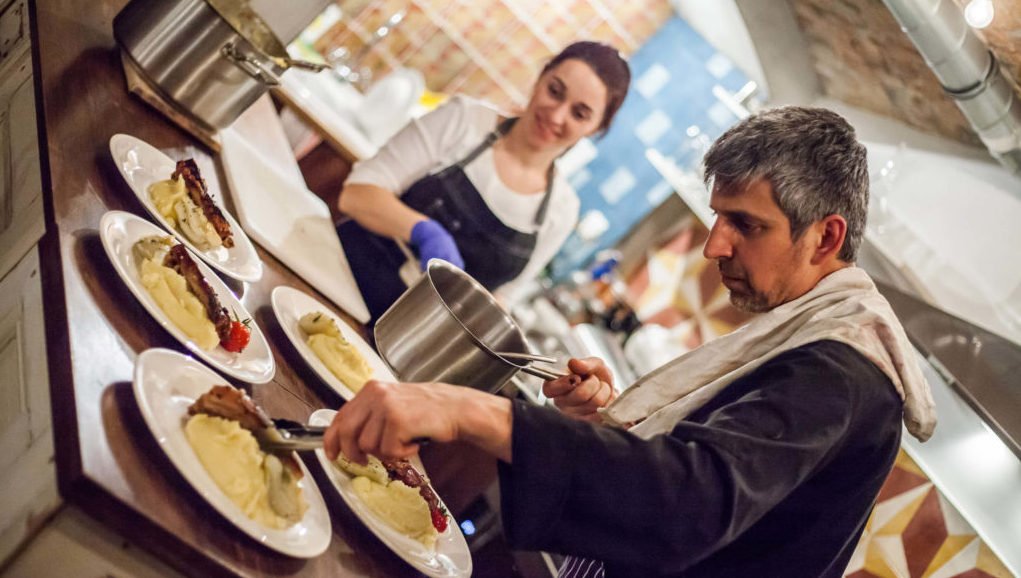 Reading Time: 3 minutes
The Tasting Table Budapest is the kind of place that we wish existed in every wine country. Located on Bródy Sándor in the Palace District, it's at the top of the list as a "must-visit" place in Budapest. Whenever we visit Budapest, Tasting Table is always our first stop.
Owned by the same team behind Taste Hungary, a leading food and wine tour company in the country, Tasting Table Budapest is a wine shop and wine bar. Stocked with over 200 Hungarian wine labels, it offers a diverse selection of Hungarian wines by the glass and in its tasting flights.
Walking down the stairs into Tasting Table unveils a nirvana for wine geeks. The walls of the stone cellar are lined with wine bottles, the tables are always full, and there's a constant buzz in the air.
Thursdays @ Taste Hungary's Tasting Table Budapest
Every other Thursday, Tasting Table hosts a Hungarian wine-pairing dinner. One local winemaker is invited to present his/her wines while the in-house chef, Tamás, makes magic with one small oven and stovetop. It adds up to an intimate evening.
I had a chance to attend three of these wine-pairing dinners last Autumn. Every meal consisted of 3-4 food courses and 6-7 Hungarian wines. The wine selection goes beyond basic labels and the food is prepared with intention and care. But what I enjoyed most about every wine dinner was the company.
Hungarian is a difficult language to grasp, so it's refreshing to be in an English-speaking environment. Tasting Table attracts visitors from all walks of life and the dinners and tastings are conducted in English. I've met diplomats, writers, and travelers—all with interesting stories to share—at Tasting Table.
During one of the dinners, I shared a table with people from Sweden, Germany, Romania, Hungary, Britain, Italy, and America. We were all strangers, but thanks to the social lubrication, conversations and laughter flowed freely after a few glasses of Hungarian wine. After an hour, we were exchanging life experiences and contacts. I left the meal full, not just from the food but with the warmth that comes with making new friends.
Food and wine are powerful tools in human interaction. They break down barriers and get to the core of what we need, sustenance and connection. And every time I walk down the stairs into Taste Hungary's Tasting Table Budapest, I know that I'll get those things. If you have a few hours to spare in Budapest, do yourself a favor and reward yourself with the same experience.
Hungarian Wines from Thursdays @ Tasting Table:
You can find out more about our scoring system on the WINE RATING page.
Kovács Nimrod, Rhapsody, 2016 – Eger
Kovács Nimrod is one of the names to know in Eger. The Rhapsody is his entry-level Bikavér (Bull's Blood). It's a blend of Kékfrankos, Pinot Noir, Syrah, Cabernet Franc, and Merlot. This is a sleek, medium-bodied red with flavors of cherry, earth, pepper, and a kiss of oak. This is an everyday type of red but for those who want more complexity, I suggest the Kovács Nimrod Superior, Grand Bleu, or NJK. Score: 89/100
Kolonics, Nagy-Somlói Furmint 2017 – Somló
Somló is one of Hungary's smallest wine regions and is known for making complex, barrel-fermented white wines. The region consists of tiny producers like Kolonics. The Kolonics Nagy-Somlói Furmint is barrel fermented. Notes of lemon, white pear, smoke, and flint, with plenty of texture and fiery acidity. For hardcore wine nerds, this is really enjoyable. Score: 89/100
Jackfall, Villányi Franc 2016 – Villány
The Jackfall Villányi Franc is a riper Cabernet Franc with notes of black cherry, graphite, tobacco, and mocha. The fruit is countered with savory and earthy notes. Most people would guess this a Bordeaux blend, not a varietal wine. Big, ripe tannins. Score: 91+/100
Samuel Tinon, Szaraz Szamorodni 2009 – Tokaj
Samuel Tinon is a Frenchman who moved to Tokaj. He's known as a specialist in dry Szamorodni, a unique style of wine similar to Fino Sherry. There are notes of bruised apple, almond, dried apricot, and walnut. Full in body and high in alcohol. The acidity is sharp and the wine finishes with a combination of dried peach and mineral. This is a pure geek wine. Score: 90+/100
Oremus, Tokaji Aszú 5 Puttonyos 2000 – Tokaj
The beautiful thing about Tasting Table is they usually end their tastings and dinners with sweet Tokaji. Owned by the Vega Sicilia group, Oremus is one of the big names in the Tokaj region. This wine has really come along with notes of butterscotch, orange peel, dried apricot, and yellow peach. This is uber complex, concentrated, and rich. Layered with lots of flavors, fiery acidity, and a long finish. Score: 95/100
Do you like our content?
If you like our articles and videos, we'd love for you to be a part of our community on Patreon. The support from Patreon helps keep the content coming and you access to behind the scenes content. It also gives us the chance to get to know you better. Check out the Exotic Wine Travel Patreon page by clicking the photo below.

Do You Want To Experience Hungarian Wine?
[ap_call_to_action button_text="Book Now" button_url="https://share.www.exoticwinetravel.com/tastehungarytour" button_align="center"]Use the code EXOTICWINETRAVELS for 10% off any tours, tastings, and wine dinners at Taste Hungary.[/ap_call_to_action]
---
Cover photo from Taste Hungary Website. Please note that the opinions expressed in this article are unsolicited and have not been paid for in any way by governmental bodies, enterprises, or individuals. We do not sell editorial content as that would destroy the legitimacy of our reviews and the trust between Exotic Wine Travel and its readers. On occasion, we extend the option of purchasing the wines we review or/and the products we spotlight. Some of these product links are set up through affiliate programs, which means Exotic Wine Travel gets referral credits if you choose to purchase these items via the links we provide.