Hungarian Wines From Balaton
Reading Time: [est_time] Lake Balaton is the largest lake in Central Europe and one of the leading tourist attractions in Hungary.  It's also one of the largest wine regions in the country. Thanks to the temperature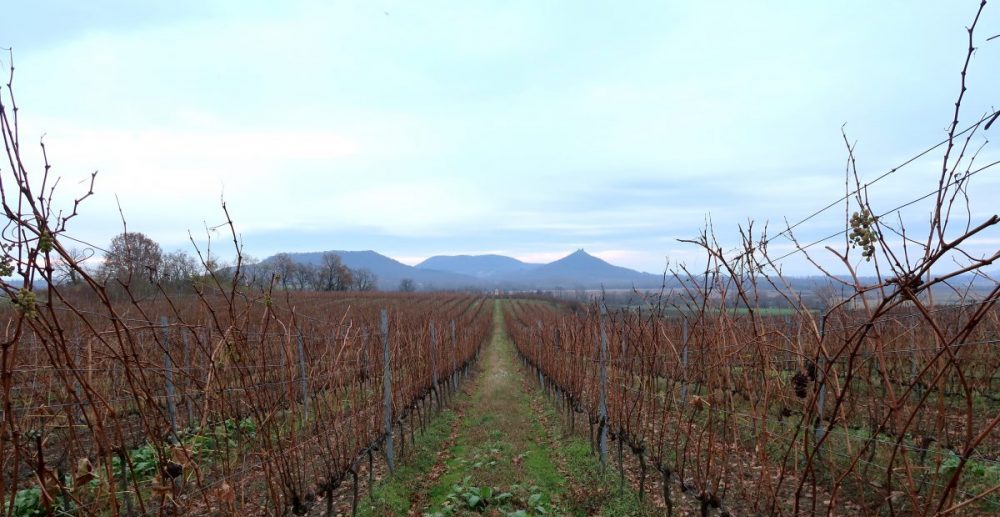 Reading Time: 4 minutes
Lake Balaton is the largest lake in Central Europe and one of the leading tourist attractions in Hungary.  It's also one of the largest wine regions in the country. Thanks to the temperature moderation of the lake and the soil deposited from the extinct volcanoes, Balaton is producing some of the most exciting wines in Hungary.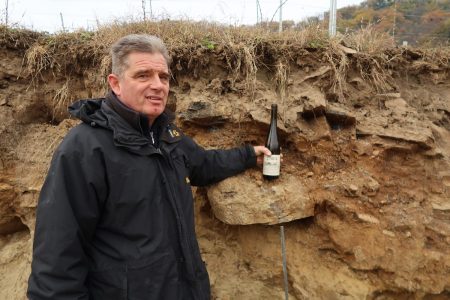 We spent a few days exploring the region and came away impressed. There are around 9000 hectares of vineyards in the Balaton region, divided among several subregions. Most producers told us that only about 4500 hectares are used for commercial wine production.
The region is heartbreakingly beautiful, especially the north shore where the volcanic hills are located. These steep hills give the impression of a high elevation landscape, despite the fact that the highest point (Badacsony) tops out at just over 400 meters. Prime spots for vineyards are on the south sides of the hills that face the lake, which is also prime real estate for holiday homes and tourist facilities. Over the years, there has been more vinous investment on the south shore of the lake.
Impressions Of Balaton Wines
Balaton is primarily a white wine region although there are both juicy and serious reds being made on both sides of the lake. There are some unique grapes to be discovered here included Bakator, Cserszegi Füszere, Kéknylanü, Rózsakö, Vulcanus, and Zeusz. The main grape is Olaszrizling for whites and Cabernet Franc for reds, although many producers believe Pinot Noir can thrive here. 
We found many exciting wines from the region. Check out the impressions of our stay in the video below (~11 mins).
Szászi Guesthouse
We were put up for two days at Szászi Guesthouse. The house is set amongst the vineyards with beautiful views of the Balaton Highlands. The real treat of the stay was the food cooked by Mrs. Szászi (scroll through the feed below). She is a lawyer in addition to a fantastic gardener and chef. Mrs. Szászi also hand paints the label design for the wine labels. This place is highly recommended and we hope to make it back there soon.
Exotic Wine Travel's Picks
St. Donat, 

Magma Kékfrankos 2015
This producer is located in the village of Csopak. The St. Donat Magma is Kékfrankos grown in volcanic soil – hence the name. This is salty and full of cherry, mineral, and white pepper. It's juicy, delicious, and easy to drink. It reminds me of a more peppery Valpolicella red. Enjoyable by itself or with food.    4.1/5
A producer on the south shore of Lake Balaton, an area well-suited to the production of red wine. The Konyári Pava is a reserve wine and a blend of Cabernet Sauvignon and Cabernet Franc aged for 15 months in Hungarian oak. Full of violets, sweet cedar, black fruit, and capsicum. Full-bodied with firm tannins and bright mid-palate. The fruit stands out in this wine along with the earthy notes. This is an exceptional wine.    4.3/5
Jásdi, Ranolder Fehér (Furmint& Olaszrizling) 2015
This reserve wine is a barrel selection of top-notch Furmint and Olaszrizling. The fruit in the Jásdi Ranolder Fehér is barrel fermented utilizing native yeasts. The wine is kept on the lees for 2-3 months. Smoke, white pear, melon, and smoke. High acidity but not searingly high. Good punch of fruit on the finish.    4.3/5
Jásdi, Siralomvágo Olaszrizling 2013
This wine is from a top vineyard location. The Jásdi Siralomvágo Olaszrizling has notes of citrus, stone fruit, stone, flint, grass. It's full of terroir and serious Olazrizling with a tremendous mouthfeel. Sharp acidity and a stony finish. The best example from the grape that I have ever tasted. It's great wine period, many people would not be able to tell the grape if tasting the wine blind.    4.4/5
Jásdi, Ranolder Vörös (Cabernet Franc) 2011
This is made from the best Cabernet Franc fruit that Jásdi has. The Jásdi Ranolder Vörös Cabernet Franc is serious wine with flavors of black olive, black cherry, musky, violets. It's aged for 16 months in the barrel. Round palate and medium bodied with medium tannins. This is dense Cab Franc but has a lot of earthiness and yet is not too rich.    4.4/5
Mr. Istvan Jásdi pouring his Ranolder Vörös Cabernet Franc. 
Szászi Szigligeti Kabócás Olaszrizling 2015
The village of Szigligeti is where Endre Szászi grew up. This Szászi Szigligeti Kabócás Olaszrizling is from the low yielding vineyard in the village. Endre has problems with wild pigs and birds eating the fruit in this area. There are flavors of flint, white flower, melon, lime, and basil leaf. There is a touch of residual sugar (5.5 g/L) to build the body. It has stone and rock flavors up front with intense fruit flavors on the finish. Intense and long with a touch of honey.    4.3/5
Szászi Szent György-Hegyi Zeusz 2013
This grape Zeusz was created for late-harvest wines but this effort is dry. The Szászi Szent György-Hegyi Zeusz is grown on the hill of the same name. It has flavors of green & red apple, mineral, and white pear and chestnut. Round mouthfeel for a fresh white wine aged for only three months. Flinty and rocky yet tangy with a long, subtle finish.    4.3/5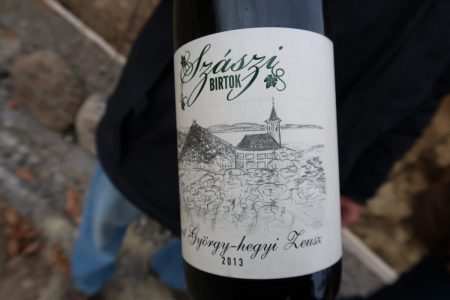 Szászi Szent György-Hegyi Olaszrizling 2003
Mr. Szászi was kind enough to open one of this library wines, the Szent-György-Hegyi Olaszrizling which has aged beautifully. It's a deep golden color. Green herbs, petrol, basil, melon. Developed nice aged notes and the wine is still impeccably clean. Spicy and long finish with a touch of honey. This still tastes young for a wine over 14 years of age.   4.4/5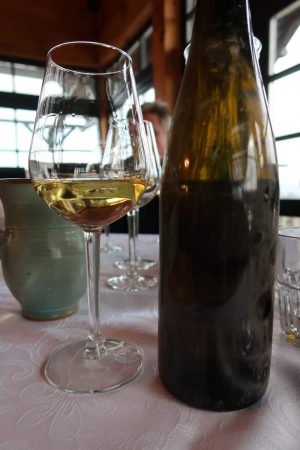 ---
Special thanks to Piroska Koltai of Wine a'More Travel and Daniel Ercsey of WineSofa for setting us up for the visits and arranging accommodation. Additional thanks to Szászi for providing two nights accommodation. The opinions expressed in this article are unsolicited and have not been paid for in any way by governmental bodies, enterprises, or individuals. We do not sell editorial content as that would destroy the legitimacy of our reviews and the trust between Exotic Wine Travel and its readers.