Il Borro Pian di Nova 2016
Reading Time: [est_time] Hello! Welcome to As Drunk by Exotic Wine Travel, a weekly column where we feature interesting wines that we encourage you to seek out. The reviews featured in this series may be written by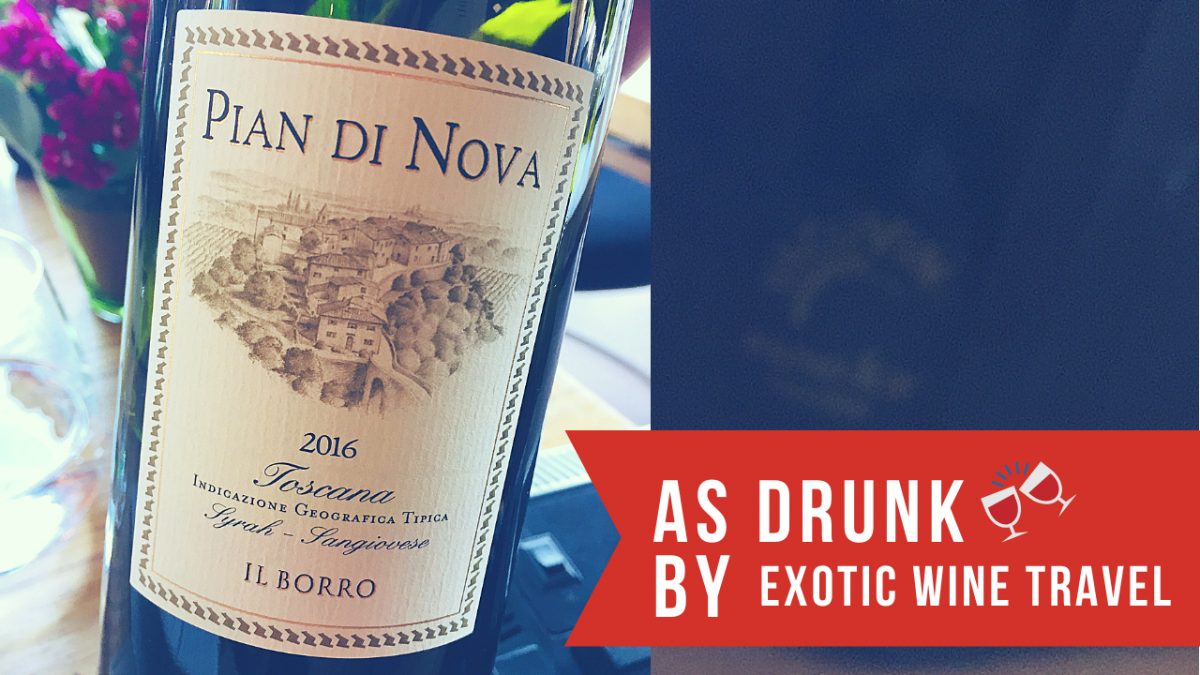 Reading Time: 1 minute
Hello! Welcome to As Drunk by Exotic Wine Travel, a weekly column where we feature interesting wines that we encourage you to seek out. The reviews featured in this series may be written by either one or the both of us. The featured wines can be from obscure or well-known wine regions. We hope that these wine recommendations will keep you gastronomically curious and your palate invigorated!
Il Borro, Pian di Nova 2016
Il Borro is a medieval village transformed into a Tuscan resort, restaurant, and winery by Ferruccio Ferragamo. We had the chance to stay there during the Spring of 2019. It's a luxurious resort with rich, polished wines to boot.
Before first tasting the wines of Il Borro, I was a bit skeptical. Because it's owned by the Ferragamo family, I thought the wines would be all style and no substance. That's the furthest from the truth.
The vineyards at Il Borro are certified organic and the estate produces a few blockbusters including the Petruna Sangiovese in Anfora (see in the video below), Il Borro Toscana Rosso, and the Allesandro del Borro Syrah. I wouldn't have a problem recommending all of those wines to the most critical of palates.
It's easy to find fine reds in Tuscany. More difficult is locating a great Tuscan red that everyone can find and afford. Italian wine lovers can rejoice, the Il Borro Pian di Nova fits that bill perfectly.
The Il Borro Pian di Nova is 75% Syrah and 25% Sangiovese aged in oak for 12 months. It's not the greatest wine in the Il Borro portfolio, but it is widely available and is outstanding for the money. This is a flat-out delicious wine with flavors of black cherry, pepper, violets, and the typical Tuscan sour cherry note. The wine is medium-bodied with smooth tannins and the tangy Tuscan acidity that I adore.
You can find this wine worldwide and it's often under 20 USD – making it a steal. If you want the taste of Tuscany on a budget, it's hard to beat this red.
Score: 90+/100 (You can find out more about our scoring system on the WINE RATING page.)
Find or buy on Wine-Searcher.
Do you like our content?
If you like our articles and videos, we'd love for you to be a part of our community on Patreon. The support from Patreon helps keep the content coming and you access to behind the scenes content. It also gives us the chance to get to know you better. Check out the Exotic Wine Travel Patreon page by clicking the photo below.

---
Please note that the opinions expressed are our own and have not been paid for in any way. We do not sell editorial content as that would destroy the legitimacy of our reviews and the trust between Exotic Wine Travel and its readers. On occasion, we extend the option of purchasing the wines we review or/and the products we spotlight. Some of these product links are set up through affiliate programs, which means Exotic Wine Travel gets referral credits if you choose to purchase these items via the links we provide.