Inama Cabernet Sauvignon Del Veneto Selezione 2009
Reading Time: [est_time] Hello! Welcome to As Drunk by Exotic Wine Travel, a weekly column where we feature interesting wines that we encourage you to seek out. The reviews featured in this series may be written by
Reading Time: 1 minute
Hello! Welcome to As Drunk by Exotic Wine Travel, a weekly column where we feature interesting wines that we encourage you to seek out. The reviews featured in this series may be written by either one or the both of us. The featured wines can be from obscure or well-known wine regions. We hope that these wine recommendations will keep you gastronomically curious and your palate invigorated!
Inama, Cabernet Sauvignon Del Veneto Selezione 2009
Charine and I spent the first few months of 2019 in Singapore after two straight winters in Europe. The weather is much better than Europe over those months but the cost to drink is not. Wine is more expensive in Singapore thanks to the taxes and high costs of storage. Luckily, there are many talented importers in the country that hold warehouse sales before Chinese New Year.
We picked up this bottle at Ferrari Food + Wine, one of the bigger importers of Italian consumables in Singapore. After debating on several different bottles, this wine stood out for one simple reason – it's an Italian Cabernet Sauvignon from a well known Soave producer. That fact alone is enough to get any wine geek's spider sense to tingle.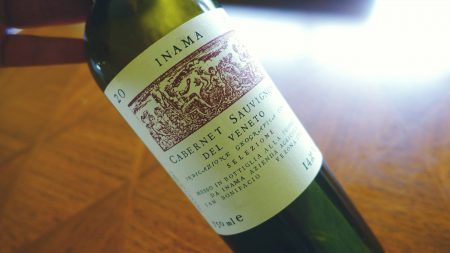 The Inama Cabernet Sauvignon Del Veneto Selezione 2009 is full of dark fruit, licorice, tobacco, and mint notes. It is varietally true (you wouldn't mistake it for Cabernet Sauvignon) but has a juiciness that is characteristic of Italian wines. It's full on the palate with lots of texture and multiple layers of flavors. It's Iand Italian Cab but is not similar to a Super Tuscan. Think of it as a mixture of Bordeaux nuances with Napa fruit and a tangy Tuscan finish.
This is for people who like bold but not jammy wines. It's available around the world in the 60-80 USD range. It's not cheap but could definitely outperform a lot of Bordeaux based wines in that price range.
Score: 93/100 (You can find out more about our scoring system on the WINE RATING page.)
Find or buy on Wine-Searcher.
---
Please note that the opinions expressed are our own and have not been paid for in any way. We do not sell editorial content as that would destroy the legitimacy of our reviews and the trust between Exotic Wine Travel and its readers. On occasion, we extend the option of purchasing the wines we review or/and the products we spotlight. Some of these product links are set up through affiliate programs, which means Exotic Wine Travel gets referral credits if you choose to purchase these items via the links we provide.