Kiss Gábor Enigma 2016
Reading Time: [est_time] Hello! Welcome to As Drunk by Exotic Wine Travel, a weekly column where we feature interesting wines that we encourage you to seek out. The reviews featured in this series may be written by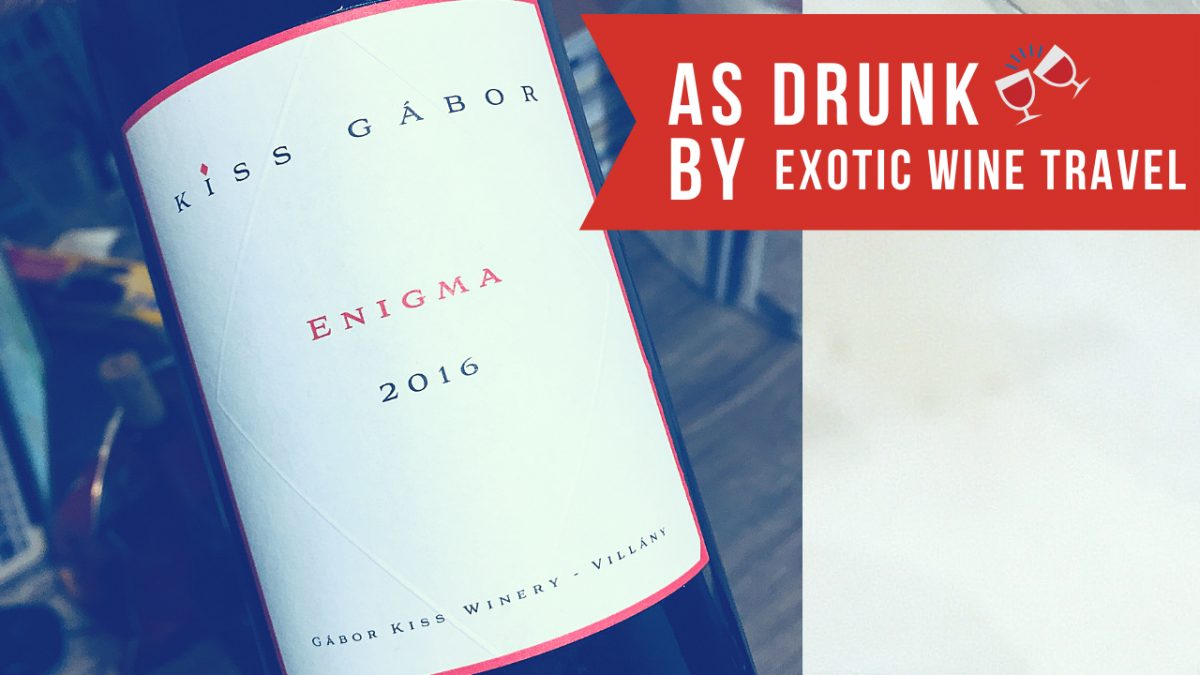 Reading Time: 1 minute
Hello! Welcome to As Drunk by Exotic Wine Travel, a weekly column where we feature interesting wines that we encourage you to seek out. The reviews featured in this series may be written by either one or the both of us. The featured wines can be from obscure or well-known wine regions. We hope that these wine recommendations will keep you gastronomically curious and your palate invigorated!
Kiss Gábor, Enigma 2016
When it comes to red Hungarian wine, Villány is one of the premier districts. The district has made its name one big, rich red wines made from Cabernet Franc and other Bordeaux varieties. Villány is home to several larger wineries that kicked off the Hungarian wine quest for quality back in the 1990s including Bock, Tiffán's, Gere Attila, Polgar, Gere Tamás & Zsolt, etc. There is an increasing number of small producers making a name for themselves as well.
Kiss Gábor is one of those producers.
He has a small parcel in Villány and grows Cabernet Franc, Cabernet Sauvignon, Merlot, and Kékfrankos. The two top wines of Kiss Gábor are the 'Code' Villányi Franc (Cabernet Franc) and the 'Enigma' Villányi Merlot.
The Kiss Gábor Enigma is a 100% Villányi Merlot. There are notes of plum, black cherry, and cedar. On the palate, it's surprisingly medium-bodied, not a bold bruiser like I would expect. More on the fruity side for a Merlot with soft tannins. People who want a massive, oaky red should look elsewhere.
Is it a concentrated, super-complex blockbuster? No.
Is it fun, well-made, and easy to drink? Yes.
Score: 90/100 (You can find out more about our scoring system on the WINE RATING page.)
Find or buy at Bortársaság.
Do you like our content?
If you like our articles and videos, we'd love for you to be a part of our community on Patreon. The support from Patreon helps keep the content coming and you access to behind the scenes content. It also gives us the chance to get to know you better. Check out the Exotic Wine Travel Patreon page by clicking the photo below.

Do you want to learn more about Hungarian wine?
Be part of our fourth wine book Discover Hungarian Wine. Sign up HERE to learn how you can reserve a special edition, signed copy with a discount when our Kickstarter launches when the world returns to normalcy.
---
Please note that the opinions expressed are our own and have not been paid for in any way. We do not sell editorial content as that would destroy the legitimacy of our reviews and the trust between Exotic Wine Travel and its readers. On occasion, we extend the option of purchasing the wines we review or/and the products we spotlight. Some of these product links are set up through affiliate programs, which means Exotic Wine Travel gets referral credits if you choose to purchase these items via the links we provide.