Klinec and Mlečnik: Slovenian Wines Of Purity
Reading Time: [est_time] We've spent significant time traveling and tasting through the Ex-Yugoslavian region. For some reason, we have put very little focus on Slovenia. After finishing our book Cracking Croatian Wine, we decided to make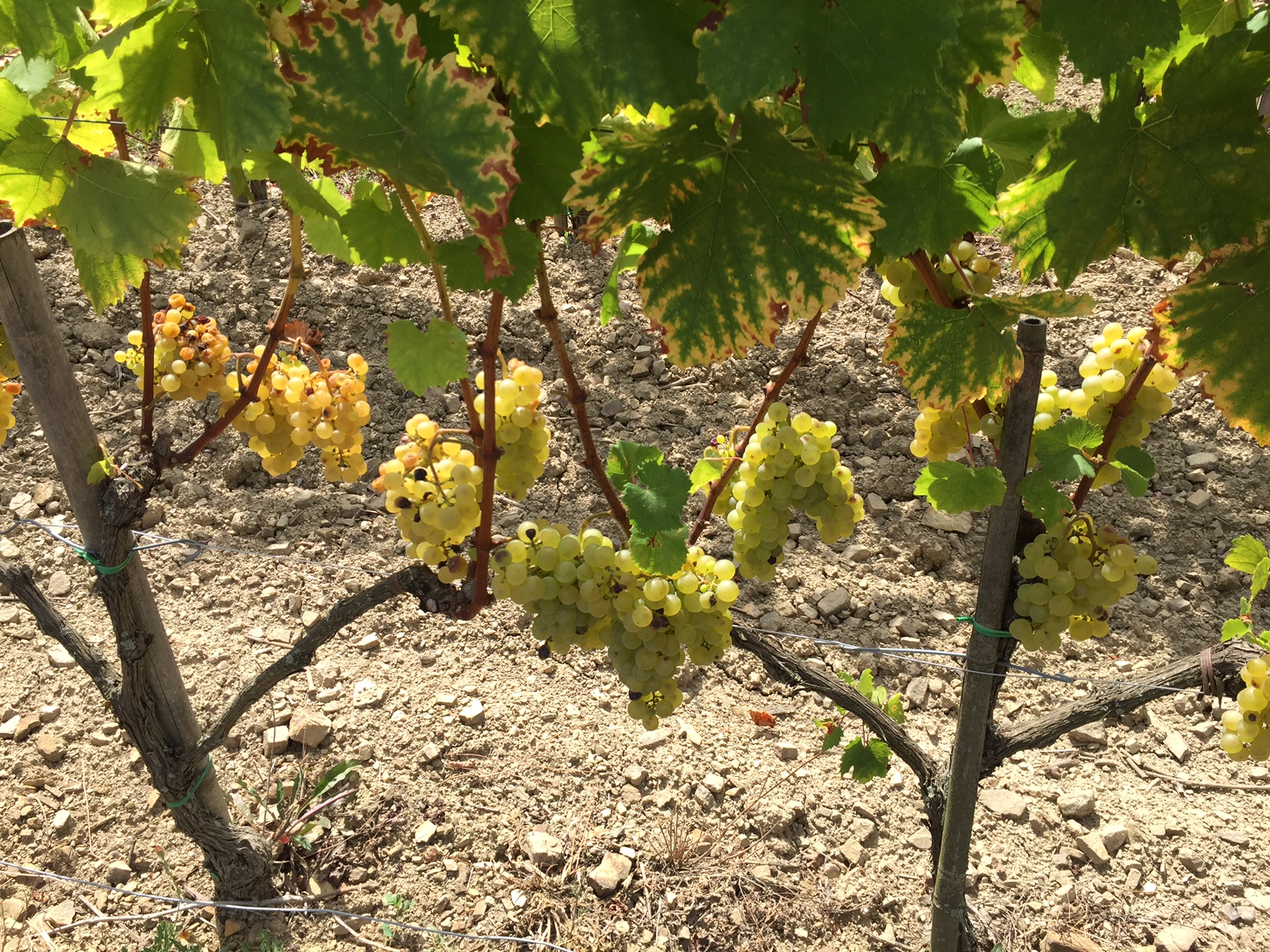 Reading Time: 4 minutes
We've spent significant time traveling and tasting through the Ex-Yugoslavian region. For some reason, we have put very little focus on Slovenia. After finishing our book Cracking Croatian Wine, we decided to make a week-long tasting trip through Goriška Brda, Kras, and Vipava Valley. Our tasting trip through Western Slovenia yielded many gems and exceeded our already high expectations.
The quality of winemaking is outstanding and several producers are on par with some of the world's best. Mlečnik and Klinec are no exceptions, both are minimal intervention producers who work with very low yielding vineyards. These are two producers that are sure to please many a wine geek!
Mlečnik
Mlečnik is located in the western reaches of the Vipavska Dolina, which translates to Vipava Valley. Valter and his son Klemen Mlečnik farm seven hectares of vineyards. Their winery is located in the village of Bukovica, if you blink you'll miss it driving by – as we did several times.
They produce just under 15,000 bottles of wine per year from just over seven hectares of vineyards. Their whites made from Chardonnay, Malvazija, Rebula, and Sauvignonasse (Tocai Friulano) all undergo a few days of skin contact. The sole red that they produce is made from Merlot.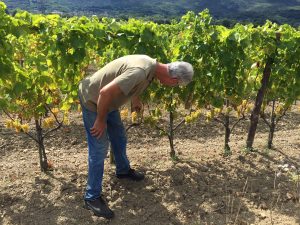 Valter walked us through the vineyards and talked about the meticulous work. Just over ten years ago he decided to stop farming conventionally and return to farming the way his forefathers did. "Professors came and told me how to work the land but they don't have their hands in the soil every day," Valter told us. Today he works in the vineyards without synthetic herbicides or pesticides. The vineyards are certified Eco (organic) by the European Union.
The wines express the careful attention that Valter and Klemen put on the vineyards. Fans of macerated wines will love these bottlings. They are expressive and full of character. These wines are quirky and unafraid to be what they are. To us macerated wines walk a fine line. Sometimes they are too wild and crazy, while other times they can taste too clean and unexciting.
All Mlečnik wines are true, handcrafted wines with a distinctive signature. They would stand out in a flight of macerated wines.
Exotic Wine Travel's Picks
(You can find out more about our scoring system on the START HERE page.)
A blend of Malvazija, Rebula, Tocai Friulano, and Chardonnay aged in large oak casks for two years. Flavors include apricot, white flower, musk, fall leaves. The Mlečnik Ana Cuvée is a full-bodied amber wine with juicy acidity. There are big tannins for a wine macerated for only three days. This wine is cloudy and has depth and soul. It's a bright wine with a long finish. For an entry-level wine, this is a whopper. 4.4/5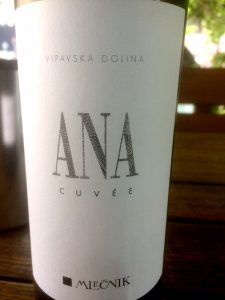 Valter and Klemen told us that Mlečnik Chardonnay originally built the winery's reputation. Today it is the least popular of the wines because consumers are looking more for indigenous varieties. It is macerated four days on the skins. The wine is full of flower, lemon, peach, and the smell that comes after setting off fireworks. It's a tangy wine with low tannins and a long, mineral-driven finish. 4.0/5

---
---
Klinec
Klinec was the winery we were most looking forward to visiting because of an enthusiastic recommendation by our friend Bojan Baša. It was our last winery visit in Slovenia and a perfect trip-cap.
Aleks Klinec is making magic happen in the village of Medana. He works with Rebula, Malvazija, Pinot Grigio, Tocai Friulano, Verduzzo, Merlot, Cabernet Franc, and Cabernet Sauvignon. The whites are done with skin maceration and both the reds and whites are aged for several years prior to release. Aleks is certified Bio from Slovenia and certified Eco (organic) from the EU and he ferments his wines with wild yeasts. He produces around 25,000 bottles per year from less than seven hectares of vineyards.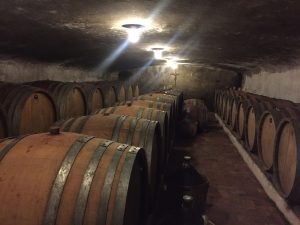 Aleks is the fifth generation of winemakers in his family and he produces wines in the exact way that his father taught him. He's a guy that radiates energy and enthusiasm, his smile has a glow that would make anyone feel at home.
We tasted through several bottled wines and then Aleks took us through the cellar. It's full of mulberry, acacia, oak, and pršut for his restaurant. Charine was ecstatic when she saw the two rooms full of preserved meat.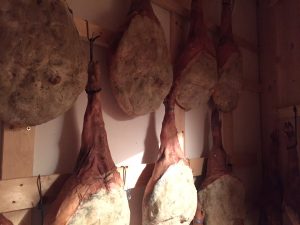 We finished our cellar tour with tasting reds out of the tanks. Although Aleks puts a lot of his focus on amber wines, the reds are of equally high quality. All the wines are alive, full of energy, and the tannin management is done to perfection. The entire lineup impressed us but the Rebula and Ortodox knocked our socks off.

If you are a fan of macerated white wines, this producer is a can't miss.
Exotic Wine Travel's Picks
(You can find out more about our scoring system on the START HERE page.)
The Klinec Rebula is macerated for 14 days and aged for three years in acacia wood. Orange peel, cherry, pepper, apricot, ginger flavors dominate the palate. A burst of fruit flavors fills the mouth, accompanied by ripe tannins. Rebula can have intense and sometimes unpleasant tannins, but the ones in this wine are managed masterfully. A touch of mineral water on the finish. 4.4/5
This wine is a blend of Verduzzo 60%, Rebula 15%, Malvazija 15%, Jakot 10%. Each grape aged for two years separately and four years together in acacia and mulberry barrels. The Klinec Ortodox reminds us of a big Georgian Rkatsiteli. Apricot, fall leaves, orange, and cherry flavors. A full-bodied-bodied wine with sweet tannins. With a chewy texture and long finish, this is an amber wine for the ages. 4.7/5
The Klinec Mora is a blend of 70% Merlot and 30% Cabernet Franc aged six years in both cherry wood and oak. Ripe and dense at 14.5% ABV but the alcohol is integrated well. Full of mineral, black cherry, plum, and earthy notes. It tastes like aged wine without the influence of wood, it's medium bodied and has a tight structure with a long finish. It may not appeal to drinkers who want big, bold reds, but it's a delicious wine nonetheless. 4.2/5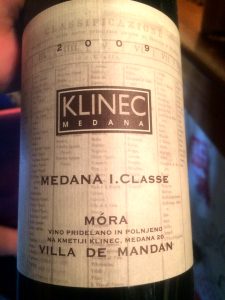 The finest selection of
wines available at:

Shipping is available EU-wide and to the UK.
************
Do you want to try Slovenian wines?
If you're looking to savor the exquisite flavor of Slovenian wines, look no further than wineandmore.com. With an abundance of options from different winemakers, it's easy to find exactly what your palate desires. Not sure which bottle is best for you? Try out one of their curated wine cases and discover the perfect vintage for any occasion!
************
Want to learn more about wine?
Are you ready to discover the wonderful world of wines? Come join us at wineandmore.com and let's explore the incredible selection of delicious wines together! We can't wait to share our passion for wine with you!
---
Thank you to Mlečnik and Klinec for their time during a busy part of the year. The ideas expressed in this article are personal opinions and are not associated with any sponsors or business promotions.