Kreinbacher Selection 2015
Reading Time: [est_time] Hello! Welcome to As Drunk by Exotic Wine Travel, a weekly column where we feature interesting wines that we encourage you to seek out. The reviews featured in this series may be written by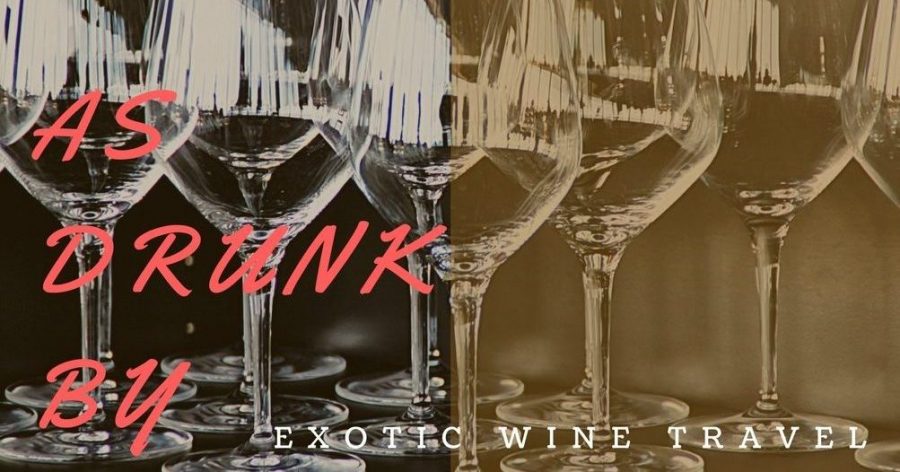 Reading Time: 2 minutes
Hello! Welcome to As Drunk by Exotic Wine Travel, a weekly column where we feature interesting wines that we encourage you to seek out. The reviews featured in this series may be written by either one or the both of us. The featured wines can be from obscure or well-known wine regions. We hope that these wine recommendations will keep you gastronomically curious and your palate invigorated!
Kreinbacher Selection 2015
The Somló region is located just north of Balaton Lake. Around 400 hectares of vineyards are planted on an extinct volcano. The volcanic hill stands out like a sore thumb amongst the plains of Western Hungary. It's a region that I've long wanted to visit and we finally got the opportunity in the winter of 2017 (see below).
The wines from Somló are full-bodied and high in acid. They are very mineral driven and many people may be turned off by the lack of fruit. Fans of Chablis and Loire whites will feel right at home with the saline notes and high acidity. These wines are extremely complex and can be had for a song compared to wines of similar complexity from around the world.
Kreinbacher is one of the largest producers in Somló (in addition to Tornai). They have 43 hectares of their own vineyards, which are farmed organically. They also buy grapes from another 20-30 hectares depending on the year. In addition to their excellent dry wines, they have recently become well known for their sparkling wines – their Prestige Brut won a Platinum medal the 2018 Decanter World Wine Awards.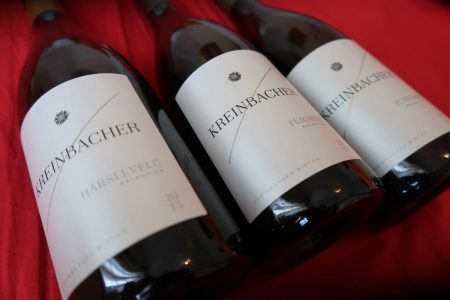 We haven't gotten a chance to visit Kreinbacher but we've tasted many of their wines. They produce entry-level varietal whites in addition to premium, Selection wines. During our visit to Hungary in the summer of 2018, we got our hands on their Selection bottlings and came away impressed.
(You can find out more about our scoring system on the Wine Rating page.)
Kreinbacher, Juhfark Selection 2015
Juhfark is a Hungarian grape that is now almost exclusively found in Somló. The name Juhfark translates to "sheep's tail" in reference to the long bunches of ripe grapes. This Kreinbacher Juhfark Selection is barrel fermented and aged eight months in French oak and Acacia wood. Flavors include quince, smoke, pine, and honey. The nose isn't very powerful but the fruit concentration and minerals hit the palate hard. Intense mineral notes and a salty finish.   4.0/5
Kreinbacher, Hárslevelü Selection 2015
The Kreinbacher Hárslevelü Selection is a mineral-driven wine fermented with native yeasts. The wine is barrel fermented in French oak and Acacia wood then aged for an additional eight months. It has notes of flint, yellow peach, honey and campfire. There is fruit but it is dominated by mineral flavors. Some would say unbalanced, some would say brilliant. Saline finish dominates the fruit. The grape gives more body and aromatic profile than the more popular Furmint.   4.1/5
Kreinbacher, Furmint Selection 2015
The Kreinbacher Furmint Selection barrel fermented and aged eight months in French oak and Acacia wood. Like many wines from Somló, this has notes of campfire and ash. Fruit notes of yellow peach and lemon accompany the toast flavors from the barrel. Full bodied with searingly high acidity. Long finish that is accompanied by a lot of fruit, rare in the wines from Somló.   4.2/5
---
The opinions expressed in this article are unsolicited and have not been paid for in any way by governmental bodies, enterprises, or individuals. We do not sell editorial content as that would destroy the legitimacy of our reviews and the trust between Exotic Wine Travel and its readers