Maeli 'Fior d'Arancio Colli Euganei' Moscato Giallo
Reading Time: [est_time] Hello! Welcome to As Drunk by Exotic Wine Travel, a weekly column where we feature interesting wines that we encourage you to seek out. The reviews featured in this series may be written by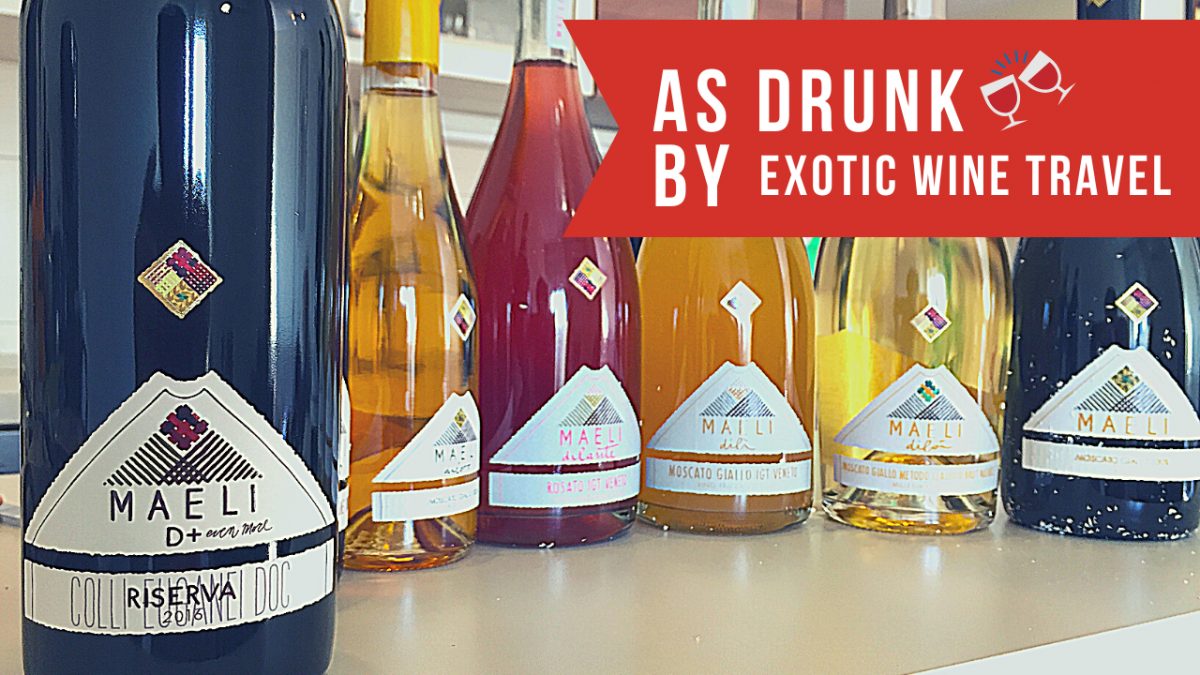 Reading Time: 2 minutes
Hello! Welcome to As Drunk by Exotic Wine Travel, a weekly column where we feature interesting wines that we encourage you to seek out. The reviews featured in this series may be written by either one or the both of us. The featured wines can be from obscure or well-known wine regions. We hope that these wine recommendations will keep you gastronomically curious and your palate invigorated.
Maeli, 'Fior d'Arancio Colli Euganei' Moscato Gialla
Grapes grown in volcanic soils never fail to catch our interest. You'll find plenty of regions in Italy with volcanic origins, including Colli Euganei. This set of low rising hills is just west of Venice in Italy.
These volcanic hills are home to the 'Fior d'Arancio Colli Euganei' DOCG. Fior d'Arancio translates literally to "orange blossom" and the wines are made of the Moscato Giallo grape. Because of its thick skins and high sugar content, this Muscat clone is capable of producing sweet wines with floral aromas.
Co-owner Elisa Dilvanzo clears up a little confusion about Fior D'Arancio. "We have a special clone of Muscat, named Fior D'Arancio. It is a cross between an old clone of Muscat and Chasselas. Compared with normal Muscat, Fior D'Arancio is higher in acidity and mineral notes thanks to the volcanic soil," she says.
This grape is at the heart of Maeli's production. They produce five different wines from Moscato Giallo aka Fior D'Arancio. The portfolio includes everything from sparkling to dry to sweet. The wines taste different than others from the Muscat family. The wines have distinctive mineral undertones and are less floral than expected.
Many wine drinkers frown at the thought of serious wines made from Moscato. The Maeli Bianco Infinito may turn the most skeptical into believers. For those with a sweet tooth, there are wines in the Maeli portfolio that should satisfy that craving too. Here are our favorites.
Wine Recommendations:
You can find out more about our scoring system on the WINE RATING page.
Maeli, 'Fior d'Arancio Colli Euganei' Moscato Giallo 2017
The Maeli, Moscato Giallo Fior d'Arancio Colli Euganei is the flagship wine of the estate. It is a sweet sparkler with 105 g/L of residual sugar, think Moscato d'Asti. There are sharp aromas of grass, lemon, yellow flower, and sweet peaches. This has a fine bead of bubbles that slightly tickle the tongue. While this is sweet, there is enough citrusy acidity to wipe the palate dry. This is delicious and makes a perfect end of meal sipper with a rich butter cake. Pop this open and please everyone at the dinner table. Score: 89/100
Maeli, 'Fior d'Arancio Colli Euganei' Bianco Infinito 2016
The Maeli, 'Bianco Infinito' Fior d'Arancio Colli Euganei is a dry wine that is aged in stainless steel tanks. There are notes of tangerine, yellow flower, yogurt, and white grapes. For a dry Muscat, the citrus notes stand out, which is unique. More than a simple, floral white, this is a refined wine. There is a touch of bottle age to round everything out before the minerally finish. Score: 90/100
Maeli, 'Fior d'Arancio Colli Euganei' Diloro Moscato Giallo Passito 2015
The Maeli, 'Diloro' Moscato Giallo Passito Fior d'Arancio is made from dried Yellow Muscat grown in volcanic soils. The grapes are dried for three months and the wine has 136 g/L of residual sugar. There are notes of dandelion, honey, dried apricot, white grapes, and a touch of white pepper. Intense and rich on the palate, this shows no signs of age. Think about a big handful of dried yellow fruit mixed with yellow flower. Full-bodied with a long finish. Score: 91/100
Do you like our content?
If you like our articles and videos, we'd love for you to be a part of our community on Patreon. The support from Patreon helps keep the content coming and you access to behind the scenes content. It also gives us the chance to get to know you better. Check out the Exotic Wine Travel Patreon page by clicking the photo below.

---
Maeli provided tasting samples. Please note that the opinions expressed are our own and have not been paid for in any way. We do not sell editorial content as that would destroy the legitimacy of our reviews and the trust between Exotic Wine Travel and its readers. On occasion, we extend the option of purchasing the wines we review or/and the products we spotlight. Some of these product links are set up through affiliate programs, which means Exotic Wine Travel gets referral credits if you choose to purchase these items via the links we provide.