Maratheftiko and the other Red Grapes of Cyprus
Reading Time: [est_time] This is Part 2 of our article on the indigenous grape varieties of Cyprus. Part 1 contains our thoughts on the white varieties. Cypriot Red Varieties There are several international red grapes showing potential in
Reading Time: 4 minutes
This is Part 2 of our article on the indigenous grape varieties of Cyprus. Part 1 contains our thoughts on the white varieties.
Cypriot Red Varieties
There are several international red grapes showing potential in Cyprus. Most producers compliment the hardiness of Syrah, Mataro (Mourvedre), and Grenache. We tasted several solid wines from of all of these grapes. As we stated in a previous article, it seems like Rhône grapes (both red and white) can really thrive in Cyprus.
Cabernet Sauvignon also produces wines of stunning quality, some of these wines were even better than the Shiraz examples we tasted.  There are some good unoaked examples, namely from Lagria Winery, to barrel aged examples from Nelion, Vasilikon, Kyperounda, and Vlassides.
International grapes are great but like any emerging wine region, Cyprus is looking for differentiation. This comes from showcasing native varieties. There are a number of indigenous reds grapes that are looking to spread their wings in Cyprus. These are the red grapes that impressed us the most.
Mavro
This is the second variety that exists in the blend for Commandaria (Xynisteri is the other). It is a red grape and accounts for more than half of all plantings within Cyprus. There are not many high-quality varietal wines made solely of Mavro. Many producers say that Mavro has low acidity and bland flavors. Some wineries use it to blend and add color and some to make rosé. Yiannis from Vouni Panayia isn't ready to give up on the grape, he believes that good red wine can be made out of it.
Will high-quality dry red wines be made from Mavro? Time will tell. Until then, we still have Commandaria!
Ekfraseis Vassiliades Rose 2016
Ekfraseis Vassiliades is a new producer on the Cypriot scene and his wines show a lot of promise. This rosé made mostly from Mavro. Like most Cypriot rosé this has a darker red color. The flavors include strawberry, cherry, and grass. The wine is full-bodied on the palate for a rosé. The wine has a small amount of residual sugar, a little tannic touch, and high acidity. This is a summer wine that will make red drinkers happy.  3.8/5
Maratheftiko
Maraftheftiko is the "in fashion" indigenous grape of Cyprus at the moment. Nearly all of the high-quality producers in Cyprus are making a dry red wine from Maratheftiko. The grape has problems pollinating in the vineyard and is known to give notoriously low yields. We could see the frustration in many grower's faces when talking about the vineyard management of this grape.
There is definitely a healthy dose of Merlot, Cabernet Sauvignon, and/or Shiraz blended in Marathefitko wines to round out the flavors. Since Cyprus is in the EU, up to 15% of other red grapes are allowed to be in the blend. The quality of Maratheftiko wines vary but common flavors we pick up are wild berries, plum, and white pepper notes. Tannin management is a big variable in these wines. When the tannins are managed, this grape makes delicious wines.
These two examples were our favorites along with those from Nelion, Tsiakkas, and Vouni Panayia.
Fikardos Maratheftiko 2008
This was an archive wine from Frikardos. It was matured 16 months in French oak and one year in bottle before its first release. Forest floor, rubber, mushroom, red cherry, earth, a touch of cedar. Sour red fruit, nice weight, and firm, drying tannins. This is aging beautifully and is a real surprise. Excellent wine, very Rioja Gran Reserva – esque.   4.3/5
Argyrides Maratheftiko 2013
This was one producer that we didn't get a chance to visit. The wine is aged for one year in French Oak. The oak integration is very good and is high-end wood from the aromas on the nose. The flavors of the wine include vanilla, black cherry, blackberry, leather, cedar, and mineral. This is very good wine but it tastes as it could be any variety. The mouthfeel is exceptional with silky smooth tannins.   4.1/5
Ofthalmo
Ofthalmo is another low-yielding native red grape. We only bumped into a few producers turning this grape into commercial wines. Many producers have little confidence in this variety. The grape is known for its high tannins and poor color that fades quickly.
Apparently, there are two clones of this grape. Nelion winery has a clone that has smaller berries and shows consistent color. Their dry red example might change some opinions on this grape moving forward.
Situated in the village of Salamiou, this winery has a great story. The partners are from the village and all moved abroad to work. They all met again years later while returning to Cyprus for a holiday. They made a pact to start something together when they all moved back home.
This rosé is made from 100% Ofthalmo. It has flavors of strawberry, earth, and some citrus. The wine is very interesting, fresh and fruity yet serious. A wine that pairs well with Cypriot meze.   3.8/5 
The only red monovarietal wine we tasted from this grape, it spent six months in used oak. This has soy sauce, brown spice, blackberry, cedar flavor. Black plum comes out in the mid-palate. Juicy and medium weight in the mouth with a high level of tannins.   3.8/5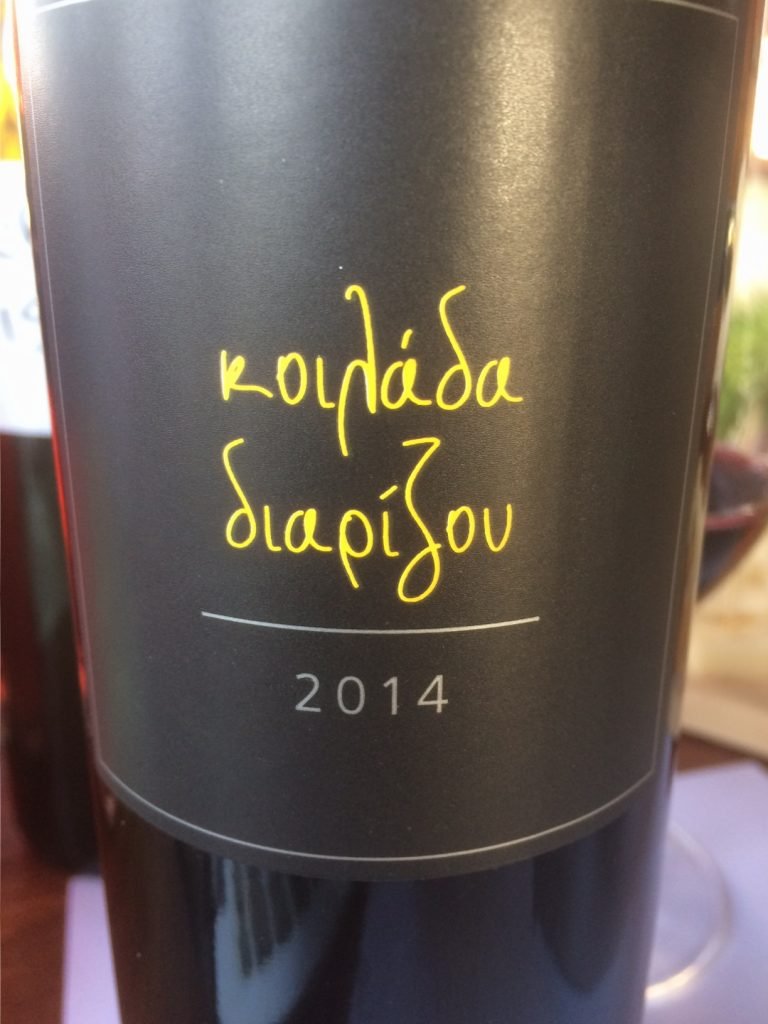 Yiannoudi
This is the grape producing a lot of buzz amongst the local wine growers. The large KEO Winery has had plantings of this grape for many years but didn't release their first monovarietal wine until 2011. Currently, there are only four producers who are making monovarietal wines from this grape. When vinified, it can give off earthy black fruit and pepper flavors, similar to Rhône Syrah, with a touch of Sangiovese-like tartness – like Vouni Panayia's example.
We have mentioned two solid examples from Vouni Panayia and Tsiakkas in previous articles. This grape is in the early stages of understanding amongst Cypriot growers. What we have tasted shows a lot of promise.
We tasted this from a tank sample. The wine was aged 14 months in French and American oak. Very interesting nose of brambleberry, molasses, and raspberry flavors wrapped up in toasty oak. This is a medium bodied and juicy wine that tastes very nice on the mouth, but the overall structure needs a little bit of tightening up.   3.5/5
Is it indigenous? Lefkada aka Vertzami
The official stance is that Lefkada is actually the grape Vertzami from the island of Lefkada, Greece. It was brought to Cyprus in the 1950's. However, some producers argue that it may actually be a different grape altogether, suggesting it is indigenous to Cyprus. It is often used as a blending grape because of the color and tannic structure. There are two producers making this as a varietal wine. Drinking varietal Lefkada wine was an exciting experience for us.
Makkas is one of two wineries making a varietal wine from this grape (Vasilikon is the other). Aged for 12 months in French oak and Acacia and two years in the bottle. It is unfiltered. Very earthy nose with leather, thyme, and a touch rubber. Red fruit, and red grapefruit are the dominant fruit notes coupled with juicy acidity. The wine has firm, chewy tannins and a long finish.   4.3/5
(You can find out more about our scoring system on the START HERE page.)
You May Also Enjoy:
Facing Our Fears: Cypriot Wine
You Cheat Sheet to The Wines of Cyprus: Part I
Vouni Panayia: Confidence in the Cypriot Wine Grapes
George Kassianos: The Godfather Of Cypriot Wine
More than Xynisteri: Indigenous White Wine Grapes of Cyprus
Cypriot Wineries: Part 1
---
Disclosure: The Cyprus Tourism Organization provided us with flights, hotel accommodation, a car rental, and a few meals. A few wineries provided us tasting samples, but most of them simply gave us their time. The opinions of the wines are our own and we were under no obligation to give favorable reviews.