Maria Pia Castelli
Reading Time: [est_time] "Stella Flora is named after my grandmother, a strong but sweet woman who worked in the vineyard until she was 89," Maria Pia Castelli tells me. In normal years, I'd be having this conversation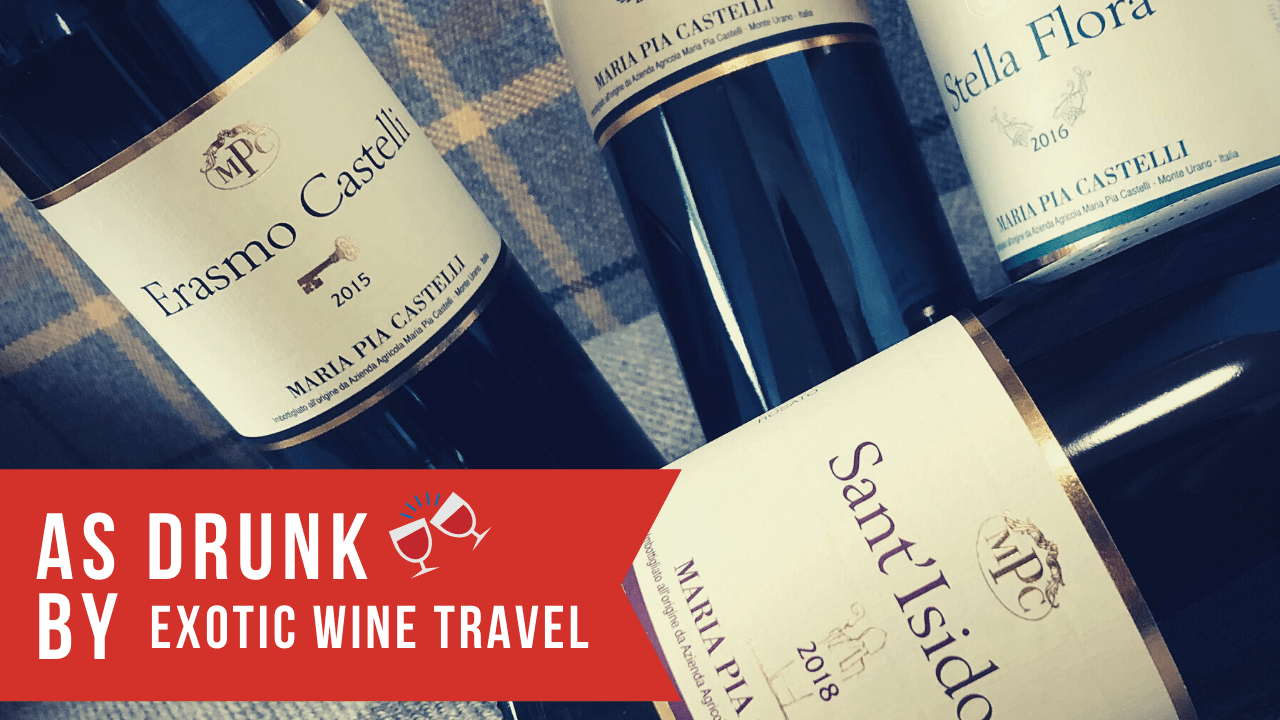 Reading Time: 2 minutes
"Stella Flora is named after my grandmother, a strong but sweet woman who worked in the vineyard until she was 89," Maria Pia Castelli tells me.
In normal years, I'd be having this conversation in person, preferably in the vineyard or cellar. This year is far from normal, so our conversation is over Facebook. I tell Maria that her red, Erasmo Castelli, is corked. "You know what Matthew? I'm going to send you another bottle," she types in the chat window. "Erasmo Castelli is the name of my grandfather, that wine means a lot to me."
The winemaking bug big Maria Pia Castelli and her husband Enrico, during a road trip through Burgundy and Piedmont. Following that trip, they launched their own winery in 1999 with the help of her father Erasmo, a long-time wine grower. Maria Pia farms 8 hectares (20 acres) of vineyards in Marche (Italy) with her husband and her son.
Maria Pia Castelli presents her wines at RAW Wine in London. Like most natural producers, she eschews pesticides and herbicides and is precise with her pruning. But for me, there's something more than that. These are wines with real soul, a twinkle in the eye. "The secret is low yields, skill, patience, and hard work," Maria Pia Castelli says.
I might add passion to that equation.
Maria Pia Castelli, Stella Flora 2016
The Maria Pia Castelli, Stella Flora is a 25-day, macerated white wine blend of Pecorino, Passerina, Trebbiano and Malvasia di Candia. It's also aged in oak. Notes of flint, white peach, honey, smoke, and mandarin oranges. This has a perfect balance between fruit and mineral notes. Intense, powerful, and long. The fruit coats the palate before the tannins start to grip and the prickly acidity comes in. This is an outstanding orange wine. Score: 93+/100
Maria Pia Castelli, Sant' Isidoro 2018
The Maria Pia Castelli, Sant' Isidoro saignée rosé that is made from Montepulciano and Sangiovese. It is a rosato that feels like a light red. Beautiful notes of strawberry, forest raspberry, earth, and meadow flowers emerge from the glass. The sweetness of the fruit makes this feel off-dry, although Maria Pia Castelli claims this is bone dry. It's not a poolside rosé, this is something with complexity and bite. There is even a slight amount of tannin here but it's not drying. Score: 89/100
Maria Pia Castelli, Lorano 2016
The Maria Pia Castell, Lorano is pure Sangiovese aged in wood for 12 months. It smells like a bigger, denser take on the grape, almost like it's an expensive Super Tuscan blend. There are notes of cherry, red plum, dried strawberry, earth, and leather. The palate has the red fruits upfront coupled with a savory element. The acidity here is bright and lively and the tannins are chewy. It's a stripped-down, hands-off, truly Old World type of red. Score: 93/100
Maria Pia Castelli, Erasmo Castelli 2015
This is a big red made from Montepulciano. It's aged for a whopping 30 months in the barrel. Don't think of simple Montepulciano d'Abruzzo, this a full, structured red. Dark in color with notes of black cherry, mocha, leather, black pepper. This is a rich, full red without going over the top. Silky mouthfeel upfront with a tangerine peel-like, minerally acidity. Big ripe tannins. This has the fruit and the structure to go further in the bottle. I haven't enjoyed such a massive red such as this in a long time. Score: 94/100
You can find out more about our scoring system on the WINE RATING page.
Do you like our content?
If you like our articles and videos, we'd love for you to be a part of our community on Patreon. The support from Patreon helps keep the content coming and you access to behind the scenes content. It also gives us the chance to get to know you better. Check out the Exotic Wine Travel Patreon page by clicking the photo below.

---
Maria Pia Castelli provided tasting samples. The opinions expressed in this article are unsolicited and have not been paid for in any way by governmental bodies, enterprises, or individuals. We do not sell editorial content as that would destroy the legitimacy of our reviews and the trust between Exotic Wine Travel and its readers. On occasion, we extend the option of purchasing the wines we review or/and the products we spotlight. Some of these product links are set up through affiliate programs, which means Exotic Wine Travel gets referral credits if you choose to purchase these items via the links we provide.