Miani: What Wine Dreams are Made of
Reading Time: [est_time] Several months ago as we were planning our trip to Friuli-Venezia Giulia, we posted on Antonio Galloni's Vinous forum seeking suggestions for "only the best wineries in Friuli". One member responded, "There can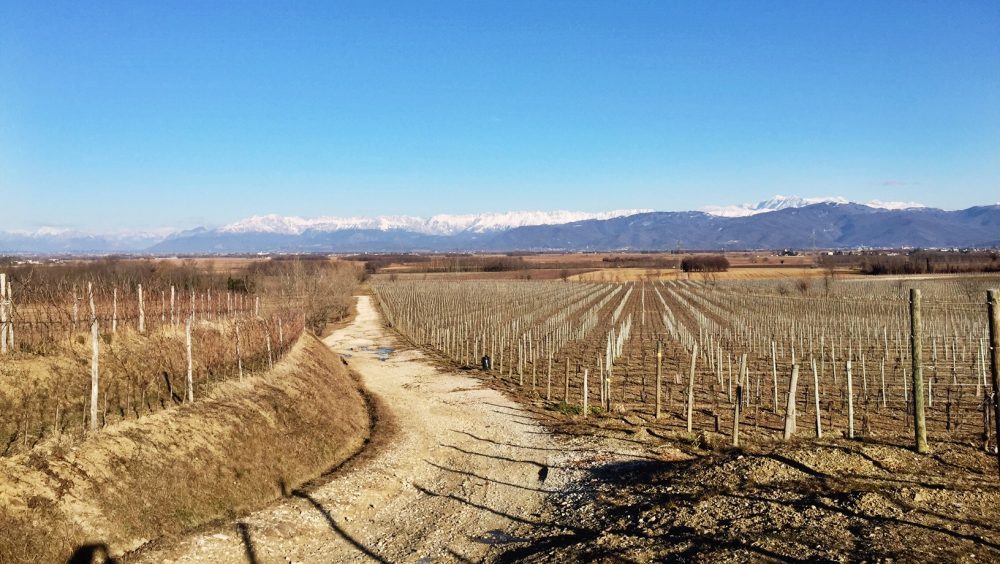 Reading Time: 6 minutes
Several months ago as we were planning our trip to Friuli-Venezia Giulia, we posted on Antonio Galloni's Vinous forum seeking suggestions for "only the best wineries in Friuli". One member responded, "There can only be one… Miani."
Our fate is decided.
Enzo Pontoni is the owner, vigneron, and winemaker at the garage winery Miani. The winery was established commercially in 1981. In 1989, Enzo's father passed away and Enzo decided to give up his career as a mechanic to focus on the winery. His reputation supersedes him. Allegedly, getting a tasting at his winery is rare to the point of near-impossible because: he is always working in the vineyards; he doesn't have a cell phone; he doesn't have any form of contact point on the internet; he makes Italy's greatest white wine. And unrelated to the inaccessibility, he is 7 feet (214 cm) tall.
After meeting Enzo, we can tell you that four out of these five are true.
As the trip drew closer, our appointments with the wineries that we wanted to visit were all confirmed except one because, "There can only be one… Miani." All the mystery didn't matter to us. We were obsessed with getting an appointment someway, somehow.
Chasing Miani
We drive into the town of Buttrio in the late morning. Buttrio is the first hill about 10 kilometers southeast of Udine and the start of Colli Orientali del Friuli (DOC). Once the hills reach the nearby province of Gorizia, the area becomes known as Collio (DOC).
One thing that puzzles us is that Buttrio and the surrounding area are pancake-flat. We've been told that Buttrio has the best terroir for red wines in Friuli-Venezia Giulia, but the flat vineyards don't make sense to us.
As we turn east outside of Buttrio, something magical happens. The roads are unsealed and lead to some pristine vineyards, completed by rolling hills, marl soil, and a view of the Alps in the background. Many of the vineyards are south facing and the mountains provide cool breezes during the evening.
It is here that Miani and Meroi are nurturing grapes that morph into stellar wines. Wait a minute, Meroi? Remember, we don't have an appointment with Miani. Damiano Meroi from Meroi winery is the one who's showing us these stunning vineyards. In fact, Damiano shares a vineyard named Zitella with Miani. And Meroi is producing spectacular wines too, but we're saving that story for another article.
As we often say, serendipity always rewards the faithful: after the visit at Meroi winery, our appointment with Miani is set for later in the afternoon.
The Cellar
When we arrive at the cellar, Enzo has just returned from the vineyard and is putting away his tractor. He shakes our hands, says ciao before leaving us abruptly to put away all of his equipment. The first impression is solidified: Enzo reminds us of Matt's father—a true farmer with swollen and stained hands; a diligent man who has his hands in the soil every day, caring deeply about what he creates.
"The wine critics might protest, as they regularly score Miani wines in the mid to high 90-something points—that's if they can get their hands on them."
After about 15 minutes of settling down, Enzo walks us down to his basement cellar and we give him a copy of our book and a bottle of wine that we've brought from Slavonia, Croatia.
Enzo has 20 hectares of vineyards—11 are owned and 9 are rented—where he farms the varieties Chardonnay, Malvasia, Merlot, Refrosco, Ribolla Gialla, Sauvignon Blanc, and Tocai Friulano. The grapes are grown organically with some biodynamic practice. The winery produces around 10,000 bottles per year. Though for the most recent vintage, the production might be up to  20,000 bottles. Enzo is known for his draconian selection of grapes that go into his wines. Just to put it into perspective, 20 hectares at higher yields can easily produce over 340,000 bottles per year!
And here's where Bizzaro World resides: despite the high praises about his wines from all over the wine world, Enzo is incredibly humble, almost too humble. Some of the reds by Miani can fetch up to around USD400. We communicate with Enzo in our broken Italian while he tries to speak some English. He keeps saying that he doesn't like his wines.
"So which is your favorite wine?"
"I don't like any. The new vintages are not good. The old ones are okay."
"Which wine of yours do you like to drink at home?"
"The reds… too strong. I mix white and red. Make rosé for myself."
"Really?"
"Why not?" Enzo says with a smile and a shrug.
The wine critics might protest, as they regularly score Miani wines in the mid to high 90-something points—that's if they can get their hands on them.
Enzo tries to recall all the wines he has in the cellar and–of course—we say yes to trying everything that he offers. The cellar is extremely cold, close to freezing, which definitely affects our noses, but even that doesn't stop the wines from shining. Enzo shows unrestrained hospitality and lets us taste whatever we ask for, including the unreleased wines and tank samples.
Wine with a Theme
We put down several glasses and bottles next to a small labeling machine. There's no fancy spit bucket. No elaborate tasting room. Since it's a cold evening and the wines are delicious, we decide to savor and swallow every sip.
"They have multiple layers of depth, which show up with so much exuberance that we feel compelled to clap with every new sip."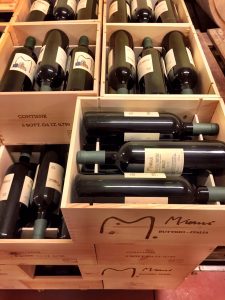 Getting Enzo to open up is a challenge at first. Every time we ask him what he likes or what we should taste next, the answer is the same, "I don't know. It's not good." As we progress through the evening, he begins to open up. He gathers a sample of his newest reserve wine, the 2015 Chardonnay Barraca, from the cement tank. As he pours the wine into our glasses, he smiles and says in crystal-clear English, "This is a great wine."
The Miani wines all stand tall but do so without hubris or fluff, like the man behind them. The wines are stuffed with ripe notes and richness but never crossing the line to being overbearing or superfluous. They have multiple layers of depth, which show up with so much exuberance that we feel compelled to clap with every new sip. Even in the frigid cellar, the wines are performing, as if putting up an elaborate bian lian show (ancient Chinese mask-changing opera) that demands every second of our attention.
If we have to use just one word to describe Miani wines, it'll be: integrity. The wines are whole, complete, real; they have integrity. And we'll use the same word as well to describe our impression of Enzo.
After the tasting, Enzo suggests that we bring home the sample bottles so we can consume them at our leisure.
You Don't Say No to More Miani
The Miani wines once again move to new heights as it receive more aeration in a civilized temperature.
We conclude that this can't be the end of it all. We need Miani. We need more of this magic. We are hooked, mesmerized, completely engaged, and trapped.
A decision is made.
Che Sarа Sarа
It's our last day in Friuli and we have a four-hour drive to Zagreb, Croatia ahead of us. We pick up a box of profiteroles and decide to take the chance and pop by Enzo's place unannounced, in hopes that we can buy a few more bottles from him. What's there to lose after all? If we see him again, great. If not, we can always leave the profiteroles and a goodbye message for him at the door.
And as it turns out, our trip ends in the perfect tone: with a box full of Miani wine in our hands and smiles of gratitude on our faces.
Rocambolesco!
By the way, Enzo is tall but not 7 feet tall. However, it is true that he doesn't have a cell phone and he may be producing Italy's greatest white wines.
Exotic Wine Travel's Picks
Miani Sauvignon Zitelle 2015
Polarity encapsulated in a bottle. High-tone aromas woven together artfully. Rich flavors of lemon, caramel, peach, white flower, and mineral. The wine is fruit forward, yet not overbearing and not shy on the earthiness either. Elegant with a long finish, the wine has the stuffing to age. Fun yet refined in ways that can keep drinkers of all level engaged. 
Aged for 30 months in French oak. Dark and inky color. A dense and structured Merlot, bursting with flavors of red plum, black cherry, tobacco, chocolate, cedar, soy sauce, lilac, and pencil shavings. The 15.5% ABV leaves no traces; the wine is perfectly balanced. Great to drink now but has the power to age for at least 10 more years.
Matt thinks this may be the greatest Merlot-based wine that he has ever tasted.
Charine thinks this is a textbook-perfect, New World-style Merlot and reminds her of 2007 Jonata Fenix from Santa Ynez Valley, which means this wine will certainly be on the Exotic Wine Travel's Best of 2017 list.
Miani Chardonnay Barraca 2015
Tasted in January 2017. This is a sample from the concrete tanks and will be bottled in November 2017. Only three barrels are made. Ethereal and expressive. Notes of pineapple pie, banana, peach, and flint. Flint, totally flint, so much flint that holds all the rest of the flavors in a bundle. Lovely acidity that perfectly balances out the body and leads the flavors into a devilishly long finish. The last time we had a Chardonnay that is so layered, intense and structured was probably at Brewer-Clifton winery in Santa Barbara County, California.
---
Exotic Wine Travel in Friuli
Gravner and Radikon: Italian Wines Without Compromise
Ronchi Di Cialla and Moschioni: Wines of Friuli's Indigenous Red Grapes
Bastianich and Jermann: Iconic Friulian Wine 
Classic Wines from Borgo Del Tiglio and Meroi
Here's a video preview of the things to come: articles, videos, and tasting notes about the best of Friuli will be released in the coming weeks!
---
Disclaimer: The ideas expressed in this article are personal opinions and are not associated with any sponsors or business promotions.