Monemvasia Malvasia 2012
Reading Time: [est_time] Hello! Welcome to As Drunk by Exotic Wine Travel, a weekly column where we feature interesting wines that we encourage you to seek out. The reviews featured in this series may be written by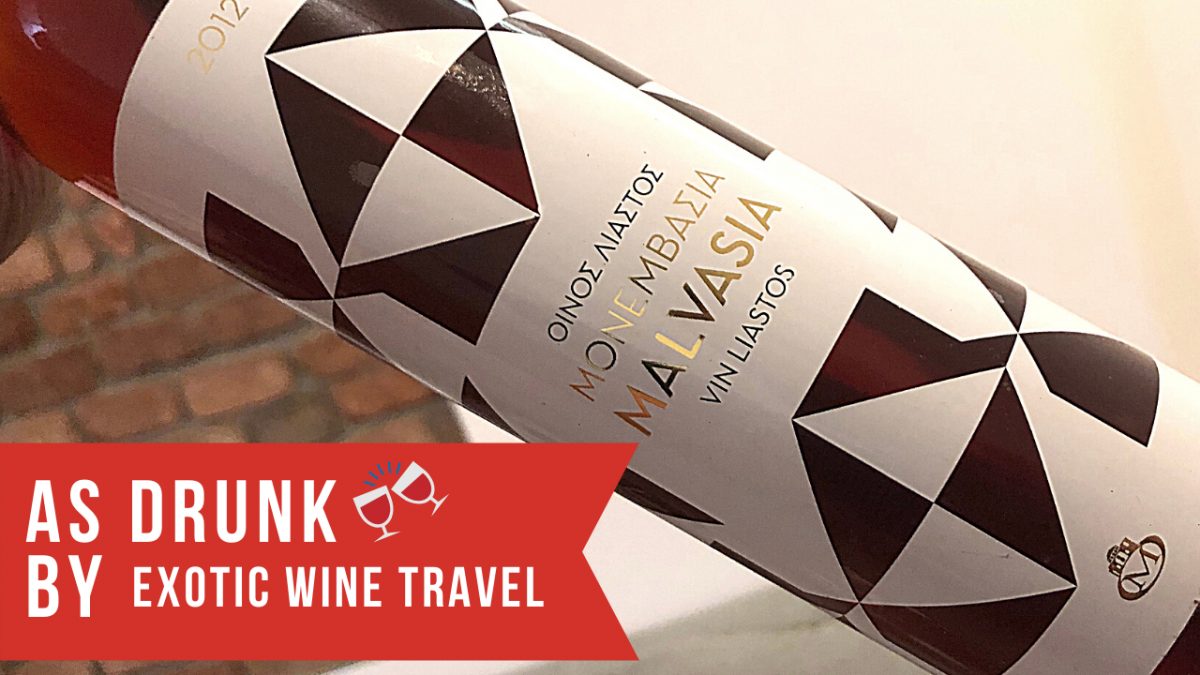 Reading Time: 1 minute
Hello! Welcome to As Drunk by Exotic Wine Travel, a weekly column where we feature interesting wines that we encourage you to seek out. The reviews featured in this series may be written by either one or the both of us. The featured wines can be from obscure or well-known wine regions. We hope that these wine recommendations will keep you gastronomically curious and your palate invigorated.
Monemvasia, Malvasia 2012
We first met the owners of Monemvasia, Elli & George Tsibidis, in Croatia. They were both visiting the annual Vinistra show. We had dinner with them and our friend Ivica Matošević. Elli & George impressed us immediately with their enthusiasm.
Just a few months later, we met Elli & George again at the 2019 Balkans International Competition & Festival. At the festival, we had the chance to taste the entire portfolio from Monemvasia. Many of the wines impressed us, but one stole our hearts.
Historically, Greece was known in the past for exceptional sweet wines. That tradition carries that day, especially the beautiful Samos wines and Vinsantos from the island of Santorini. The latter are considered to be among the world's greatest sweet wines. Monemvasia Winery isn't located on the island of Samos or Santorini, but it does produce a wine to rival both.
The Monemvasia, Malvasia 2012 is straw dried for 12 days and aged for 24 months. This is a rustic, old school style of sweet wine. There are notes of dried fig, dried citrus fruit, walnuts, apricots, and toffee. The nose is incredibly complex. It's rich and luscious on the palate but not heavy like I would expect. The toffee notes stand out here. This doesn't have very high acidity but there is enough to wipe the palate clean. Long and complex finish, this has a long life in the cellar.
Score: 93/100
You can find out more about our scoring system on the WINE RATING page.
Do you like our content?
If you like our articles and videos, we'd love for you to be a part of our community on Patreon. The support from Patreon helps keep the content coming and you access to behind the scenes content. It also gives us the chance to get to know you better. Check out the Exotic Wine Travel Patreon page by clicking the photo below.

---
Monemvasia provided tasting samples. Please note that the opinions expressed are our own and have not been paid for in any way. We do not sell editorial content as that would destroy the legitimacy of our reviews and the trust between Exotic Wine Travel and its readers. On occasion, we extend the option of purchasing the wines we review or/and the products we spotlight. Some of these product links are set up through affiliate programs, which means Exotic Wine Travel gets referral credits if you choose to purchase these items via the links we provide.