Montefioralle Chianti Classico Riserva & Vin Santo 2016
Reading Time: [est_time] Hello! Welcome to As Drunk by Exotic Wine Travel, a weekly column where we feature interesting wines that we encourage you to seek out. The reviews featured in this series may be written by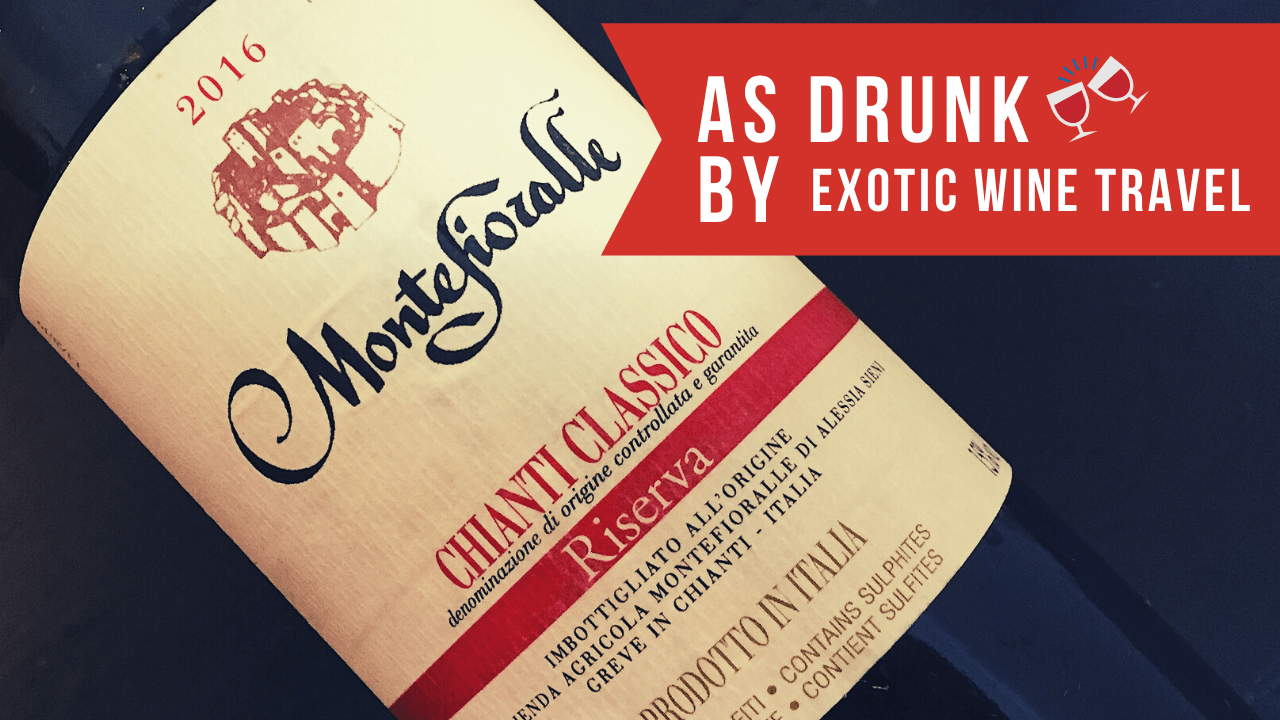 Reading Time: 2 minutes
Hello! Welcome to As Drunk by Exotic Wine Travel, a weekly column where we feature interesting wines that we encourage you to seek out. The reviews featured in this series may be written by either one or the both of us. The featured wines can be from obscure or well-known wine regions. We hope that these wine recommendations will keep you gastronomically curious and your palate invigorated.
Virtual Tasting the Montefioralle, Chianti Classico Riserva & Vin Santo 2016
We are usually on the road, traveling full-time. Thanks to COVID19, 2020 is different. Instead of tromping through vineyards and sharing meals with producers, we are cooking ourselves while tasting through boxes of samples that arrive at our rented apartment.
Virtual tastings have become commonplace in the wine world and we were invited to one to a Chianti Classico producer, Montefioralle Winery. Katarina Anderson of Grapevine Adventures set up and invited me to the virtual tasting. If you read our site, you know that I love Sangiovese and jumped at the opportunity to taste these wines.
The virtual tasting with Montefioralle was a great experience. Proprietors Alessia and Lorenzo Sieni walked us through the vineyards and cellar, explaining everything. It wasn't as good as being in Tuscany, but it was the next closest thing. Lorenzo was frank and honest, explaining his use of selected yeasts for fermentation and the challenges for the winery moving forward.
"The biggest challenge is the climate changing", Lorenzo says. "My father used to pick Sangiovese in the first week of October. In 2017, we picked on 16 September."
Montefioralle is tiny, only 12,000 bottles per year maximum from four hectares of vineyards in Greve, about 350 meters above sea level. They just received their organic certificate from the 2019 harvest. They have no importers and sell all of their wines at the cellar and direct to consumers. The wines definitely have a place on the market.
Montefioralle, Chianti Classico Riserva 2016
The Montefioralle, Chianti Classico 2016 is an old school red, in a good way. I love the wine, while Charine isn't as crazy about it. It's not a polished wine and to me, that's a great thing.
This is mostly Sangiovese with small amounts of Canaiolo and Colorino. There are notes of black olive, sour cherry, tobacco, cedar, and mocha. Give this a few hours to air and really sing. Full-bodied with rich fruit and savory nuances. Bright acidity and chewy tannins. It's a good representation of traditional Chianti Classico. Some may complain that the wine tastes older than its true age but I love the development from bottle patina.
Score: 91/100
Montefioralle, Vin Santo Dei Chianti Classico 2016
The Montefioralle, Vin Santo Dei Chianti Classico 2016 is made of Malvasia di Chianti and Trebbiano. The grapes are dried before they are vinified to concentrate the sugars. Only 800 bottles are made in the best years.
It is made from Malvasia and Trebbiano hung to dry for months before being vinified and aged for three years in small barrels. This is rich, layered, and complex. Notes of walnut, toffee, dried figs, tobacco, and smoke. This is rich and mouth-filling. It has plenty of dried fruit notes upfront with a rush of dried orange rind-like acidity on the back end. Lay this down in the cellar and watch the magic happen.
Score: 93+/100
You can find out more about our scoring system on the WINE RATING page.
📦📪 Montefioralle ships direct to consumers all over Europe and even Australia, and the USA. You can check out their wines on their webshop.
Do you like our content?
If you like our articles and videos, we'd love for you to be a part of our community on Patreon. The support from Patreon helps keep the content coming and you access to behind the scenes content. It also gives us the chance to get to know you better. Check out the Exotic Wine Travel Patreon page by clicking the photo below.

---
Montefioralle provided tasting samples. Please note that the opinions expressed are our own and have not been paid for in any way. We do not sell editorial content as that would destroy the legitimacy of our reviews and the trust between Exotic Wine Travel and its readers. On occasion, we extend the option of purchasing the wines we review or/and the products we spotlight. Some of these product links are set up through affiliate programs, which means Exotic Wine Travel gets referral credits if you choose to purchase these items via the links we provide.